Download Your Free
Jazz Guitar Chord
Dictionary
(And Learn 244 Essential Chord Shapes)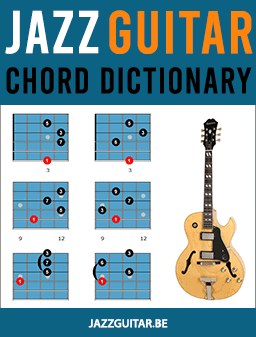 Welcome To Jazz Guitar Online!
My name is Dirk Laukens, jazz guitar player, teacher, and webmaster of this jazz guitar website that started in 2003. I'm here to help you with your jazz guitar playing, so if you have any questions, contact me.
Learning jazz guitar and improvisation isn't always easy, but that doesn't mean the learning process has to be complicated. Our jazz guitar lessons, forum, and courses are designed to make learning jazz guitar easy and fun.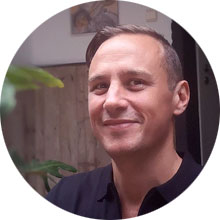 Our free jazz guitar lessons cover a great variety of topics going from traditional jazz guitar to modern jazz styles.
Whether you are just beginning to learn jazz guitar or you are already an experienced rock or blues player, our lessons will get you playing jazz guitar in no time!
If you are a beginning jazz guitar player, check out these lessons to get you started:

Jazz guitar chords sound great and are a lot of fun to play. This tutorial will teach you the 17 must-know jazz guitar chords you need to play jazz guitar.

Arpeggios are the best tool to play over chord progressions. In this guide, you will learn how to use arpeggios to outline the harmony of a song in your guitar solos.

Scales are an essential tool for jazz guitar improvisation. This lesson teaches you 7 essential jazz guitar scales that you can use to play over almost any jazz song.

Learning jazz licks is a great way to get new sounds into your ears. In this jazz guitar lesson, you will learn 20 bebop licks you can instantly use in your jazz solos.

Autumn Leaves is a great jazz song for beginners. In this tutorial, you will learn the melody of Autumn Leaves and play a guitar solo over the tune's chord changes.

Summertime is another great standard for beginners. In this video lesson, you will learn the melody and how to improvise over Summertime's chords.
There are many guitar chords, and you need to master a wide variety of chords to play jazz guitar. For beginner jazz guitar students, it's not easy to know where to start learning jazz chords. On top of that, you need to get the most common chord progressions under your fingers and develop a good right-hand rhythm technique. Here, you will start with basic jazz chords and work your way up to more complex chord shapes.
In our jazz guitar chords section, you will learn all the basic guitar chords and chord progressions you need to play jazz guitar.
For every chord type there is a printable guitar chord chart and jazz guitar comping exercises to get you going in the practice room.
Popular Chord Lessons:
Our Most Popular Jazz Guitar Lessons (Top 10)
Transcribing and learning licks from your favorite guitar players is a great way to expand your jazz vocabulary and learn the jazz language. By transcribing licks from your favorite jazz guitar albums and studying the concepts behind these licks, you train your ears and absorb new sounds and ideas that will enrich your jazz guitar soloing.
Our jazz guitar licks section is a collection of guitar riffs, licks, and patterns in the style of great jazz guitarists such as Pat Metheny, George Benson, Django Reinhardt, Joe Pass, Mike Stern, John Scofield, Charlie Christian, Wes Montgomery, but also jazz greats such as Miles Davis, Charlie Parker, Duke Ellington, and John Coltrane.
The JGO forum is the place to be to sell or buy guitar gear, ask questions, or have a friendly chat about all things jazz guitar!
Jazz guitar scales are essential when learning how to play jazz guitar. Our lessons cover all scales you need to know to get you started improvising over jazz standards, such as the major scale, the pentatonic and blues scales, the seven guitar modes, chord scales, the diminished scale, the altered scale, and many more.
When learning jazz guitar, one of the best ways to improve quickly is by playing jazz standards. By playing jazz tunes, you bring all the technical material you have studied, such as chords, scales, arpeggios, and voice leading, together and actually start playing music.
In the guitar gear section you will learn how to get a jazz  sound and find the gear you need to play jazz guitar. Choosing a guitar and amp for jazz can be a bit confusing since there is so much choice. The articles below will help you choose the best (archtop) jazz guitar and amp.