Known as the workhorse of jazz guitar, the Gibson ES-175 is an iconic hollow body electric guitar loved by many legendary guitarists in the worlds of jazz, blues, rock, and fusion. The Gibson ES-175 has a recognizable sound that has been imitated by many guitar makers but seldom duplicated.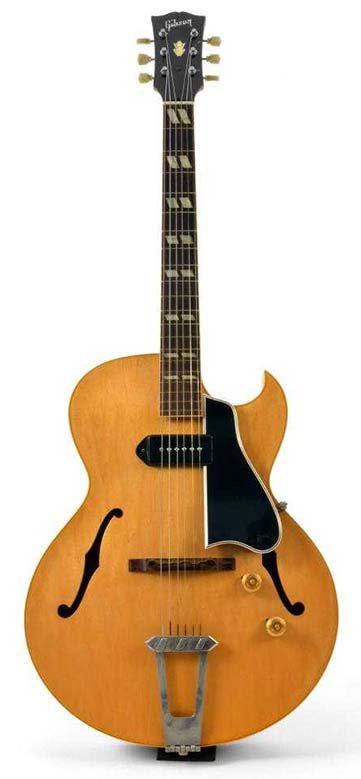 In its nearly 70-year history, the ES-175 has become synonymous with the greats of jazz guitar.
Though the Gibson ES-175 is associated with jazz greats like Jim Hall, Pat Metheny, and Joe Pass, its versatile tone and ability to take distortion has made it a favorite of fusion and rock guitarists like Steve Howe (Yes) and Buck Dharma who played an ES-175 on Blue Oyster Cult's classic Don't Fear the Reaper.
Its tone is warm and round but also clear and articulate, chiming with a quality that is spacious and airy while also being distinct and bell-like.
It can be said that the Gibson ES-175 anticipated a new era in jazz history, constantly stretching the boundaries of music into new territories.
To achieve its characteristic clarity of tone, the ES-175 is generally played with the volume and tone dialed down a bit to allow it to ring through with its usual warmth.
The ES-175 is unique among hollow body archtops for its ability to deal with higher volume levels without excessive feedback.
The guitar is also liked because of its size. Compared to other Gibson archtops such as the L-5, the ES-175 is very comfortable to play.
If you're looking for a good all-round guitar, the ES-175 might be a good choice for you.
Gibson ES-175 – Specifications
Woods
Body
Laminated maple top, reinforced with two parallel braces
Laminated maple back and sides
Mahogany back and sides (1983-1990)
16 ¼" wide and 3 ½" deep
Triple binding on top
Single binding on back
Unbound f-holes
Florentine cutaway
Neck
One-piece mahogany
Three-piece maple neck (1976-1981)
Scale length – 24 3/4″
Fretboard
Solid Brazilian rosewood
20 frets (the models before 1956 had 19 frets)
Double parallelogram inlays
Hardware
Bridge
Compensated rosewood bridge
Tune-o-Matic bridge on rosewood base
Pickups
One single-coil P-90 (1949-1953)
Alnico V pickups (rare)
Two single-coils P-90 (1953-1957)
Two humbuckers – from the original PAF humbuckers to '57 Classic humbuckers (1957-present)
P-94 pickups – single-coil pickups in a humbucker casing (rare).
Tailpiece
Nickel trapeze tailpiece
Zig-zag tailpiece (more prevalent from 1957 to 1967)
Gibson ES-175 Pickups
P-90 Pickups (1949-1956)
The Gibson P-90 is a single-coil pickup that has been in production since 1946 and is still being produced today, by Gibson and other companies.
P-90s were initially meant to replace Charlie Christian pickups, which were the standard pickups for Gibson hollow bodies.
Gibson ES-175s were equipped with "dog ear" P-90 pickups between 1949 and 1956.
A P-90 ES-175 has a bigger sound compared to a humbucker ES-175.
P-90 pickups have a raw sound with a broad spectrum but don't sound as warm as humbuckers and are noisier.

Humbuckers (1957-2017)
Starting in 1957, the standard pickup of ES-175s became humbuckers, designed by Gibson engineer Seth Lover.
A humbucker has double coils that cancel out (or buck) mains hum (60-cycle hum).
Humbuckers are also known as PAF pickups because until 1962 they had a sticker at the back that said: "Patent Applied For".
Later in 1962, the standard hollow body pickups became Patent No. humbuckers.
The humbuckers in the '80s were designed by Gibson engineer Tim Shaw and were the forerunners of the '57 Classic pickups that are still used today. These '57 Classic humbuckers are made to the same specifications as the original PAFs.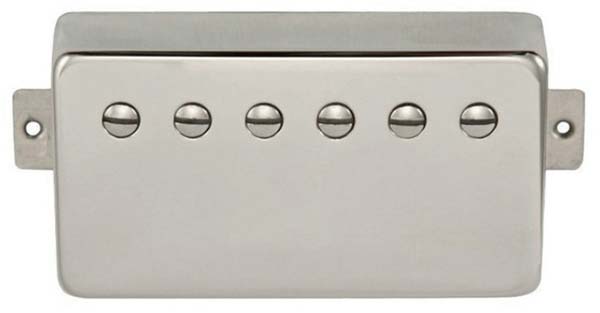 Other Pickups
Some early models had Alnico V pickups, but these are very rare.
Between 1978 and 1979 Gibson produced an ES-175 model with a Charlie Christian pickup (see further below).
Some more recent models came with P-94 pickups, which are P-90s in a humbucker casing, but these are rare as well.
Gibson ES-175 Necks
The standard Gibson neck used on ES-175s and other Gibson guitars went through a few changes in size and shape over the years.
A lot of people are a fan of the chunkier necks of the early years, compared to the thinner necks that emerged in the 60s.
1949-1959 – the necks of this time period, also known as "baseball bats",  are considered the best by many because they are large and comfortable.  Neck width is 1 11/16″, measured at the nut.
1960-1962 – these necks feel very thin, which makes playing them harder on the hands.
1963-1964 – back to a larger neck, but not as large as the 50s-era necks.
1965-1967 – these necks, also known as "pencil necks", are very small because the nut width is reduced (1 9/16″).
1968-present – nut width is changed back to 1 11/16″ and the back of the neck has the same size as those from the 1963-1964 period.
History of the Gibson ES-175
Gibson produced the ES-175 from 1949 to 2017, the longest production run of an electric guitar.
The ES-175 was designed to be a cheaper laminate alternative to the L-5 and an electric alternative to the L-4.
Because of the rise of electric guitars, acoustic volume was not a priority anymore. This allowed guitar builders to use laminated (thin pieces of wood glued together) maple instead of solid spruce for the tops.
The laminate construction resulted in a lighter guitar (2,52 kg / 5.55 lbs) with less feedback compared to solid wood guitars.
The first Gibson ES-175 models cost $175 and that's where these guitars get their name from. ES stands for Electric Spanish.
Here's a list of acronyms used in relation to the ES-175:
ES – Electric Spanish
D – Double pickup
N – Natural finish
DN – Double pickup and Natural finish.
T – Thinline
CC – Charlie Christian (pickup)
PAF – Patent Applied For (humbucker pickup)
TOM – Tune-o-Matic bridge
VOS – Vintage Original Specifications
FON – Factory Order Number
Here's a list of how many ES-175 models were shipped by Gibson the first 20 years of production:
1949 – 142 guitars
1950 – 533 guitars
1951 – 664 guitars
1952 – 1,010 guitars
1953 – 1,278 guitars
1954 – 1,144 guitars
1955 – 1,051 guitars
1956 – 1,273 guitars
1957 – 891 guitars
1958 – 676 guitars
1959 – 754 guitars
1960 – 687 guitars
1961 – 647 guitars
1962 – 574 guitars
1963 – 713 guitars
1964 – 631 guitars
1965 – 744 guitars
1966 – 600 guitars
1967 – 1,060 guitars
1968 – 1,121 guitars
1969 – 753 guitars
The First Gibson ES-175 Models (1949-1956) – P-90 Pickup
Price Range: $2,500 – $4,200
The Gibson ES-175 was introduced in 1949 (June 15), when Gibson was under the leadership of Ted McCarty.
Gibson's aim was to produce a mid-priced electric guitar with a cutaway. This Florentine (sharp point) cutaway allows guitar players to play all 19 frets (later 20 frets) with ease.
The Gibson ES-175 has a maple all-laminate construction. This kept production costs low and feedback at a minimum.
Until 1953, the Gibson ES-175 came with a single P-90 pickup in neck position. A two-pickup model was available as a custom order. A few models came with Alnico V pickups, but these are very rare.
This Gibson ES-175 model was available in a natural or sunburst finish (nitrocellulose lacquer).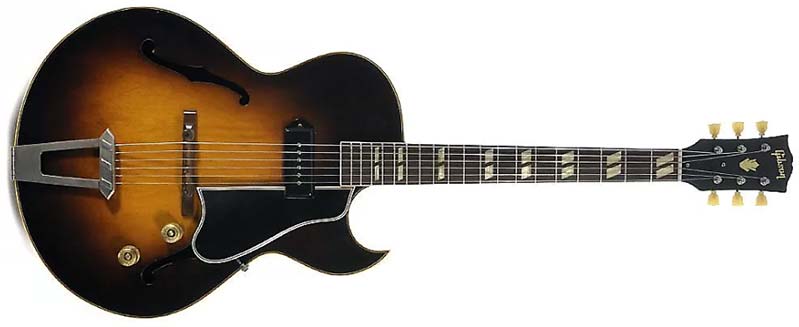 Gibson ES-175D (1953-1956) – P-90 Pickups
Price Range: $2,500 – $8,400
The Gibson ES-175D came out in 1953.
This guitar has the same body and hardware as the single-pickup version but has double P-90 pickups instead of a single P-90. Though there were double pickup models available in 1951 and 1952, they did not receive the ES-175D designation until 1953.
These guitars were equipped with two volume controls, two tone controls, and a 3-position selector switch. ES-175 models with double pickups from before 1953 had two volume controls, only one tone control, and no selector switch.
The ES-175D Gibson came at a price of $250 in sunburst and $265 in natural. There were also some instruments released with a black finish.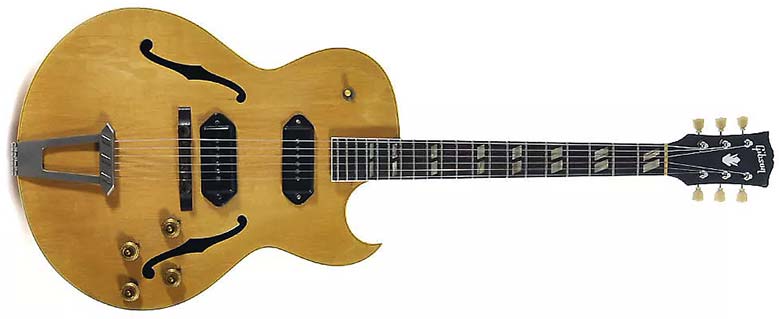 Gibson ES-175D (1957-1976) – PAF Humbucker Pickups
Price Range: $2,100 – $12,400
The next major change came about in February 1957 when the ES-175D was equipped with two PAF humbucker pickups instead of P-90s.
In 1958, another version of the ES-175D came out with a T-shaped tailpiece and zig-zag patterns on the sides.
While the single pickup version of the ES-175 was discontinued in 1971, the double pickup version was in production until 2017.
In 1956, Gibson added an extra fret to the fingerboard, making the ES-175 a 20-fret guitar.  The highest note is now a C instead of a B.
In 1959, Gibson officially stopped manufacturing ES-175s with a natural finish, although 5 natural models were shipped in 1960. This lasted until 1963.
Some instruments were released with a cherry red finish.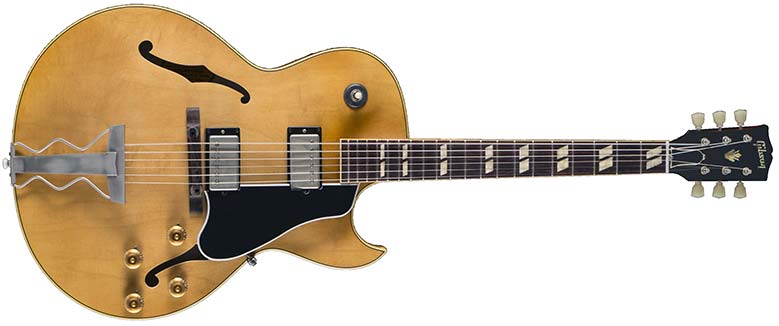 Gibson ES-175D (1976-1983)
Price Range: $2,200 – $3,100
In 1974, Norlin Music Instruments acquired Gibson and changes were made to their entire product line. Not a lot of people are fans of guitars from the Norlin-era, which lasted from 1974 to 1986.
In 1976, Gibson made some changes to the ES-175:
The one-piece mahogany neck was replaced with a three-piece maple neck. The maple neck is considered inferior quality compared to the mahogany neck.
A volute was added to the neck (behind the nut) to strengthen the headstock.
The wooden bridge was replaced by a Nashville Tune-o-Matic bridge.
Gibson ES-175T (1976-1979)
Price Range: $3,000 – $3,500
The Gibson ES-175T, a thin-body version of the ES-175, was introduced in 1976. It was available in sunburst, natural, and wine red.
The ES-175T was not very successful though and was discontinued in 1979.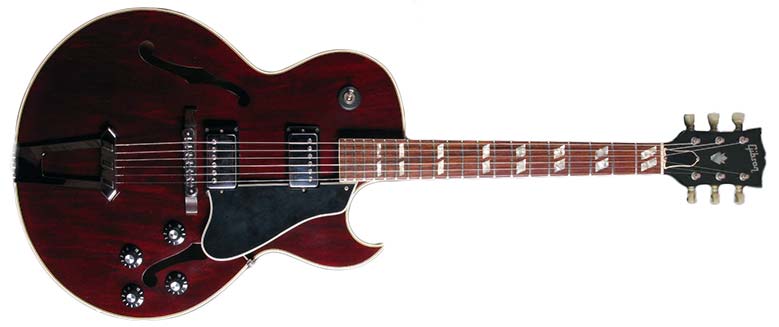 Gibson ES-175 CC (1978-1979)
Price Range: $2,200 – $3,100
From 1978 to 1979 Gibson produced the ES-175 CC model, which is a standard ES-175 with a single Charlie Christian blade pickup in neck position.
Note that these pickups are not the same pickups Charlie Christian and Barney Kessel used.
Gibson ES-175D (1983-1990)
Price Range: $2,100 – $2,300
In 1983, the back and sides of the Gibson ES-175 changed from maple to laminated mahogany, while the top remained laminated maple.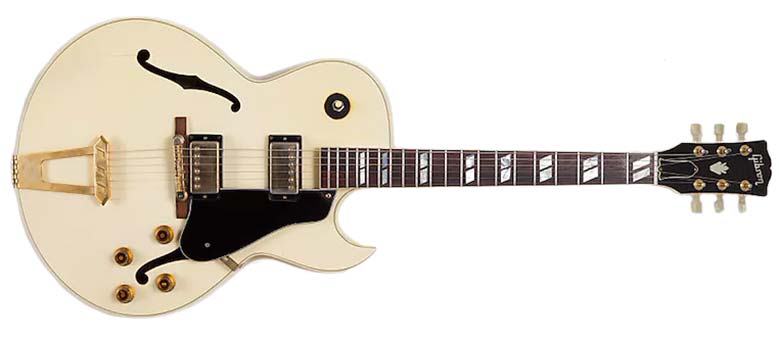 Gibson ES-175 Reissue (1991-2015)
Price Range: $1,900 – $2,600
In 1990, the back and sides of the ES-175 changed back to laminated maple.
In 1991, the ES-175 was branded as the Gibson ES-175 Reissue and was part of the Historic Collection.
In the '90s, the Tim Shaw humbucker plugins of the 80s were replaced with the new '57 Classic pickup.
Gibson ES-175 Steve How Signature Model (2001-2007)
Price Range: $2,700 – $3,300
The Steve Howe Signature ES-175 is based on Steve Howe's 1964 ES-175.
It comes with a single-cut maple body (vintage sunburst), a mahogany neck, and a 21-fret rosewood fingerboard with double-parallelogram inlays.  The bridge has abalone inlays.
The ES-175 Steve Howe has two '57 Classic Gibson humbucker pickups and a TOM bridge.
Gibson reintroduced the zigzag tailpiece on the Steve Howe model. The zigzag tailpiece had not been used since it was discontinued in the 60s.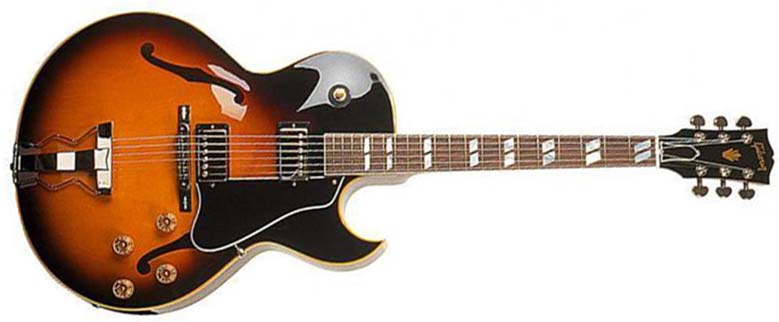 Gibson ES-175 1959 VOS Reissues (2010-2017)
Price Range: $2,900 – $3,500
In 2010 Gibson released a number of 1959 ES-175 reissues, including a single-pickup model. These guitars come from the Gibson Memphis shop.
VOS = Vintage Original Specifications
Gibson replicated the construction of the ES-175 as it was done in the 50s, including solid sides, internal rims, thinner nitro finish, and the wooden bridge.
These '59 reissues are excellent guitars, as good as the vintage models from the late 50s, early 60s and superior to ES-175 models from the mid-1960s to now.
The current models of the Gibson ES-175 are equipped with two Gibson 57 classic pickups, which are replicas of the PAF pickups of the 1950s.
Gibson ES-175 Variations
Gibson ES-175 Special Wurlitzer (1955)
The ES-175 Special Wurlitzer was a custom-ordered ES-175 that was thinner than the standard ES-175 and trimmed out like a Les Paul.
The guitar was custom made for guitarist Andy Nelson who worked as a clinician and in sales for Gibson in the 1950s.
Nelson pitched this streamlined ES-175 model to Wurlitzer stores and even ran a spot on WBBN radio that Wurlitzer sponsored. Though we know them today for jukeboxes and pianos, in the mid 20th century the Rudolph Wurlitzer company was a musical instrument distributor and dealer.
Gibson ES-295 (1952-1959)
Price Range: $2,600 – $18,600
The ES-295 Archtop is essentially an ES-175 with decorative gold paint and a variety of decorative details. A sunburst version exists as well.
The ES-295 is made famous by Scotty Moore, the guitar player of Elvis Presley.
Featuring the same body specs as the ES-175, the ES-295 featured:
Two P-90 pickups with white covers. In 1957 the P-90s were replaced by Humbuckers. The humbucker version of the ES-295 is more valuable for collectors, that's why you can expect to pay a minimum of $13,400 for a 58 ES-295.
A clear pickguard which was back-painted with a decorative design.
The floating bridge of the ES-175 was replaced with a trapeze tailpiece with the strings looping over the bridge.
Unfortunately, the decorative gold paint did not stand up well to wear.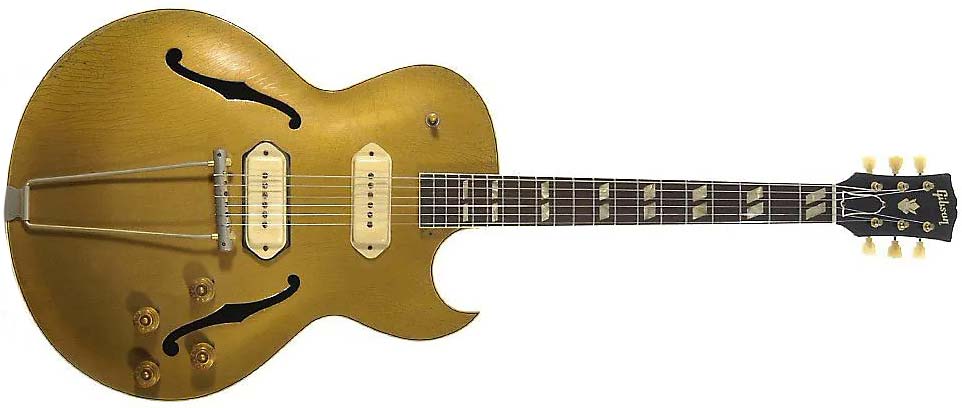 Gibson ES-165 Herb Ellis Signature Model (1991-2013)
Price Range: $1,600 – $2,200
The Gibson ES-165 Herb Ellis signature was actually a re-release of the 1953 ES-175 that Ellis played for years.
Originally, the ES-165 came out with a single Gibson 490R humbucker, and single volume and tone control.
In 2004, the ES-165 was re-released, but this time with the Gibson 490R humbucker being replaced by a BJB floating humbucker. The volume control was moved to the surface of the pickguard.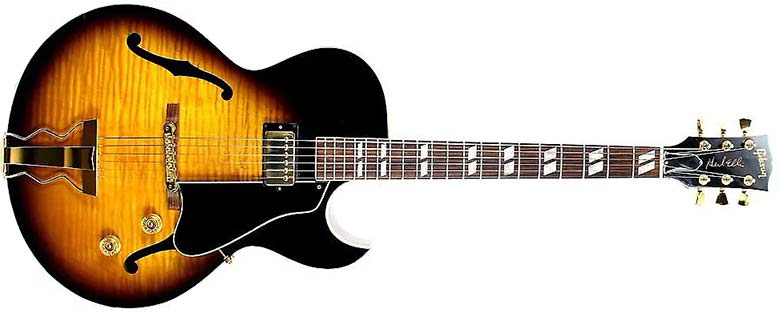 Gibson ES-775 (1990-1993)
Price Range: $2,500 – $6,000
The Gibson ES-775 is an upscale version of the ES-175 and was shortly produced between 1990 and 1993.
The guitar features a three-piece maple neck, gold-plated metal, and an ebony fingerboard.
The ES-775 sounds a bit mellower compared to the ES-175 because the neck pickup is closer to the fingerboard.

Noteworthy Players
Wes Montgomery – The great Wes Montgomery played several Gibson hollow-bodied guitars in his career, including the L5 CES and the ES-175. Wes Montgomery's ES-175 is featured on the cover of Movin' Wes.
Herb Ellis – As mentioned above, Herb Ellis loved his 1953 ES-175 so much that it was re-released as the ES-165 Herb Ellis signature model.
Joe Pass – Joe Pass used a sunburst ES-175 until 1970. The guitar was given to him as a present in 1963. Epiphone currently produces a Joe Pass signature Emperor model based largely on the ES-175.
Jim Hall – Jim Hall played the ES-175 throughout his long and legendary career. He bought his Gibson ES-175 in 1956 from guitarist Howard Roberts. Jim replaced the original single P-90 pickup with a humbucker.
Pat Metheny – For much of his career, Pat Metheny used a 1960 ES-175N. The guitar was bought at a garage sale and he has been playing it since he was 13.
Pat Martino – Pat Martino played a Gibson ES-175 in the early years of his career.
Babik Rheinhardt – Django Reinhardt's son
Toots Thielemans – Belgian jazz musician who is famous for his harmonica playing, but is also a great guitarist.
Philip Catherine – Another great Belgian jazz guitar player.
Ronny Jordan – Ronny Jordan plays a Gibson ES-175 on a lot of his recordings, including his famous version of So What.
Howard Roberts – Before Gibson introduced his Signature Fusion III model, which is basically a variation on the ES-165, Howard Roberts played an ES-175 and a modified ES-150 known as "The Black Guitar".
BB King – Before Gibson released BB King's signature Lucille model, the blues legend played a 1960 ES-175.
Steve Howe – The progressive rock icon was so enamored with the ES-175 that when he bought it, he simply stared at it for days without playing it. Throughout his career with Asia and Yes, Steve Howe played his ES-175D until Gibson came out with his Steve Howe ES-175 Signature mentioned above.
The Edge – U2's guitarist played an ES-175 on their legendary Zoo-TV Tour.
Andy Summers – On his personal website, the Police guitarist can be seen playing an ES-175 with the famous zig-zag design on the tailpiece.
Izzy Stradlin – played a white ES-175 in the band Guns N' Roses.
Bill Frisell
Joe Diorio
Jimmy Raney
Derek Bailey
Bonnie Raitt
Mark Knopfler
Keith Richards
Attempts to Replicate the ES-175 Magic
Throughout its history, the Gibson ES-175 has been cloned by other guitar manufacturers.
During the vintage guitar era, when Gibson along with Fender were the two foremost brands in the world, many manufacturers created 'clone' or 'lawsuit' versions of the ES-175, including the Aria Pro II ES-650, the Greco FA-80 and the Ibanez 2355M.
Although most of these clone guitars have stood up to the test of time and are now collectible in their own right as quality instruments, the general consensus is that they can't beat the real deal.
Greco
Average Price: $1,000 – $1,500
The Greco FA-80 is a clone of the Joe Pass Gibson ES175 and is an actual lawsuit guitar.
The guitar was made in Japan between 1970 and 1974 and was a convincing clone of the more expensive US models.
Other Greco ES-175 models include the S-50, S-55, N-50, and N-60.
Greco hollow bodies are hard to find, especially the FA-80.

Epiphone ES-175 Premium
Average Price: $600 – $1,000
The Epiphone ES-175 Premium is a scaled-down version of the classic Gibson and is still in production today.
Since Epiphone was bought by Gibson, many of Gibson's more expensive and iconic models have been released in Epiphone versions that retain many of the original's look and feel at a considerably lower price.
The Epiphone ES-175 Premium is a remarkably good guitar for a very fair price.

Heritage H-575
Average Price: $2,300 – $4,000
Heritage Guitars is situated in Kalamazoo (MI) and was founded in 1985 by former Gibson luthiers.
The H-575 is Heritage's ES-175 model.
While the Gibson ES-175 is made of laminated wood, the H-575 is made from solid carved maple. It has a one-piece mahogany neck with rosewood fingerboard, a floating rosewood bridge, and a trapeze tailpiece. The guitar is equipped with Seymour Duncan Seth Lover humbuckers.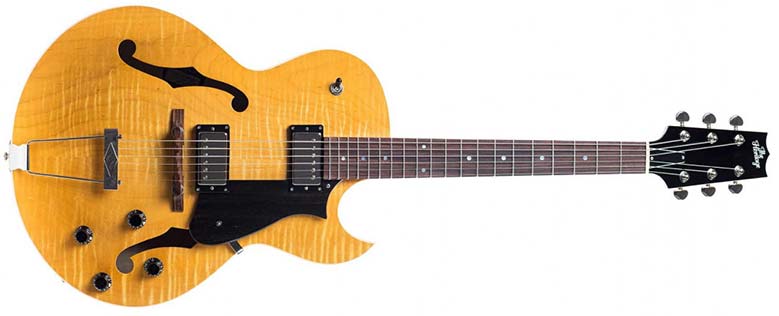 Other ES-175 Clones
Archtop Tribute AT105 Classic –

$1,500 – $1,600

Stanford Crossroad Fatboy 75-2 –

$1,200 – $1,300

Ibanez 2355 (lawsuit) –

$1,100 – $1,600

Ibanez FA-100 (post-lawsuit) –

$1,100 – $1,500

Peerless Gigmaster Jazz –

$1,100 – $1,400

Eastman AR-372 –

$1,000 – $2,000

Aria Pro II ES-650 –

$900 – $1,200

Loar LH-280 –

$500 – $600

D'Agostino 175 –

$400 – $800
Gibson ES-175 Buying Guide
If you are looking to buy a Gibson ES-175, or are wondering about the value of one that you already have, the truth is that there is a wide range of prices that depend on several factors including:
Year
Model
Condition
Finish
Whether or not all of the guitar's components are original.
The quality of the flame on the maple top.
The 50s and 60s
The best Gibson ES-175 models are, in my opinion, those from the late 50s-early 60s. Models from the time period between 1955 and 1963 are unfortunately also the most expensive ones.
The guitars from that era have thinner tops and sound more lively. A disadvantage of this is that they are more prone to feedback.
Another advantage of ES-175s of this era are the necks, which are considered the best.
If you want to buy a vintage Gibson ES-175 from the 50s, you have to make a choice between P-90 pickups (up to 1956) or PAFs (starting in 1957), with the P-90s having a bigger sound, and the PAFs having a warmer sound.
In 50s and 60s models, a natural finish is more valuable compared to a sunburst because Gibson stopped producing the natural version in 1959 (until 1963).
When buying an ES-175 from the 60s and early 70s, make sure the guitar doesn't have a sunken top and that the fingerboard area over the body hasn't risen up, both issues which are not uncommon.
The tops of these guitars were tinner (and more resonant), making them more susceptible to top sinking.
Two symptoms of a sinking top are the bridge pickup that is set unusually high and the bridge that is unusually high to compensate for the drop of the top. If you suspect a sunken top, have a look under the top with the camera of your phone to check for broken kerfed braces.
The 70s and 80s
The period between 1969 and 1986 is not considered to be a desirable period for the Gibson ES-175, because of the neck volute, heavier construction, and plain maple top, back and sides.
An advantage of these Norlin-era ES-175s is that they are less prone to feedback, making them a more practical instrument.
In 70s models, the finish is not such an important factor as it is for 50s and 60s guitar.
The Late 80s
Models produced later than 1983 feature mahogany back and sides, as opposed to the classic laminated maple.
Some players prefer these models for their "mellower" tone.
The 90s and 00s
Gibson ES-175 reissues are generally good guitars and well worth their price, especially the 1959 VOS edition.