Getting a good jazz guitar tone is a never ending quest.
On these pages, you will learn what the best jazz guitar is for you and your budget, how to choose a guitar amp, strings, picks, and guitar effects.
Find out what gear is used by your favorite jazz guitar players.
Learn 244 essential chord shapes in this free eBook: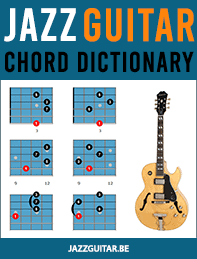 How to Get a Jazz Guitar Tone
What is the best jazz guitar for you and your budget? What are the things to look out for when buying a jazz guitar? In this article we have a closer look at 13 classic jazz guitars.
Find out what guitar amps are suitable to plug a jazz guitar into. An overview with pros and cons of the most popular amps used in jazz + a list of things to think about before buying a guitar amp.
What are the best strings for jazz guitar? Find out which brands of jazz guitar strings are the most popular and how they help to get a jazz guitar tone. You will also learn what the best gauges are and whether you should get flatwounds or roundwounds.
Are you looking to buy a new jazz guitar? After getting feedback from over 5000 jazz guitarists, we've put together this handy infographic that you can refer to the next time you are wondering what other jazz cats are playing.
One of the most important aspects of developing a solid tone, is finding the right amp for you, your guitar, and your musical tastes. To help you find that perfect amp we've asked the JGO readership to let us know what amp they prefer when playing in a jazz guitar context.
Anyone looking for vintage guitars comes across ads for lawsuit guitars. There is a lot of confusion about these guitars though. What exactly are lawsuit guitars? How do you recognize one and where can you buy them?
The Gibson ES-175 is without any doubt the most popular jazz guitar ever. Played by legendary players such as Pat Metheny, Joe Pass, and Jim Hall, this iconic guitar embodies the jazz guitar sound as heard on countless classic albums.
Introduced in 1958 and popularized by artists such as John Scofield and Larry Carlton, the Gibson ES-335 is a true workhouse of a guitar. The ES-335 was the first thinline semi-hollow guitar and has a solid maple block running down its center to reduce feedback.
An overview of the guitars, amps, effects and guitar synthesizers that Al Di Meola plays on.
Discover what kind of guitar setup Allan Holdsworth, one of the important players of fusion jazz, uses to obtain his legato playing style.
Find out what guitars, amps and effects Bill Frisell uses to create his unique sound.
Charlie Christian was the first great solo guitarist with an amplified guitar. On this page, you will find out what gear Charlie used.
Django Reinhardt used the same brand acoustic guitars during his entire career, Selmer guitars. Learn more about these iconic gypsy jazz guitars.
Freddie Green played acoustic only, using the biggest jazz archtops like the Epiphone Emperor, Stromberg, and Gretsch guitars. Find out how he produced enough volume to cut through the wall of sound of a big band.
Learn about the guitar equipment that Hungarian guitarist Gabor Szabo used throughout his career, mostly acoustic guitars such as the Martin D-45.
George Benson is one of the most famous jazz guitarists ever. He endorses and plays Ibanez guitars, but is a true collector and owner of many iconic guitars.
Grant Green has a very recognizable guitar sound, produced by a very basic setup. Here is an overview of the guitars and amps Grant Green used to achieve his smooth jazz guitar sound.
Jim Hall was guitarist with an intimate and warm tone. He was not very interested in guitar equipment and had a simple approach towards his instruments.
Joe Pass was a legendary jazz guitar player with a pure and acoustic-type guitar sound. Here is an overview of the guitars and guitar amps of Joe Pass.
John Scofield has been playing his Ibanez AS200 close to 4 decades. He is not shy of experimenting with his sound and gear though. Learn more about Scofield's favorite guitars, guitar amps, effects, and picks
Duke Ellington once called Kenny Burrell his favorite guitar player, so, what more is there to say? His style has blues, Latin and bebop influences, a blend that makes him a master of smooth jazz guitar.
Larry Carlton goes by the nickname "Mr. 335", the result of his favorite guitar, the Gibson ES-335. Find out what other guitars, amps, and effects Larry Carlton plays.
Mike Stern has a unique guitar sound. He is a fan of Tele-type guitars and faithful to his signature Yamaha Pacifica and Boss guitar pedals.
Pat Martino started playing guitar on a Gibson Les Paul. Nowadays, his main axe is his signature Benedetto guitar plugged into an Acoustic Image Clarus amp.
Pat was one of the pioneers of using electronic equipment in music and he has always on the lookout for innovative instruments. Check out his guitar rig.
Wes Montgomery was not interested at all in guitar equipment, although he refused to play unplugged. He used a Gibson L-5 throughout his career to produce his legendary sound.
Replacing guitar strings the proper way – all you need to know about guitar strings. Putting new strings on your guitar is not rocket science, but you need to follow a few guidelines so your guitar doesn't go out of tune every time you play it.