So, you want to buy a jazz guitar, but you're not sure how to make the right choice. What is the best guitar for jazz and how do you pick a brand and type of guitar that is right for you? This article will help you decide what jazz guitar to buy. We will explore some of the more popular jazz guitars on the market, in a variety of brands and price ranges.
In general, jazz music can be played on any guitar. Most jazz musicians today use an archtop guitar to create their signature sound, but even among that broad category, there are a lot of choices.
There are many factors that should be taken into account when buying a jazz guitar. What body type do you want? What tone range/quality do you need? How much money do you want to spend?
&nbsp
Types of Guitars
The first question you should ask yourself when looking for a jazz guitar is "What style of guitar do I need?"
Basically, there are three main options:
| | |
| --- | --- |
| | Archtop guitars (hollow body guitars) – The archtop guitar is the quintessential jazz guitar as it has been used by numerous jazz legends throughout the history of the instrument. It is commonly associated with famous players like Wes Montgomery (Gibson L-5), Joe Pass (Gibson ES-175), and Johnny Smith (Gibson Johnny Smith Model) for example. |
| | |
| --- | --- |
| | Semi-hollow body guitars – This guitar is the "in between" model of jazz guitar. It is not as small as a solid body, but not as big as an archtop. These guitars have fewer feedback issues compared to archtops, give a warm "jazz" tone, and are more versatile than the more specialized archtop guitars. Some of the famous players that have used these guitars are Emily Remler (Gibson ES-330), Larry Carlton (Gibson ES-335), and John Scofield (Ibanez Artists). |
| | |
| --- | --- |
| | Solid body guitars – This is the type of guitar that you usually find in rock, country, and blues music, although solid body guitars do get used by jazz guitarists as well. John Abercrombie has used an Ibanez Artist and Gibson SG, John McLaughlin has used many different Gibson solid body guitars over the years and Mike Stern has always used a Tele-type guitar. Solid body guitars produce consistent tone, have a high volume output, and are almost always immune to feedback as compared to the other two types of jazz guitars. |
Archtop Guitars (Hollow Body Guitars)
So what is an archtop guitar? As the name might suggest, an archtop is usually a semi-acoustic guitar with a distinctive arched top and a hollow body.
Along with the arched top, another key feature of an archtop guitar are the "f-holes" on either side of the guitar's strings. These holes are commonly seen on violins and other instruments in the violin family, but archtops and semi-hollow body guitars are some of the only guitars to feature this design. The holes are intended to help a guitar project sound more efficiently.
Even though jazz music really only began to take off in the 1920s, the archtop guitar has been around for much longer.
The first patent for what we now consider a classic archtop design was filed by Orville Gibson in 1898. The Gibson Guitar Corporation started producing the first archtop with f-holes, the Gibson L-5, in 1922. The L-5 was originally an acoustic instrument and primarily used in big bands. A semi-acoustic version of the L-5 became available in 1940.
The pros of archtop guitars:
Although archtop guitars have a bigger body compared to solid body guitars, they are remarkably comfortable to play.
Archtops have a very distinctive tone, the tone of jazz. If you play jazz, there's nothing that beats an archtop guitar. Most of your jazz guitar heroes play one!
Archtops look great.
The cons of archtop guitars:
The greatest disadvantage of archtop guitars is their susceptibility to feedback, but there are things you can do to prevent this.
Hollow body guitars are not as versatile tone-wise as semi-hollow body or solid body guitars. The sound they produce is dark and warm, a sound that is not suitable for every style of music.
Below you will find a selection of quality archtop guitars you can't go wrong with.
Gibson ES-175
Price Range: $2,100 – $12,400Production Years: 1949 – 2015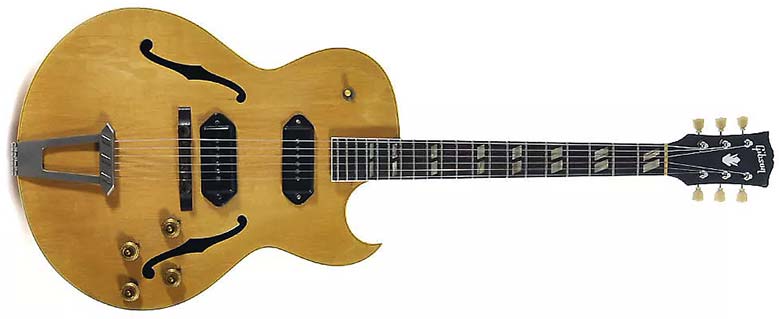 The Gibson ES-175 is probably the best-known jazz guitar, alongside its more expensive counterpart the L-5 CES, as it has been played by many jazz greats throughout the years.
Though most professional players seek used 175s from the 1950s and 60s, the newer reissue models are well built and carries many of the traits that made its predecessors legendary. Epiphone (Gibson's sister company) also has a more affordable version of the ES-175.
The number 175 came from the price tag of the first Gibson ES models (1949): $175.
Notable players: Pat Metheny, Joe Pass, Jim Hall, Herb Ellis, Wes Montgomery (early years), Steve Howe (Yes), Tuck Andress, …
Pros:
Has a classic warm tone that has come to define the jazz guitar sound
Medium weight for an archtop
Collectable and durable
Reasonably affordable when compared to other archtops of this quality
Cons:
Might be a bit pricey for some people who are not used to paying $2000+ for a guitar
Older models of the ES-175 have sunken tops, so look out for this when buying a vintage ES-175
Not produced anymore, but widely available on the vintage market (Reverb, eBay)
Gibson ES-125
Price Range: $900 – $2,600Production Years: 1941 – 1970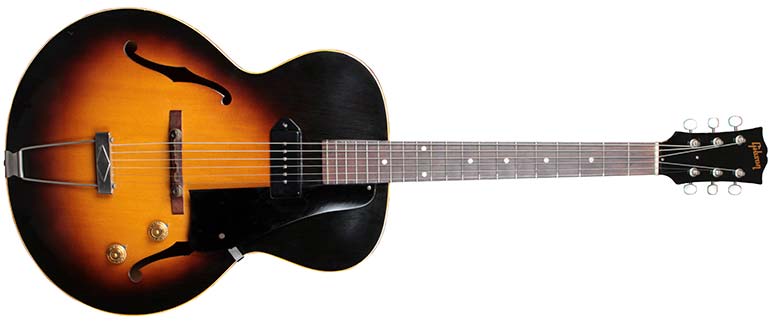 Originally introduced in 1941, the Gibson ES-125 was the last pre-war model to come out the Gibson Guitar Company.
The Gibson ES-125 is a hollow body guitar that provides a sweetly resonant jazz guitar tone and excellent playability. At the same time, the simple design and easy-to-handle approach of this instrument make it a great fit for beginners or students who are just starting to dip their toes into the world of jazz guitar.
Notable players: Bill Frisell, Martijn van Iterson, Tracy Chapman, Marc Ribot, Thom Yorke, Stevie Ray Vaughan, BB King, …
Pros:
Easy to handle, easy to play
Great, warm sound
Great pickup (P-90)
Classic Gibson shape and design
Vintage feel and appearance
Collectable
Not too expensive
Cons:
Because the ES-125 has no cutaway, some of the higher frets are difficult to reach
Just like ES-175s, ES-125s are susceptible to sunken tops
Not produced anymore, but widely available on the vintage market (Reverb, eBay)
Gibson L-5
Price Range: $4,200 – $77,000Production Years: 1922 – today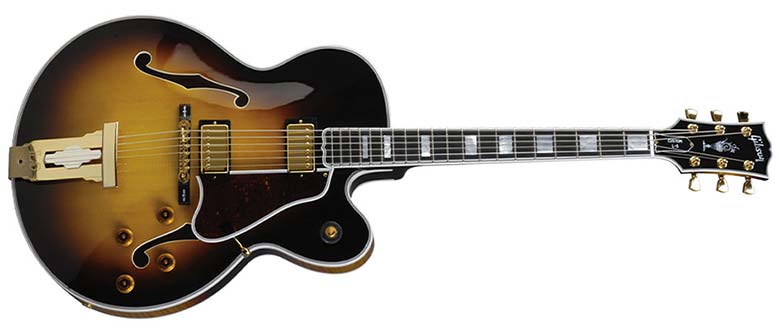 The Gibson L-5 has been a staple of the jazz guitar world for decades, due in great part to its use by jazz guitar legend Wes Montgomery. The L-5 was the first guitar with f-holes and is made with the highest quality one would expect from a high-end Gibson guitar. It sounds as good as it looks.
The only downside to a guitar like this is that it is a bit pricey to be taken out to a club or bar for a gig. Most people would be a little wary about bringing a $9000 guitar to a room full of people drinking and having a good time. But for those who want a great guitar to play with at home, or to record with, this is a great buy.
Notable players: Wes Montgomery, Eddie Lang, Lee Ritenour, Freddie Green, Pat Martino, Jake Langley, Tuck Andress, …
Pros:
It is one of the highest quality archtops that Gibson makes
Great tone, easy to play and has a great jazz look to it
Collectable, maintains its resale value over time
Cons:
Pricey
Heavy
Not very versatile, pretty standard classic jazz tone
The tone can be too bright for some people
Feedback issues
Gibson Super 400
Price Range: $4,200 – $78,000Production Years: 1934 – today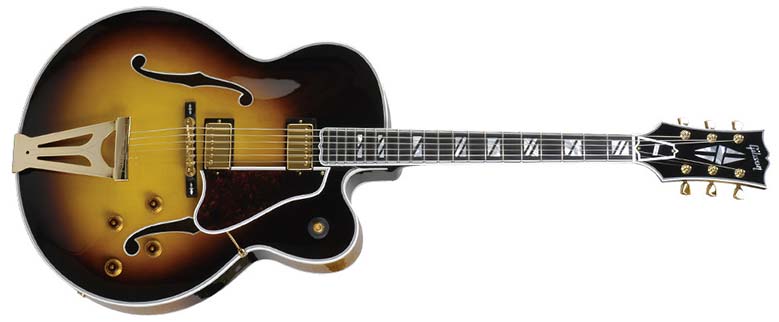 The Gibson Super 400 is one of the most sought after pre-electronic archtop guitars on the market. They are hard to come by as most people who buy them hang on to them for many, many years. This is due to the quality of the guitar, but also to its ability to increase in price over the years.
The guitar debuted in 1934 and is the largest guitar ever produced by Gibson. Besides the early acoustic version, Gibson also released a version with P90 pickups and later with a Charlie Christian Pickup.
Notable Players: Scotty Moore (Elvis Presley), Mark Knopfler
Pros
Great acoustic and electric sound
Plays like butter
High resale value
Cons
Ibanez Pat Metheny PM200
Price Range: $2,800 – $5,200Production Years: 2013 – today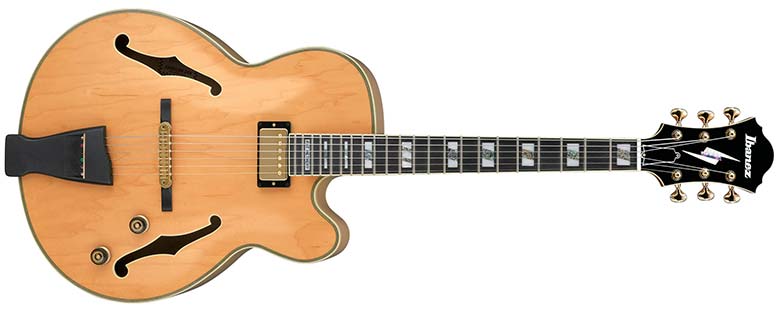 If you're looking for a versatile guitar, with a warm sound and a lot of clarity, then the Ibanez PM200 is a great option. With a round, smooth tone to it, the Ibanez PM200 is a great choice for any jazz guitarist.
Made in Japan, the Ibanez PM200 was designed according to Pat Metheny's specifications, so artists who are inspired by his music can't go wrong with this guitar.
Pros:
Warm and smooth tone
Beautiful design
A slim neck with great playability
Provides clear tenor without being muddy on the bass notes
Japanese made
Cons:
Can be a little bit pricey
Not as much resale value as a Gibson ES-175 for example
Ibanez George Benson GB10
Price Range: $1,200 – $4,000Production Years: 1978 – today

The George Benson Signature guitar, the best-selling Ibanez archtop of all time,  is another custom made archtop that was designed for a famous player and currently on the market.
One thing you should know before buying this guitar is that it is designed for Benson's recent specifications, not from his "jazz" years, more from his pop/rock days. Because of this, the tone is going to match Breezin' more closely than Beyond the Blue Horizon, though some players may desire this sound over the older one anyway.
Notable Player: George Benson
Pros:
Finely built guitar that is durable and collectable
Great tone that comes from the use of higher quality wood
Great look and easy to play
Feedback resistant
Great and stable neck
Reliable
Cons:
Pricey
Not as collectable as the Gibson signature guitars
Some players do not like to play signature guitars
Ibanez George Benson LGB30
Price Range: $800 – $5,000Production Years: 2012 – today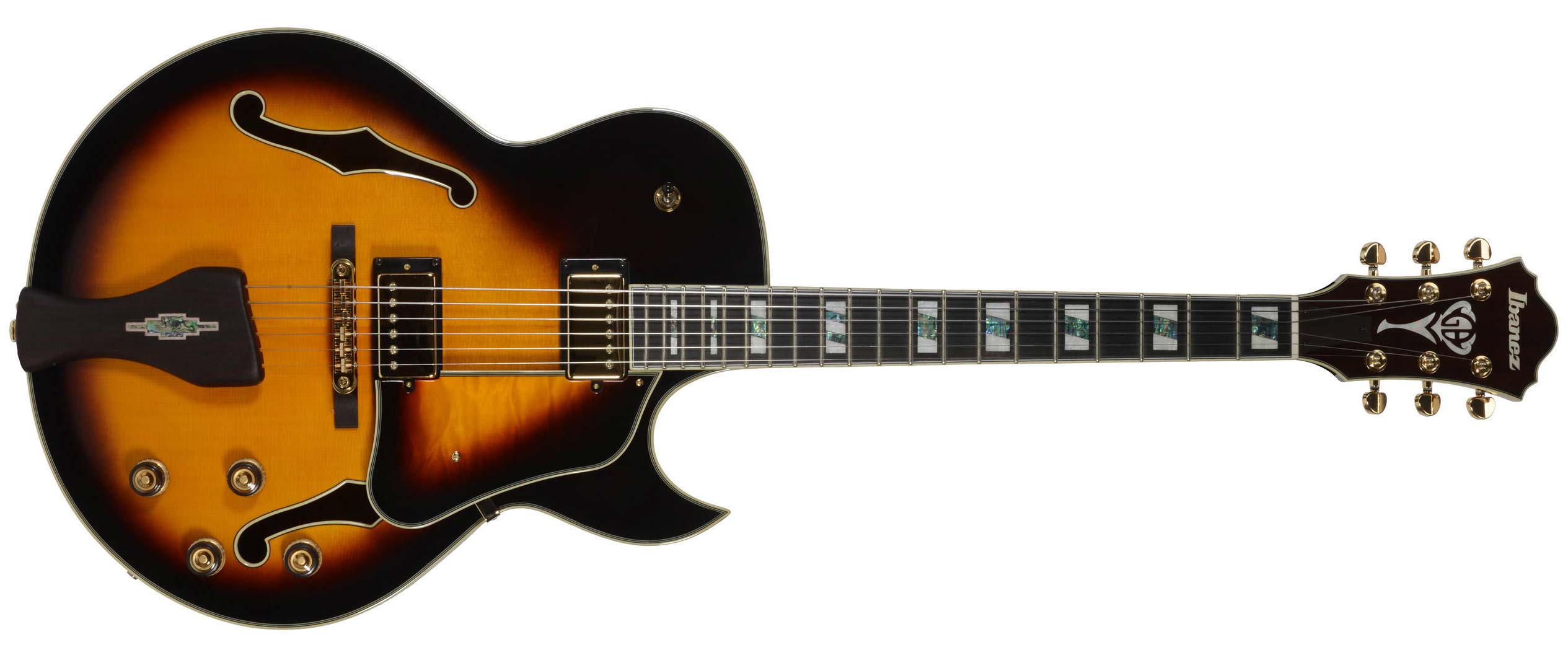 The Ibanez George Benson LGB30 is another guitar that is inspired by the legendary jazz guitarist of the same name, and his influence can be felt in the looks, sound, and style of this hollow body guitar.
The bound ebony fretboard and other stylistic bits of flair combine to make an instrument that looks like a high-end guitar while still being affordable enough to appeal to beginning musicians.
Pros:
High-end look without the matching price
Smooth tones and mellow sound
Cons:
Can be pricey
Fairly heavy (8.5lbs/3,8kg)
Not a lot of acoustic volume
Some owners report a breaking tailpiece when used with heavier strings on models produced between 2011 and 2013.
Epiphone Broadway
Price Range: $800 – $3,100Production Years: 1931 – today

Originally introduced in 1931 as an affordable option for musicians who wanted a high-end sound, the Epiphone Broadway has remained true to its original vision throughout the years. The Broadway is slightly larger than similar models, as a direct result of its original designer, Epi Stathopoulo, who believed that a larger body was necessary for a fuller tone.
Thanks to that belief, the Epiphone Broadway provides a classic example of a large hollow-body guitar design, and its curvy appearance helps draw out a wider range of tones. It was the favorite of many influential jazz artists when it first debuted in 1931, and it continues to be so today, more than eighty years later.
Notable player: Steve Howe (Yes)
Pros:
Great beginner guitar
Warm sound
Great playability
Affordable
Looks great
Cons:
Some owners report issues with the tailpiece, it's hard to install the A and D-strings because they are not long enough.
Some owners report quality issues with the newer models.
Not a great acoustic sound
Narrow neck
Godin 5th Avenue Kingpin
Price Range: $300 – $1,500Production Years: 2008 – today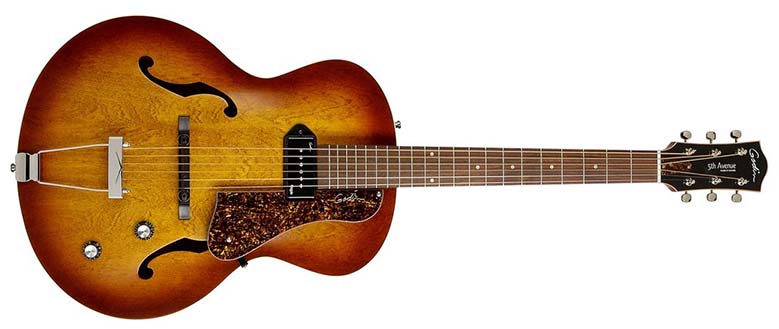 The Godin 5th Avenue Kingpin is a drop-dead gorgeous instrument that sounds every bit as good as it looks. The single P-90 pickup provides a warm and full jazz tone that is often described as old or smokey.
Pros:
Great playability
Open and balanced sound
Great access to a wide range of tones
P-90 pickup
Comfortable size
Classic look
Made in Canada
Best bangs for the buck
Cons:
The neck might be too narrow for some people
No cutaway, but the body starts at the 14th fret
Not very loud acoustically
Some users report problems with the intonation of new guitars, but this is usually fixed with new strings and a good set-up
Heritage H-575
Price Range: $1,400 – $4,000Production Years: 1987 – today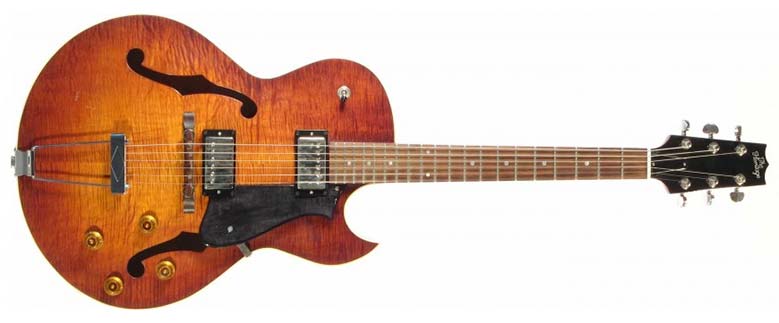 Touted as "a workhorse for any serious player", the Heritage H-575 is a high-end guitar that makes up for its higher price range with its status as one of the most outstanding instruments on the field today.
While the Heritage guitar company has only been around for about thirty years, the company is fighting to establish itself as one of the premier sources for high-end instruments, and the Heritage H-575 is a great example of such a guitar.
Notable players: Mimi Fox, Alex Skolnick
Pros:
Smooth sound
Great playability
Excellent craftsmanship
Cons:
Pricey
Not the same resale value as a Gibson
D'angelico EXL-1
Price Range: $650 – $1,900Production Years: 2010 – today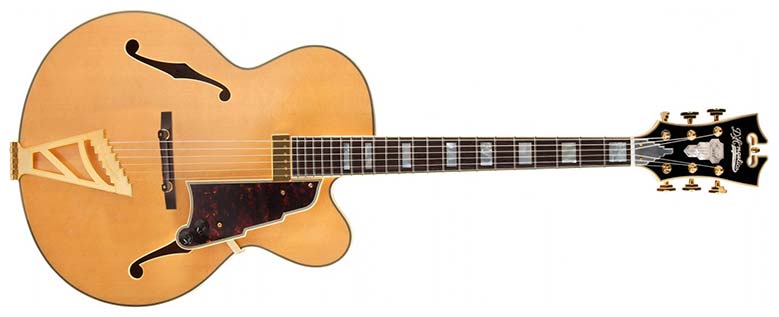 The D'Angelico EXL-1 is a great guitar that comes in three versions: Premier, Excel, and Deluxe. Avoid the Premier and go for an Excel or Deluxe.
Notable players: Russell Malone, Bucky Pizzarelli, Jef "Skunk" Baxter (Steely Dan)
Pros:
Round and bell-like tones
Vintage look with a Golden Age style and flair
Great neck
Affordable
Cons:
The EXL-1 has a floating pickup, which produces a more trebly and acoustic sound compared to a set-in pickup
Semi-Hollow Body Guitars
A semi-hollow guitar has a solid block of wood running through the body and the two bouts (the sides of the guitar closest to the neck) hollowed out.
The center block reduces some of the feedback that hollow body guitars can experience, and the resulting sound tends to be tighter and more focused than a traditional electric guitar.
Since the only real difference between hollow body and semi-hollow guitars is the block in the middle of the guitar, the two classes have a very similar tone, with the hollow body guitar sounding slightly "warmer", but more prone to feedback.
Semi-hollow body guitars have a more "modern" jazz sound and feel compared to full hollow body archtops.
Famous jazz guitarists that use semi-hollow body guitars:
John Scofield – Ibanez AS200, Gibson ES-335
Larry Carlton – Gibson ES-335
Grant Green – played a Gibson ES-330 until the mid-1960s
Kurt Rosenwinkel – Gibson ES-335 and D'Angelico NYSS-3
Emily Remler – Gibson ES-330
Pros:
The primary advantage of a semi-hollow guitar is that it tames the feedback that hollow body guitars are prone to. In addition, it retains some of the warm, round tones that traditional jazz guitars are famous for without sacrificing the sharper, more focused sounds of a solid-body guitar.
A semi-hollow body guitar is more versatile compared to a classic jazz guitar.
Semi-hollows sound "jazzier" compared to solid body guitars.
They are better suited for distorted sounds, that's why they are used by jazz guitarists such as John Scofield and rock guitarists such as Dave Grohl.
Cons:
The main disadvantage of these guitars is that they do lose some warmth of a hollow body guitar. However, the sounds are still very similar, and jazz musicians like Larry Carlton and John Scofield have traditionally favored this guitar as their signature instrument.
Gibson ES-335
Price Range: $1,350 – $30,000Production Years: 1958 – today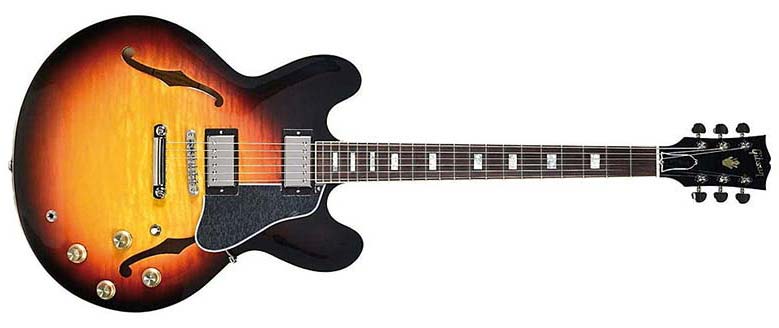 The Gibson ES-335 is the guitar of legends and is a versatile model that works very well for jazz as well as other styles of music.
Originally released in 1958 as the first commercial semi-hollow archtop guitar, the Gibson ES-335 was the favorite of music icons like Chuck Berry, Eric Clapton, and B.B. King.
With a solid maple block in the middle of the body, the hollow wings on either side let sound echo and reverberate around the chamber to create a warm, dark tone.
The ES-335 features the characteristic Gibson "f-holes" that allow for greater volume, even without an amplifier, and the cutaways at the base of the neck allow for ease of access when trying to reach the lower frets.
Notable players: Larry Carlton (aka "Mr 335"), John Scofield, John McLaughlin, Lee Ritenour, Eric Clapton, …
Pros:
The ES-335 was originally designed to retain the warm, husky tones of a hollow-body guitar without sacrificing the power of an electric instrument, and the iconic tone still sets this guitar apart today
Great neck and playability
Easy access to full range of frets
Collectable
Cons:
The lowest-priced ES-335 is still going to be more expensive than other similar jazz guitar models, and the sharp price hike moving up from the lowest range can be off-putting for beginning guitarists
Epiphone Casino
Price Range: $400 – $12,000Production Years: 1961 – today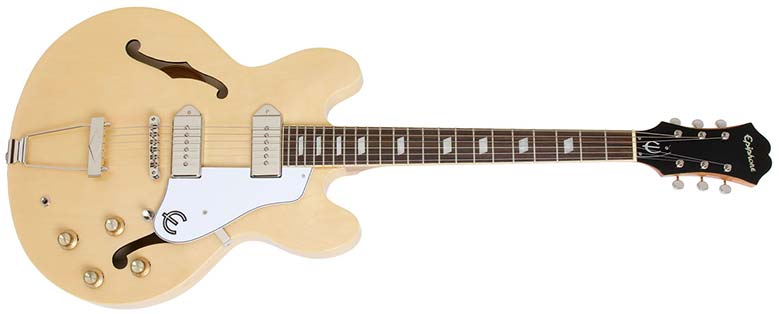 The Epiphone Casino, Epiphone's version of the Gibson ES-330, has long gone down in music history as the preferred guitar of The Beatles, but it's equally well-suited to more jazzy, bluesy playing styles. Since it rocketed onto the world stage in 1961, this guitar pairs the looks of an electric guitar with a completely hollow body for a classic, vintage feel.
With a light, well-articulated tone, the Casino is a thinline archtop with a distinctive shape and a rich history that dates back to the birth of a whole new sound on the global stage.
Notable players: John Lennon, Keith Richards
Pros:
Classic look and iconic sound
Hollow-body sound with thinline construction to reduce large amounts of feedback
Comfortable to play
Cons:
The Casino is a versatile guitar, but harder to get a great jazz sound out of it
Ibanez John Scofield JSM100
Price Range: $1,200 – $3,400Production Years: 2001 – today

The Ibanez JSM100 takes its inspiration from the iconic jazz guitarist John Scofield. In terms of looks, sound, and feel, the Ibanez JSM100 is a replication of the legendary musician's favorite guitar, the Gibson ES-335.
With a classic, warm, and versatile tone, the Ibanez JSM100 can switch easily between different genres and tones.
Pros:
Thick soundblock and rigid top combine to greatly reduce the risk of feedback
Shifts easily between genres and sounds
Cool look and classic styling
Cons:
pretty pricey, even compared to other semi-hollow body guitars
Yamaha SA2200
Price Range: $1,200 – $2,600Production Years: 1992 – today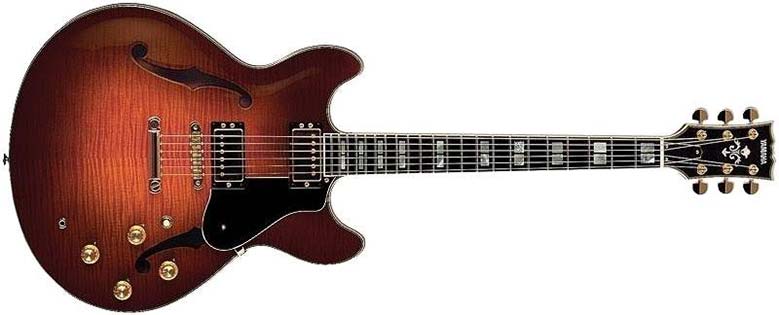 A Gibson ES-335 style guitar from the Japanese Yamaha Corporation, the Yamaha SA2200 is a sycamore and maple guitar that has enough weight and power to provide a strong, energetic sound while still retaining the soft, warm tones of a hollow body guitar.
The solid maple soundblock helps fight feedback, while the hardwood sycamore construction lends to the weight of the overall instrument.
Notable players: Biréli Lagrène, Frank Gambale, John Scofield
Pros:
Beautiful guitar
Lively sound and great resonance
Mellow attack
Comfortable neck (wider than comparable models)
Cons:
When plugged in, some musicians have reported a persistent buzzing or droning sound that can be pretty distracting while playing
A little heavy
"Glassy" tone, that is not to everyone's liking
Guild Starfire IV
Price Range: $850 – $3,100Production Years: 1963 – today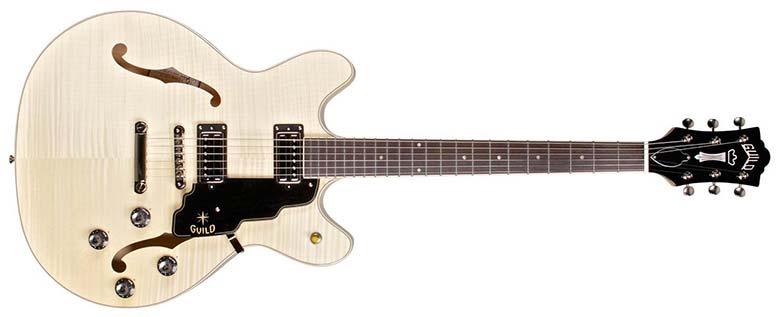 The Guild Starfire IV is another Gibson ES-335 copy with a laminated maple body. The thinline design makes it a great choice for blues, jazz, and rock guitarists.
Pros
Killer tone and playability
Great neck
Great pickups
Cons
Not as much resale value as a Gibson
Solid Body Guitars
A solid body guitar is made entirely of a single wooden block. The strings of the instrument are stretched above the guitar's body, and there are no extra holes to allow for sound to echo or amplify.
As the name suggests, the difference between solid body and hollow body guitars comes from the fact that, while a hollow body instrument allows sound waves to bounce around inside the body of the guitar in order to increase their volume, the solid body guitar relies on electronic amplification.
Pros
One of the main advantages of using a solid body guitar is the size. Solid body guitars are smaller than their hollow or semi-hollow counterparts, which can make a difference to musicians who are worried about performing with an instrument that is too bulky or unmanageable on stage.
A solid body guitar has fewer to no feedback issues.
Solid body guitars are more versatile in terms of sound. You can use them in other genres such as rock or metal, which is less the case with semi-hollow and certainly hollow body guitars.
Cons
Solid body guitars may not have the best sound for jazz musicians. While there are some notable exceptions to this rule (Telecaster-type guitars), a lot of musicians tend to favor the traditional warm, round tones of hollow body guitars, and a solid body guitar just can't replicate that sound.
Fender Telecaster
Price Range: $275 – $40,000Production Years: 1950 – today

Though known better in the country/rock world as the guitar of choice for many players, the Fender Telecaster has snuck its way into the jazz guitar idiom over the decades.
Known for its warm tone, playability and build solid enough to take a beating, this guitar is a favorite among studio and traveling musicians of all styles.
Notable Players: Bill Frisell, Mike Stern, Julian Lage, Ed Bickert, Ted Greene, …
Pros:
Lightweight
Durable
Good sustain and minimal feedback
Affordable
Versatile, can be used for different styles and sizes of ensemble
Cons:
Doesn't give the "traditional" jazz tone, still warm, but more "modern" sounding
Doesn't have the jazz guitar "look" to it
The neck is thinner than most archtops and may be uncomfortable to some players
Yamaha Pacifica
Price Range: $100 – $800Production Years: 1989 – today

Another example of a solid-body guitar used by a jazz musician (Mike Stern), the Yamaha Pacifica is an extremely playable guitar that is affordable enough to be great for even starting musicians.
With three pickups (two on the neck and middle and one additional humbucker), the Pacifica can create the round, resonant tones more typically found in a semi-hollow guitar.
Notable player: Mike Stern
Pros:
Affordable
No feedback or hum problems
Versatile in terms of sound
Cons:
Although usable in a jazz setting, it doesn't quite sound like a hollow body guitar.
Fender Jazzmaster
Price Range: $450 – $12,500Production Years: 1959 – today

First released in 1958 at the NAMM Show, the Fender Jazzmaster was originally designed to be used specifically by jazz musicians. Since then, however, it has come to be a favorite piece of musicians in other genres such as pop and rock.
Joe Pass played a Fender Jazzmaster (and a Fender Jaguar) when was trying to get rid of a drug addiction in the Synanon Center, probably because that was the only guitar available at the center.
Since its original release, the Jazzmaster has undergone some mild renovations, but across the board, the sound, style, and tone of this guitar is very much the same as it was more than sixty years ago.
Although the Fender Jazzmaster is a great guitar that can be used in a variety of genres, I don't recommend it to play jazz.

Jazz Guitars Under $1,000
If you're looking for a great jazz guitar, but don't want to break the bank finding it, there is a wealth of options available.
Especially if you're just starting out, or are still figuring out which direction you want your music to take, a guitar that costs more than a thousand dollars can seem somewhat unnecessary.
Below is a selection of jazz guitars under $1000.
Epiphone ES-175 Premium
Price Range: $600 – $1,000Production Years: 2011 – today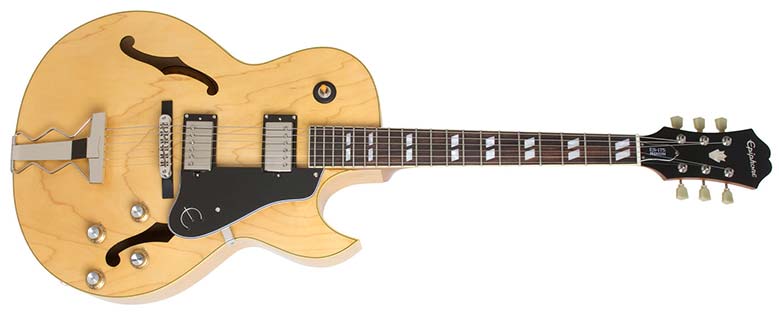 The Epiphone ES-175 Premium is a copy of the Gibson ES-175D and is a great guitar with an affordable price.
Pros:
Faithful copy of the Gibson ES-175
Round tones and authentic sound
Looks great
Cons:
Not everyone likes the pickups, but these can be replaced by better options
Hard to find
Eastman AR371CE
Price Range: $450 – $1,000Production Years: 2012 – today
A laminated workhorse of a guitar, the Eastman AR371CE is perfect for the most hardcore jazz purists and more experimental musicians alike. The instrument adapts itself easily to multiple styles of play, and the handsome, acoustic design belies the wide range of styles that the guitar is fit to play.
The affordable price makes it a great starting point for musicians who are still fleshing out their style of play.
Pros:
Classic, old-school look with a lightweight feel
Easy to play
Easy access to the full range of frets
Cons:
Some of the finer craftsmanship details vary between individual guitars
The slender neck may be difficult for some musicians to navigate comfortably
Ibanez Artstar AS153
Price Range: $700 – $1,000

The Japanese guitar company Ibanez carries many names in different markets, but no matter the official brand, the instruments they make are some of the best on the market today.
The full tones offered by the Ibanez Artstar AS153 puts it on the same level as other, far more expensive semi-hollow guitars, and the flexible sound makes it a great fit for musicians who are just beginning to figure out the sound they want.
Ibanez AS93
Price Range: $420 – $700

Perfect for jazz or blues, the Ibanez AS93 is an unmistakably cool instrument. The sound of this guitar is often described as "growling", especially in the lower range, while the higher range of tones produces a bright, focused sound.
Pros:
Stylish look with "flamed" maple and retro feel
A solid and durable instrument with flashy gold hardware
A lightweight instrument with a warm, steady sound
Very affordable
Jazz Guitars Under $500
"You get what you pay for" is a saying that holds up in the guitar world.
That being said, nowadays it's possible to get a good quality jazz guitar for under $500. These models are ideal as an introductory jazz guitar for players who want to get a jazz guitar sound without breaking the bank.
Below you will find a list of quality guitars under $500.
Ibanez Artcore AF75
Price Range: $290 – $700
Ibanez Artcore AS73
Price Range: $300 – $400

Epiphone Joe Pass Emperor II
Price Range: $350 – $700

Epiphone ES-335 Dot Studio
Price Range: $350 – $700

Epiphone Sheraton II
Price Range: $350 – $700

Washburn J-600
Price Range: $500 – $850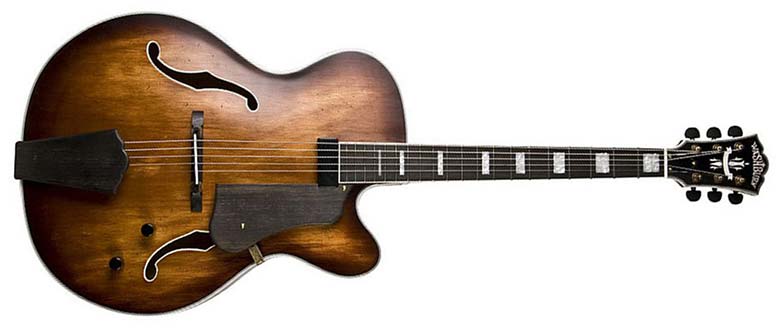 Gretsch G2420 Streamliner
Price Range: $470 – $600

Gypsy Jazz Guitars
Gypsy jazz is a style with a very specific sound that requires a Selmer-style acoustic guitar. Gypsy jazz guitars sound loud, a bit nasal, and are hard to play because of the high action of the guitar.
If you are drawn to the music of Django Reinhardt and want to dig deeper into that style, a Selmer-type guitar such as the one below is what you need. Outside of the gypsy genre though, this guitar has limited use.
Gitane DG-300 John Jorgenson Signature Selmer Style Guitar
Price Range: $950 – $1,500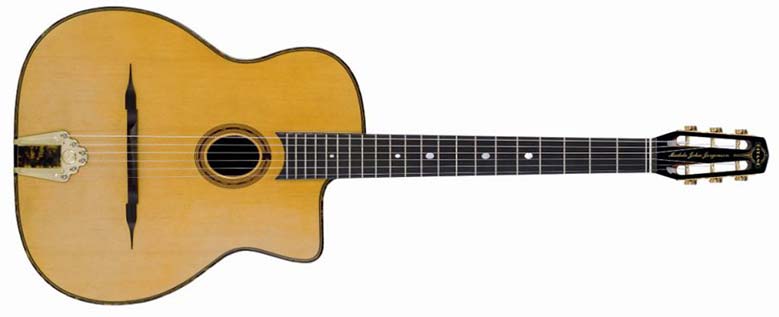 The Gitane John Jorgenson Signature model is the company's attempt to bring back the same quality Selmer style guitar that Django used at a moderate price. The guitar looks and sounds fairly authentic and any gypsy style player would enjoy this guitar.

Nylon-String Guitars
Nylon-string guitars are not used often by jazz musicians, with a few exceptions such as Al Di Meola, Pat Metheny, and Joe Pass (the Unforgettable album).
Nylon-string guitars are the guitar of choice in bossa nova music, so if you play a lot of bossa, a nylon-string guitar might be what you need.
Godin Multiac Grand Concert Encore Nylon
Price Range: $1,100 – $1,200

Not every nylon guitar has to look like a museum piece. The Godin Multiac Grand Concert Encore Nylon is a semi-acoustic, semi-electric guitar that features nylon strings along with all the loud charge and energy of an electric guitar.
Pros:
Easy to play for a nylon-string guitar
Comfortable neck
Nylon string sound with all of the benefits of electric amplification
Sounds great acoustically as well as amplified
Cons:
Relatively expensive
Prone to feedback
What guitar do you use to play jazz? Let us know in the comments below!