Are you wondering how to get a good jazz guitar tone? On this page, you will learn how your favorite jazz guitar player gets his unique sound, besides using his ears and fingers. Discover what kind of guitars, guitar amps, strings, picks, and effects the jazz greats use.
Al Di Meola's Guitar Gear

Al Di Meola is an influential guitar player who blends different musical styles such as jazz, flamenco, and rock into his recognizable fusion sound.
Al Di Meola uses a sophisticated pedalboard running through his amps.
Acoustically, he uses a microphone and the line from his guitar, using an RMC pickup that picks up the natural sound of his guitar and also accesses a divider into his Roland VG-88 guitar synth.
Al Di Meola – Guitars
Conde Hermanos Guitars
The Conde family from Madrid (Spain) is a famous guitar-building family.
Al Di Meola uses a Conde nylon-string guitar on recordings like World Sinfonia, Winter Nights, and Elegant Gypsy.
The guitar is almost 30 years old and has tremendous beauty and great sustain.
Al Di Meola also has a signature model made by Felipe Conde. He had the guitar modified with a Florentine cutaway. To amplify the guitar, Al uses a Schoepps C-530 condenser microphone and an RMC piezo pickup.
Paco De Lucia also plays Conde Hermanos guitars.
Ovation Al Di Meola Signature 1769-ADII5
Al Di Meola has an Ovation signature model. Most of the album Cielo e Terra is recorded with the Ovation. One thing he likes about the Ovations is that its strings do not have bridge pins, they attach at the rear of the bridge.
In the studio, he records the Ovation 60% microphone and 40% direct signal.
The Ovation is equipped with a MIDI pickup to use with a Roland guitar synthesizer.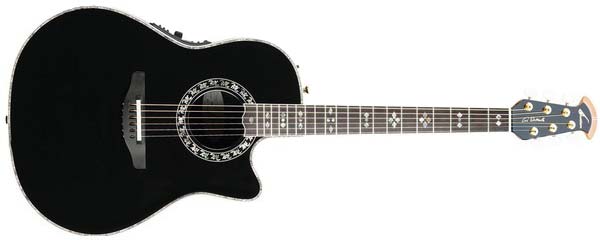 Godin Multiac
Al Di Meola has 2 Godin Multiac guitars: a Godin Multiac Jazz and a Godin Multiac Nylon SA model.
Both guitars are MIDI-equipped.
The Godin Multiac Jazz has a single-cutaway chambered body and a Godin GJN1 humbucker.

Other Guitars
PRS (Paul Reed Smith) Private Stock McCarty
PRS Al Di Meola Prism
1959 Gibson Les Paul Custom Ebony – This guitar, that was originally red, is featured on the cover of the Elegant Gypsy album.
1965 Gibson Les Paul Deluxe
1971 Gibson Les Paul Custom with DiMarzio pickups.
Gibson Les Paul Custom with f-holes (signature prototype)
Gibson Al Di Meola Les Paul
Gibson Al Di Meola hollowbody
Gibson J-200
2 Gibson ES-175s
Conde Hermanos 12-string (nylon)
Fender Stratocaster
Martin D-18 from 1948
Sigma SDR-28MLE – Al Di Meola used this guitar for the recording of his Beatles-tribute album All Your Life.
Guild 12-string
A Taylor guitar
Synthaxe
Al Di Meola – Amps
Mesa Boogie Stiletto Ace Combo
Al Di Meola uses a Mesa Boogie Stiletto, a 50W, 2×12 tube amplifier. It is a loud, British-sounding guitar amplifier equipped with EL34 tubes.
He owns a second one with 4 12-inch speakers.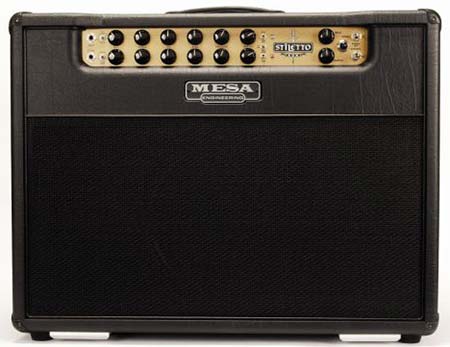 AER Acoustic Amplifier
Al Di Meola uses a small AER acoustic amp to amplify his acoustic guitars.
Other Amps
90-watt Mesa Boogie Mark V with one 12-inch speaker.
50-watt Dumble Overdrive Special amp
Fuchs Overdrive Super 100 through a Feiten vintage 2×12 cabinet.
A Sewell amp
Elmwood Modena M90
Al Di Meola – Guitar Effects
Al Di Meola uses 3 Roland guitar synthesizers with his MIDI-equipped Ovation. The outputs of these 3 synths are connected to an Alesis multi-fx 12 channel board.
Roland VG88 V-Guitar System
The Roland VG88 is a processing/modeling system that models some of the most popular guitars and amps in history.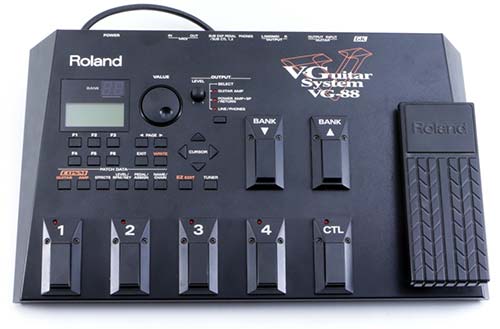 Roland GR30
The Roland GR30 is a guitar synth that Al Di Meola uses to broaden his sound palette.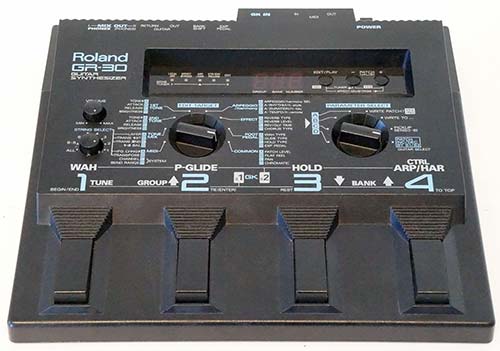 Other Guitar Effects
Roland VG8 – Al Di Meola uses the VG8 to control the GR30.
Lexicon 200 Digital Reverberator
TC Electronics Chorus
TC Electronic Hall of Fame
TC Electronic PolyTune 2
Roland GR1
Diamond Halo Chorus
Xotic Effects EP Booster
Xotic Effects SP Compressor
Fulltone OCD Obsessive Compulsive Drive
MXR CSP101SL Script Phase 90
MXR Carbon Copy Analog Delay
Andy Fuchs custom TRS CAT-5 breakout box
Neunaber Wet Stereo Reverb
Skreddy Echo
Hilton Pro Guitar Volume Pedal
GigRig G2 switching system
Taurus Dexter Octaver
Taurus Zebu Delay/Reverb
Way Huge Echo Puss
Al Di Meola – Strings
Al uses D'Addario EJ16 Phosphor Bronze strings on his Ovation guitars (012 to 053).
D'Addario EPS510 Pro Steels regular light gauge (010 to 046)
His electric guitars are stringed with D'Addario EXL110 sets.
On his Conde guitar, he uses Alvarez strings.
D'Addario EJ44C Pro-Arté Classical (extra-hard tension)
Al Di Meola – Picks
Al Di Meola uses extra-heavy D'Andrea custom picks.
Allan Holdworth's Guitar Gear

Allan Holdsworth was a British fusion jazz guitar player and composer. He's one of the key figures of fusion jazz but doesn't always get the recognition he deserves.
Allan has a very unique sound and musical interpretation. His horn-like tone and phrasing is a result of:
In the first place, his hands. In an interview, he says that you make the sound with your hands and you can fine-tune it with your gear.
His guitar rig: the guitars, amps, and effects he uses.
His legato playing style, he avoids picking notes (the contrary of players like Al Di Meola).
The use of the tremolo bar.
A legato style of playing requires a lot of sustain. The traditional way of getting sustain is using distortion, but Allan Holdsworth never liked using distortion to get sustain. That's when his search for the right gear started.
Allan Holdsworth – Guitars
Steinberger ZT3
Allan Holdsworth was a big fan of headless guitars.
In his own words:
If you get used to playing a headless guitar, it's really hard to go back to a headstock. I can't really describe it, it just feels awkward.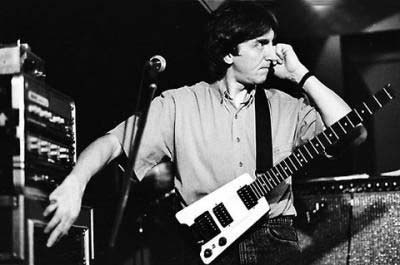 Ned Steinberger, a friend of Allan Holdsworth, is a luthier who is known for his minimalist headless guitars and basses. His most famous guitar model is the L-series guitar, made of a graphite and carbon fiber mix. The tuners are located at the tailpiece, the strings have a ball at both ends.
Another famous invention of Ned Steinberger is the Trans-Trem, a device that enables to transpose the tuning of the guitar.
Ned's company, Steinberger Sound, was bought by Gibson in 1986.
Allan Holdsworth has a Steinberger signature model, the GL2TA-AH with passive Seymour Duncan SH-AH1 Humbucker pickups.
Bill DeLap Guitars
Bill DeLap is a Monterey-based luthier.
He has built several guitars for Allan, including a Steinberger model, a double-neck guitar, and some baritone guitars.
Allan used the Steinberger Bill Delap until he hooked up with Carvin. He now switches back and forth between the two.
Carvin Guitars
Because Bill DeLap guitars took too long to make, Allan Holdsworth approached Carvin (now Kiesel) about making him a guitar.
The result is the Carvin HF2 and HF2 Fatboy. These are the guitars he uses in the studio most of the time. Live he plays the DeLap guitars.
The HF2 is semi-hollow, the Fatboy is completely hollow.

Ibanez AH-10
Allan Holdsworth has an Ibanez signature model called the Ibanez AH-10, which he used in the 80s.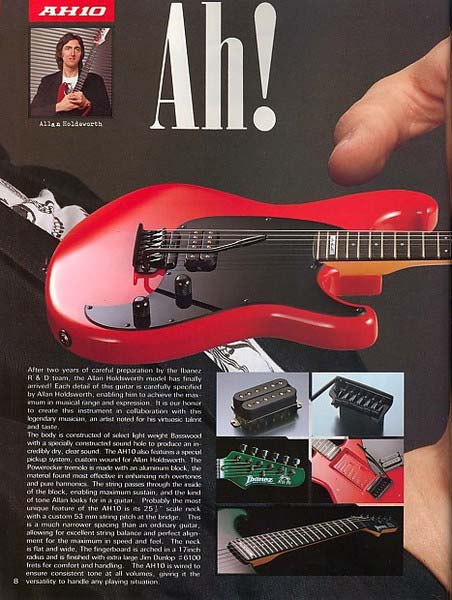 Charvel Holdsworth Original
Another Allan Holdsworth signature model is the Charvel Holdsworth Original, which he also played in the 80s.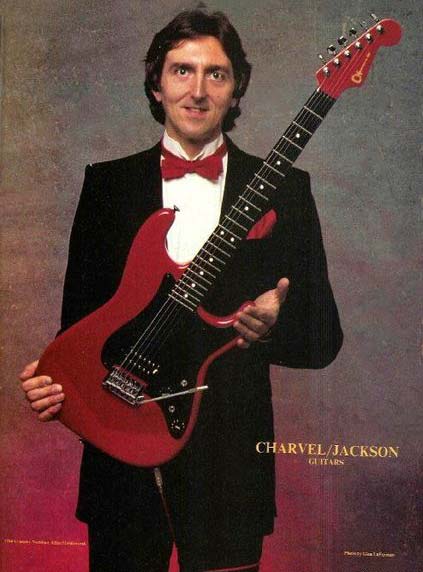 Gibson Les Paul SG Custom
Allan Holdsworth owned 3 Gibson SGs and used them for about a decade.
In the 70s, he used this guitar in Tony Williams's Lifetime band and in the band Soft Machine.
Synthaxe
The Synthaxe was made by Bill Aitken in the 80s and is a fretted, guitar-like MIDI controller with or without a breath controller.
Nowadays there are about 1000 pieces of this instrument in existence and Allan Holdsworth owned 2 of them.
in Allan's words:
When this thing came along, I was just like, I've been waiting for this all my life.
Allan used the Synthaxe on the albums Atavachron, Sand, and Secrets.
Other guitar players who used a Synthaxe: Lee Ritenour, Gary Moore, and Al Di Meola.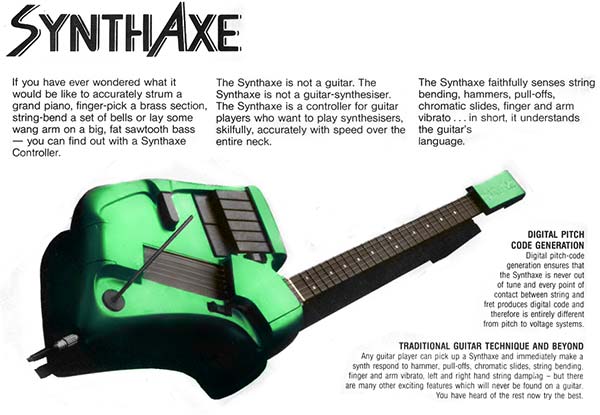 Other Guitars
Allan's first guitar was a Hofner President, bought when he was 16.
Allan owned a blue Fender Stratocaster in the early years, one he got from a friend and which he used it for about 6 months. Later in his career, he experimented with Strats again (with Humbucker pickups).
In 1972 Allan Holdsworth recorded with a trio called Tempest, playing a Gibson ES-335.
Ovation '83 Collectors Series
Gibson Firebird 7
Canton Guitars (signature model)
Allan experimented with a Chapman Stick (one without bass strings).
Allan Holdsworth – Amps
Harley Thompson Amps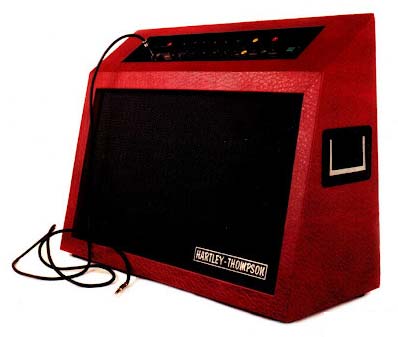 Allan loved these transistor amps (made in the UK) because of their warm and clean sound. He used 2 Hartley Thompson 100w amps (later 200w) with 4 Yamaha 4×12 cabs (Yamaha and Celestion GI2 speakers).
In his own words:
Transistor amps are clean up to a certain point, and after that, they go into a horrendous type of distortion. The Hartley-Thompson doesn't do that…
Yamaha DG80 112 Digital Modeling Amp
Allan Holdsworth owned 2 Yamaha DG 80-Watt digital modeling amps with Celestion Vintage 30s.
One he used for his clean sound. He takes a crunch preset with very little gain and a lot of master volume.
The other amp he used for his lead tone. It's the Lead One preset with various degrees of gain.
Hughes And Kettner
Allan Holdsworth was an endorsee for Hughes and Kettner.
He used the TriAmp MKII, the Switchblade 100 Combo, a TM212 cabinet, a CC 412 A30 cabinet, and the ZenTera.
Mesa Boogie Amps
Allan used several pieces of Mesa Boogie amps over time, running either a Mark III, Quad Preamp, or .50 Caliber through various combinations of custom enclosed speaker boxes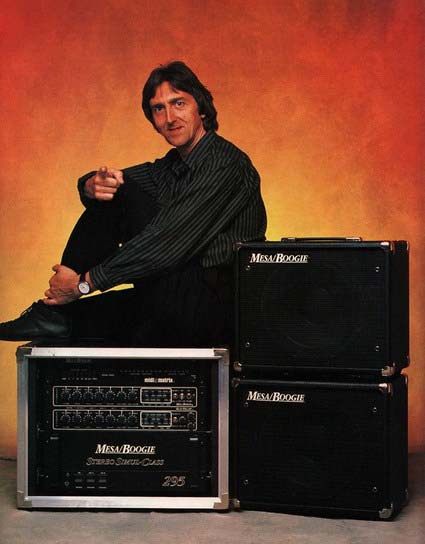 Other Guitar Amps
In his early years Allan Holdsworth used a Vox AC30.
He also played a 50-watt Marshall with 2 4×12 speaker cabinets. He liked the Marshalls for single-note soloing, but not for chords because they distorted the chords.
2 Norlin Lab Series L5, which he found too clean.
2 Yamaha P-2200s (200w), plus 2 Yamaha PGI pre-amps, and S412 speakers.
Fender Twin Reverb
Fender Princeton II
Fender Super Champ into Yamaha 200w power amp and Marshall 4×12 cabs.
Johnson amps
A Carvin keyboard amp
Allan Holdsworth – Guitar Effects
Yamaha UD Stomp
Allan Holdsworth approached Yamaha with the idea of putting a rack full of delays into a box. The result is the Yamaha UD Stomp.
This guitar effects stompbox has eight separate delays.
Much of the UD's technology is later used in the Yamaha Magicstomp.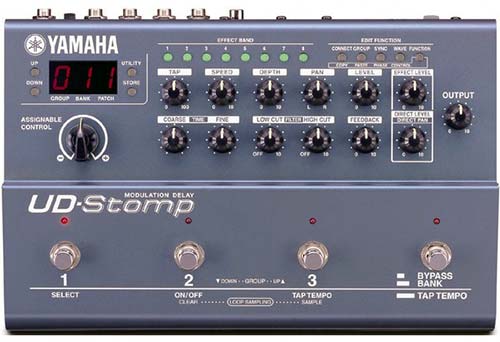 Yamaha Magicstomp
Live, Allan Holdsworth uses 5 or 6 Yamaha Magicstomps, 1 clean, 1 clean chorus/delay, one for distortion, and the others for effects such as pitch shifting.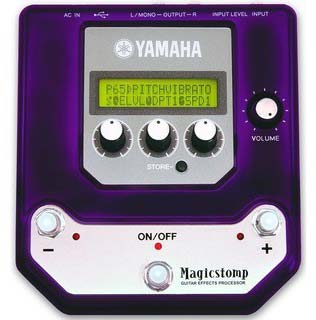 Radial Engineering Tonebone JX-2 Pro Switchbone
In Allan's words:
The Radial Switchbone sounds great! It is the best ABY box that I have used and the transformer isolation makes it easy to combine any two amps without noise.
Roland VG-8EX V-Guitar System
Allan's words:
I sold the VG-8 out of desperation. But I would have liked to have kept it because it was a useful tool. I actually liked it a lot. I thought it was a really great thing.
Other Guitar Effects
Rocktron Intelliflex – a multi-effects unit for guitar.
ADA Pitchtraq – a programmable pitch transposer and harmonizer.
Rockett Pedals – Allan Holdsworth Signature OD/Boost
Dynacord DDL 12 Digital Delay
Lexicon PCM41
Scholz Rockman – on Three Sheets to the Wind
Dunlop DVP1 Volume Pedal
Dunlop DVP3 Volume (X) Pedal
Yamaha E-1010 analog delay
Allan Holdsworth – Strings
The guitar made by Bill DeLap is stringed with a LaBella .008 set.
The Carvin Fatboy is stringed with a LaBella .009 set.
Allan Holdsworth – Recording
For recording guitar, Allan Holdsworth uses Neumann U87 microphones placed between the center and the edge of the cone.
Bill Frisell's Guitar Gear

Bill Frisell experiments a lot with his guitar gear. He likes to modify his guitars and uses an enormous amount of guitar effects.
Bill Frisell – Guitars
Fender Telecaster
Bill Frisell owns several Fender Telecasters, which he modifies heavily. Among them are a 1969 Thinline, a 1974 Telecaster, and a Fender Telecaster Relic with Suhr pickups.
He likes to experiment with different pickups, such as Lollar, Don Mare, Lindy Fralin, Tom Jones Filter'Tron, and Seymour Duncan pickups (the Antiquity model).
Bill's words:
What's kind of seductive is that it's all still this basic Telecaster and I can get comfortable with the scale, size, and shape of the guitar to where it feels at home, but from one to another, putting certain pickups in certain guitars, there are amazing differences.
Bill plays a Telecaster that is put together by J.W. Black, with a Tele-style Mastery Bridge and Callahan pickups. Jay opened up the back of the bridge so he could add a Bigsby. Bill uses this guitar 90% of the time.

Bill Frisell also owns a Rick Kelly Tele-style made out of pine from a piece of wood from Jim Jarmusch's old loft. It's got Lollar Charlie Christian pickups and has been used on the albums Sign of Life and The Windmills of Your Mind.
Klein Electric Guitars
Bill Frisell owns two Klein electric guitars.
The one he uses the most has a chambered spruce body and a rosewood neck.
The guitar has 4 pickups: a Seymour Duncan JB pickup in bridge position, a Bartolini 5J floating pickup in the middle, a Telecaster pickup at the neck, and a piezo pickup in the bridge. The piezo pickup has a separate output so he can mix 'fuzzed-out' sound with 'almost acoustic' sounds. Bill uses the bridge pickup most of the time with the tone not rolled off.
Bill hasn't been playing these guitars for long and eventually stopped using them.
Other guitarists that use Klein guitars: Joni Mitchell, Andy Summers, Stanley Clark, and Sting.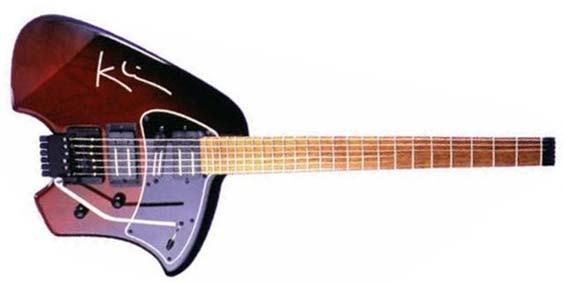 Andersen Guitars
Frisell owns 3 guitars built by Steven Andersen.
The first one was given to him by cartoonist Gary Larson (The Far Side), for whom he provided the soundtrack for a Far Side television special.
He liked the guitar so much that he asked Steven to build a model 17 archtop for him and later a small model 14 archtop for on the road (nicknamed 'Little Archie').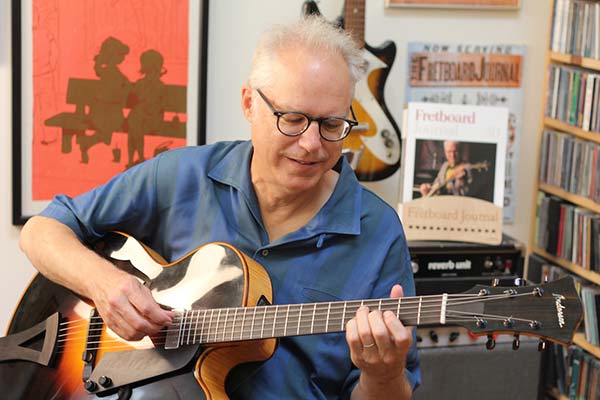 Yanuziello Guitars
Joseph Yanuziello is a luthier based in Toronto. He makes these sort of oddball-like electric mandolins. His guitars are based on really cheap guitars from the late 50s or early 60s such as Harmony guitars.
Other guitarists that use Yanuziello Guitars: Lee Alexander (Norah Jones) and Kevin Breit (Norah Jones).
Other Guitars
Fender Mustang – this was Bill's first guitar
Fender Jaguar – Bill's second guitar
Fender Jazzmaster
1975 Fender Stratocaster reissue
1960s Fender Esquire
Gibson ES-125
Gibson Memphis ES-175
Gibson SG
Gibson J-45 (1961)
Gibson LG-2 – acoustic guitar
Gibson 446 semi–hollowbody electric
Gibson Hummingbird
Collings D-1 dreadnought
Collings I35-LC
Collings Waterloo WL-14
Martin mahogany 12-fret 000-15S (with a Seymor Duncan Mag Mic pickup)
J.W. Black-built Jazzmaster with Seymour Duncan P-90
Tacoma Papoose
Nash T-Model
Bill Frisell – Amps
Fender Blackface Princeton Reverb
The Fender Princeton Reverb is a 22W single-channel tube/valve guitar amplifier combo designed by Paul Rivera. It is equipped with a 10-inch speaker.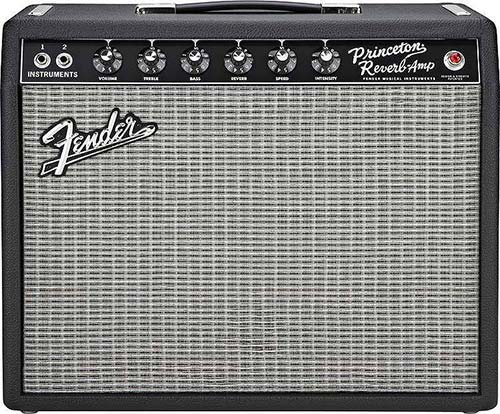 1961 Gibson GA-18 Explorer 1×10
Bill uses this amp on his album Guitar in the Space Age.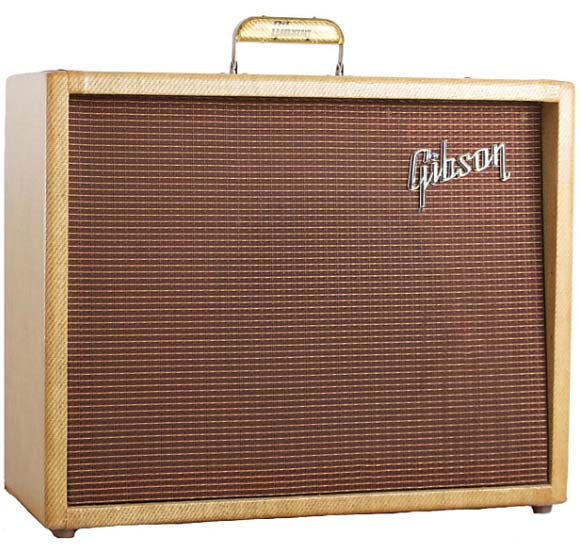 Gibson GA-18 and GA-50
Bill Frisell owns 2 Gibson amps from the early 50s: the GA-18 and GA-50.
Pictured here is the GA-50, which has 2 speakers, a 12-inch and an 8-inch.
Jim Hall used the same amp.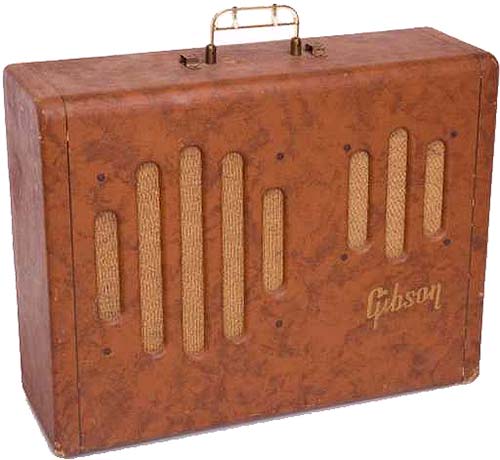 Other Guitar Amps
Fender Deluxe Reverb
Mesa Boogie Blue Angel
Mesa Boogie Subway Blues
Carr Sportsman 19-Watt
Jack Anderson
To amplify his acoustic guitars, Bill uses an external microphone.
Bill Frisell – Guitar Effects
Ibanez TS9 Tube Screamer
The Ibanez Tube Screamer is an overdrive/distortion pedal that allows the true sound of the guitar to come through. The most popular use of a tube screamer is to push a tube amp to make it overdrive more.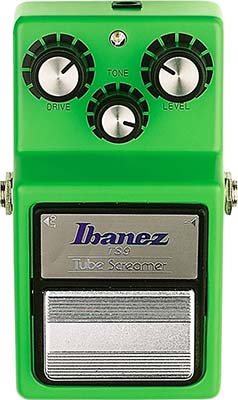 Line 6 DL4 Delay Modeler
The Line 6 DL4 is a digital modeling pedal based on 15 vintage delay and echo effects. Bill uses it for loops and such.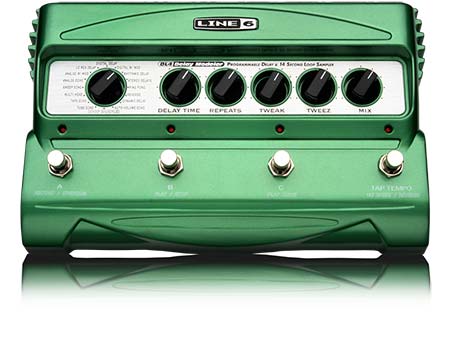 Electro-Harmonix Freeze Sound Retainer Compression Pedal
In Bill's words:
It's having that instantaneous sustain. The Freeze instantly holds a sustained chord and I can play on top of it. I'd been wishing I could physically play one triad, and then another triad against it—with the Freeze I can do that.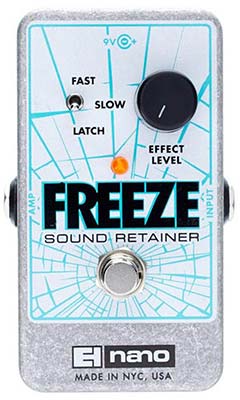 Other Guitar Effects
ProCo RAT Distortion Pedal
Boss DD-1, DD-2, and DD-3 digital delay pedal (for ambiance)
Boss TU-2 Chromatic Tuner
Lexicon MPX-100 – Bill likes to use the reverb of this multi-fx processor until it started making noise and got replaces by the Hall of Fame.
Alesis Microverb
Electro-Harmonix 16-second delay – Bill owns 2 of these, but both are broken.
Electro-Harmonix Nano Pocket Metal Muff – a really extreme fuzz
Electro-Harmonix Micro POG
TC Electronic Hall of Fame reverb
TC Electronic Polytune Mini
TC Electronic HyperGravity Compressor
T-Rex Room-Mate Reverb
Strymon Zuma
Strymon Ojai
Strymon Flint Tremolo & Reverb Pedal
Lehle Little Dual
Catalinbread Katzenkonig Distortion Guitar Pedal
Digitech PDS-8000 Echo Plus – 8-second delay
Alesis Microverb
Aguilar Audiolex
Guyatone VT-X Vintage Tremolo
Crazy Tube Circuits Ziggy Overdrive
Dunlop Cry Baby Wah-Wah (from the 80s)
WrightSounds Fuzz-Stang (made in Portland>
Maxon FL-9 Flanger
Maxon PH-350 Rotary Phaser
Maxon VOP-9 Vintage Overdrive
Jam Pedals Tube Dreamer 58
Jam Pedals Delay Llama Xtreme
Jam Pedals Wahcko +
Jam Pedals Fuzz Phrase
Jam Pedals The Chill
Jam Pedals Rattler
Voodoo Lab Pedal Power 2
Way Huge Electronics Ringworm Ring Modulator
ZVex Fuzz Factory
ZVex Ringtone TT
Bill Frisell – Strings
Bill Frisell uses D'Addario EXL115 strings, amongst other D'Addario sets.
Bill Frisell – Picks
Bill Frisell uses Dunlop Tortex M3 Jazz Picks, and Gibson flatpicks (teardrop-shaped).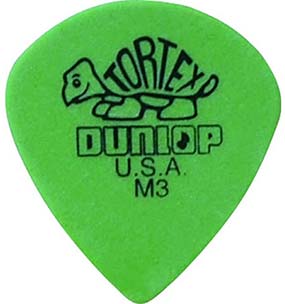 Charlie Christian's Guitar Gear

Charlie Christian was a key figure in the evolution of the jazz guitar. He brought the guitar out of its limited role as a timekeeper doing "chop chop chop" in the rhythm section and put it into the foreground as a solo instrument.
Electric guitar and guitar amps played an important role in this evolution. Before the era of the amplified guitar, the guitar could simply not be used as a solo instrument in the jazz bands of that time because its volume was too low. The only way a guitar could be heard was by playing chords and playing them hard.
Electric guitars and amps changed all this and Charlie Christian was the first great solo guitar player with an amplified guitar.
Charlie Christian – Guitars
Gibson ES-150
Charlie Christian started playing a Gibson ES-150 guitar in 1937. The ES-150 was the first electric guitar that had commercial success. It was introduced in 1936 and was an enormous success in the jazz bands of that time because it produced enough volume to be heard.
ES: stands for Electric Spanish.
150: the guitar cost $150, EH-150 amp and a 15-foot cable included.
Kinds of wood used in the production of the Gibson ES-150:
Archtop: solid spruce
Back and sides: solid maple
Neck: mahogany
Fretboard: rosewood
The ES-150 has a single-coil pickup in neck-position that is known as the "Charlie Christian Pickup".
The original Charlie Christian pickup is almost unobtainable, but there's a company in the UK that makes exact replicas of these pickups:
The Charlie Christian pickup was also used by T-bone Walker, Barney Kessel, Kenny Burrell, and Wes Montgomery.
The ES-150 didn't have a lot of sustain, had a bit of a muddy midrange tone, and was prone to feedback when the amp was turned too loud, but this guitar was a revolution in its time.
Other guitarists that played a Gibson ES-150 include Eddie Durham and Floyd Smith.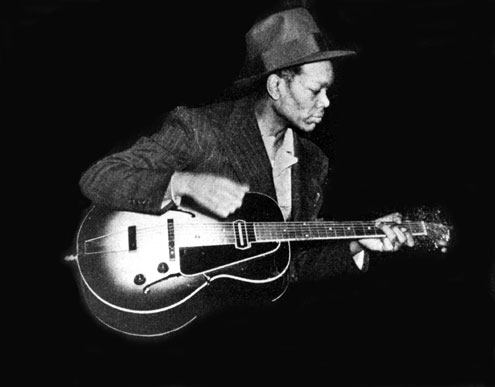 Gibson ES-250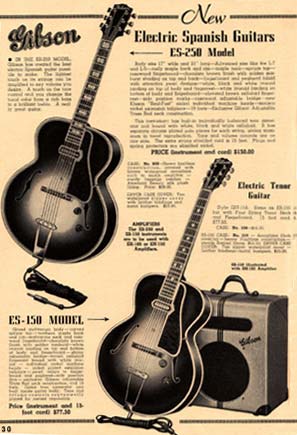 Charlie Christian started using a Gibson ES-250 in 1940 and played it until his death in March 1942.
The pickup on the Gibson ES-250 was the first one to have 6 individual pole pieces, one for each string. It was played in combination with the Gibson EH-185 and EH-275 amp.
Charlie Christian – Amp
Gibson EH-150
The Gibson EH-150 guitar amp came into existence before the Gibson ES-150 (it was used for lap-steel guitars).
The EH-150 has a 10″ speaker (later a 12″) producing 15W.
It has 1 microphone input, 3 instrument inputs, volume controls, a bass-tone expander, and an "Echo" speaker jack.
Other guitarists using a Gibson EH-150 amp include Django Reinhardt and Mary Osborne.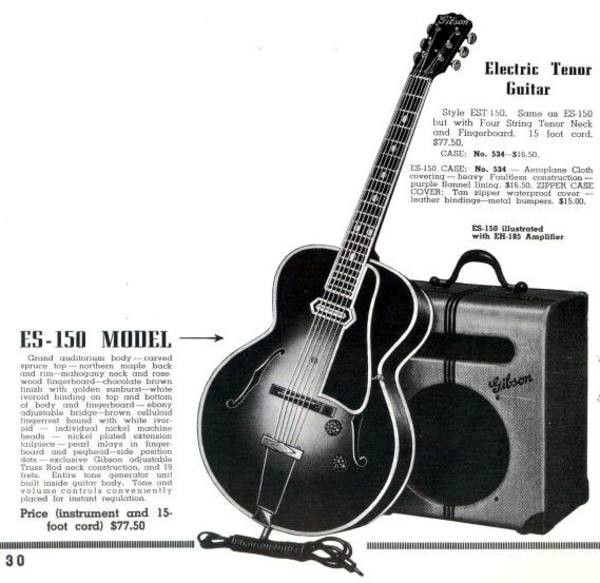 Charlie Christian – Strings
Gibson guitars at that time were shipped with heavy-gauge round wound strings, comparable with a modern set of 13s.
Guitar strings were very expensive and hard to come by and different gauges were not available.
Charlie Christian – Picks
According to Barney Kessel:
Charlie played probably 95% downstrokes and held a very stiff, big triangular pick very tightly between his thumb and first finger. He rested his 2nd, 3rd, and 4th fingers on the pick-guard. He anchored them there so tensely that it was like there almost wasn't a break in the joint. He almost never used the 4th finger of his left hand.
Django Reinardt's Guitar Gear

Django Reinhardt played acoustic guitar his entire career. He played electric once, during his tour with Duke Ellington in the States, but it wasn't a success and he never played amplified again.
Django only used one brand of guitar, Selmer guitars, typical gypsy jazz instruments with an oval soundhole and a high action.
Django Reinhardt – Guitars
Selmer Maccaferri Guitars
Selmer produced guitars between 1932 and 1952. Although they produced a wide variety of instruments, they are particularly known for the "Modèle Jazz" (changed to "Modèle Django Reinhardt" later), made famous by Django Reinhardt. The Selmer Maccaferri was the first guitar with a cutaway and a steel reinforced neck.
The guitar was initially designed by Mario Maccaferri, with a 12-fret neck and a D-shaped soundhole. When Maccaferri left the company, Selmer made some changes to the model, most notably the introduction of the oval soundhole and the lengthening of the neck to 14 frets.
Almost all Selmer guitars were made of laminated Indian rosewood with walnut necks and an ebony fingerboard. The tops are solid French spruce, which defines the sound of the guitar the most (besides the player).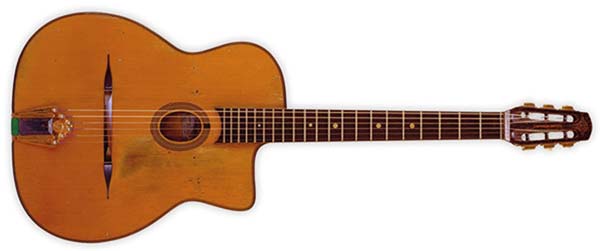 Django Reinhardt got an endorsement deal with Selmer, so many Selmer guitars passed his hands (he sold or gave away a lot of them).
There are 2 guitars that we are sure belonged to Django:
N°503 came in Django's possession in 1940 and he played it until his death in 1952. Now the guitar is exposed in the Musée Instrumental de Paris.
N°704 came into his possession in 1948, just before a tour in Italy. The top was crushed during that tour and replaced by an Italian luthier.
Selmer stopped producing guitars in 1952.
Today Selmer guitars are extremely rare and very much sought-after. During the entire history of Selmer guitars, less than a thousand guitars were made.
Selmer-style guitars are reproduced by luthiers like Michael Dunn and John Kinnard.
Other Guitars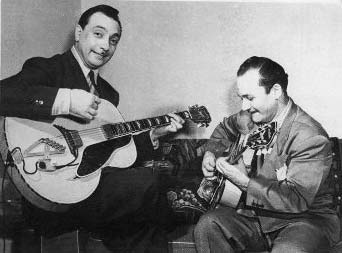 Django Reinhardt used an Epiphone Zephyr #3442 (other sources say a Gibson L5) with a DeArmond pickup hooked to an Epiphone amplifier for a short time during his tour with Duke Ellington in 1946.
On that tour, he is also seen playing a 1937-1939 Levin De Luxe, a Gretsch Electromatic 400, and a Gibson ES-300.
After his tour with Duke Ellington, Django never played electric again.
Django Reinhardt – Amps
Livery Stimer Amps
Django Reinhardt played acoustically most of his life, but on his tour with Duke Ellington, he used an Epiphone Electar Dreadnaught.
In 1946 the first guitar pickups were introduced in Europe (later than in the United States), the Stimer P46, Stimer R46, and 2 years later, the S.T.48 pickup. Together with this last pickup came the 6-watt Livery Stimer M.6 amplifier.
Django used these pickups and amp when he was playing with American musicians in Paris, such as James Moody, Don Byas, and Kenny Clarke.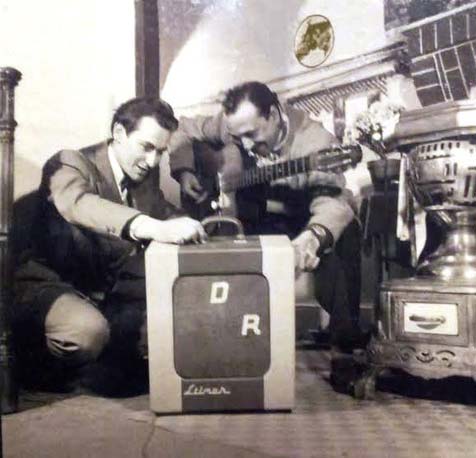 Django Reinhardt – Strings
Django Reinhardt used very light silk-and-steel strings with a .010 to .046 gauge.
Django Reinhardt – Picks
Django liked to use the thickest guitar picks he could find, most of the time using natural tortoiseshell.
Freddie Green's Guitar Gear

To embellish his big, smooth rhythmic sound, Freddie Green used big jazz archtops like the Epiphone Emperor and Stromberg Master 400.
These totally acoustic guitars and their large body frames provided a "big", resonant tonality and surprisingly loud volume for an unamplified guitar.
Setting his strings very high, Freddie was able to produce robust rhythmic textures unprecedented in the history of jazz guitar. Of course, that setup was not user-friendly toward single-line soloing, but Green knew it was the best configuration for his specific style and approach to rhythm chords and big band guitar.
Excluding his very transient excursion into amplified guitar during the late 40s, Green stayed with his tried and true format of big, acoustic archtop guitars and never wavered from it again.
Freddie Green – Guitars
Epiphone Emperor
The acoustic version of the Epiphone Emperor was available since 1936, in 1951 an electric version followed.
The Emperor was the most expensive Epiphone guitar and was one of the guitars kept in production after Gibson bought Epiphone.
Freddie Green played a sunburst Emperor until about 1940.
Epiphone stopped making the Emporer after 1957. Later other (electric) Emperor models were produced (the Joe Pass Emperor for example), but they had little to see with the original acoustic Emperor.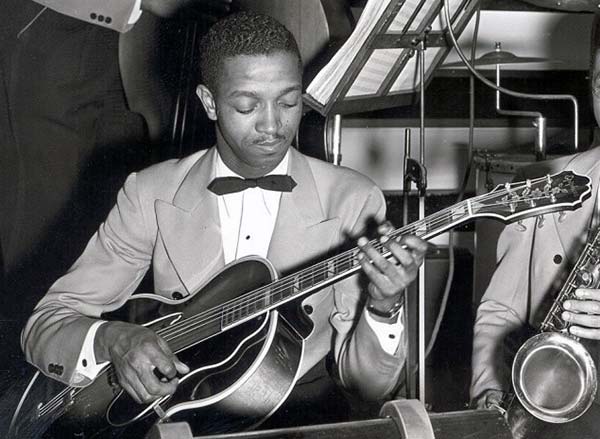 Stromberg Master 300 & 400
During the 40s and 50s, Freddie Green played almost exclusively on Stromberg guitars.
These 18″ to 19″ guitars were called "orchestra" models and were known for their acoustic volume, important in an era where amplification was still rare.
Freddie Green played a Stromberg Master 400 (blonde) and a Stromberg Master 300 (sunburst). The Master 300 has the same design and size as the Master 400, but its finishing is less detailed.
The Stromberg Master 400 is very hard to find these days, and if you find one, expect to pay at least $40,000. Freddie stopped using his Stromberg Master 400 in the late 1950s when the prices of these guitars had gone up after Charles and Elmer Stromberg died in 1954.
Nowadays there's a company in Florida that sells guitars under the name of Stromberg, but they have nothing to do with the original Strombergs.
Other guitarists that played Stromberg guitars: Barry Galbraith.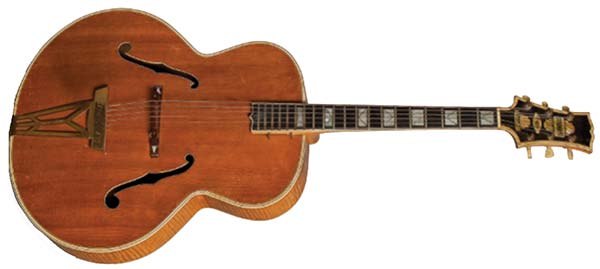 Gretsch Eldorado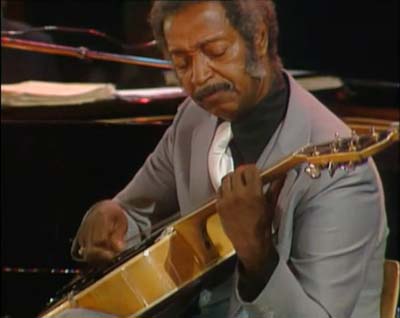 Freddie Green made an endorsement deal with Gretsch in October 1958.
For the rest of his life, he played a blonde 18″ Gretsch Eldorado non-cutaway.
Ralph Patt Recalls:
Gretsch Guitars built a guitar for him that he used at least well into the late 60s. Barry (Galbraith) and I went together to Birdland and the guitar sounded, frankly, terrible. About a year later the guitar sounded pretty good and two years later sounded pretty much like the old Stromberg. I think this makes a strong point that new guitars need to be broken in and that most good acoustic guitars can take on the characteristics of the player.
Freddie Green – Strings
Freddie Green's action (string height) was set very high, in order to produce more volume. The rumor goes that you could almost put a finger between the strings and the fretboard.
Some of the string sets Freddie Green was known to use:
D'addario "High Finish Ribbon Wound"
Gibson "Genuine Strings"
Ernie Ball "Custom Gauge Strings"
Freddie Green – Picks
Freddie green always used a plectrum, reportedly standard a tortoiseshell plectrum.
In one of his guitar cases, a Gibson Medium Pick was found.
George Benson's Guitar Gear

George Benson is a phenomenal guitar player with a very impressive guitar technique and musicality.
He was the owner of Grant Green's D'Aquisto New Yorker and Wes Montgomery's Gibson L-5 before he auctioned them off (Pat Metheny is now the owner of the L-5).
George Benson plays and endorses Ibanez guitars.
I have both the tone and volume controls of the guitar all the way up. Something happens to the tone when I back up off the volume—I like to feel the bite of the guitar. You know, feel all the openness.
George Benson – Guitars
Gibson Johnny Smith
The Gibson Johnny Smith model was produced between 1961 and 1981. It is the guitar George Benson used to record the album Breezin', which launched him commercially.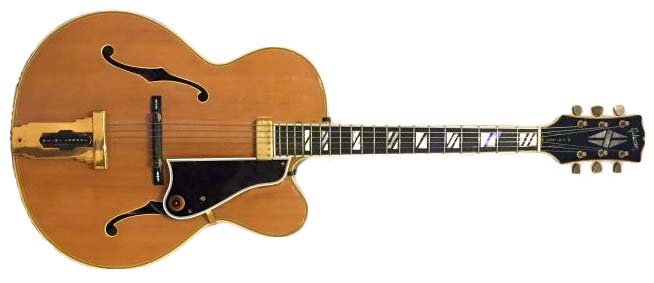 D'Angelico New Yorker
George Benson bought his 1958 sunburst D'Angelico New Yorker (serial number 2049) for $1000 in 1968. It was equipped with a Gibson Johny Smith pickup.
Benson used the D'Angelico to record Body Talk, Bad Benson, and Live At Carnegie Hall.
I only take the D'Angelico out on special occasions. I got a lot of my hit records with that guitar.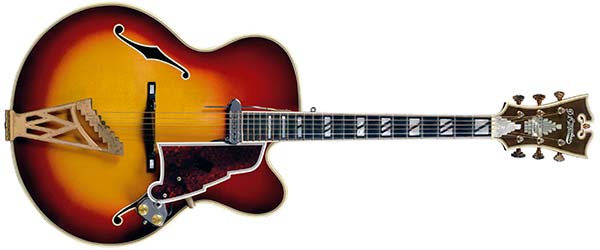 Ibanez GB10
The Ibanez GB10 is one of George Benson's signature guitars and it was one of the first signature models produced by Ibanez. Ibanez started making these guitars in 1977 and they are still produced today. The Gibson GB10 is made in Japan, while the GB10JS from the 90s are made in Korea.
I don't like feedback, and I don't like thin sounds. I want a full sound but I don't want to worry about muting the strings because they're feeding back. My GB10 is unique because it has a smaller body, which takes care of a lot of the feedback issues.

Other Guitars
Here are some of the other guitars in George Benson's collection. A lot of them were auctioned by him in 2017 (Heritage Auctions).
Epiphone Emperor – George Benson's first guitar.
1960 Gibson Les Paul – George Benson used a Gibson Les Paul with a Bigsby during his tour with the Jack McDuff Quartet in the 60s.
Gibson L-5 CES EB – The guitar of jazz legend Wes Montgomery, now owned by Pat Metheny.
1989 Gibson Chet Atkins Country Gentleman Orange – This guitar was given to him by Chet Atkins.
Gibson Super 400
Gibson L5C
1980 D'Aquisto Sunburst Excel Archtop Electric Guitar.
Guild X-500
Guild X-175 – Featured on the cover of The Other Side of Abey Road.
Guild Starfire XII
Guild George Benson Custom – Based on the George Barnes Acousti-Lectric.
Ibanez George Benson GB-1 Prototype Sunburst
Other signature guitars besides the GB10 – Ibanez GB10SE, GB12, GB15, GB20, GB100, GB200, LGB30, LGB300.
Ibanez 2470 Model – A Gibson Johnny Smith knockoff.
Ibanez Kimono prototype
Ibanez George Benson AELH128R-BS-1201 Prototype Sunburst Acoustic Electric Guitar
1998 Mortoro Starling Natural Archtop Electric Guitar
2001 Nelson Palen Natural
Woody Phifer Sunburst
Kamaka Custom Made for George Benson Natural Tenor Ukulele
Yamaha nylon-string
Cordoba nylon-string
George Benson – Guitar Amps
Polytune Mini Brute
Polytone is one of my favorite sounds for guitar and works great in the studio. I found that, in big places, it wasn't fast enough. It didn't give me instant sound.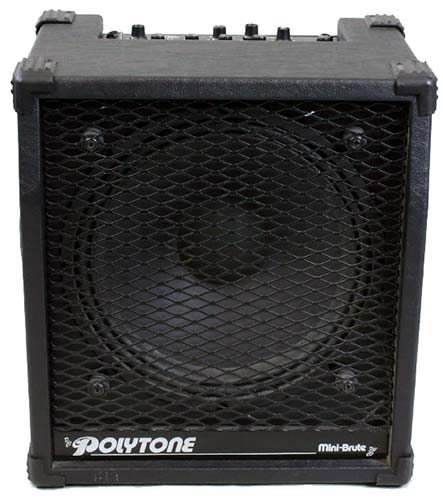 1965 Fender Twin Reverb
George Benson used two 1965 Fender Twin Reverbs before his endorsement with Fender.
Later a signature model Fender GB George Benson Twin Reverb model was designed according to Benson's specifications.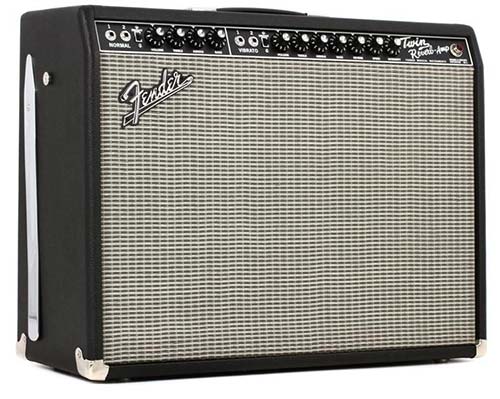 Fender George Benson Hot Rod Deluxe
After the Twin, Fender designed another signature amp for George Benson, the Fender George Benson Hot Rod Deluxe.
This 40-watt, 1×12 combo has a 100-watt Jensen® C12K speaker.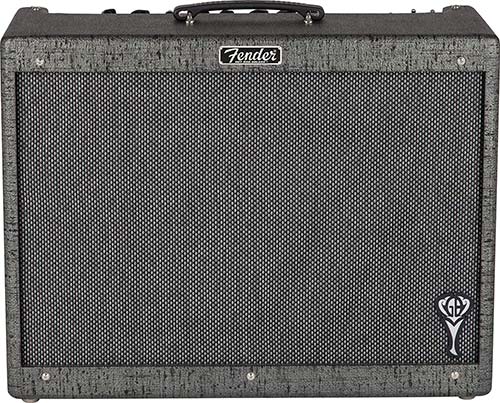 Other Amps
Fender 4×10 Hot Rod Deville
George Benson – Strings
George Benson uses Thomastik GB112 Medium Light George Benson Custom Flatwound Strings.
If I'm on the road, I like to use .012s. If I'm recording, I like to use .014s. I can hear more and dig in more with the .014s. On the road, I can't really hear all that because it goes past me and out into the audience.
George Benson – Picks
George Benson uses Ibanez George Benson medium picks. Before he used Dunlop medium picks.
I use medium picks. They're not too stiff and they allow me to have better rhythm. The two edges come down to a point that's straighter than on a Fender pick. I do that because it gives me much more snap when the pick comes off the string.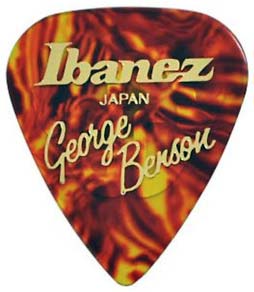 Gabor Szabo's Guitar Gear

Gabor Szabo was a Hungarian guitarist who mixed jazz, rock, and Hungarian music. He studied at Berklee at the end of the '50s.
Gypsy Queen, a song from Gabor's debut album, later became a hit for Carlos Santana.
Gabor Szabo – Guitars
Martin D-45 and D-285
Gabor Szabo played 2 Martin Dreadnought guitars, the D-45 and the D-285.
The D-45 is built with the finest tonewoods and is one of the most decorated Martin guitars (More than 900 pieces of pearl are used on each guitar). The D-45 is pretty pricey, they go from $7000 to $40000.
Gabor used a DeArmond model #210 pickup in his D-45.
Other guitarists that use the D-45: Stephen Stills, David Crosby, Hank Williams, and Peter Frampton.

Other Guitars
1965 Gibson J160E
Epiphone Howard Roberts
Ovation Custom Legend
Fender Stratocaster
Danlectro Coral Sitar
Gabor Szabo – Guitar Amps
Fender Twin Reverb
The famous 100-watt guitar amp with two 12-inch speakers.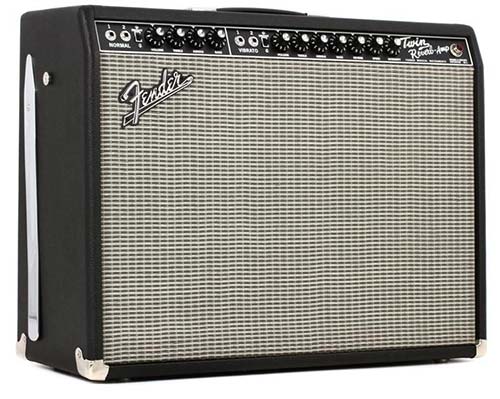 Other Amps
Toby Circular (A Texas-made guitar amp).
Gabor Szabo – Picks
Gabor Szabo's favorite guitar picks were medium-gauge Gibson picks (called "The Star Pick" in the '60s), made of celluloid. He played with the round side of the pick.
Gabor Szabo – Strings
Gabor used Gibson mono strings gauge 013 to 056 with a wounded g-string.
Grant Green's Guitar Gear

Grant Green's guitar tone and playing are very recognizable.
His sound, which is produced by a very basic setup, can be described as natural, unpolished, silky, and rich.
Grant Green – Guitars
Gibson ES-330
Grant Green played a Gibson ES-330 until the mid-1960s. This thinline, double-cutaway guitar has the body lines of the ES-335 and a rim depth of just around 1 3/4 inches. The guitar had P-90s (single coil elements) instead of the Humbuckers of the more popular Gibson ES-335 model.
This guitar is used on the recordings of Green Street and Matador.

Gibson L7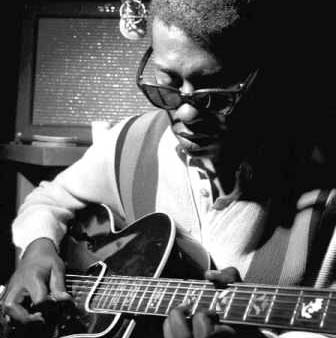 Later, Grant Green played a Gibson L7 with a pickguard Gibson McCarty pickup.
This guitar was used for the recording of the Idle Moments album.
Epiphone Emperor
Grant Green's Epiphone Emperor had the same Gibson McCarty pickup as his Gibson L7.
D'Aquisto New Yorker
From 1972 on, Grant Green started playing on a custom-built D'Aquisto New Yorker with a tobacco sunburst finish. On the fingerboard is an inlay of Grant's name in mother of pearl.
According to his son, he loved the guitar so much that he would spend days without putting it down. Grant said the D'Aquisto plays easier and sounds better than any guitar he has ever had. The neck shape and size is just right for him, allowing smooth playing. He also describes the tone as funky and pretty at the same time.
After Grant Green's death, the guitar was acquired by George Benson. It belonged to his collection for many years, until he sold it to guitar builder Rudy Pensa, who sold it in his shop.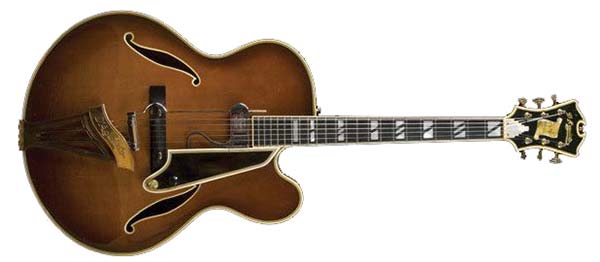 Grant Green – Amps
According to George Benson, Grant Green used to put the bass and treble dials of his amps all the way down, while maximizing the mids
Pinpointing the amps that Grant Green used to play isn't easy because jazz guitarists of his time used the amps that were available on the gig or in the studio.
Grant Green has been known to play the following amps:
Fender Tweet Deluxe
Grant Green recorded on a Fender Tweed Deluxe because it was available in Rudy Van Gelder's Blue Note Studio in Englewood, New Jersey, where many classic jazz albums have been recorded.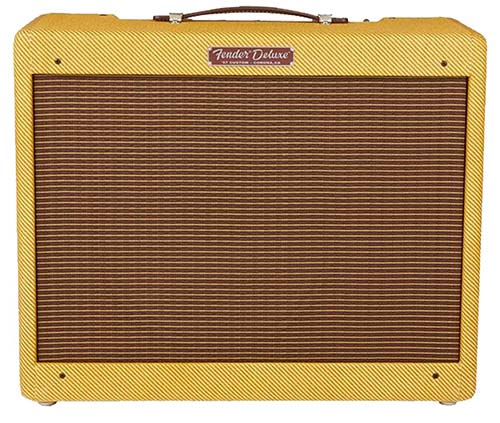 Ampeg Gemini
Grant Green has been known to record on an Ampeg Gemini model, which was also available at Van Gelder's studio.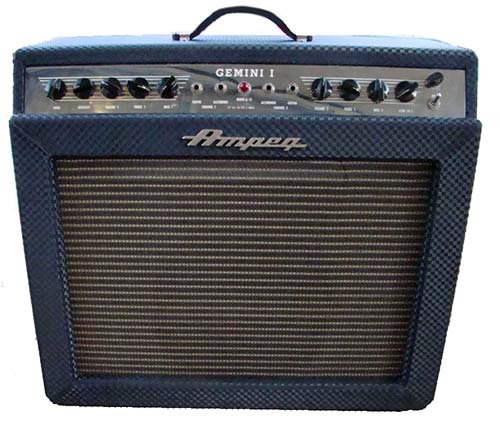 Other Amps
Gibson LP-12 from the late 1960s.
Fender Super Reverb or Twin Reverb.
Grant Green – Strings
Grant Green used heavy-gauge flatwound strings 14 thru 58.
Grant Green – Picks
Grant Green used heavy guitar picks.
JIm Hall's Guitar Gear

Jim Hall's guitar sound is often described as intimate, warm, mellow, and rich.
He wasn't very interested in guitar gear and had a simple approach towards his instruments.
Jim Hall – Guitars
Gibson ES-175
Jim Hall bought his Gibson ES-175 second-hand in 1956 from studio guitarist Howard Roberts.
In Jim Hall's words:
I love that guitar, even though sometimes I don't touch it for months. It's easy to tune and after having been schlepped around and played for so many years, it's as if it knows just what to do.
The guitar originally had a single P90 pickup, but Jim later replaced it with a humbucker.
Jim plays it with the tone-knob rolled back.
Other guitarists that play a Gibson ES 175: Pat Metheny, Herb Ellis, Kenny Burrell, Derek Bailey, Joe Pass, and Wes Montgomery in the early days.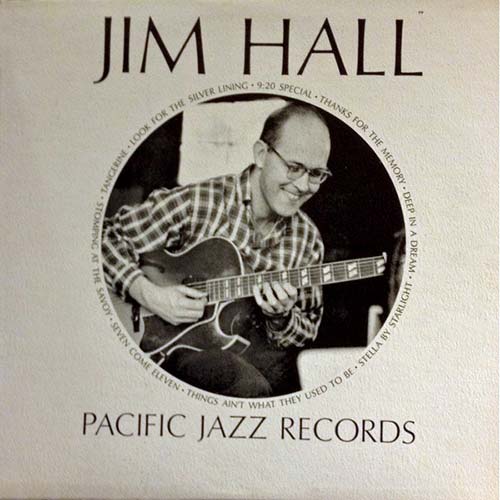 D'Aquisto Custom Guitars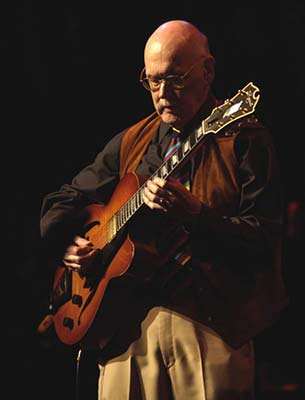 Jim Hall owns two guitars that are handmade by the late luthier Jimmy D'Aquisto.
The electric one is built specifically for him. It's a hollow body guitar with an orange top. Jimmy used Hall's Gibson as a starting point to build this guitar.
The acoustic guitar is the Avant-Garde model.
Sadowsky Jim Hall Signature Model
Roger Sadowsky has been servicing Jim Hall's D'Aquisto guitars for more than 15 years.
He got the idea of building a guitar based on Jim's D'Aquisto. After 4 years of prototyping, the guitar got approved by Jim, and the Sadowsky Jim Hall signature model was born.
The prototypes of the guitar were refined by reducing the thickness of the top and back. The depth of the body was also reduced to minimize feedback and the neck is shaped to Jim Hall's specifications.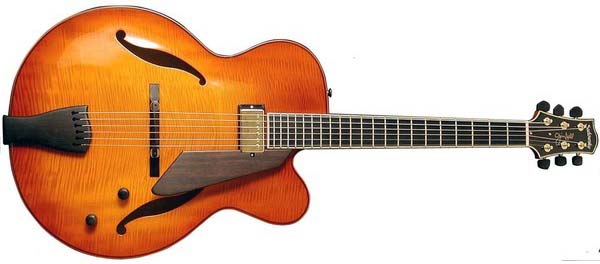 Other Guitars
Gibson Les Paul Custom – Jim Hall used this guitar in the beginning of his career, when he was playing with Chico Hamilton.
Taylor 12-string
Jim Hall – Amps
Gibson GA-50
This Gibson GA-50 tube amp has 2 speakers, a 12 inch and an 8 inch.
Jim Hall's words:
I used a Gibson, I actually remember the number, it was a GA-50. I love the sound of tube amps in general. I don't know, I may have been able to get used to a Fender but there was something about the subtlety of that amp that I liked. I liked the way it looked, like an old radio.
Jim used this amp for several years, but it eventually became too fragile to take on the road. Since then he's been trying to get as close to the sound of the GA-50 as possible.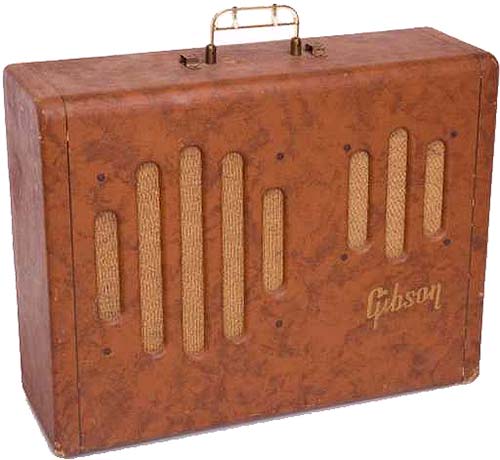 Polytone Mini-Brute
Jim Hall owns a couple of Polytone Mini-Brute amps and uses them at local gigs.
Polytone is a company started in 1968 by Tommy Gumina, a jazz performer himself.
Other guitar players using polytone amps: Herb Ellis, Joe Pass, and George Benson.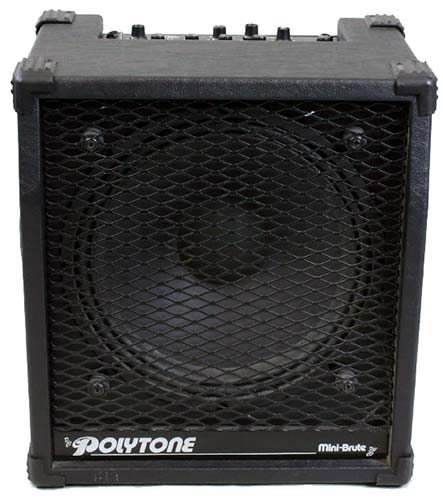 Other Guitar Amps
Walter Woods amplifier.
Harry Kolbe GP-1 pre-amp and speaker cabinet.
Whatever a concert promoter gives him.
Jim Hall – Guitar Effects
Jim Hall has been known to use a Boss Chorus pedal and a Digitech Whammy pedal, but not often.
Jim Hall – Strings
Jim Hall plays light-gauge, flatwound D'Aquisto guitar strings.
Jim's words:
The gauge of the top string is .011 and the bottom is .050 or perhaps a little heavier. I usually use a .022 for the third string, but I also use an unwound .019 so that I can bend it a bit to sound like a horn.
And:
I guess thick strings can get a big sound, but they also tend to sound "bangy". I use very thin strings, almost like a "rocker", and try to draw the sound out by playing easily with as few pick-strokes as possible except for accents, etc.
More recently Jim Hall has been endorsing Sadowsky flatwounds 11-50 with a .018 plain G-string.
Jim Hall – Picks
Jim Hall used picks with varied thickness, depending on what he was playing. For rhythmic parts, he would use a thin pick. To play melodies, he used a medium pick, and for ballads, he used heavey picks.
Joe Pass' Guitar Gear

Joe Pass is regarded as one of the best jazz guitarists that ever lived.
He has a very pure, acoustic-type guitar sound. Not everyone is a fan of this sound though, sometimes it is described as brittle and too bright.
Joe Pass – Guitars
Fender Jazzmaster & Fender Jaguar
Joe Pass used to play a Fender Jazzmaster during his stay at the Synanon Center in California, where he tried to kick drugs.
There are also pictures of him playing a Fender Jaguar.
After 15 months in Synanon Joe Pass recorded Sounds of Synanon in 1961 together with Arnold Ross, another Synanon resident. During his stay Joe Pass didn't have a guitar of his own, he used this Fender guitar that was owned by the Synanon Rehab Facility.
The Fender Jazzmaster was first introduced in 1958 and was originally marketed at jazz guitarists. However, The Jazzmaster wasn't embraced by the jazz musicians, but it became popular amongst surf rock guitarists.
In the picture below, Joe Pass is playing a Fender Jaguar, recognizable by the single-coil pickups. The Fender Jazzmaster has wide "soapbar" pickups.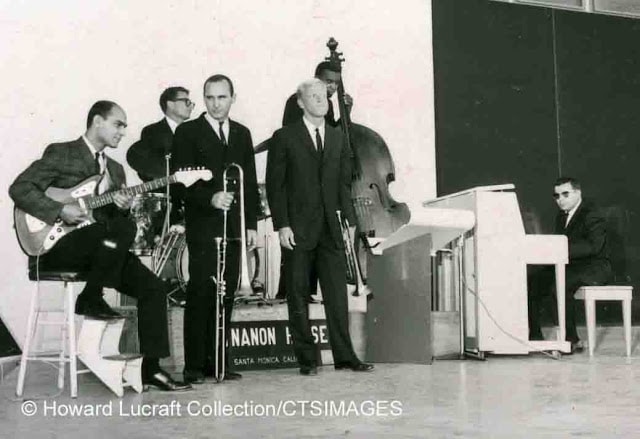 Gibson ES-175
This Gibson guitar, the ES-175, was the main guitar of Joe Pass. He got one for his birthday from a guy named Mike Peak in 1963, who saw Joe Pass playing jazz on a solid body (the Fender Jazzmaster).
Other jazz guitarists who played the Gibson ES-175 include Jim Hall, Pat Metheny, Wes Montgomery (in the early days), and Kenny Burrell.
D'Aquisto Guitars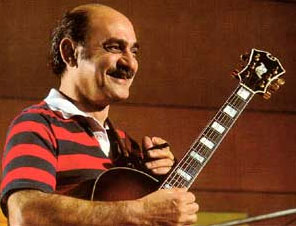 In 1970 Joe Pass started playing a D'Aquisto guitar. The guitar had one pickup and was built specifically for Joe.
A good example of the D'Aquisto at work is Two For The Road, a duo album with Herb Ellis.
Ibanez JP20
From 1980-90 Joe Pass was under contract with Ibanez and they made him a signature model based on his D'Aquisto.
It is said that Joe didn't really like his Ibanez signature guitar and he didn't perform on it that much.
Most accounts from people in the United States from this time period have Joe playing the D'Aquisto, but many reports from other countries say Joe played the Ibanez. The speculation is that Joe played the Ibanez rather than travel internationally with his D'Aquisto.
The Ibanez JP20 was discontinued in 1991 and suffers a reputation for a thin tone due to its pickup placement (too much in the middle, not close enough to the neck).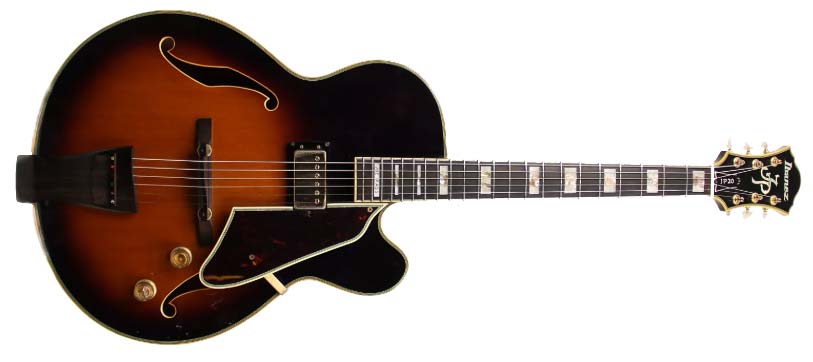 Other Guitars
1901 Martin 00-42 – Joe played this guitar when he was young.
Gibson L5
Gibson Super 400
Joe Pass – Amps
Polytone Mini-Brute
Joe Pass used a Polytone Mini-Brute amp, a compact solid state amp with 110 watts going through a 12″ speaker.
Other jazz guitarists using this amp include Jim Hall, Herb Ellis, and George Benson.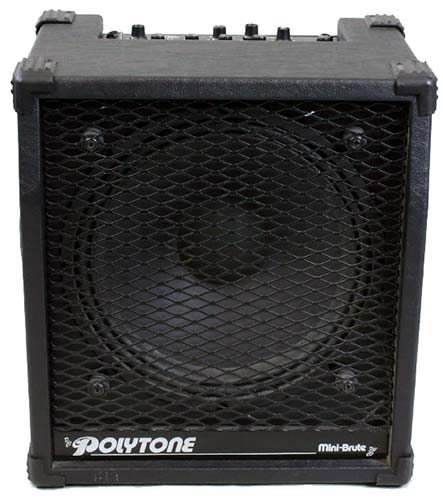 Joe Pass – Strings
Joe Pass used D'Aquisto Flatwound Strings with a 013 to 056 gauge.
Joe Pass – Picks
Joe Pass used a medium-thin gauge pick, not soft, but firm. In an interview, he says he always uses the same kind of pick, broken in two.
John Scofield's Guitar Gear

John Scofield's favorite guitar is the Ibanez AS200, which he has been playing for close to 4 decades.
He experiments a lot with his sound, adding new guitar effects to his extensive pedalboard regularly.
John Scofield – Guitars
1981 Ibanez AS200
John Scofield made this Gibson ES335-copy famous. It has been his main guitar since 1981 and has played it for over 3 decades.
The Ibanez AS200 is the longest-running guitar model in Ibanez history.
According to John Scofield, the original Ibanez AS200 guitars from the early 80s were some of the best semi-acoustic electric guitars ever made. It's a very well-made instrument and really balanced in tone from the highs to the lows. He uses the treble element with the highs rolled off.
In Scofield's own words:
That's when Ibanez brought me this brand-new AS-200 to try, and I said, "Man, this plays great and feels great … it feels a lot like my 335." I began playing it on that tour. When I got home, I had the Gibson adjusted, but I'd been playing the Ibanez for a month and was used to it… and I've been playing it ever since.
And:
I actually have two Ibanez AS-200s, two old ones. I changed the pickups on one of them and put some Voodoo Humbuckers on. But the main one I play still has the original pickups, which are, like, the loudest pickups known to man.
John's signature guitars, the Ibanez JSM100 and JSM200, are based on the Ibanez As200. The JSM100 has a Prestige neck, a side output jack, and Super 58 pickups.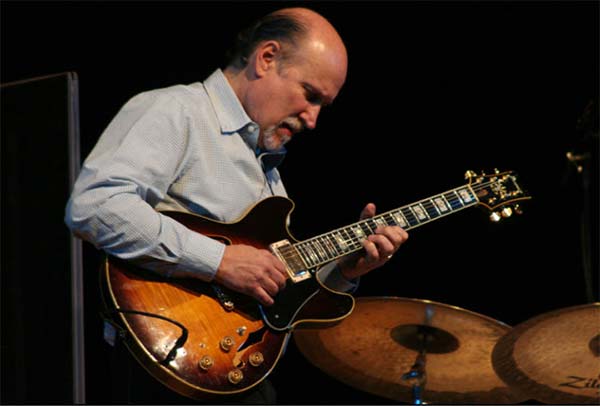 1963 Gibson ES-335
This Gibson ES-335 is featured on the album cover of the album Who's Who?.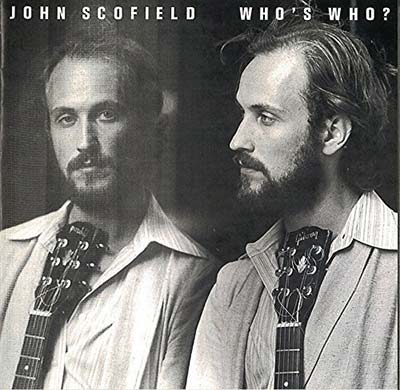 1966 Fender Telecaster
John Scofield's first guitar was a Fender Telecaster.
In John's own words:
A few years ago, I was contacted by a guy who had my high-school guitar – a '66 Tele that I bought new at Manny's on 48th Street in New York. I sold it in '68 to buy a Les Paul. The guy I sold it to gave it to another guy in Connecticut, who kept it all those years before moving to Texas. He came to a show I was doing in Austin a few years ago, and I played it. It was in good shape – had the same case and everything. I remembered the dents I put in that case. He asked if I wanted to buy it, but wanted a lot of money. I told him I'd just buy a new Tele, and I did, from Fender's Custom Shop. Well, last year, the guy got back to me and made another offer. I couldn't refuse, because it's got such sentimental value. So I bought my first guitar – I own it again! I had it set up, and it sounds killer!
Fender Custom Shop Relic'd Stratocaster
John's words:
It's a fake vintage, from the Custom Shop. I told a friend of mine, Artie Smith, who is one of the great guitar guys in New York, that I wanted to get a Strat, but didn't want to spend 15 grand on a vintage one. He said there was a good one at Sam Ash, so I went up there and played it for a while. I was totally embarrassed to buy it because it has a fake cigarette burn in it and screws that have been rusted and two kinds of rubbed-off finish. But you know, it sounds really good and it's a great guitar.
Montalvo Flamenco Guitar
This nylon-string flamenco guitar is specially designed by George Katechis Montalvo for Scofield's album Quiet.
Other Guitars
Gibson ES-175
1962 Gibson ES-330
Gibson Howard Roberts
Ibanez Custom Shop George Benson Signature Model. This is the guitar featured on the cover of Flat Out.
Ibanez Artist AR-350. This is the guitar pictured on the cover of Still Warm.
Ibanez Artist AM-205AV
1984 Ibanez Roadstar II SSS (black)
Small-body 1941 Martin guitar (used on Groove Elation and I Can See Your House From Here).
Guild jumbo flattop
Takamine NP 65C (currently known as the P3FCN), Scofield's nylon-string guitar of choice.
mid-'70s Ibanez T-style guitar
John Scofield – Guitar Amps
Vox AC30TB
John Scofield uses the old Vox AC30 models as well as the re-issues until 2006. One of them is a reissue from the late Nineties that hr modded, changing one of the speakers.
He likes the natural distortion of the AC30.
In Scofield's own words:
Well I like Vox AC30s, and I always ask for them on the rider. We don't bring our amps with us, we just bring our pedals and guitars when we play fly dates. Where a lot of times on a bus, we'll have our own amps, and I have an older AC30 that I really like. I like the reissues up until about 2006 and through the 90s. I like those reissues. It's called AC30, TB model. These are the new models, and right here that they got for me, but they're good too.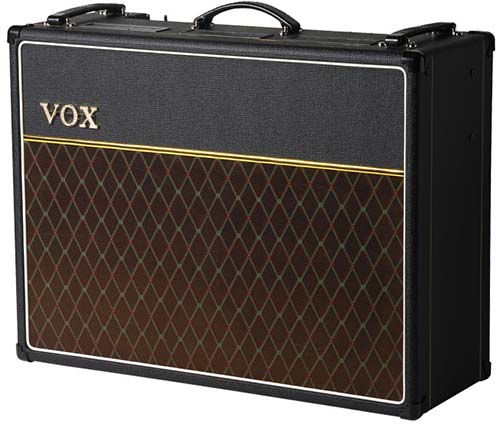 Sundown A-50 Combo Guitar Amp
John Scofield has two old Sundown amps, each one with a 12-inch speaker. He used these amps on albums such as Time on My Hands, Meant to Be, and What We Do.
Sundown amps were made by Dennis Kager, but are now out of production.
Mesa Boogie Mark I Reissue
The Mesa Boogie Mark I Reissue is a 100-watt guitar amp with spring reverb and a 12-inch speaker.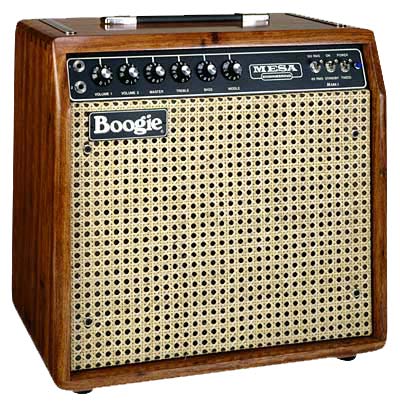 Other Guitar Amps
Mesa Boogie Mark III with E/V speakers.
Matchless Chieftain 2×12 Combo Amp.
1964 Fender Deluxe Reverb
Victoria Tweed Twin 80212 Amp
John Scofield – Guitar Effects
John Scofield has a large effects board, but only uses them occasionally to create specific sounds. His pedalboard is custom-made by pedalboards.com. Another pedalboard is done by Mason Marangella at Vertex.
Most of the time it's just his guitar going through the amp, even the distortion.
ProCo RAT Distortion Pedal
The RAT is a distortion pedal designed by Scott Richard Burnham who started ProCo in 1975.
Scofield uses it to fatten up his sound. He uses just a little bit of distortion, but with the tone (filter) knob all the way up. He has 6 or 7 of the older RATs.
Bill Frisell also uses the RAT.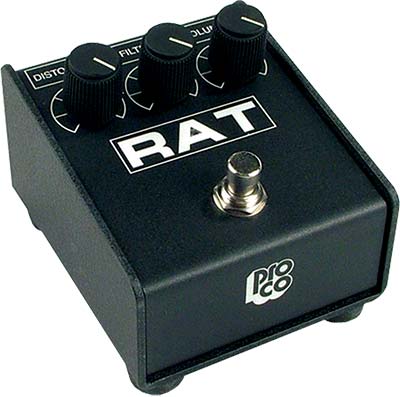 Ibanez CS9 Analog Chorus
John uses the Ibanez CS9 chorus pedal with both controls cranked open to get a typical Leslie effect.
Line 6 FM4 Filter Modeler
This modeler has a collection of vintage filters and monophonic synth effects.
John uses the Line 6 expression pedal to control his line 6 gear.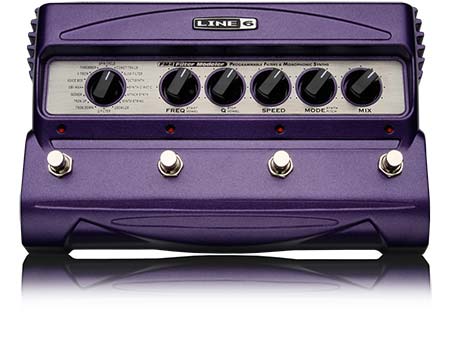 Line 6 DL4 Delay Modeler
The Line 6 DL4 is a digital modeling pedal based on 15 vintage delay and echo effects.
This delay is also used by Bill Frisell.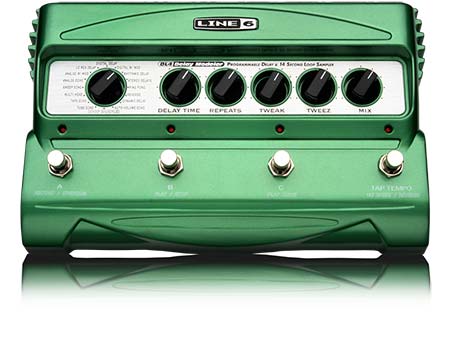 Other Guitar Effects
Vertex Input Buffer
Vertex true-bypass loop x2
Vertex Axis Wah
Vertex-modified Boss GE-7 Equalizer. This effect is used for a dirty rhythm guitar sound with a lot of treble.
Vertex-modified Boss CE-3 Chorus. the rate and depth are turned up all the way for a kind of fake Leslie sound.
Boss Loop Station
Digitech XP100 Whammy/Wah
J. Rockett Blue Note overdrive
Boomerang Phrase Sampler
TC Electronic Polytune Mini
Neunaber Technology Wet Reverb
Rocket Pedals Blue Note Distortion
Vox Cry Baby Wah-Wah
Empress Tremolo (vibrato)
Electro-Harmonix Micro Synth
Jam Pedals WaterFall Chorus & Vibrato Pedal
TC Electronic Hall Of Fame Reverb
G Lab DR-3 Reverb
Moollon Tremolo
Cioks Power Supply
Single output buffer/splitter, splitting mono signal to two amplifiers.
John Scofield – Strings
John Scofield exclusively uses D'Addario strings.
The strings on his AS200 are a custom set: .011, .014, .019 (unwound), .030, .039, .049
John Scofield – Picks
John Scofield uses Dunlop Delrin 500 2mm picks.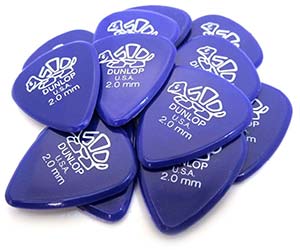 Kenny Burrell's Guitar Gear

Kenny Burrell is a legendary jazz guitar player who is known for his recordings on the Blue Note label. His main influences are Charlie Christian and Django Reinhardt.
Kenny Burrell played in Dizzy Gillespie's sextet when he was 19 (in 1951) and is the only guitarist to have recorded with John Coltrane.
He recorded 108 albums as a bandleader and has played with jazz legends such as Billie Holiday, Louis Armstrong (on acoustic guitar), Chet Baker, Bill Evans, Stan Getz, Jimmy Smith, Wes Montgomery, Benny Goodman, and Oscar Peterson.
Kenny Burrell – Guitars
Gibson L-5 CES EB
In the late 50s, Gibson designed an L-5 for Kenny Burrell with a Florentine cutaway.
It was equipped with a Charlie Christian bar pickup.
Gibson made me an L-5 with a deep cutaway in the late '50s. They did it reluctantly. I played that guitar for a while, but it was too heavy.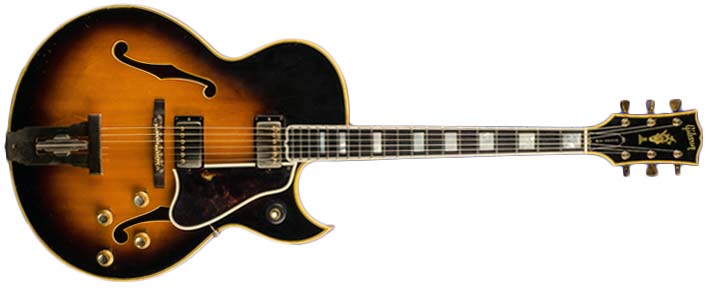 Gibson Super 400 CES
The Gibson Super 400 has been Kenny Burrell's trademark guitar since the 60s.
He likes the body size (18″), the Florentine cutaway, and the humbucker pickup because of its low noise when he has to turn the volume up.
Before finding this guitar, Kenny used a Gibson Super 400 with a Venetian cutaway and a DeArmond pickup.
I prefer the Super 400 model with two humbuckers and a Florentine cutaway. With that cutaway, I can get my whole hand up there.
Kenny Burrell had some modifications done to the Gibson Super 400:
The action is set lower on the bass side.
He uses foam in the body of the guitar around the upper f-hole to reduce feedback. He also uses a surface plug on that f-hole for the same reason.
He screwed a piece of plastic into the top of the guitar to keep the bridge from moving. The plastic is covered with a piece of tape.
He installed tuning keys with peg-winder handles.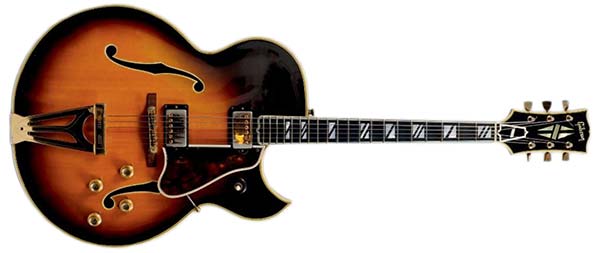 Other Guitars
D'Angelico New Yorker – the guitar used on the album with John Coltrane.
Gibson L-7 – with a Charlie Christian pickup. Wes Montgomery borrowed this guitar to record his first album (The Wes Montgomery Trio) on Riverside Records.
Gibson ES-175 – Kenny Burrell's blues and rock guitar used for studio sessions. He uses the bridge pickup and light-gauge strings for bending. He is not a big fan of ES-175 models because they are too small and uncomfortable.
Gibson nylon-string
Heritage Super KB – This Kenny Burrell Heritage signature guitar is based on the Gibson Super 400.
Epiphone Emperor
Benedetto Kenny Burrell Model
Yamaha Compass Acoustic Guitar
Versoul Kenny Burrell Jazz Model (Acoustic Guitar)
Guild nylon-string
Ramirez nylon-string
Kenny Burrell – Guitar Amps
Fender Twin Reverb
Kenny Burrell was one of the first to use a Fender Twin Reverb.
I like a fat, warm sound, so I set the treble low, the bass medium, and pump up the middle.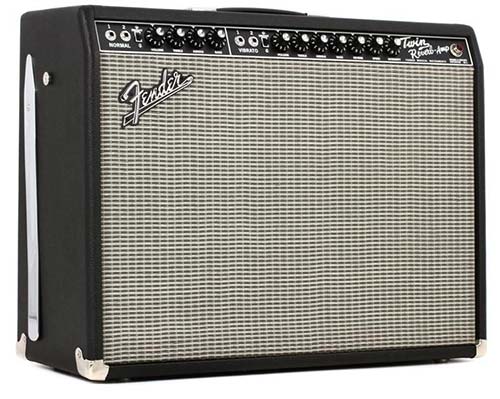 Roland JC-120 Jazz Chorus
Kenny Burrell sometimes uses a Roland JC-120 as a substitute for the Fender Twin Reverb.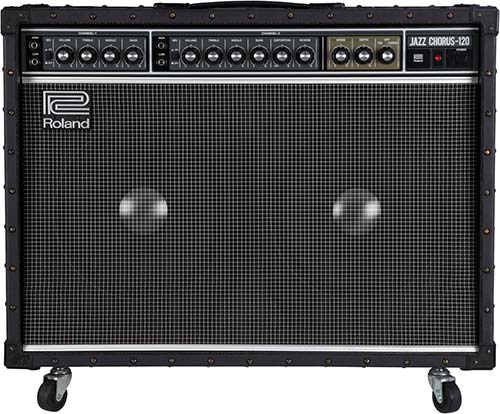 Other Guitar Amps
Polytone – Kenny uses an old Polytone amp when he doesn't have to play loud.
Heritage Kenny Burrell Amp
Fender Tweed Deluxe (Fender 5E3) – Wes Montgomery borrowed this amp to record his first album (The Wes Montgomery Trio) on Riverside Records.
Fender Hot Rod Deluxe George Benson – for smaller gigs.
Larry Carlton's Guitar Gear

Larry Carlton, who goes by the moniker "Mr. 335", is famous for his studio work with Steely Dan and Joni Mitchel.
He played on 100s of gold records and is proficient in a wide variety of styles, going from pop to blues to bebop.
Larry Carlton – Guitars
1969 Gibson ES-335
This Gibson Es-335 is Larry Carlton's main guitar which he purchased new in 1969. He did the majority of his sessions and solo recordings on his 335.
The choice to get the 335 was actually a very practical choice for me and so know I play a lot of different styles of music and for me I wanted to get a guitar that could cover a lot of bags so I didn't always have to switch to a bebop guitar for this blues guitar for that and this one covers most of the bags that I want to play or was called on to play.
This is the guitar that got him his "Mr. 335" nickname.
The 335 has Schaller tuners, a graphite nut, a KTS titanium bridge, and two Gibson 57 classic pickups.
Larry has a second 1968 Gibson ES-335, which was given to him by a fan. On this one, Larry changed the pickups to a matched pair of 1961 Gibson PAFs.

Other Guitars
1955 Gibson Les Paul Special in TV yellow – Larry used this guitar on tour with Stanley Clarke and Billy Cobham.
1951 Fender Telecaster – Larry used this Telecaster on The Montreux Jazz Festival in 1997
1962 Fender Stratocaster
Valley Arts T-style guitar – A guitar with a small neck, built for speed. It's the guitar used on the song Emotions Wound Us from the album Last Night Live at the Baked Potato.
Valley Arts small body acoustic based on a Martin D-28
Larry Carlton – Guitar Amps
50s Era Fender 'wide panel tweed' Deluxe Amp 5C3
This is the amp Larry Carlton used for his Steely Dan sessions. He doesn't use it very often anymore nowadays.
That's the amp that I used for the Steely Dan sessions and I don't even remember why and how I'd brought the Tweed in, because I didn't use it on any other sessions, only the Royal Scam, Aja, and Donald's Nightfly album. So yeah, I got that with my 335 on the back pickup was the Kid Charlemagne and Don't Take Me Alive… No effects…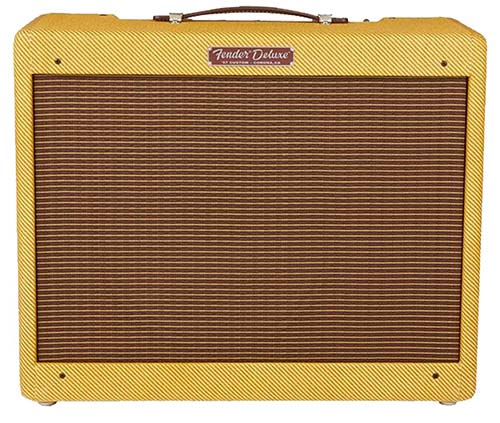 Bludo-Drive 100/50
The amp Larry Carlton plays the most is made by Brandon Montgomery of Bludotone.
He uses a Bludo-Drive that has been modified to 50/25 Watt, plugged into a 1×12 Bludotone cab with an Electro-Voice EVM12L speaker.
Yeah, you know it has so much what I call headroom that the transience just keeps going through even when you play softly… and when I play harder it doesn't compress like a lot of the amps will stop a sound, it stays open.
Other Amps
Mesa Boogie Mark I
Mesa Boogie Mark IV
Bogner Amps
Dumble Amps
Larry Carlton – Guitar Effects
Larry Carlton uses two pedalboards built by Rick Wheeler.
Visual Sound Liquid Chorus
I open my show with the Lord's Prayer every night, and so I liked it to get the beautiful chorus going and some delay and really create a solo guitar atmosphere for the audience for the very opening of the show. So yeah, this has been clean and sounds wonderful.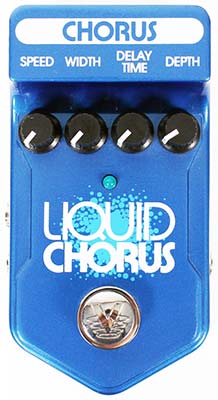 Tanabe Zenkudo Overdrive
Larry Carlton uses this Japanese overdrive pedal when he plays on borrowed amps.
It's not as open as an amplifier would be but it doesn't have any of the ugliness that a lot of other pedals have.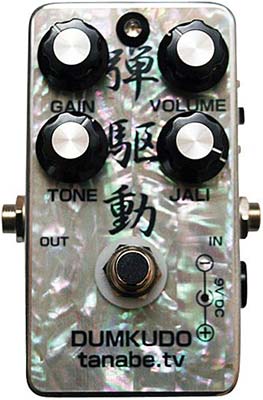 Other Guitar Effects
Korg Pitchblack tuner
Korg DTR-2000 tuner
Roland SDE-1000 digital delay
TC Electronic TC 1210 – Spatial expander and stereo chorus flanger.
Lexicon MX400 – Larry uses this effects processor for its reverb.
Sho-Bud volume pedal
Dunlop 95Q Cry Baby wah
TC Electronics Hall of Fame Reverb
Providence DLY-4 Chrono Delay
Hilton Volume Pedal – Larry uses two of these custom-built volume pedals, one for eclectric, one for acoustic guitar.
Voodoo Lab Pedal Power 2+
Larry Carlton – Strings
Larry Carlton uses D'Addario 010-052 strings for electric and D'Addario 011-052 strings for acoustic guitar.
Larry Carlton – Picks
Larry uses a Fender-style heavy pick. He plays with the rounded edge, not the point, to get a better tone.
Mike Stern's Guitar Gear

Mike Stern grew up playing blues and rock on Fender Telecasters and Stratocasters, and he stuck with Tele-style guitars when he started playing jazz.
Mike is faithful to his signature model Yamaha Pacifica, which is his main guitar, and his Boss effects, mainly the SD-1 distortion and two DD-3 Digital Delays.
Mike Stern – Guitars
Yamaha Pacifica 1511MS Signature Model
Mike Stern's signature guitar is made by Yamaha and is a copy of a Tele-style guitar that was custom-made by a friend of his from Boston, Michael Aronson. This Aronson-built guitar was, in turn, a copy of Mike's original '50s Telecaster which he got from Danny Gatton, who got it from Roy Buchanan. The '50s Telecaster was stolen from him at gunpoint.
The Yamaha Pacifica is Mike Stern's main guitar. It is slightly different from the production models though, it's made of heavy ash and has a darker sound.
The guitar is equipped with a Seymour Duncan '59 pickup in neck position and a Tele Hot Rail at the bridge.

Fender Telecaster & Stratocaster
Mike Stern grew up playing blues and rock on Teles and Stratocasters, and he stuck with them when he started playing jazz.
Mike used a Fender Stratocaster when he was playing with Miles Davis in the early 80s.
Other Guitars
Gibson ES-175 – Mike Stern used this guitar for a couple of years while studying at Berklee with Pat Metheny.
Mike Stern – Amps
Yamaha G100
Mike Stern uses two Yamaha G100-212 II amps paired with a Pearce G1 head going into two custom-built JBL 2×10 cabinets. He uses a Yamaha SPX90 as a splitter to run the amps in stereo, and also to create a chorusing effect by setting it on pitch change with a value of zero.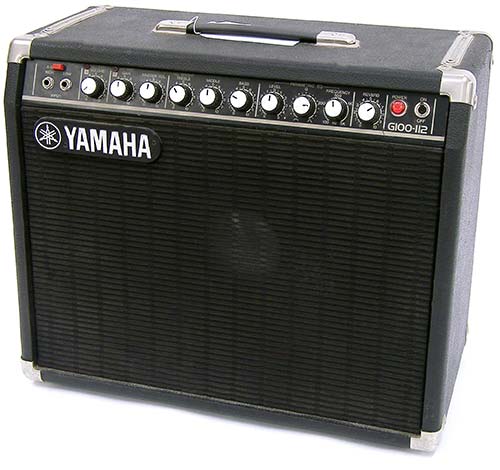 Fender Twin Reverb
Mike stern uses two Fender Twin Reverbs in stereo on the road, with a preference for the '65 reissues.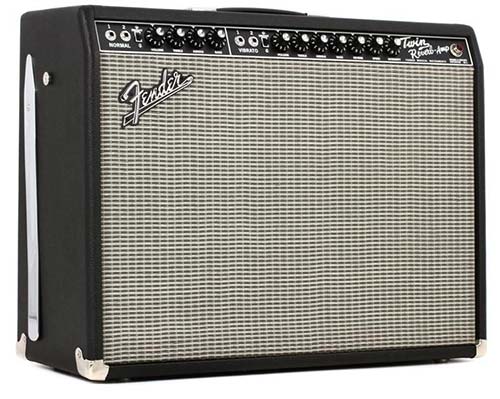 Other Guitar Amps
Acoustic 134 Model Amp – Mike used two of these with an MXR Stereo Chorus.
Mike Stern – Guitar Effects
Mike stern almost exclusively plays on Boss effects.
Boss DS-1 Distortion
Mike likes the Boss DS-1 Distortion because it sounds organic. He uses it all the time.
The volume is set a little higher than the clean sound. The Tone knob is set to about 11 o'clock and the distortion knob is set to 1 o'clock.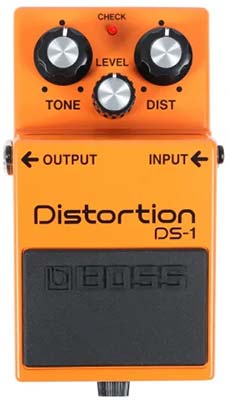 Boss DD-3 Digital Delay
Mike Stern uses 2 Boss DD-3 digital delays.
One is always turned on with a short delay and little feedback, so it sounds like a reverb. The other one he uses for longer delays.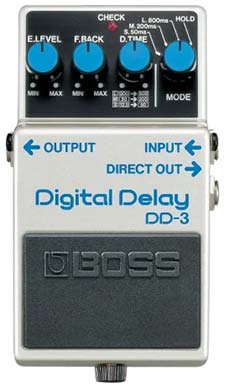 Boss SD-1 Super Overdrive
The Boss SD-1 is an old-school transistor-type distortion with a wide range of sound possibilities.
Mike's Boss SD-1 has been modded by Robert Keeley.
Other Guitar Effects
Boss OC-3 Super Octave
Boss CH-1 Super Chorus
Boss MO-2 Multi Overtone
Boss FDD-6 Digital Delay
Boss AW-3 Dynamic Wah
Boss SD-1W Super Overdrive Waza Craft
Boss BD-2W Blues Driver Waza Craft
Boss DM-2W Delay Waza Craft
Boss TU-3 Chromatic Tuner
Boss BCB-6 Pedal Board
Boss PSM-5 Power Supply and Master Switch
Roland GR-300 – Mike's first guitar synth
Roland GR-50 – Mike used this guitar synth in the 80s
Roland GR-20 – "That thing is amazing" – Mike Stern
TC Electronic Flashback Delay
TC Electronic Hall of Fame Reverb
TC Electronic Corona Chorus
TC Electronic Ditto Looper
TC Electronic NM-1 Nova Modulator
TC Electronic Polytune 2
Yamaha SPX90 Digital Multi Effects Processor – Mike has this old Yamaha effects rack for the harmonizer patch only. He uses it to create chorus and splits the sound between two amps.
MXR M134 Stereo Chorus
Truetone 1 Spot power supply
Mike Stern – Strings
D'Addario Nickel Wound Strings (011 to 038).
Fender Original 150 Pure Nickels (010 to 0.38), but he replaces the high E-string with a 011.
Mike Stern – Picks
When Mike wants an in-your-face kind of feel, he uses the tip of the plectrum. When he needs a softer sound, he uses the side of the plectrum more. Sometimes, he uses his fingers for playing chords and tucks the pick into the palm of his hand.
Planet Waves 1mm picks, wrapped in double-sided tape to keep his grip.
Fender Medium picks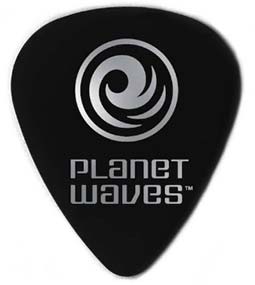 Pat Martino's Guitar Gear

Guitar virtuoso Pat Martino started his career playing a Gibson Les Paul. Nowadays he primarily uses his Benedetto signature guitar plugged into an Acoustic Image amp.
Pat is not too picky about the gear he uses on the road. In his own words:
I adjust to an instrument when I'm in a situation where my guitar doesn't show up. I get to the gig and I have to use somebody else's guitar. Something's delivered, and to be honest with you it's a piece of shit, but I've got to use it.
Pat Martino – Guitars
Here's an overview of the guitars Pat Martino used throughout his career, in chronological order.
Gibson Les Paul Standard
Pat's earliest musical influences were Les Paul and Mary Ford, who were very popular in the 1950s. Pat started playing guitar on a gold-top Gibson Les Paul with soap-bar pickups, bought for him by his father in 1956.
6 months later he bought a Gibson Les Paul Custom, which he played for many years.
This guitar got stolen in 1965 while on tour with Jack McDuff in Chicago, along with the rest of the band's instruments.

Gibson ES-175
Needing a new instrument to continue touring in Chicago, he asked his family for financial help and bought a Gibson ES-175 like the one pictured on Wes Montgomery's The Incredible Jazz Guitar album.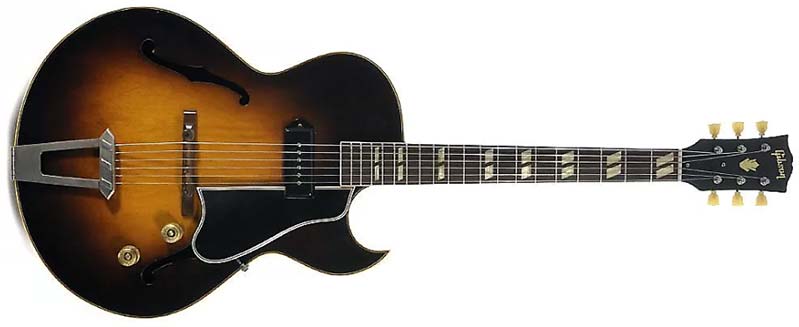 Gibson Johnny Smith
Later he bought a Gibson Johnny Smith signature model, Johnny Smith being another major influence on his music.
This guitar appeared on the cover of his albums Strings (1967) and Baiyina (1968).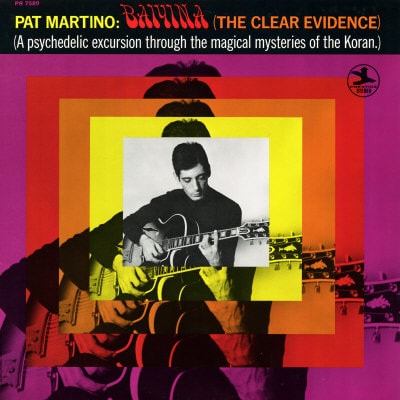 Koontz Custom Build
Luthier Sam Koontz gave Pat Martino a custom-built guitar as a gift out of respect.
This prototype guitar, later renamed to Koontz SK-3, has a floating pickup and an oval soundhole similar to the soundhole of a Gibson Howard Roberts model. The soundhole could be closed to reduce feedback.
This Koontz guitar was used on the albums The Visit (1972) and Pat Martino/Live! (1972).
Gibson L-5S
The Gibson L-5S, a solid body L-5, is the guitar that got Pat Martino back into solid body guitars.
Gibson presented the L-5S to Pat when it was not on the market yet and he agreed to use it.
The guitar was used on the fusion album Starbright (1976).

Abe Rivera Sceptre
The Abe Rivera Sceptre is a solid body guitar that was given to him by luthier Abe Rivera and was Pat's main guitar in the 1990s. It's a beautiful guitar made out of exotic woods, but very heavy.
The Rivera is pictured on the cover of the album The Return (1987).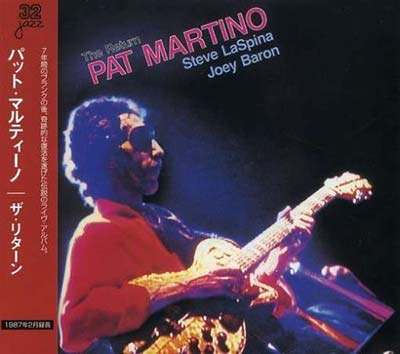 Gibson Custom Shop Pat Martino
The Gibson Custom Shop Pat Martino was Pat's guitar in the 2000s.
Pat used it for the recording of Live at Yoshi's (2001) and Think Tank (2003).

Benedetto Pat Martino Signature Model
The Benedetto Pat Martino signature model, inspired by the Gibson Custom Shop, is a lightweight guitar with a chambered mahogany body, carved maple top, ebony fingerboard, and two A6 Benedetto pickups.
In Pat's own words:
A fine guitar, from a great luthier. It is designed to remain neutral, and yet provide all that's necessary for an ongoing relationship. Its visual beauty is a continuous reminder of how it originally hypnotized and how it will always do the same. Bob Benedetto thank you, that's what this instrument means to me.

Other Guitars
Gibson ES-335-12 – a 12-string model of the Gibson ES-335, used on Barry Miles' White Heat album (1971).
Gibson L-5 CES
Univox Custom 335 12-String – a pawn shop guitar that Pat's wife bought for $80. It is used on the album Desperado (1970).
Ovation 1687-8 Adamas – appears on the cover of Pat's book Linear Expressions.
Polytone Contempo – a rare guitar made by Polytone amps and endorsed by Pat Martino for a while.
Parker Fly
Pat Martino – Guitar Amps
Acoustic Image Clarus 2R
The Acoustic Image Clarus is Pat Martino's main amp.
In his own words:
Over 20 years ago, Buster Williams, the bassist, turned me on to it, and I've never looked back. I got involved with Rick Jones, one of the owners of Acoustic Image, and they provide everything. If I need an amp, I just give him a call. It's just a wonderful relationship. The amps are six pounds or less, and they go up to 600 watts. Just amazing.
In the studio, Pat uses the Acoustic Image as a preamp directly into the board.
Live, and at home, he pairs the Acoustic Image with a Raezer's Edge Stealth 12, a Marshall 1960A, or a Mesa Boogie 4×12 Recto slant cabinet.
The Raezer's Edge cabinets are tremendous. They are well-made and beautiful. They are also precise and clear. The only problem is that they aren't available in the middle of nowhere.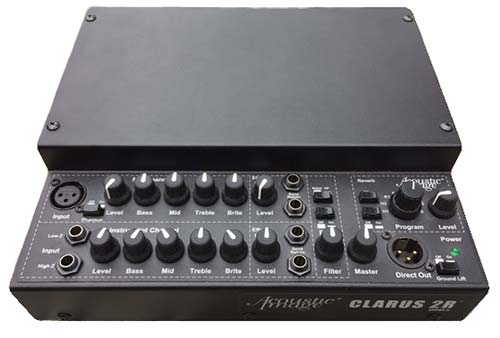 Polytone Mini-Brute II
Pat endorsed Polytone amps and guitars for a short while in the 1980s.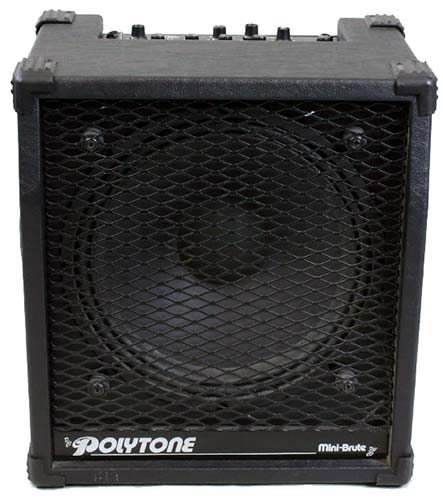 Roland JC-120
If a Roland JC-120 is available to me, it's because Tom Glenn from Roland Corporation, a good friend and former student, had one shipped to me as a gift. And therefore that's what I used. Finally, the more active I became and have become, the more difficult it became to depend on personal items. For years I relied on riders to make instruments available on the road. I came to find out that in most cases Fender amplifiers and Roland JC-120s were the most available.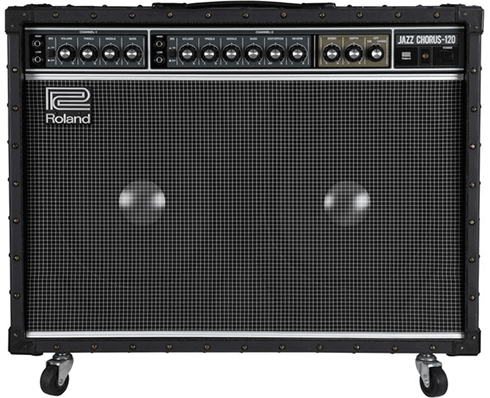 Other Amps
Fender Twin Reverb Blackface
Pat Martino – Guitar Strings
GHS Pat Martino Flatwounds
Pat has two sets of GHS signature strings:
GHS Pat Martino Flatwounds – Light .015 .017 .024 .032 .042 .052
GHS Pat Martino Flatwounds – Medium .016 .018 .026 .036 .048 .056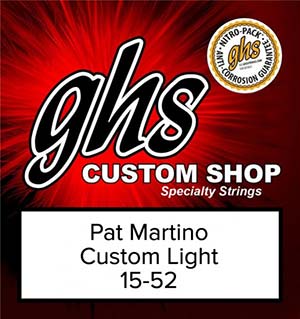 Pat Martino – Picks
Pat uses 1.5mm triangle-shaped picks.
Pat Metheny's Guitar Gear

Pat Metheny was one of the pioneers of using electronic equipment in his music and until now he's always been looking for innovative instruments.
For the first ten years of his musical career, he wouldn't play anywhere without his guitar rig. He would not play unless he could use his own gear.
That changed when he went on tour in the USSR and had to play on a Polish guitar. When he heard the tape the next day, he was surprised that his sound was there, no matter what guitar he played.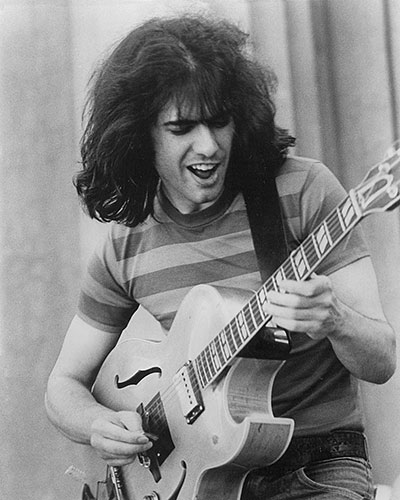 Pat Metheny – Guitars
Gibson ES-175N (1960)
Pat Metheny used his Gibson ES-175 for almost 20 years. He bought the guitar at a garage sale in Lee's Summit and he has been playing it since he was 13 years old.
Pat made some modifications to the guitar, such as removing the bridge pickup and installing a Roland midi pickup. He uses a toothbrush in the guitar's tailpiece to guide his guitar cable.
Pat says he never had any repair work done to the guitar, although it was falling apart.
To get the dark tone that he likes, he turns the tone control almost completely off.
The Gibson ES-175 was and is very popular amongst jazz musicians. Some other guitarists that used an ES-175 include Wes Montgomery and Pat Martino in their early years, Joe Diorio, Jimmy Raney, Toots Thielemans, Joe Pass, Herb Ellis, Jim Hall, Steve Howe, B.B. King, Mark Knopfler, Keith Richards, Howard Roberts, and many more.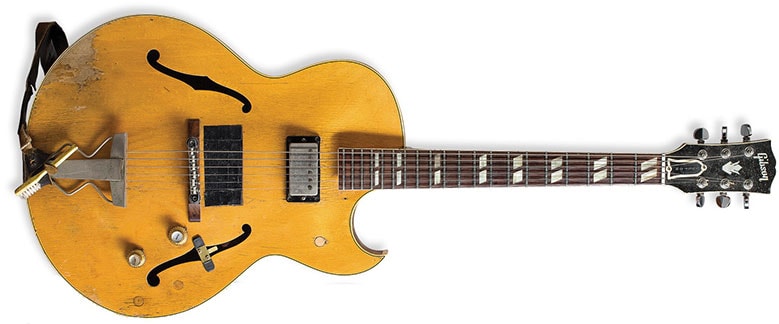 Ibanez PM100 NT – Ibanez PM100 BK – Ibanez PM120 – Ibanez PM200 NT
The Ibanez PM100 is one of Pat Metheny's signature guitar models and is his current main guitar. He started playing Ibanez somewhere in the mid-90s when his Gibson became too fragile to travel with.
Pat Metheny owns a couple of PM100s, modified to his special needs. Besides the PM100 model with a natural finish, he also plays a black version (Ibanez PM100 BK).
On the album Live -> Trio, he plays the prototype of the Ibanez PM120, which has only one pickup (the production model has two).
Pat likes the fact that the tone control is more responsive compared to the Gibson ES-175. He doesn't have to turn it all the way down to get the sound he likes.

Roland G-303 Guitar Synthesizer Controller + Roland GR-300
Pat Metheny uses the Roland G-303 guitar synthesizer controller 6-string in conjunction with the Roland GR-300 guitar synthesizer.
The Roland G-303 was made from 1980 to 1984 and was Roland's most popular guitar synth controller. It is a high-quality guitar and doesn't require guitarists to modify their playing style.

Linda Manzer Guitars
Luthier Linda Manzer made most of Pat Metheny's acoustic guitars in recent years.
Linda is a Canadian luthier who met Pat over 20 years ago and has been building instruments for him ever since.
According to Pat one of the reasons he began playing acoustic guitar is because of a 6 string made by Linda (called the "Linda 6" by Pat). The "Linda 6" is equipped with a Takamine pickup and was the guitar used to record Lonely Woman on the Rejoicing album.
Pat also plays on a Linda Manzer nylon string, the Manzer Pikasso guitar (42-string), the Manzer Sitar, the Manzer Baritone, the Manzer flattop 12-string, the "Little Manzer", Manzer "The Studio", the Manzer Mini Archtop, and more. He owns 13 Manzer guitars in total.
Other Guitars
Here are some of the other guitars used by Pat Metheny throughout the years:
Gibson ES-140 (Pat's first guitar, bought for $60 when he was 11 years old).
Gibson ES-150
Fender Mustang (Pat's second guitar).
1956 Gretsch 6120 Chet Atkins
Höfner Zoller AZ Standard (the guitar of his friend and Hungarian jazz guitar player Atilla Zoller).
1961 Gibson L-5 CES (this guitar was previously owned by Wes Montgomery, and later George Benson. It's the guitar on the cover of Wes Montgomery's album Movin' Wes).
Guild dreadnaught cutaway (permanently in Nashville tuning).
1985 Ovation 1163 Classic Cutaway
Sadowsky solid body nylon stringed guitar
Daniel Slaman DS-150/250
Guild D-40C
Paul Kinny acoustic stereo guitar
Coral electric sitar
Pat Metheny – Amps
Acoustic 134
Pat Metheny used this amplifier for 20 years, from 1974 to 1994.
He describes the sound as flat, kind of midrangy-bright, but mellow and loud without any distortion. The problem was that this amp was really noisy and tended to break a lot.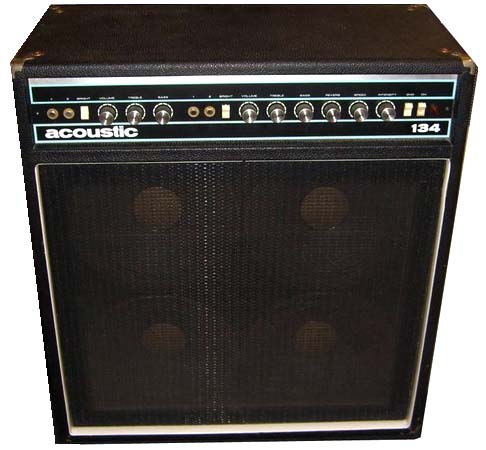 Digitech GSP-2101 Guitar Preamp
During his Joshua Redman tour, Pat realized he finally would have to modernize. He started trying everything and finally settled for the Digitech GSP-2101 preamp.
With this preamp, he could get his sound, reliability, and some bells and whistles (mainly programmability).

Kemper Profiler
Lately, Pat Metheny has been using a Kemper Profiler in combination with Bose L1 Compact System speakers.
In his own words:
I've been using the Kemper for this last year and it's been an incredible new development for me and my life as a musician. This has offered me a completely new way of getting my sound that I would not have believed possible and I've been having such a great time learning it as a new instrument.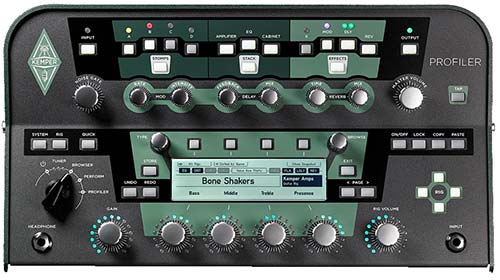 Other Guitar Amps
Ashly Mosfet 200 power amp routed to JBL speakers.
Crest 6001 stereo power amp.
Pat Metheny – Guitar Effects
Lexicon Prime Time II Digital Delay
The output of his Digitech preamp, just like the Acoustic 134, is connected to 2 Lexicon digital delays, one on his left at 14 ms and one on his right at 26 ms. Each delay has a slight pitch bend controlled by a VCO (sine wave), which makes his guitar sound chorused.
It's this 'natural' chorus that Pat is after since he doesn't like chorus coming out of a box.

Roland GR-300 Guitar Synthesizer
The GR-300 is one of the first guitar synths (1979) and Pat Metheny was one of the first jazz guitarists who used it, in combination with the Roland G-303 guitar synthesizer controller.
According to Pat, this guitar synthesizer was the first one that had a musical quality to it, it picks up every detail in terms of attack and dynamics.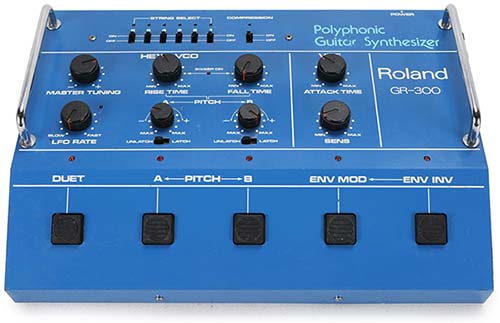 Roland VG-8
The Roland VG-8 is a guitar modeling processor that emulates the sound of popular guitars, amps, and microphones. It's a combination of a pick-up installed on the guitar and a floorboard.
Pat uses it to create synth-type sounds, on Imaginary Day for example.
Other Guitar Effects
Roland FC-300 Midi Footswitch
Pat Metheny – Guitar Strings
Pat Metheny uses light-gauge D'Addario strings exclusively.
D'Addario EXL115 Nickel Wound, Medium/Blues-Jazz Rock 11-49
D'Addario EJ16 Phosphor Bronze Acoustic Guitar Strings, Light, 12-53
D'Addario EJ21 Nickel Wound, Jazz Light, 12-52
Pat Metheny – Guitar Picks
D'Addario Duralin Standard – Super Light Duralin (.50mm)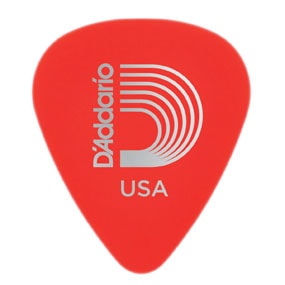 Wes Montgomery's Guitar Gear

Wes Montgomery was not interested at all in guitar equipment, he saw his guitar as a tool to do the job.
In his own words:
I got a standard box. I don't never want nothing special. Then if I drop my box, I can borrow somebody else's.
Keep in mind that Wes Montgomery played with his thumb rather than with a guitar pick and this is a major characteristic of his guitar sound.
There are some misconceptions about Wes Montgomery's playing and gear:
It is commonly thought that Wes played with his tone knob rolled off. This is not true, he was always trying to get more treble from his pickup to compensate for the mellowness of using his thumb.
Some sources say that his guitar amps were modified so they had a better response time. This is also not true.
It is said that Wes never played unplugged. This is also not the case, he practiced unplugged a lot.
Wes Montgomery – Guitars
Gibson L-5 CES EB
During his entire career, Wes Montgomery played almost exclusively on a 1963 Gibson L-5 CES (cutaway electric Spanish).
Gibson produced this guitar since 1922 and is still in production today. It was the favorite rhythm guitar in big bands.
The L5 was the first Gibson guitar with f-holes.
Gibson made 3 custom guitars for Wes Montgomery, but they only had 2 differences compared to the standard L-5: 1 pickup instead of 2, which was placed upside down.
Other guitarists that use the Gibson L-5 are Tuck Andress and Pat Martino.
Other Guitars
Wes Montgomery played a Gibson L-7 on the recordings of The Wes Montgomery Trio (1959). The L-7 was loaned to him by Kenny Burrell, together with a Fender Deluxe amp.
Gibson L-4 with a Charlie Christian bar pickup.
Gibson ES-175: this is the guitar he is holding on the cover of Movin' Wes.
Gibson ES-125D
Wes Montgomery – Amps
Wes Montgomery never really found the amp that sounded the way he wanted it to.
Fender Super Reverb
Wes Montgomery used a Fender Super Reverb in his early years. This tube amp has 4 10-inch speakers.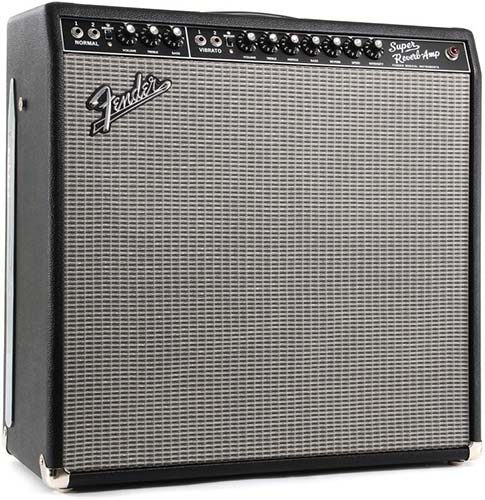 1965 Standel Super Custom XV
In his later years, Wes Montgomery played this Standel amp. The Super Custom XV has 2 channels, a normal one and a reverb/vibrato one. The amplifier has 70 watts RMS and a JBL speaker.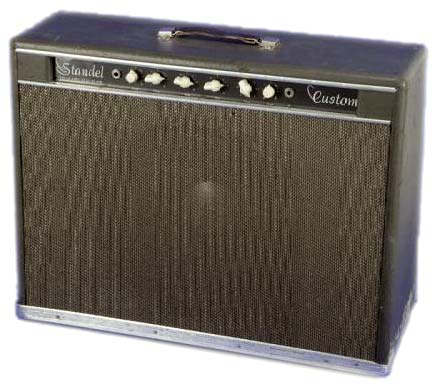 Fender '65 Twin Reverb
After the Standel, Wes played on a Fender Twin Reverb.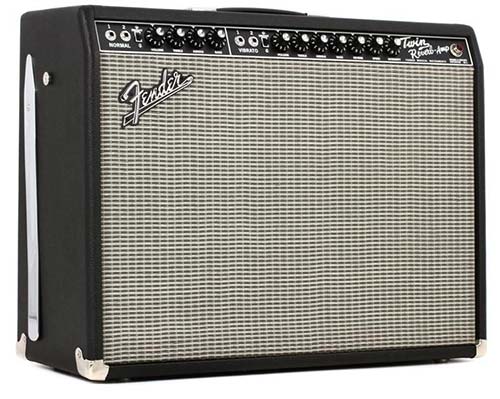 Wes Montgomery – Strings
Wes Montgomery used Gibson HiFi Flatwound strings on his guitars going from 014 to 058.
Wes Montgomery – The Thumb
Wes Montgomery didn't use picks, he used his thumb for picking. He once tried using a pick for some weeks, but it never produced the sound he liked, although it enabled him to play faster compared to using his thumb.
He used the fleshy part of his thumb, not his nail, and played only downstrokes for single-note lines and up- and downstrokes for chords.
Wes had a corn on his thumb. One sound he got from the soft parts of his thumb, another more edgy one from that corn.
His thumb was double-jointed, he could bend it all the way back to his wrist.