Tone is an important aspect of any jazz guitarist's voice and musical output. Whether you are jamming or out on a gig, your tone is what sets you apart from other players, and gives your playing a distinct voice all it's own. One of the most important aspects of developing a solid tone is finding the right amp for you and your musical tastes.
To help you find that perfect amp, and personal tone, we've asked the JGO readership to let us know what amp they prefer when playing in a jazz guitar context.
After receiving more than 5000 responses from jazzguitar.be readers, we've taken those results and graphed them out so that you can see what amps your fellow jazz guitarists are playing in their home studios and out on the bandstand.
Not surprisingly, Fender amps made up the bulk of the responses, with perennial favorites Roland, Vox and Peavey coming in third through fifth place in the survey. Not all amps chosen in the poll were big name brands, as you can see Polytone, Henricksen, Acoustic Image and other smaller, boutique brands on the list as well.
Here they are, starting with the most popular and working down the graph from there, the top jazz guitar amps as chosen by you, the JGO community.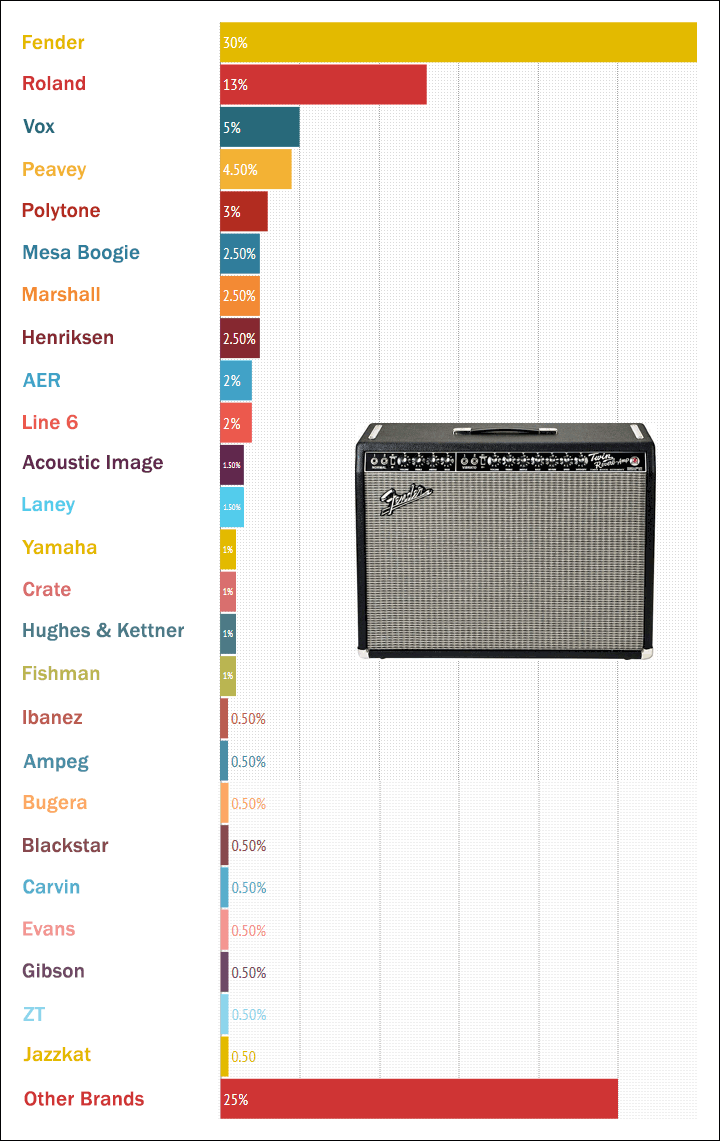 Fender
By far the most popular brand of amps is Fender.
Beginning with the KU models in 1945, which were all tubes, and launching a solid state amp line in the late '60s, Fender amps have long been a staple choice for guitarists of any genre, including jazz.
With a large number of makes and models to choose from, Fender amps are usually categorized by their looks, such as the Tweed, Blonde, Brownface, Blackface, and Silverface models.
Fender Blues Junior
Price Range: $310 – $680
First issued in 1995, this tube amp is designed to emulate the warm tone preferred by blues and blues-rock players of the classic-rock era.
Because of its warm tone, and not being too heavy to carry to gigs as some of the larger Fender amps can be,
the Blues Junior has made the crossover from rock and blues to the jazz world as it has become the amp of choice for countless traditional and modern jazz guitarists over the years.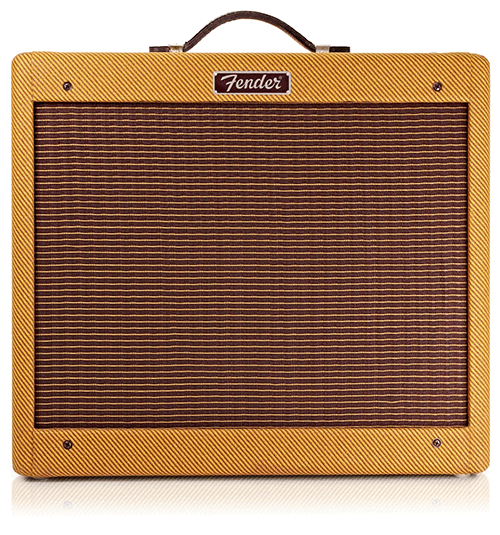 Fender Deluxe Reverb
Price Range: $580 – $2,900
First made in 1963, this model is a variation of the traditional Deluxe as it has an added onboard spring reverb tank.
The original Deluxe Reverb was part of the Blackface era of Fender amps but later switched to Silverface in 1968.
In 1982, the Deluxe Reverb II was launched, and in 1993 Fender released the '65 Deluxe Reverb reissue which is still in production today.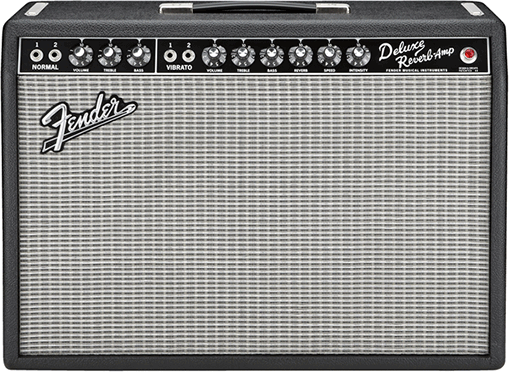 Fender Twin Reverb
Price Range: $480 – $2,800
Featuring a built-in solid-state rectifier, the Fender Twin Reverb is a common option for players who like the power from a Fender Twin, but with the warm, clean tone that jazz guitar players enjoy, rather than the sharp, distorted sound that rock players prefer in their playing.
The Fender Twin Reverb makes a great studio amp or the perfect choice for a gig in a large room where you need more volume, but don't want to sacrifice your clean sound at the same time.
Noteworthy players: George Benson, Gabor Szabo, Kenny Burrell, Mike Stern, Wes Montgomery.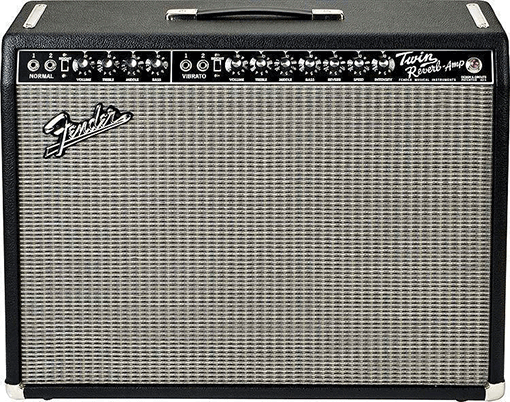 Fender Mustang
Price Range: $45 – $500
The Mustang features amp modeling and effects technology built-in for those players who want a small practice amp, but enjoy experimenting with onboard amp models and effects processing at the same time.
Featuring Fender's "Fuse" software, you can connect directly to your computer via a USB cable to access and even exchange presets with the online Fender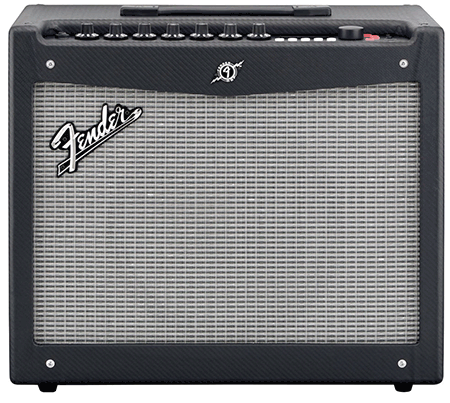 Fender Champ
Price Range: $360- $1,900
With the lowest power output and simplest circuit setup of all Fender tube amps, the Fender Super Champ and, to a lesser extent, the Champion 600 were two popular amp choices in our survey.
Though this amp was discontinued in 1982, after a 34 year run of production, Fender revived the Champ series in 2006 with their "Vintage Modified" line of amps.
After lagging sales for the Super Champ in 1982, Fender partnered with Paul Rivera to help redesign this classic amp. The resulting amps are considered some of the best in the series and are highly sought after by guitarists looking for a classic Fender sound.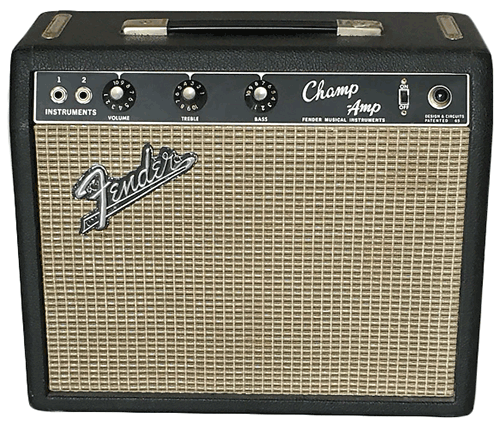 Fender Princeton Reverb
Price Range: $800 – $3,200
The Blackface edition of the Princeton Reverb was first released by Fender in 1967, though it was quickly replaced by Silverface version a year later.
After being discontinued in 1981, Fender released the Princeton Reverb II a year later, which was also discontinued in 1986.
Luckily for fans of this classic sounding amp, Fender launched a reissue of the Princeton Reverb in 2008 as well as a '68 Custom Princeton Reverb reissue in 2013.
Noteworthy player: Bill Frissell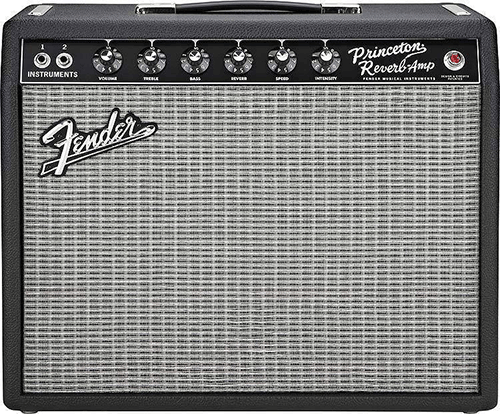 Fender Hot Rod Deluxe
Price Range: $340- $900
Along with the Deville, the Hot Rod makes up the Deluxe line of Fender amplifiers, and both are tube amps with a focus on power in a smaller package than the Fender Twin line of amps.
Originally released in 1995, Fender has released a few limited editions of the Hot Rod Deluxe over the years, as well as the Hot Rod Deluxe III in 2010 which featured a number of cosmetic and electronic upgrades to the traditional Hot Rod design.
In 2013, Fender launched a George Benson signature Hot Rod Deluxe (pictured), a 40W all-tube amp with 12″ Jensen C12K speakers. This amp has been very well received by jazz players and is well worth its cost.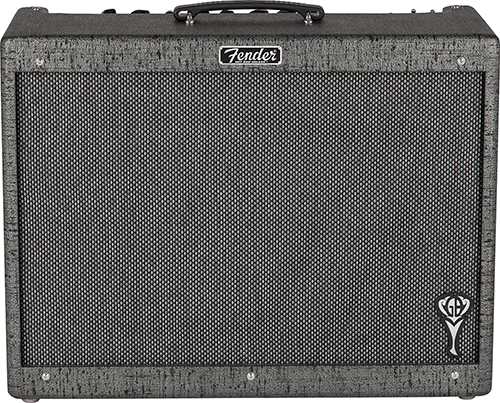 Other Fender Models (in order of popularity)
Blues Deluxe

$400 – $800

Frontman

$25 – $200

Hot Rod Deville

$385 – $1,100
Roland
Founded in 1972, the Roland Corporation is known for manufacturing a wide variety of musical instruments, including their popular line of guitar amps, two of which made our list: the Cube (72%) and JC-120 (25%).
Though they have been known as a cheaper cousin to the big names such as Fender over the years, many players are warming up to the reliability, durability and warm tone of Roland amps.
Roland Cube
Price Range: $100- $450
By far the most popular and commonly used Roland guitar amp, the Cube has long been found in rehearsal rooms and on stage sitting next to jazz guitarists of all backgrounds and genres. The small size, as well as its ability to maintain a strong, clean tone at higher volume levels, has made the Cube popular among jazz guitarists.
Many jazz guitarists who grew up playing in high school or University jazz bands would probably be familiar with this amp model as its durability and reasonable price tag have made it a first choice amp for many school music programs over the past 20 years.
Cube types mentioned in the survey: Micro Cube (7%), Cube 20 (8%), Cube 30 (13%), Cube 40 (24%),Cube 60 (27%), Cube 80 (21%).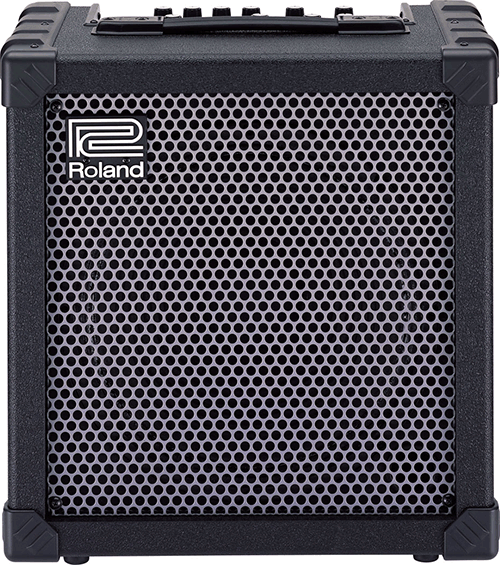 Roland JC-120
Price Range: $400- $1,000
In production since 1975, this solid state amp is one that players either love or hate.
There are some players who prefer the clean and chorus tone, while others detest it to the point that they include a "no Jazz Chorus amp" clause in their riders.
The JC remains a popular choice among jazz though, and as was the case with the Cube, a common purchase for high schools and universities.
Noteworthy player: Kenny Burrell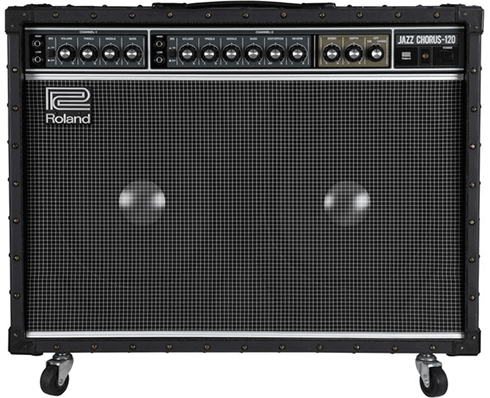 Vox
Founded in the UK in 1958, and since 1992 owned by Korg, this British born amplifier is more known as a rock and blues amp, but it has crossed over into the jazz world and made inroads with jazzers over the years for its consistent clean tone and performance.
Vox AC30 & AC15
Price Range: $680- $3,350
Vox offers a range of amplifiers, but they are most known for two models, the AC-15 and AC-30.
The biggest reason for Vox's success over the years was the company's relationship to the Beatles. During their time together, George Harrison, John Lennon, and Paul McCartney all played AC 15, AC30 and other Vox models as they grew into the legendary band they are today.
Noteworthy player: John Scofield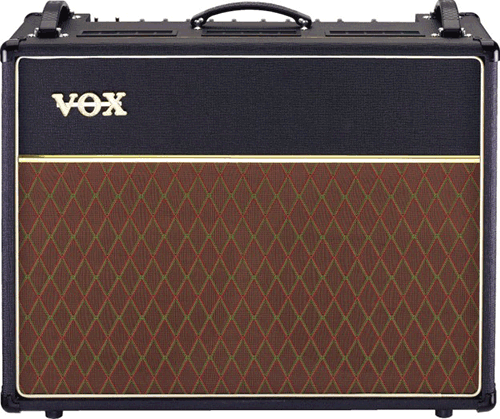 Other Vox Models
Valvetronix VT40+

$110 – $250
Peavey
The Peavey Corporation has steadily produced quality amplifiers as a company since 1965.
Again, as was the case with Roland, Peavey amps seem to fall into the "I love" or "I hate" category when it comes to asking jazz guitar players what they think about these amps.
Regardless of generating a divisive opinion, Peavey has remained a top choice for jazz guitarists for many decades, including their most popular jazz amp, the Classic 30.
Peavey Classic 30
Price Range: $300- $700
The Classic 30 is a commonly used amp amongst jazz guitarists who like its durability, tone and consistent performance when it comes to playing in a small combo, duo, or even a big band setting.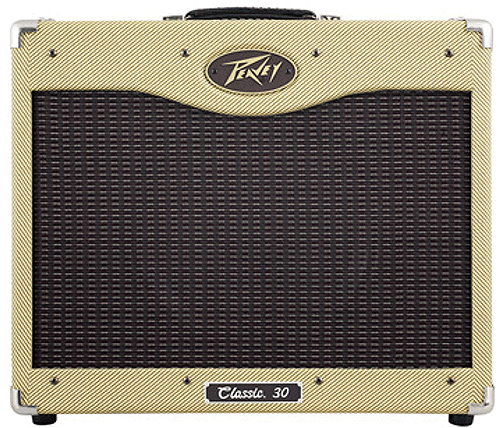 Polytone
Though they are not as big of a name as Fender or Roland, Polytone amps have recently become a popular choice among jazz guitarists as their reputation has grown by word of mouth and through the endorsements of legendary players such as George Benson, Joe Pass, Jim Hall and Howard Alden (among others).
Polytone Mini Brute I & II
Price Range: $200 – $1000
Developed in 1976 as a small amp with "brute force power," the Mini-Brute series provides jazz guitarists with some of the most consistent and clear, clean tone of any amp on the market today.
Even though newer models are commonly in use with jazzers of all backgrounds and tastes, players spend hours searching out for vintage models from the '70s and early '80s which have a classic tone that many players desire.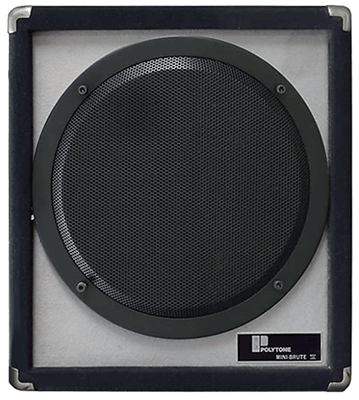 Henriksen
Henriksen amplifiers have found their way into the on-stage setup of some of the most legendary players in jazz history, including John Abercrombie, Jimmy Bruno, Andreas Oberg, Larry Coryell and more.
Providing a strong, clean tone, Henriksen amps are gaining traction in the marketplace and are definitely an amp to check out the next time you are looking to update your jazz guitar setup.
Henriksen JazzAmp 110
Price Range: $700 – $1000
Retailing for under $1000, the JazzAmp 110 is the most popular Henriksen amp in our survey.
It is a solid state amp that provides a clean warm tone in a small package.
At only 23 pounds (10,5kg) the 110 can cover nearly any jazz gig from small rooms to large ones, and because of the linear design, it sounds just as great at bedroom volumes.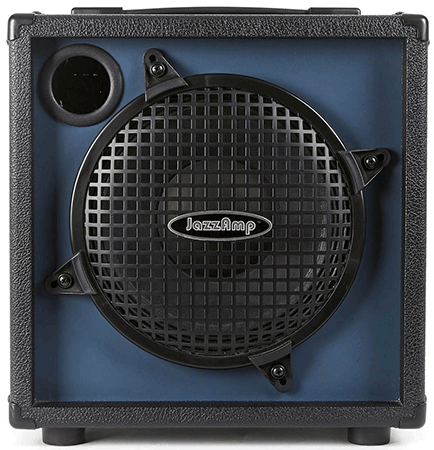 Other Brands
To finish up, here is a list of the other amps that were mentioned in the survey, but that didn't make it into the top makes and modes listed above.
AER Compact 60

$700 – $1,450

Acoustic Image Clarus (Head)

$500 – $1,000

Marshall MG30

$200 – $230

Mesa Boogie Lone Star

$1,200 – $3,500

Yamaha THR10

$250 -$300

Line 6 Spider IV

$40 – $380

AER Alpha

$680 – $1,000

ZT Lunchbox

$130 – $450

Bugera V22

$200 -$450

Ibanez Wholetone

$190 -$390

Jazzkat Tomkat

$440 – $700
Download this popular jazz guitar amps infographic as an image here…
What do you think of this list and what is the best jazz guitar amp in your opinion? Let us know in the comments below…