Nature Boy was written by eden ahbez (his real name was George Alexander Aberle) in 1947 and recorded by Nat King Cole in 1948. Cole's recording became a no 1 hit for eight weeks and sold over a million of copies. In this lesson, you will learn how to play the melody and chords of Nature Boy.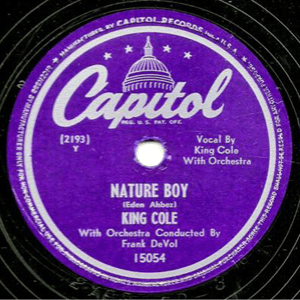 eden ahbez (he didn't capitalize his name) was a member of the "Nature Boys", a group of nomadic hippies that wore long hair and beards and ate only raw fruits, vegetables, and nuts. At the time of the release of Nature Boy, eden was living under the L of the Hollywood sign in LA.
Recommended listening:
Nat King Cole – Single (1948)
Django Reinhardt – From Paris with Love (1949)
Miles Davis (with Charles Mingus) – Blue Moods (1955)
John Coltrane – The John Coltrane Quartet Plays (1965)
Ella Fitzgerald and Joe Pass – Fitzgerald & Pass… Again (1976)
George Benson – In Flight (1976)
Kurt Elling – The Messenger (1997)
David Bowie – Moulin Rouge! soundtrack (2001)
Jimmy Rosenberg – The One and Only (2006)
Tony Bennett & Lady Gaga – Cheek to Cheek (2014)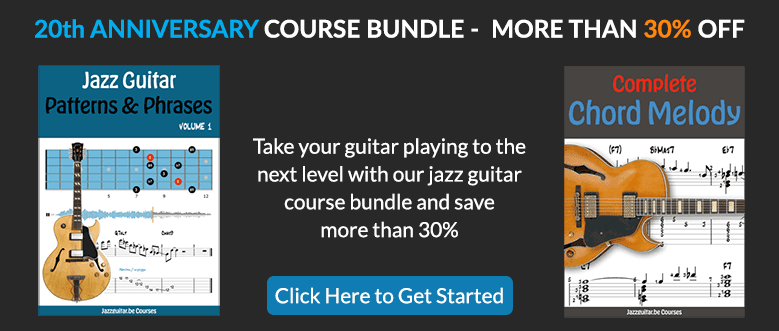 Nature Boy – Melody
The melody of Nature Boy is almost entirely in the A natural minor scale, except for bars 5-6 and 21-22 where it follows the line cliché (A-G#-G-F#).
Nature Boy - Easy Jazz Guitar Melody
Listen & Play-Along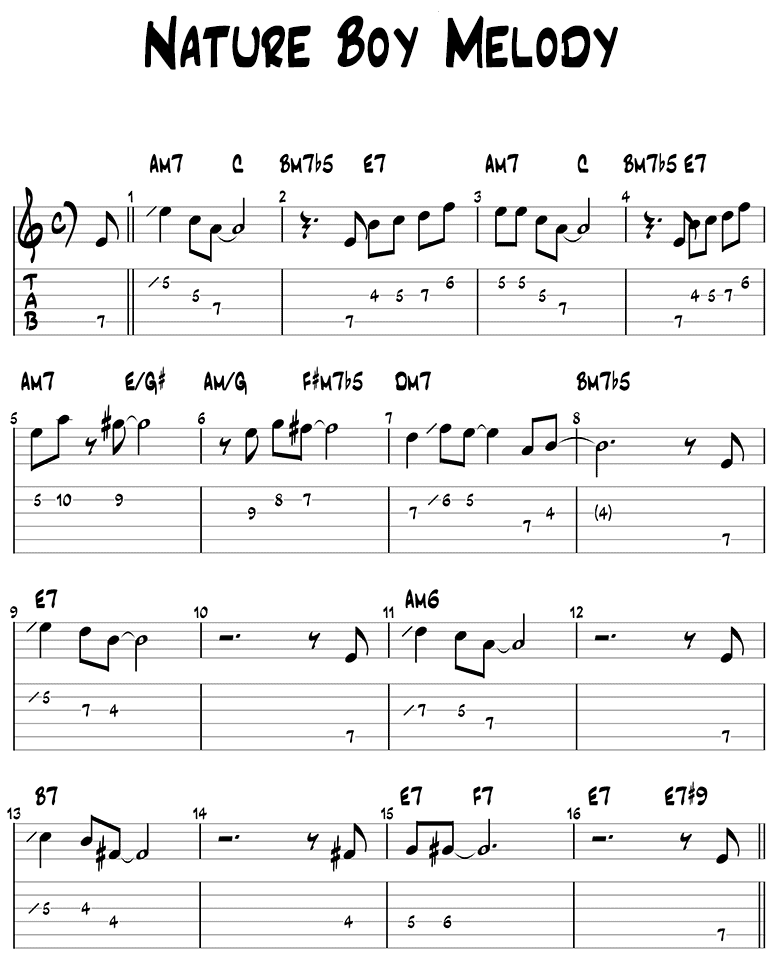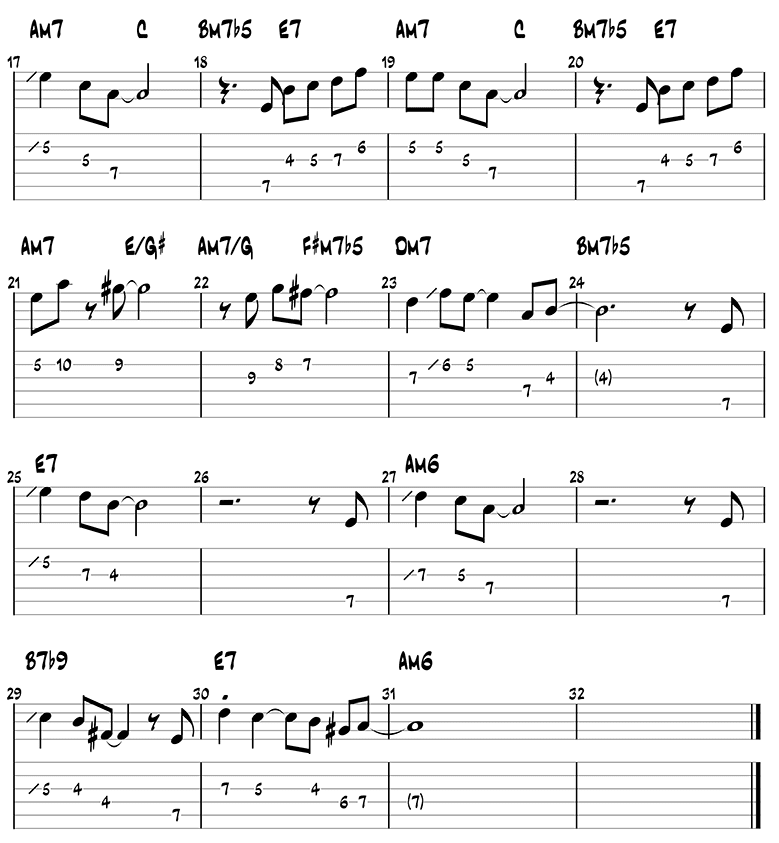 Nature Boy Melody Guitar Pro 8 File

Nature Boy – Chords
Most chords in this arrangement are basic jazz guitar chords. The rhythm takes some time to get used to but is easy to play once you get it under your fingers.
Nature Boy - Jazz Guitar Chords
Listen & Play-Along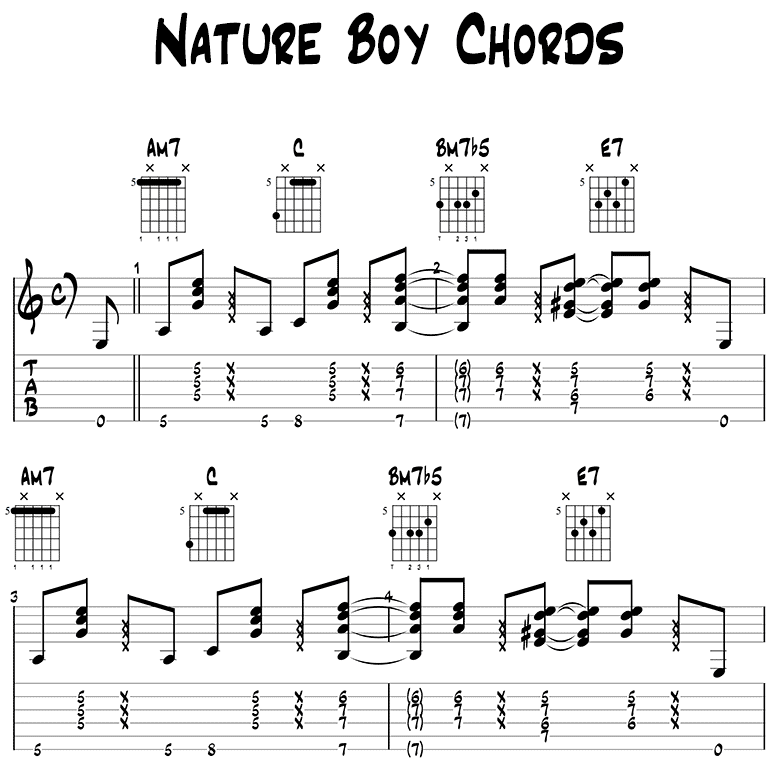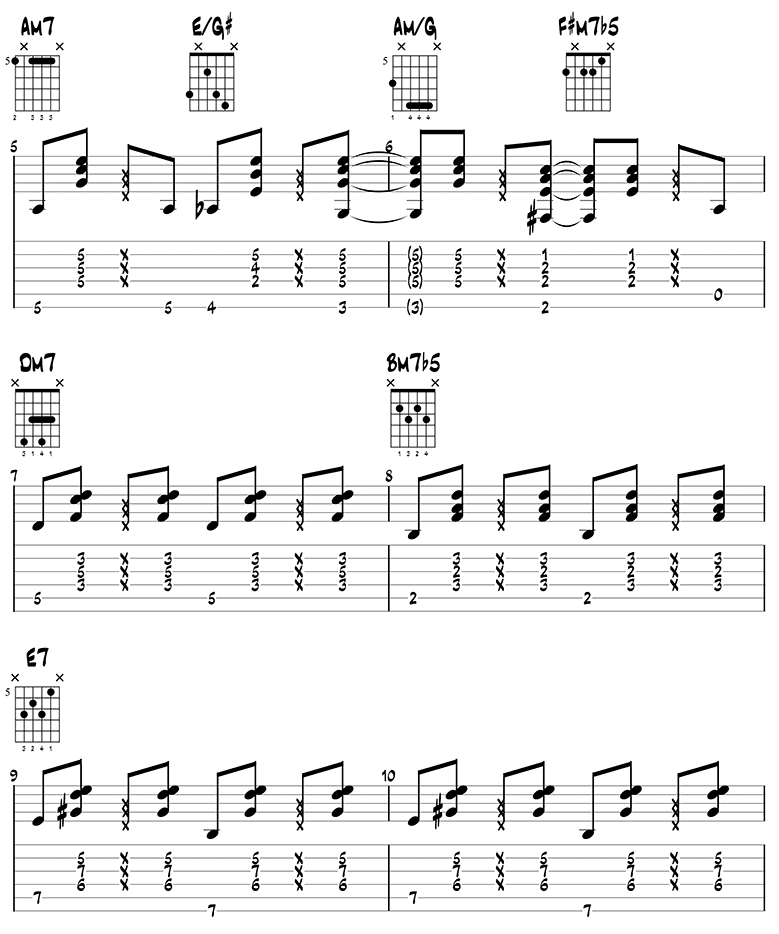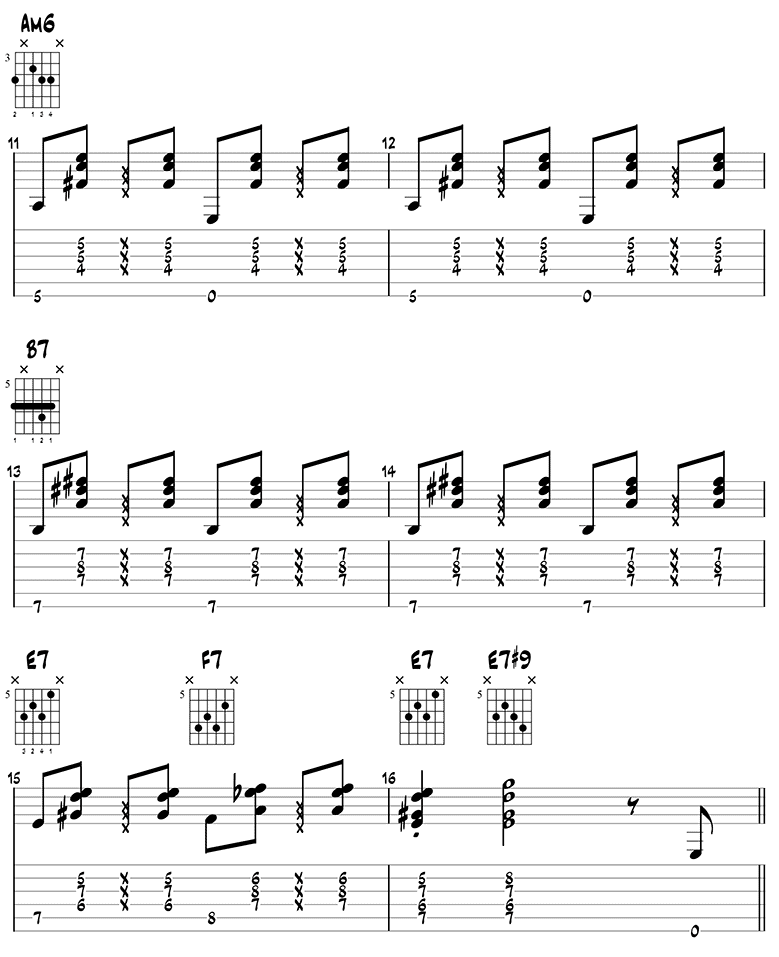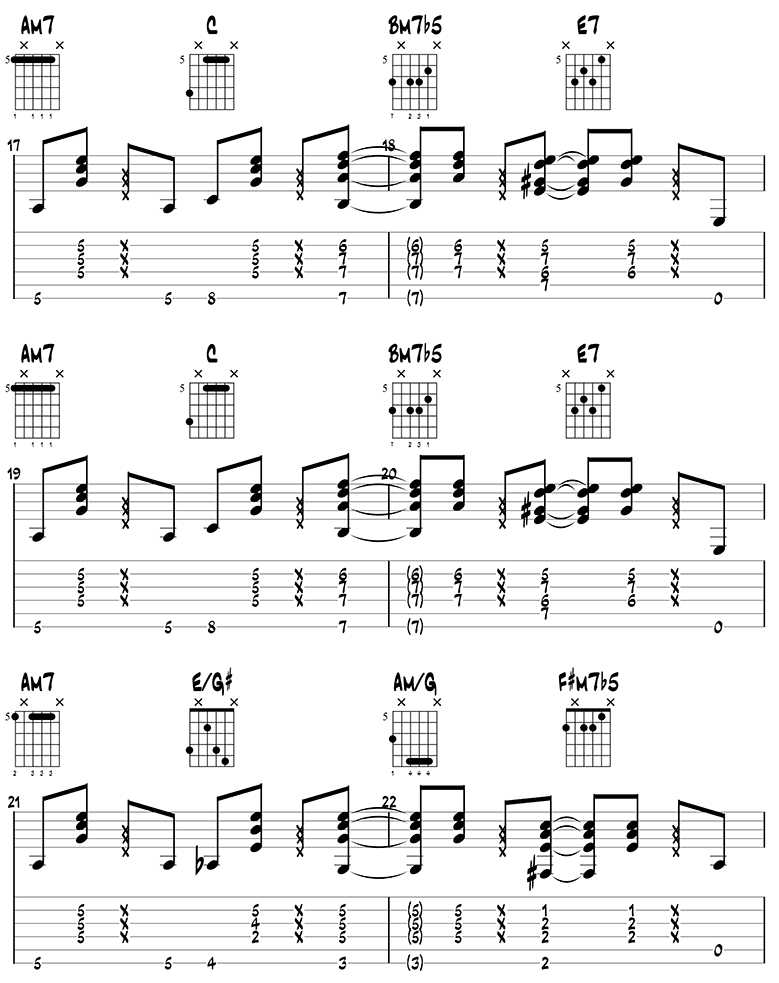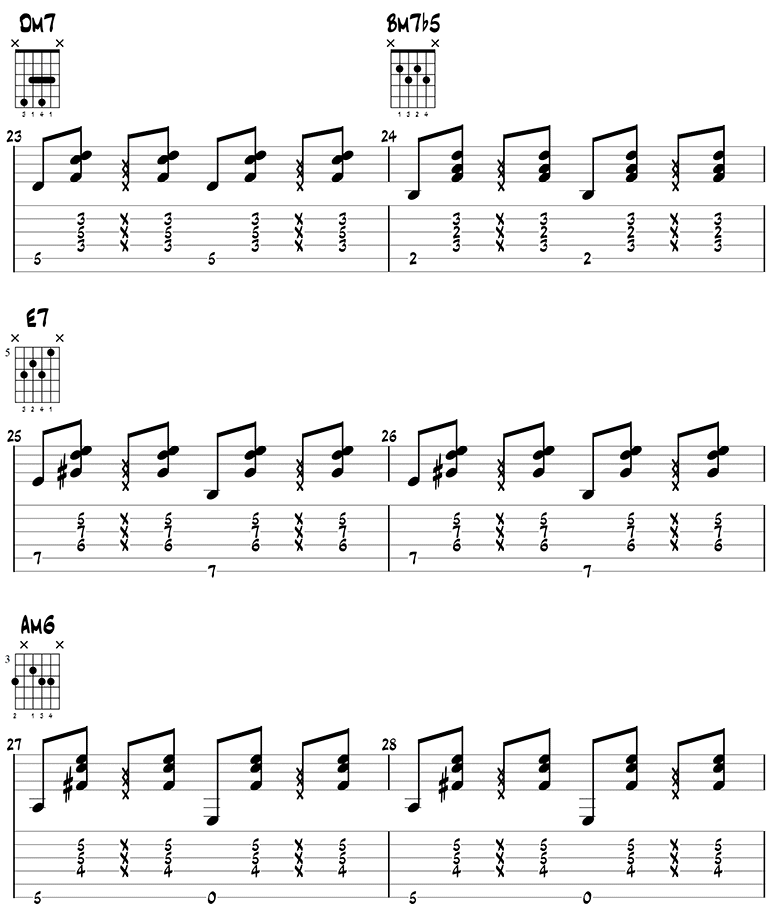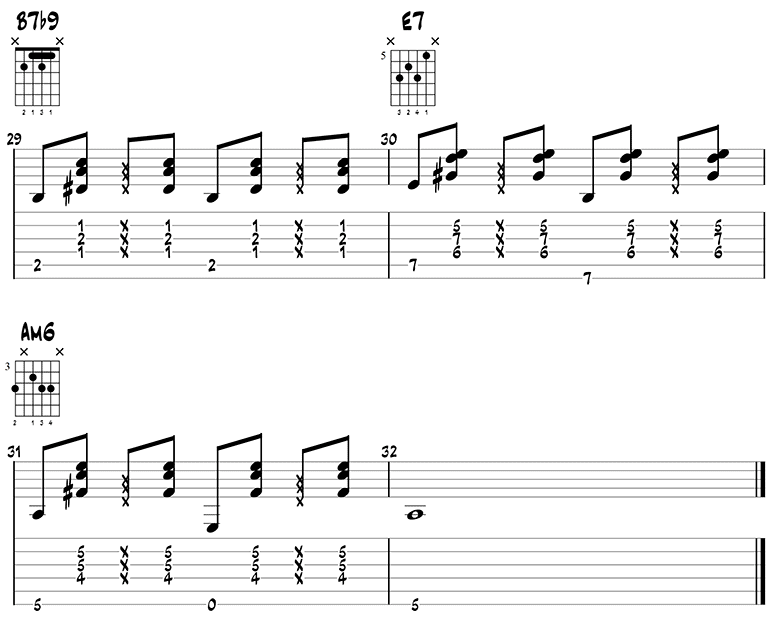 Nature Boy Chords Guitar Pro 8 File