Guitarists in all genres love their gear, especially their guitars of choice, and jazzers are no different. In order to find out exactly what jazz guitarists are playing these days, we set out to conduct a survey of JGO readers and asked them about their best jazz guitar.
After getting back over 5000 responses from jazz guitarists all over the world, we've put together the results in this list that you can refer to the next time you are wondering what other jazz cats are playing, or are looking for a new jazz guitar model to add to your collection.
Though it is not surprising that Gibson guitars are the most popular brand chosen by readers, what might come as a surprise was the variety of other brands that made the list and the fact that as many people played "other" brands as they did Gibson. This result shows a healthy variety of options for jazz guitar players looking to explore quality guitars in a variety of price ranges.
Take a look through the survey results and see where your current (or dream guitar) landed in our ranking of the best jazz guitars as chosen by you, the JGO community.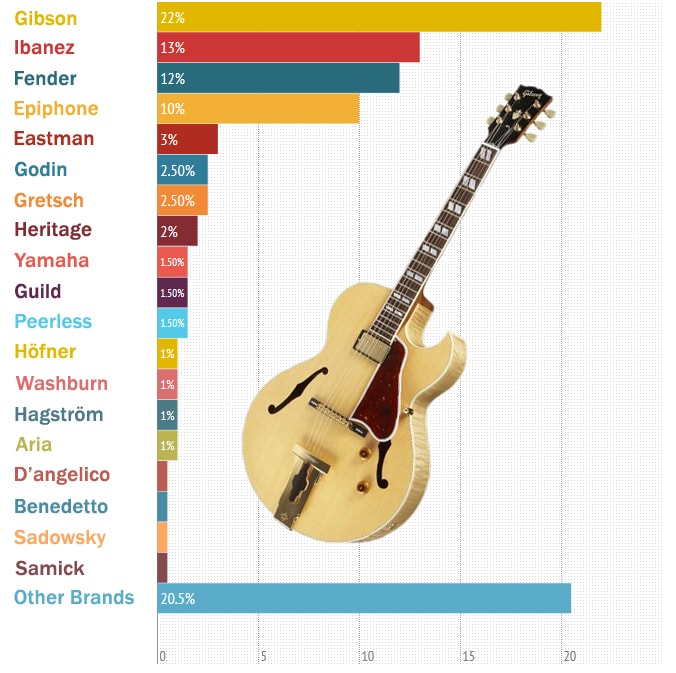 Gibson
Played by some of the most legendary jazz guitarists of all time (Wes Montgomery, Pat Metheny, Johnny Smith, Barney Kessel), Gibson archtops have long been associated with the classic jazz guitar tone that many guitarists strive for in their playing.
Therefore it is not surprising that Gibson guitars landed at the top of our survey, as they continue to be the guitar of choice for jazz guitarists of all backgrounds and experience levels.
Here are the most popular models of our survey.
Gibson ES-175
Price Range: $1,900 – $18,600
The Gibson ES-175 has long been one of the most popular and famous jazz guitars on the market. Debuted in 1949, this guitar was designed to be a laminated alternative to the L-5 and an amplified version of the L-4.
Its playability, its consistent clean tone, and its durable nature make it the go-to choice for many legendary players, including Pat Metheny and Joe Pass who played this guitar at different points in their careers.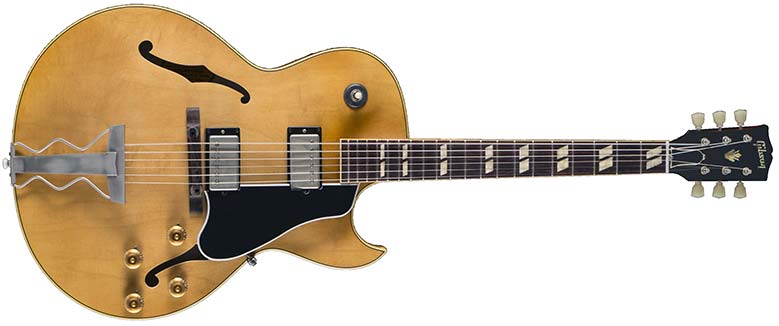 Gibson ES-335
Price Range: $1,200 – $26,000
First built in 1958, the Gibson ES-335 is a thinline, semi-hollow body guitar that has worked its way into jazz through the work of great players such as B.B. King, Larry Carlton, and others.
Designed to provide a middle ground between the Les Paul and Gibson's archtop models, which back in the day had issues with feeding back at high volumes, the ES-335 bridges the gap between an archtop and the ability to reign in feedback and create a warm tone at high volumes.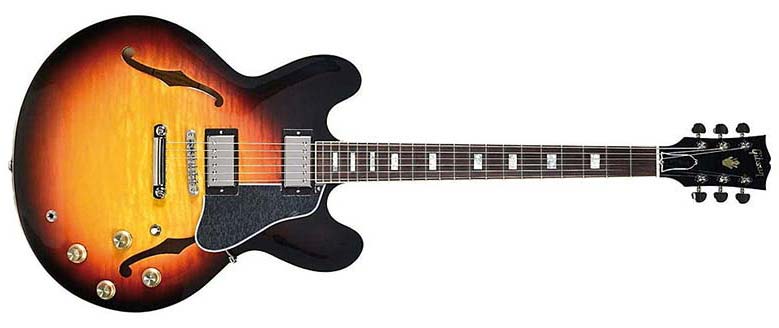 Gibson L-5
Price Range: $4,100 – $18,100
Having been in continues production since 1922, the L-5 is the pinnacle of the Gibson archtop collection, in no small part to the fact that Wes Montgomery made it his guitar of choice during his short, but highly successful career. Other players that have chosen the L-5 as their guitar of choice are Tuck Andress, Lee Ritenour, Pat Martino, and Eddie Lang.
Though these guitars come with a hefty price tag, the L-5 is still the Gibson guitar that many players save their pennies for as they search for the perfect (Wes Montgomery inspired) tone.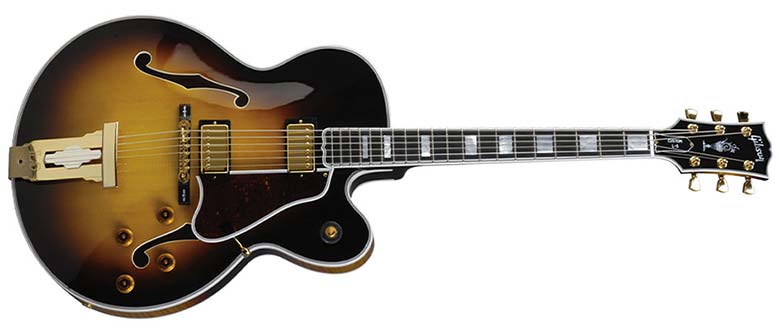 Other Gibson Models (in order of popularity)
L-4

$2,600 – $3,200

ES-137

$1,200 – $2,200

ES-339

$1,100 – $3,000

ES-125

$850 – $2,600

ES-165 Herb Ellis

$1,500 – $2,100

ES-330

$1,700 – $7,300

ES-135

$950 – $1,600

Howard Roberts

$1,400 – 3,200

Super 400

$4,000 – $10,500
Ibanez
Setting out to offer more affordable options for jazz, Ibanez guitars have gained a firm hold in the market as they have been endorsed (or played) by top-level guitarists such as John Scofield, Ben Monder, George Benson, and Pat Metheny.
For players that are looking for a durable, great-sounding guitar, but don't want to break the bank in the process, Ibanez offers a range of guitars for jazzers of all backgrounds, tastes, and levels of ability.
Ibanez Artcore AF75, AF95, AF105
Price Range: $175 – $650
Released in 2002, the Artcore is Ibanez's line of semi and hollow-body guitars geared towards players that are looking for an affordable jazz guitar.
Though they are not held in the same high regard as the Artist Series, which are coveted by players for their playability and affordable price tag, the Artcore series makes for a durable, good-sounding introductory jazz guitar at a much more affordable price tag than their Gibson counterparts.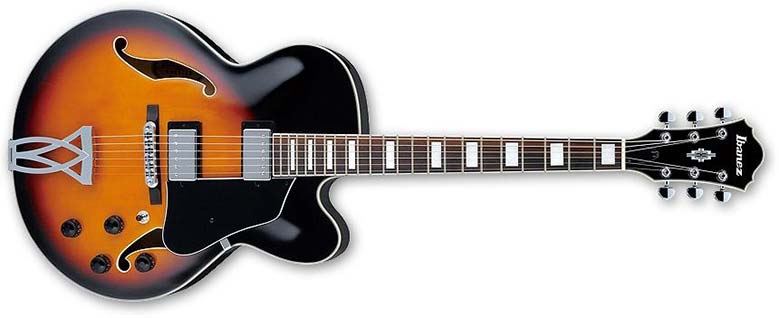 Ibanez GB10 George Benson
Price Range: $1,300 – $3,600
Having recently celebrated 30 years of collaboration, Ibanez and George Benson offer several signature models for the jazz guitarist to choose from.
With a wide price range, the Ibanez GB series of signature guitars offers a number of options for players looking to gain that fat, warm Benson tone in their own playing.
The GB10 model does come with a fairly significant price tag, the high-quality and signature Benson tone that this guitar provides have kept it at the forefront of the jazz guitar signature model marketplace.

Other Ibanez Models (in order of popularity)
Artstar AS200

$1,100 – $2,400

Artcore AK95

$350 – $500

Artcore AS73

$200 – $450

PM100 Pat Metheny

$1,500 – $2,400
Fender
Long having been associated with rock and blues guitarists, mostly for the prominence of the Stratocaster model with these genres, Fender has slowly made inroads into the jazz guitar realm over the years as notable players such as Ted Greene, Ed Bickert, and Mike Stern have all chosen Fender Telecasters for their jazz recordings and performances.
Fender Telecaster
Price Range: $275 – $40,000
The Fender Telecaster is the most popular Fender guitar when it comes to jazz guitarists.
Providing a warm tone, with the durability and ease of play that Fender guitars have become known for, the Telecaster is a workhorse guitar, one that players will bring on the road and not have to worry about it working day in and day out under any condition.
Since the Tele is either a solid-body design or solid-body with F holes, it can be played at high volumes without the risk of feedback.

Other Fender Models
Jazzmaster

$600 – $12,000
Epiphone
Though many Gibson Archtop Guitars are beyond the price range of many players, Epiphone guitars are designed to provide the look and feel of a Gibson at a fraction of the price.
With a wide variety of both Gibson copies (such as the popular ES-175 and ES-335), as well as their own line of archtop guitars (featuring the Emperor and Sheraton models), Epiphone provides both copy and unique guitars that fans of Gibson archtops can enjoy and use as their go-to jazz guitar.
Epiphone Joe Pass Emperor II
Price Range: $350 – $700
Released just before his passing in 1994, the Joe Pass Emperor is Joe's signature Epiphone model which he chose to release after having previously worked with Ibanez on his signature guitar releases.
Though he endorsed the guitar and Epiphone has said that he had a hand in designing the Emperor II, Joe was mostly seen and heard playing his Gibson ES-175.
While he may not have played the guitar that often, players looking to get a bit of that classic Joe Pass sound in their playing (without shelling out for a 175) will often choose this guitar as their main axe.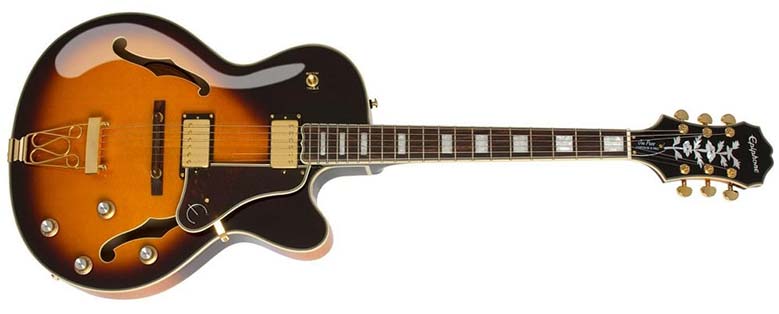 Epiphone ES-335 Dot
Price Range: $350 – $740
A more affordable version of the Gibson ES-335, the Epiphone 335 (or "The Dot" as it is also referred to) is designed to provide players with the warm tone and long sustain associated with the Gibson version, but at a fraction of the sticker price.
Produced in the same colors as the Gibson model, including the iconic Red Cherry finish, this Epiphone model has become popular over the years, and it is usually held as the most consistent and playable of all the Epiphone jazz guitars.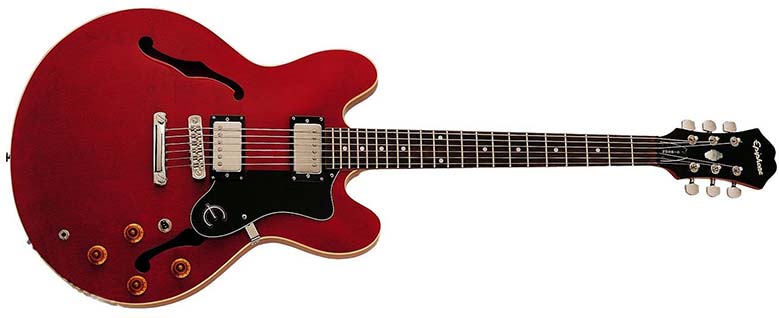 Epiphone Sheraton II
Price Range: $350 – $700
Though this semi-hollow Epiphone is often sold for under $750, it has managed to find endorsements by some big names in the rock and blues worlds, such as John Lee Hooker, Noel Gallagher, and Brian Aubert.
While this guitar has been used mostly in the rock realm, jazz guitarists that are looking for a semi-hollow guitar at an affordable price will often reach for a Sheraton II as their guitar of choice.
With a fixed tailpiece and twin humbucker setup, the Sheraton II provides a warm set of tones, as well as longer sustain compared to a full archtop.

Other Epiphone Models (in order of popularity)
ES-175 Premium

$500 – $650

Broadway

$800 – $3,100

ES-339

$265 – $500

Casino

$300 – $7,300
Eastman
After moving from China to the United States in 1992 to study music, Qian Ni subsequently founded Eastman Strings. The company first began as a violin import company and has now expanded to produce the Eastman Guitar line, which has been quickly growing in popularity in recent years.
Though they don't have the celebrity endorsements or the long history of Fender or Gibson, Eastman Guitars has quietly been growing their Artist's list, as well as making waves among jazz guitarist who try out their various models, and who are now championing the brand to friends through word of mouth.
As their reputation continues to grow, Eastman Guitars is quickly becoming a name to watch, and a guitar to try out.
Eastman AR371CE
Price Range: $450 – $1,000
One of the most popular Eastman Guitar models, the AR371CE is a single cutaway, laminated, and single-humbucker archtop guitar that is designed to compete with the best archtops produced by Ibanez and Epiphone.
Though they may be hard to get a hold of for a test drive, depending on where you live and how hip your local guitar store is, the AR371CE is a guitar that is worth looking for and trying out, even if you have to travel a bit to do so.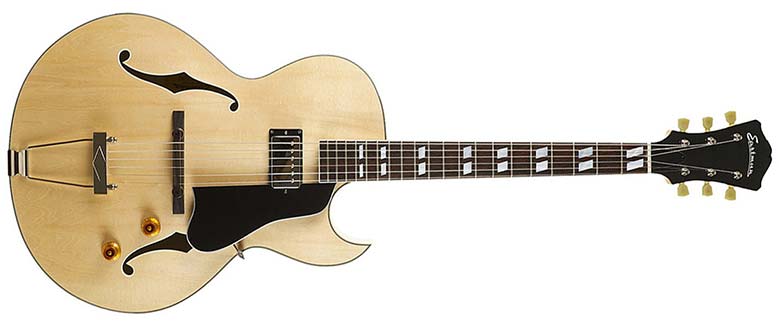 Other Eastman Models
AR803CE-16, AR805CE, AR810CE

$900 – $1,500
Godin
Founded in 1972 by Robert Godin, and currently located in Montreal (Canada), Godin guitars have a long history of making high quality, affordable acoustic and electric guitars of various shapes and sizes.
Though most renowned for their acoustic models, the Godin 5th Avenue and other Godin models have become the guitar of choice for jazz guitarists such as Gustavo Assis-Brazil, Al DiMeola, Fareed Haque, and John McLaughlin.
Godin 5th Avenue
Price Range: $300 – $1,500
Covering a wide range of shapes and sizes, including cutaway and non-cutaway models, as well as acoustic and electric models, the 5th Avenue series from Godin has been making ground in recent years with jazz guitarists.
Designed to provide classic archtop sounds and playability at an affordable price, these guitars embody the look and feel of classic archtops, but with a modern approach to construction and at a fraction of the cost of a new or used Gibson.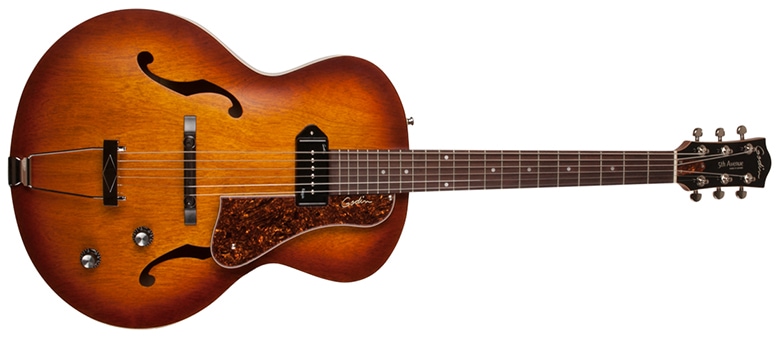 Gretsch
Originally founded in 1883 by Fredrich Gretsch, Gretsch Guitars has undergone a lot of changes over the years, but what remains the same is the company's quality-built and iconic guitar models that appeal to players from across genres and musical tastes.
Currently, Gretsch has a production and distribution partnership with Fender, although Fred Gretsch III maintains ownership of the company.
While Gretsch is often associated with country players such as Chet Atkins and Swing players such as Brian Setzer, jazz guitarists have also used Gretsch models over the years, including Rune Gustafsson, Sal Salvador, and George Van Eps.
Gretsch G5120 Electromatic
Price Range: $350 – $500
With a single cutaway, two dual-coil pickups, and the classic Bigsby tailpiece, the Gretsch G5120 is a guitar that crosses boundaries and genres.
While this guitar might be more suited for jump swing, country, and rockabilly, its design lends it to be a nice sounding jazz guitar that will cut through a larger band setting, while still maintaining a warm, hollow-body sound.

Heritage
Founded in 1985 by former workers at the Gibson Guitar factory in Kalamazoo, Michigan, Heritage guitars has aimed to keep the same high standards one expects from a Gibson jazz guitar, without raising prices to the point where most players couldn't afford this level of quality.
A number of top-level guitarists have endorsed and/or played Heritage guitars over the years, including Johnny Smith, Alex Skolnick, Mimi Fox, and Kenny Burrell.
Heritage H-575
Price Range: $1,300 – $2,100
With a look similar to the classic Gibson ES-175 that used to be built in the manufacturing plant that Heritage inherited from its previous owners, the H-575 is a high-quality archtop at a medium price range.
With a boutique quality to it, this guitar imbues all of the traits that collectors and players look for in a classic Gibson archtop, though one that is built in the modern era.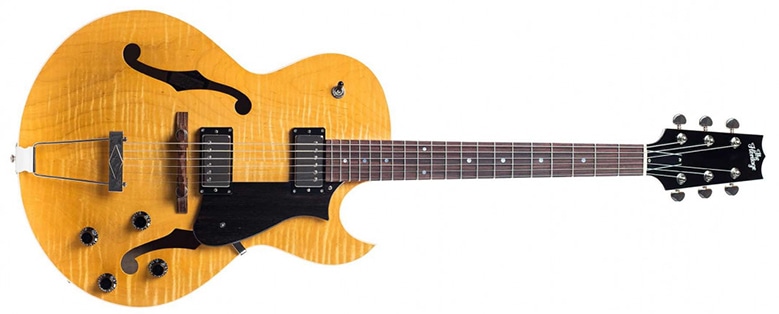 Other Heritage Models
H-535

$1,400 – $1,700

Golden Eagle

$3,200 – $6,600
Other Brands
Below is a quick listing of some of the other guitars that were mentioned in the survey, but that didn't make it to the top makes and models listed above.
Yamaha SA2200

$1,200 – $2,600

Guild Starfire

$1,200 – $3,500

Peerless Monarch

$870 – $2,300

Höfner Jazzica

$1,700 – $5,200

Washburn J3

$400 – $600

Hagström Viking

$360 – $2,000

Aria Pro II PE-175 Herb Ellis

$900 – $1,100

D'angelico Excel

$14,000 – $20,000

Sadowsky Jimmy Bruno

$3,000 – $4,500

Schecter Corsair

$450 – $600

Gitane D-500 (Gypsy Jazz Guitar)

$600 – $1,200
Download this popular jazz guitars infographic as an infographic here…
What do you think of this list and what is the best jazz guitar in your opinion? Let us know in the comments below…