In this lesson, you will learn to play the original guitar chords and strumming patterns of the classic bossa nova song The Girl from Ipanema, written by Antonio Carlos Jobim (music) and Vinicius de Moraes (Portuguese lyrics).
The first recording of The Girl from Ipanema was by Pery Ribeiro in 1962 (in the key of G).
In 1964, the famous Getz/Gilberto album was released, featuring a version of The Girl from Ipanema with Portuguese lyrics sung by João Gilberto (in the key of Eb).
A later Stan Getz recording featured English lyrics, written by Norman Gimbel and sung by João Gilberto's wife Astrud Gilberto (in the key of Db). This is the version that became an international hit.
Another famous version of the song is by Frank Sinatra and Jobim on the album Francis Albert Sinatra & Antônio Carlos Jobim from 1967 (in the key of F).
The Girl from Ipanema Video
The Girl From Ipanema Chords & Guitar Tabs
Here are the guitar tabs and chord diagrams for the original version of The Girl from Ipanema.
The guitar rhythm patterns and chord shapes are fairly simple. Note that most chord voicings are played with the 5th in the bass, something that's often done in Latin jazz.
The first A-section has a slight variation compared to the two following A-sections:
Starting at bar 5, a chromatic Ebm9 to D9 to Db6/9 is played.
In later A-sections, the progression is replaced by Ab13sus4 to Ab13 to Db6/9.
Backing Track
Listen & Play-Along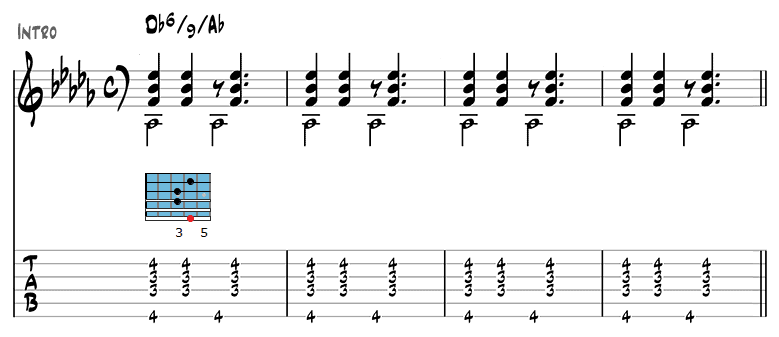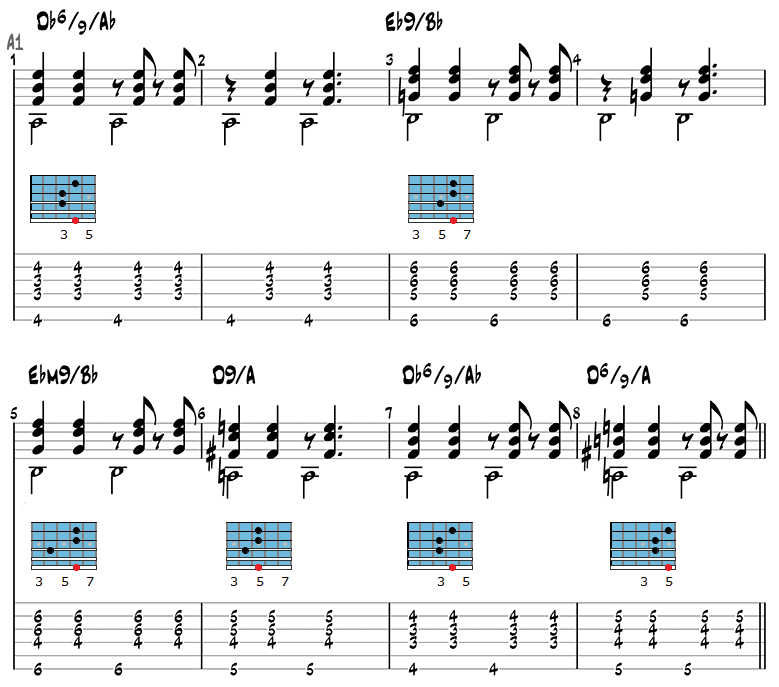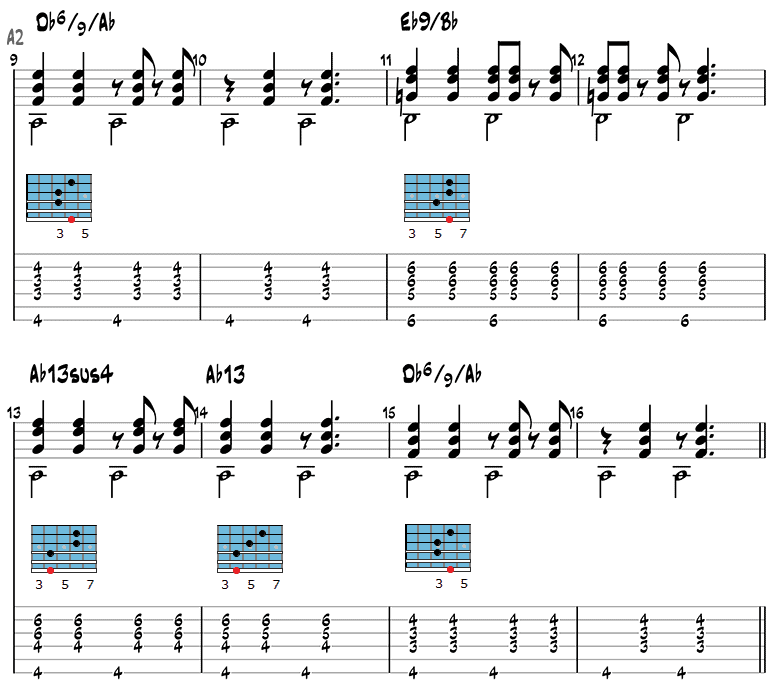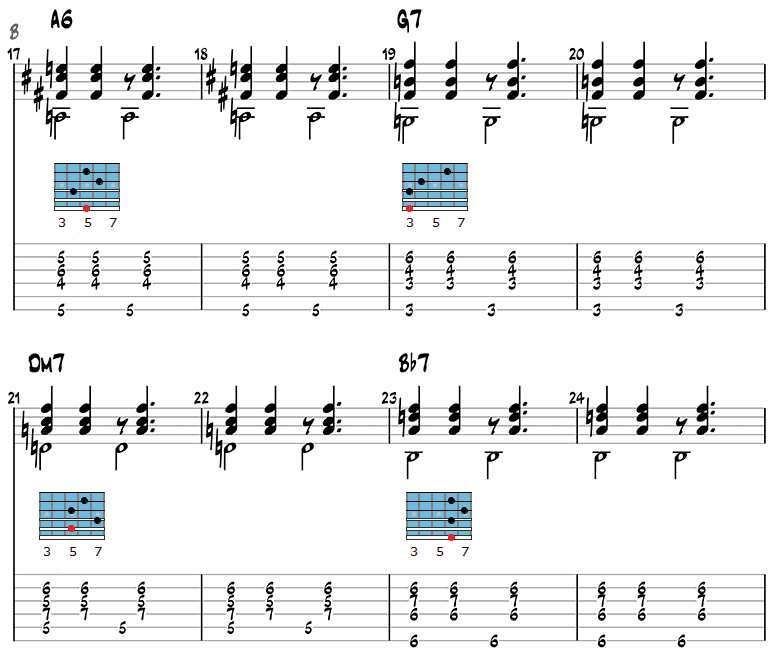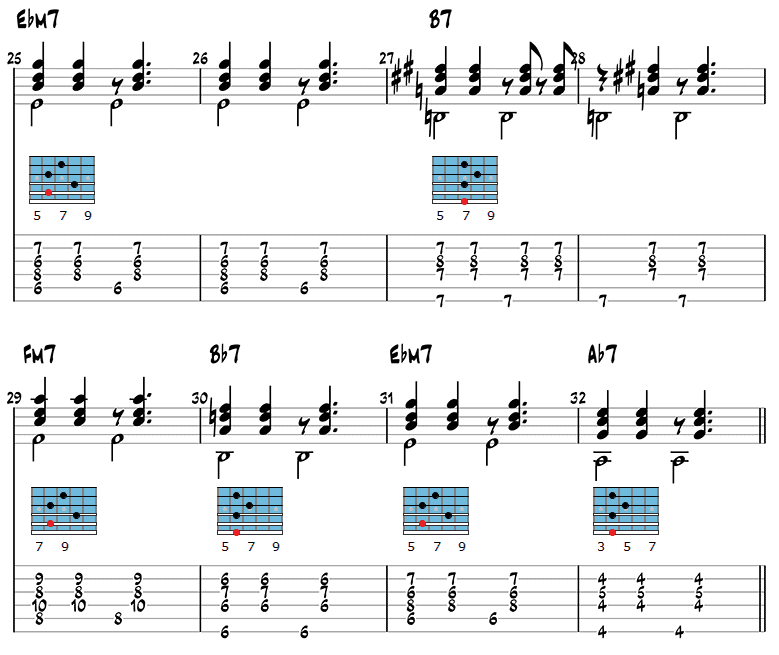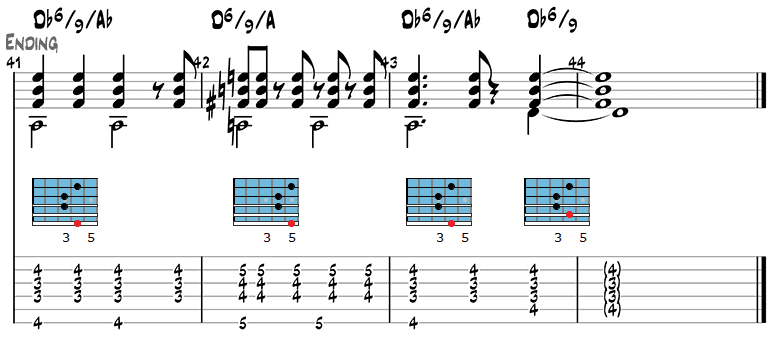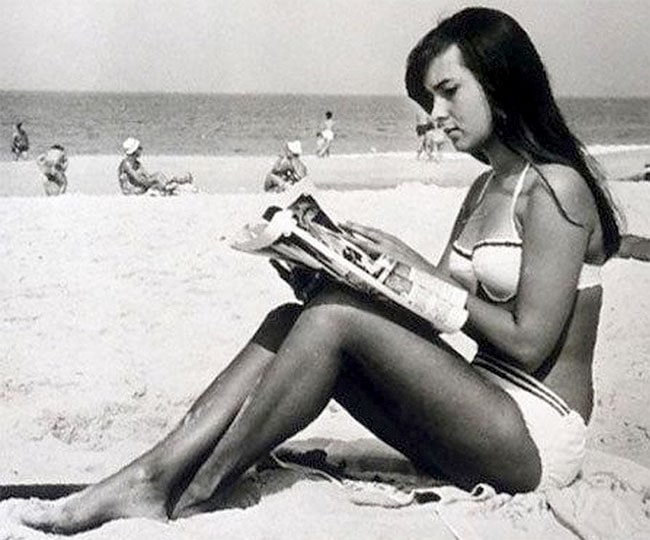 Some trivia about The Girl from Ipanema:
The song was inspired by a Brazilian girl named Helô Pinheiro, who regularly strolled by the Veloso bar where Jobim and Vinicius frequented. When interviewed later, she told the reporter she would walk by the bar to buy cigarettes for her mother. She also claims she was the first woman on the beach to wear a 2-piece bathing suit.
Helô became the Brazilian Playboy Playmate in 1987 and 2003.
In 2001, Helô was sued by the heirs of the composers for using the title of the song as the name of her boutique in Sao Paulo. Helô Pinheiro won the case.
The Girl from Ipanema has been made famous by the recording of Stan Getz and João Gilberto. For the vocals, they first had Sarah Vaughan in mind, but they eventually convinced Gilberto's wife, Astrud Gilberto, to do the singing. Astrud had never sung professionally, her first recording became one of the best-selling jazz albums of all time.
The Rio de Janeiro district called Ipanema was not a well-known area back then. The song made it the famous beach it is today. The street of the Veloso bar has been renamed Vinicius de Moraes street.
The Girl from Ipanema Guitar Pro File