When exploring jazz guitar, learning how to comp, solo, and walk basslines ensures you're ready to jam on any standard. While you know these items are important, you might not know how to practice these concepts. In this lesson, you'll learn a soloing, walking bassline, and comping study over the Miles Davis tune Solar.
The studies in this lesson expose you to essential voicings, licks, and bassline techniques that'll expand your playing as a whole. Work them with a metronome and backing tracks, and break them down in your playing.
Not only will you become better at playing Solar, you'll become a better jazz guitarist at the same time.
Solar Soloing Study
To begin your study of Solar, here's a jazz guitar solo that you can learn and apply to your performances. The solo is built with a series of classic licks, mixed with jazz concepts that you can take out of this study and explore further in your playing.
Anything labeled "lick" is a line from the jazz tradition that many musicians use in their solos. Therefore, these important phrases are not only worth looking at over Solar, but over other musical situations in your playing.
When working the licks from this study, take them to other keys, other fingerings, and add them to your solos over this and other tunes. You can mix them up over the backing track below, or take them to other jazz standards that you're working on.
However you decide to apply these licks to your playing, apply them. They'll expand your vocabulary and build your confidence when soloing over jazz standards.
That's a woodshed win-win.
Backing Track

Listen & Play Along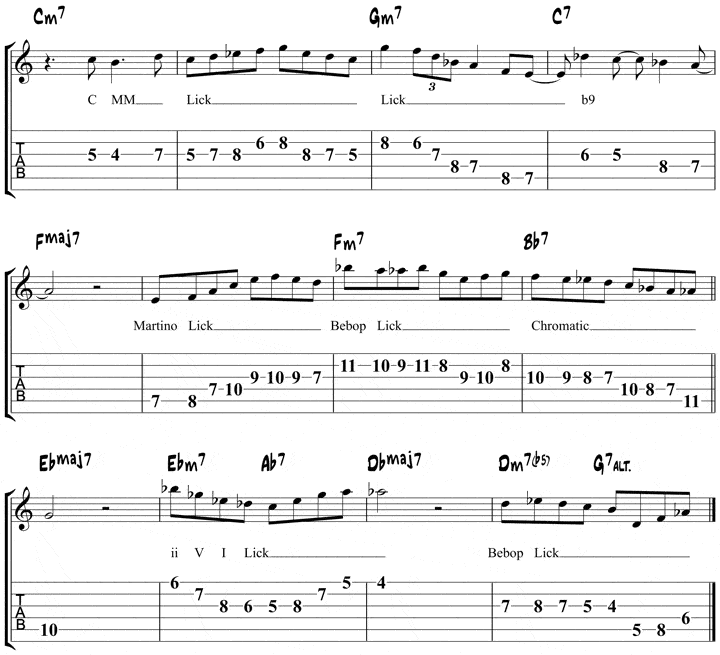 Solar Comping Study
Besides soloing, as a jazz guitarist you need to be able to comp with conviction over any tune you learn. To help you build your comping confidence with Solar, here is a chord study that uses three types of voicings.
All three types of chords, Drop 2-Drop 3-Drop 2 and 4, are commonly used by jazz guitarists and are essential learning for students of the genre.
Because each phrase uses a different chord type, you can break down this study into four-bar phrases as you study.
From there, feel free to explore any or all of these voicings further, they'll expand your comping and chord soloing concepts. After you've learned this study as written, put on the backing track and begin to alter the rhythms, and later the chords, as you take this study further in your playing.
Backing Track

Listen & Play Along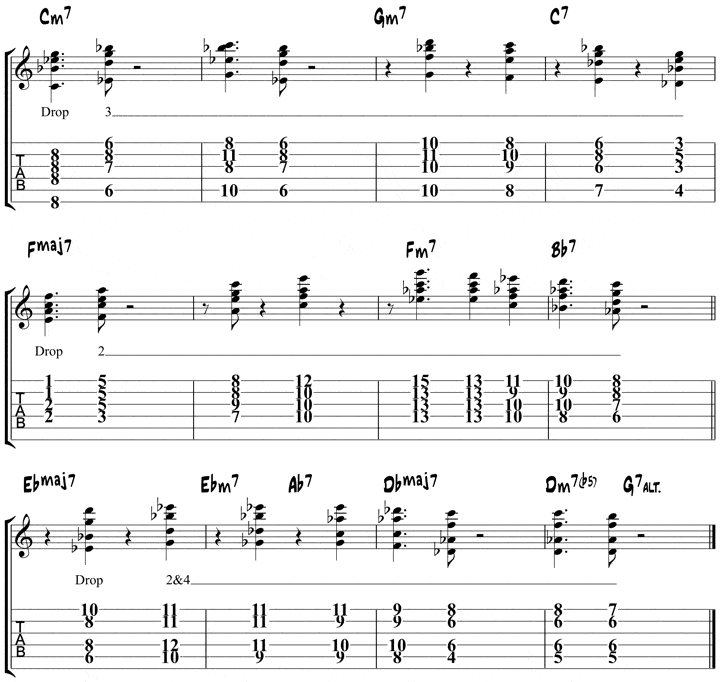 Solar Bassline Study
To finish your study of Solar, you'll now learn a bassline study over this chord progression. Here, you're walking the bassline, which means you play a steady quarter-note pulse throughout the tune.
After you can play this bassline study as written, add chords on top of these bass notes. This is tough to do, but with time you'll be able to walk and comp at the same time with ease (check out this lesson to learn how to combine walking bass and chords).
Walking basslines is not only fun, it comes in handy when you're at a jam or on a gig and there's no bass player. Being able to cover the bass and chords opens a lot of new doors in your playing, and opportunities to perform in a variety of situations.
If you're comfortable with basslines, put on the backing track and practice walking your own bass notes over Solar.
If you're not ready to walk a full bassline on your own, you can start by altering a few notes here and there from the written bassline. This will act as a bridge from the written study to being able to walk basslines on your own over Solar and other jazz standards.
Backing Track

Listen & Play Along