Solar is a jazz standard made famous by Miles Davis. The song was actually composed by jazz guitarist Chuck Wayne in 1946 under the title "Sonny". In this lesson, you will learn how to play the melody of Solar and how to solo over its chord changes.
The studies in this lesson expose you to licks and scales that will expand your playing as a whole. Work them with a metronome and backing tracks, and break them down in your playing.
Not only will you become better at playing Solar, but you will also become a better jazz guitarist at the same time.
Video
Solar (Miles Davis) Jazz Guitar Lesson - Melody & Solo
Solar – The Melody
Here are the lead sheet and the guitar tabs of Solar's melody.
Backing Track (no piano)
Listen & Play Along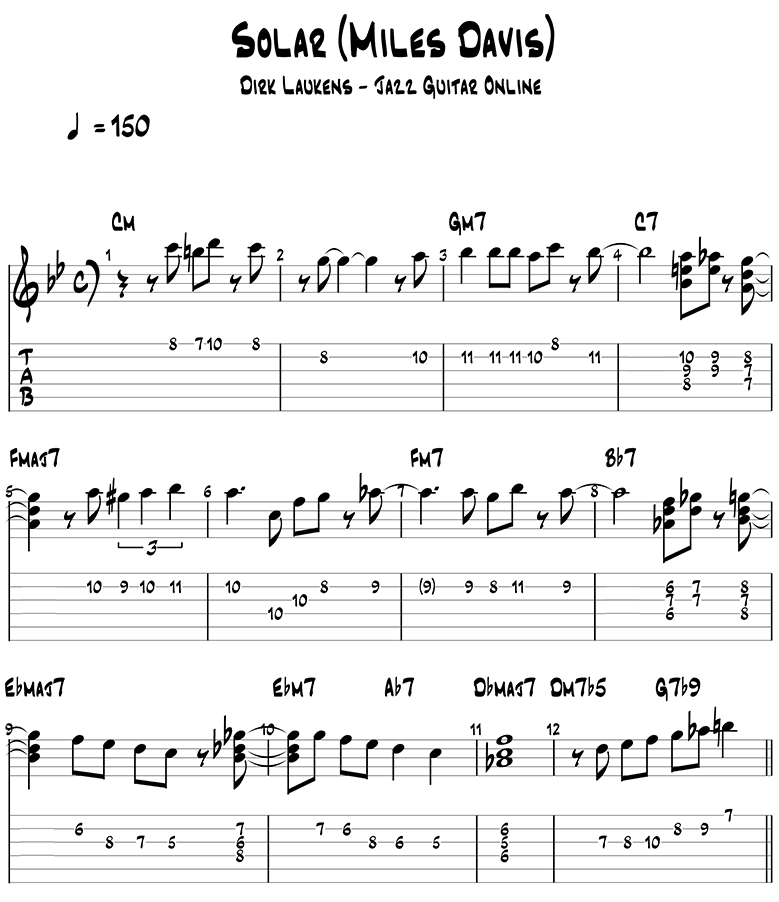 Solar Backing Track
Here is a backing track you can use to practice improvising over Solar.
Solar Backing Track (150 BPM)
Solar – Harmonic Analysis
The chords of Solar are pretty straightforward, mainly ii V I chord progressions.
Solar is 12 bars long.
It starts in C minor, modulates to F major, Eb major, and finally Db major before returning to C minor.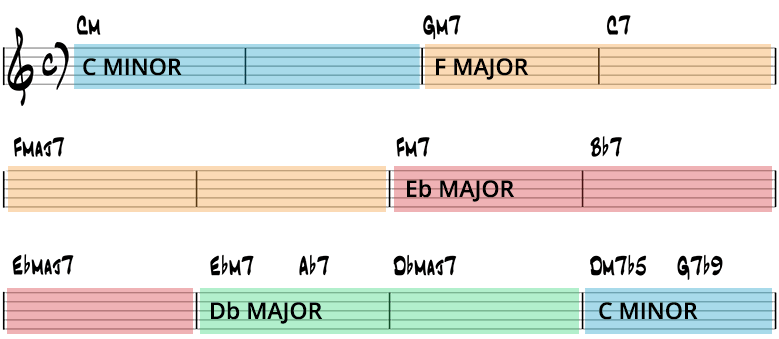 Bars 1-2 | C Minor
The first two bars of Solar are in C minor.
The melody is in the C melodic minor scale here, and that's also a good choice for the solos.

Another option is C Dorian, the second of the guitar modes.

Bars 3-6 | F Major
In the next four bars, the harmony modulates to F major with a ii V I chord progression.
The scale of choice here is the F major scale.

To create some variation, you can play the C altered scale over C7.

Bars 7-9 | Eb Major
The progression in bars 7 to 9 is a ii V I in Eb major.
Use the Eb major scale over this chord progression.

Bars 10-11 | Db Major
The next two bars feature a short ii V I progression, this time in Db major.
Use the Db major scale here.

Bar 12 | C Minor
Bar 12 features a short minor ii V back to the tonic minor.
Here, the scale of choice is the C harmonic minor scale or the C altered scale.

Solar – Soloing Study
Here's the jazz guitar solo that you can learn and apply to your own solos.
The solo is built with a series of classic licks, mixed with scale and arpeggio concepts that you can take out of this study and explore further in your playing.
Backing Track (no piano)
Listen & Play Along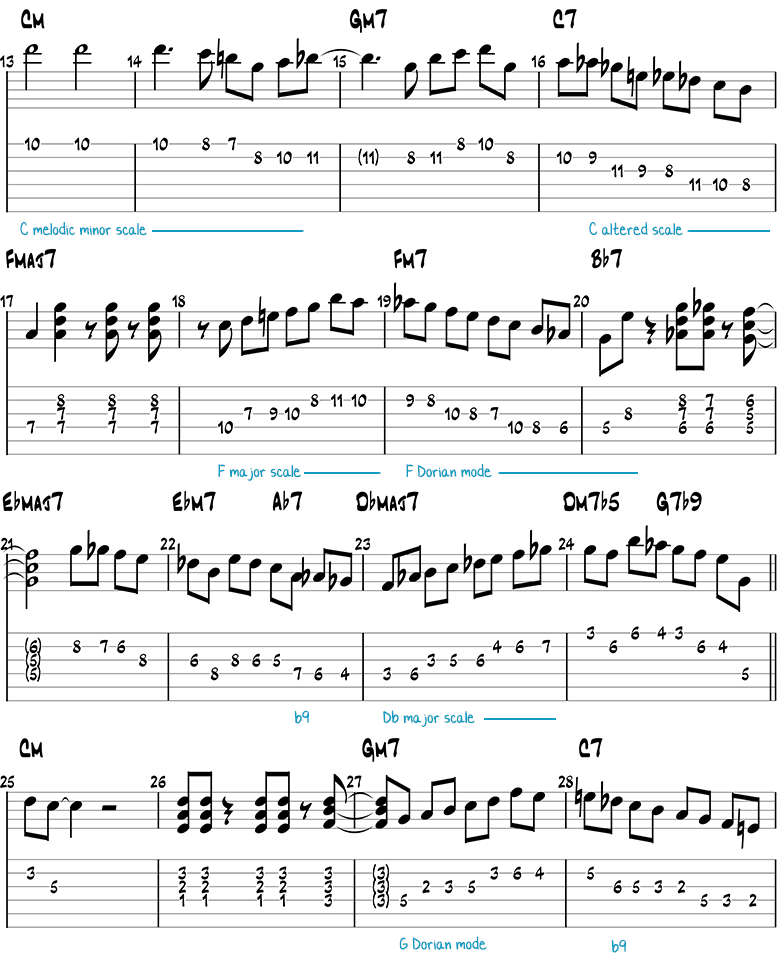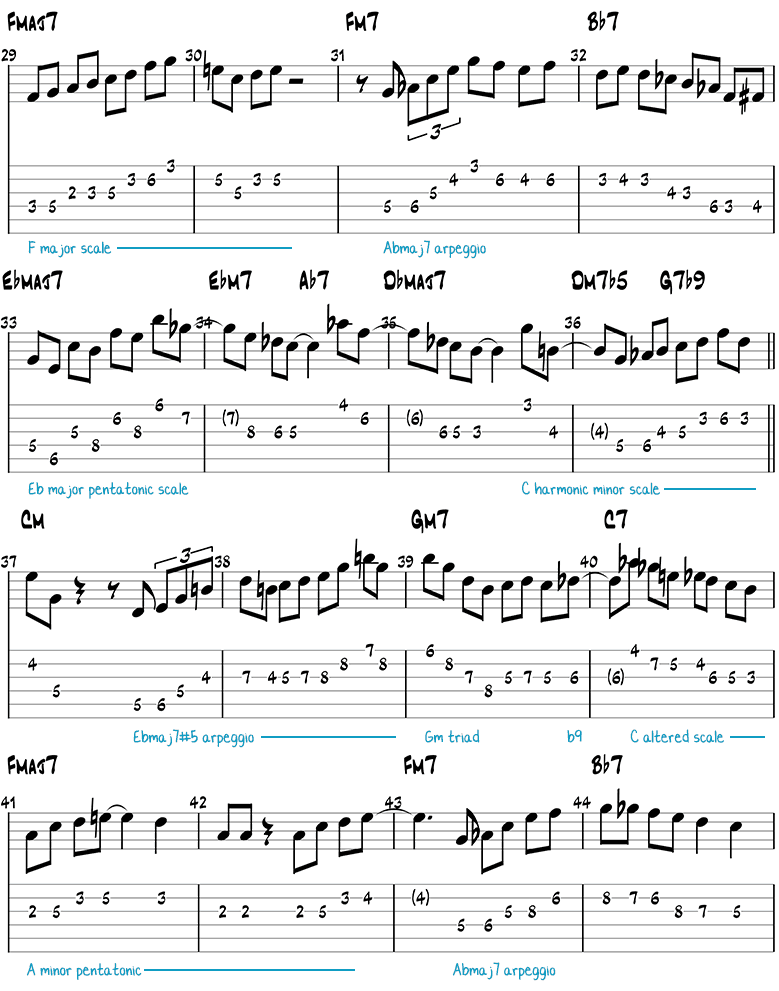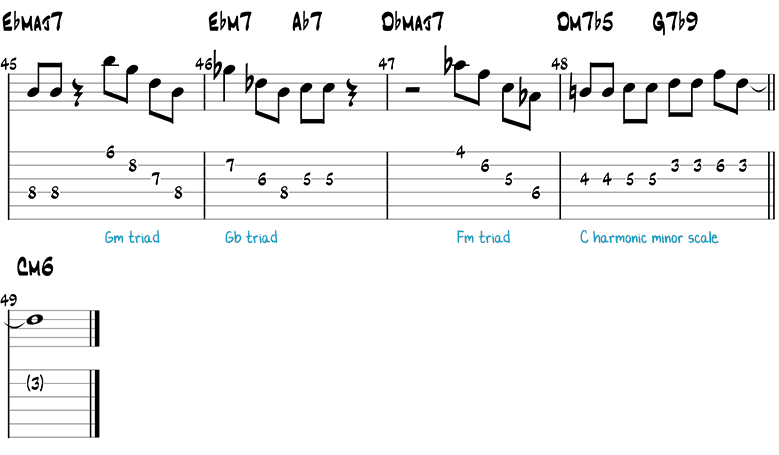 Download Solar Guitar Pro File