By: Scott Cook
A common challenge that musicians face—particularly those with less experience—is keeping their place within the form of a tune while they're improvising.
More specifically, once a tune's melody (or head) has been stated, it can be difficult to keep track of what section of the tune you're in, or even what chord you're playing over.
Take the song form AABA, which many jazz standards use.
Once you begin improvising, you eventually run into three A Sections in a row every time the form is repeated: the final A Section, followed by the repeat of the opening two. If, while improvising, you're simply thinking about the chords that you're playing over at a given moment, and not paying attention to the bigger picture (i.e. the tune's individual sections and overall form), you risk losing your place. While not paying close enough attention, I've experienced this on numerous occasions, and as a result, moved into the B section too soon!
It's possible, of course, to rely strictly on the lead sheet, using it as a visual guide through the changes of a tune. If keeping a steady eye on the lead sheet while you're improvising is not your preference, then committing the chords to memory is a sensible alternative. But, unless you've analyzed what role the changes are playing within the given tune's context, you're left with having to memorize a string of chord types that may, otherwise, seem unrelated.
Example 1:

Consider, for instance, the opening of the jazz standard "Have You Met Miss Jones" (1937 Rodgers & Hart). The changes in the first four bars are, basically, FMaj7 → F#dim7 → Gmin7 → C7 (as shown in Example 1).
Without an understanding of how these chords are functioning within a key in general, or within the tune specifically, one may find themselves in a position where they're simply saying "OK, first I'm improvising over FMaj7 for one bar… now I'm on F#dim7… now Gmin7…" etc.
The risk of getting lost in the changes becomes more and more real depending on how well you've got those changes memorized.
The Melody is Your Friend
In this brief article, I encourage using the melody of a tune to help reinforce where you are at any given moment.
Now, "thematic improvisation"—that is, using elements of a given tune's melody to construct your improvisation—is certainly not an uncommon approach to soloing. However, it's rarely encouraged as a manner through which less experienced musicians can keep their spot while maneuvering through chord changes.
Imagine that you continued looping the head over and over during a performance of "Have You Met Miss Jones;" though the result would not be a very exciting solo, the chances of you ever getting lost would be minimal. Therefore, if we can keep the melody in our head while we improvise, then we can significantly reduce the likelihood of losing our place in the form of the tune.
Example 2:

As a practice exercise, repeat the melody until you feel that you have it committed to memory.
Then, continue looping the melody, while gradually introducing minor variations. Example 2 provides a sample improvisation over the opening bars of "Have You Met Miss Jones."
The idea here is that it is easy for me to continue to hear the tune's original melody while I introduce variations and begin to construct my solo.
Example 3:

As I continue looping the melody, my variations can become more involved, and further removed from the composed melody of the tune, as in Example 3. However, I retain my ability to hear the melody in my head while I'm improvising new melodies.
Example 4:

Continuously looping the melody will help you to keep a firm hold on your location within the form of a tune. As you become more and more comfortable, you will begin to deviate from the original melody and, perhaps, gravitate more literally towards the chords (Example 4).
Example 5: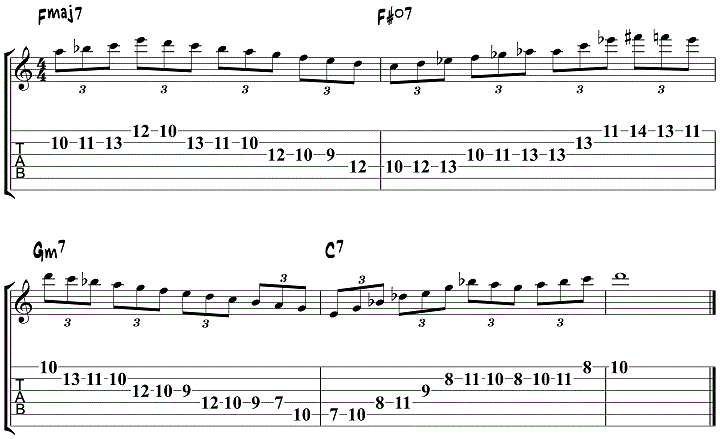 However, because the melodies of many jazz standards are often based on the tones of the underlying harmonies, simply using the melody as your principle guide should keep your solos relatively coherent—especially when starting out. Before long, you will begin to freely incorporate more complex and coherent lines into your solos (Example 5), while continuing to "hear" the tune's original melody and, thus, keeping track of your location within the tune's sections and overall form.
About the Author
Scott Cook PhD, is a jazz guitarist and teacher in Vancouver, Canada. He runs the online free guitar lessons site Scott Cook Music and can be contacted directly through his site.