Get Started Here:

Download
the Jazz Guitar Chords eBook and subscribe to our free newsletter called "The Jazz Guitar Gazette". This newsletter is packed with guitar lessons, tips and tricks that will help you learn how to play jazz guitar better...


Register
yourself as a member of the Jazz Guitar Forum and join our community. The forum is the place to be for all your questions, feedback and friendly discussion...

Introduction to Jazz Blues Guitar
eBook (printable) | 100 pages | guitar tabs, notation, audio & backing tracks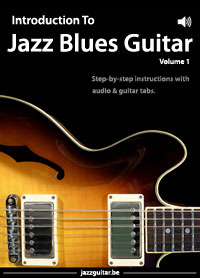 Learn to play jazz blues in the style of your favorite jazz guitarists with our Intro to Jazz Blues Guitar Course. Full of fun and informative lessons with audio and tab/notation, this course is designed to get you sounding like Wes, Kenny, Joe and other great jazz blues guitarists.
Solo over the blues like your favorite players.
Learn to comp and walk bass lines over blues tunes.
Break out of box patterns and "jazz up" your blues.
Dozens of audio examples to make learning fun and easy.

The Jazz Guitar Gazette Premium
eBooks (printable) + online | tabs, notation, audio & backing tracks.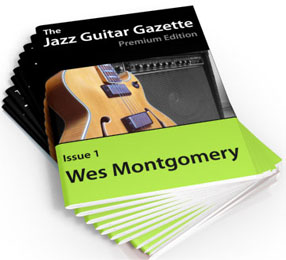 The lessons in our Premium members area are optimized to bring your jazz guitar playing to the next level in a fast, fun and easy way. Each week there's a new topic, here are some examples of past editions:
How to Jazzify your Blues playing.
How to play in the style of Wes Montgomery.
25 Essential Bebop licks.
How to improvise over All The Things You Are.

---
---
---