Jazz Standard Study Guides Volume 1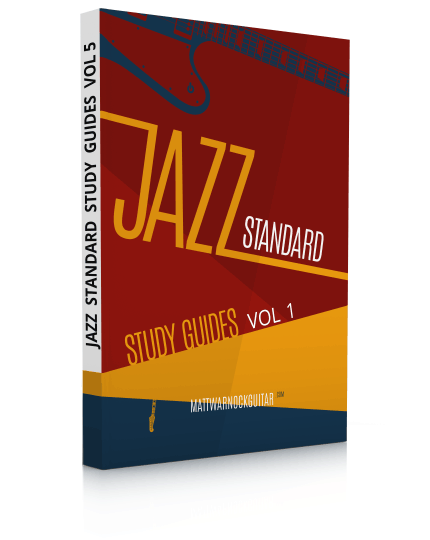 5 eBooks (printable) | 231 pages | tabs, notation, audio & backing tracks | Instant delivery by email. Works on all devices, including desktops, laptops, tablets, mobile phones, Apple, Linux, and Android.
The best way to learn and master jazz guitar is to study jazz standards. Jazz standards focus your time in the practice room, teach you musical application of techniques, and give you repertoire to jam on with other musicians.
But, what is the most effective way to learn jazz tunes in the woodshed?
The answers are found in this jazz standard study guide package.
But, what is the most effective way to learn jazz tunes in the woodshed?
The answers are found in this jazz standard study guide package.
The Jazz Standard Study Guide package includes 5 eBooks, each focusing on the following standards:
All of Me
Autumn Leaves
Corcovado
In a Sentimental Mood
Summertime
Download a sample PDF from Jazz Standard Study Guides Volume 1
Each book breaks down the chords, form, keys, and teaches you to play the chords and solo over these classic tunes with confidence.
There are technical items such as scales, patterns, and arpeggios, and musical items such as licks, soloing and comping studies in each of the eBooks. Everything you need to jam these jazz standards with confidence.
If you're struggling with jazz guitar, or don't know where to start when learning jazz standards, this package is just what you need to give a boost to your playing.
Note: To avoid copyright issues, the melody is not included in these eBooks.
What You Learn With Each Study Guide
What You Get With Each Study Guide
If you find yourself learning scales, arpeggios, and chords, but don't know how to apply them to actual songs.
Or, you get asked to jam with people, or play a song for friends and family, but don't have a tune you can get through from start to finish.
Or, you know a few tunes but need to expand your repertoire, or get a fuller understanding of how to learn any jazz standard.
Then, these five eBooks are for you.
Click below to download your copy of Jazz Standard Study Guides Volume 1 today:
Comments (8)
Topic:
Jazz Standard Study Guides eBook
Great learning tool that delves step by step into arpeggios in a measured and interesting way. It keeps the fun in my musical development with practical examples. This goes well with other study guides available here and complement the standards guide that builds my song list. Highly recommended.
I haven't even scratched the surface of these guides and I've already learned a lot. I've been working on Autumn Leaves for a bit before the guide and in just a day or two with the guide I've been able to incorporate new ideas!
These guides have everything you need for building a tune from the basics to something that you can feel satisfied is sounding like jazz! The audio backing tracks are long enough that even after just a little practice you can have a ton of fun improvising. The books are so generous - all the theory, scales, exercises, examples, backing tracks, chord diagrams, full explanations and suggestions for improvising on these great tunes - it's all there and for a ridiculously low price. As a jazz novice I can see that these guides are going to make practice a joy and progress swift. Get 'em!
These guides are excellent. I use them primarily to understand a tune and to find ways to improvise intelligently on them. But they work for more than guitar as well. I play saxes and flute and I find that working these tunes out on guitar (and also piano) using the guides really gets the tunes in my head and under my fingers. I'm learning to be patient and study each section in the guides carefully. The payoff is sperb!
These are really great study guides. Well thought out, methodical, and packed with great ideas. I have all of them, and I would certainly buy more if you ever decide to produce them.
I already have the complete set of Study Guides. I am working on Corcovado and Summertime. They are very helpful indeed and have satisfied certain gaps I had been experiencing in my approach to improvising. They are giving me greater confidence in improvising over the changes to actual jazz standards. Highly recommended!
I have all these study guides. They are an excellent way to learn these great tunes - from chords to arpeggios to soloing. The audio samples are a great help in understanding the sound you are looking for.