Moon River was composed by Henry Mancini and Johnny Mercer for the movie Breakfast at Tifanny's (1961). The song was written for Audrey Hepburn to sing (real) while she accompanies herself on the guitar (not real). In this lesson, you will learn an easy chord melody arrangement of Moon River.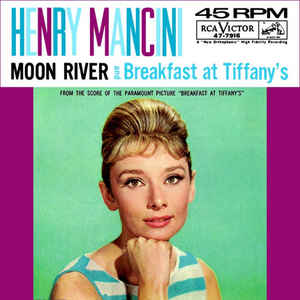 Mancini won the Grammy Awards for Record of the Year, Song of the Year, and Best Arrangement.
The movie itself won the "Best Performance By An Orchestra For Other Than Dancing and Best Sound Track Album Or Recording Of Score From Motion Picture Or Television" award.
In 1963 Mancini won the same rewards for his song Days of Wine and Roses.
"I reckon I'll have made around $100,000 on 'Moon River' within the next two years or so. It took me about 30 minutes to compose. It had to be in keeping with the character of Holly Golightly, the star of Breakfast at Tiffany's, and I had to bear in mind the limitations of Audrey Hepburn's voice. I worked the whole song around a simple guitar basis, although the guitar isn't heard much during the number." – Henry Mancini (1962)
Moon River is a real river in Savannah (Georgia), where lyricist Johnny Mercer grew up.  It was originally called The Back River but was renamed Moon River in honor of Mercer and the song.
At the end of the arrangement, I use a b5 ending (bar 36), where an F#m7b5 replaces the tonic Cmaj7 and goes down chromatically while keeping the same top note throughout the chords.
This version of Moon River is arranged with the principles of our course Complete Chord Melody in mind. To learn how to create your own chord melody arrangements, check out the full course…
Moon River – Video & Guitar Tabs
Moon River - Easy Jazz Guitar Chord Melody Arrangement
Audio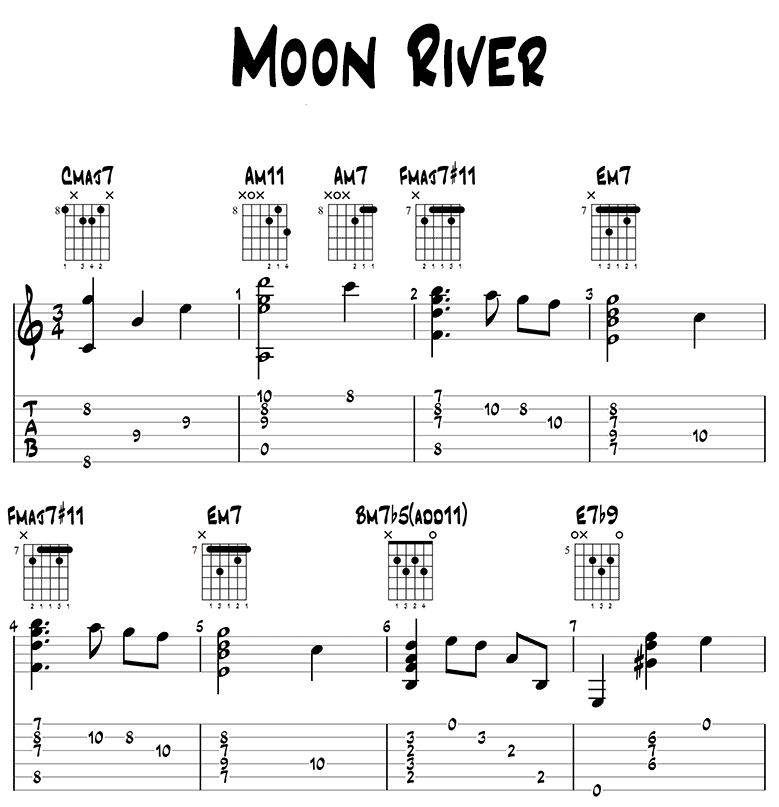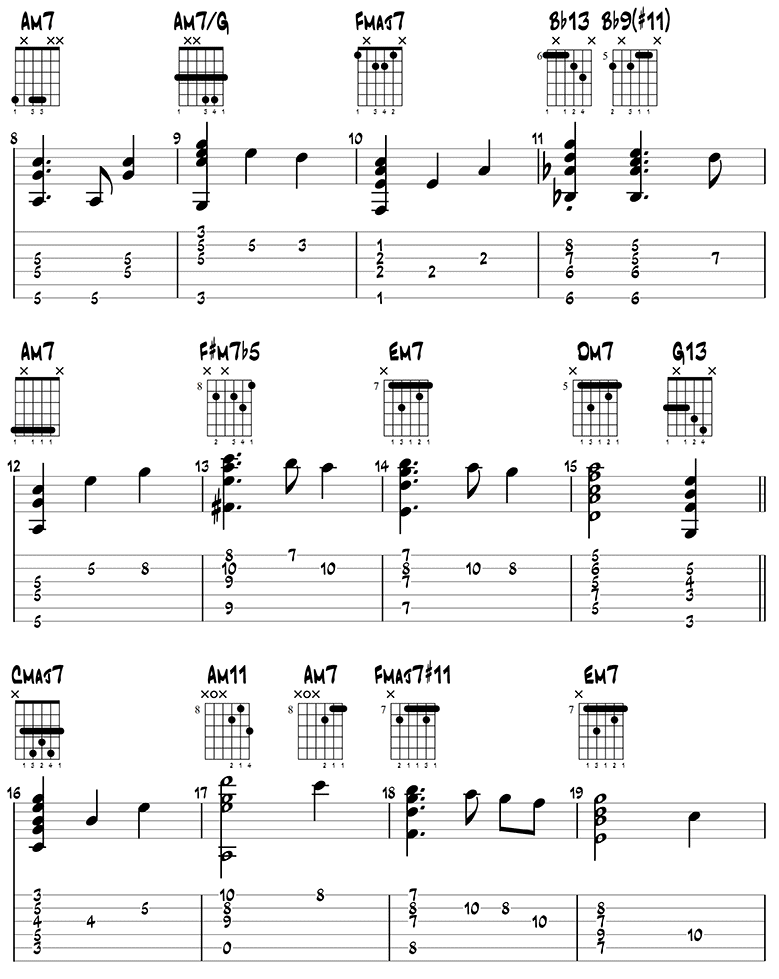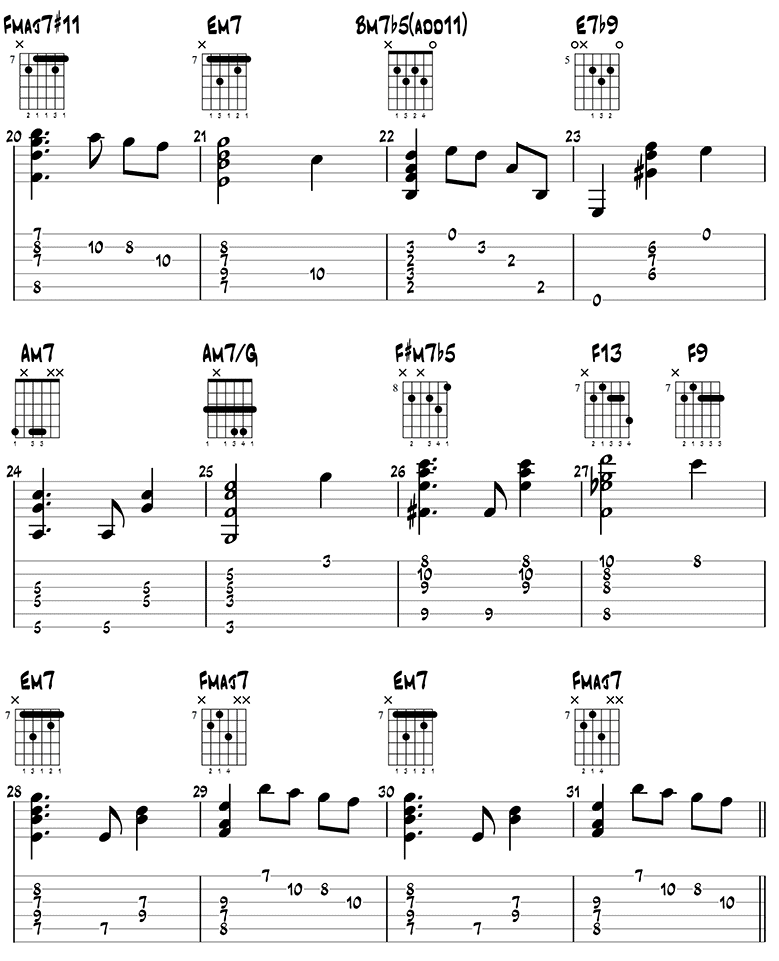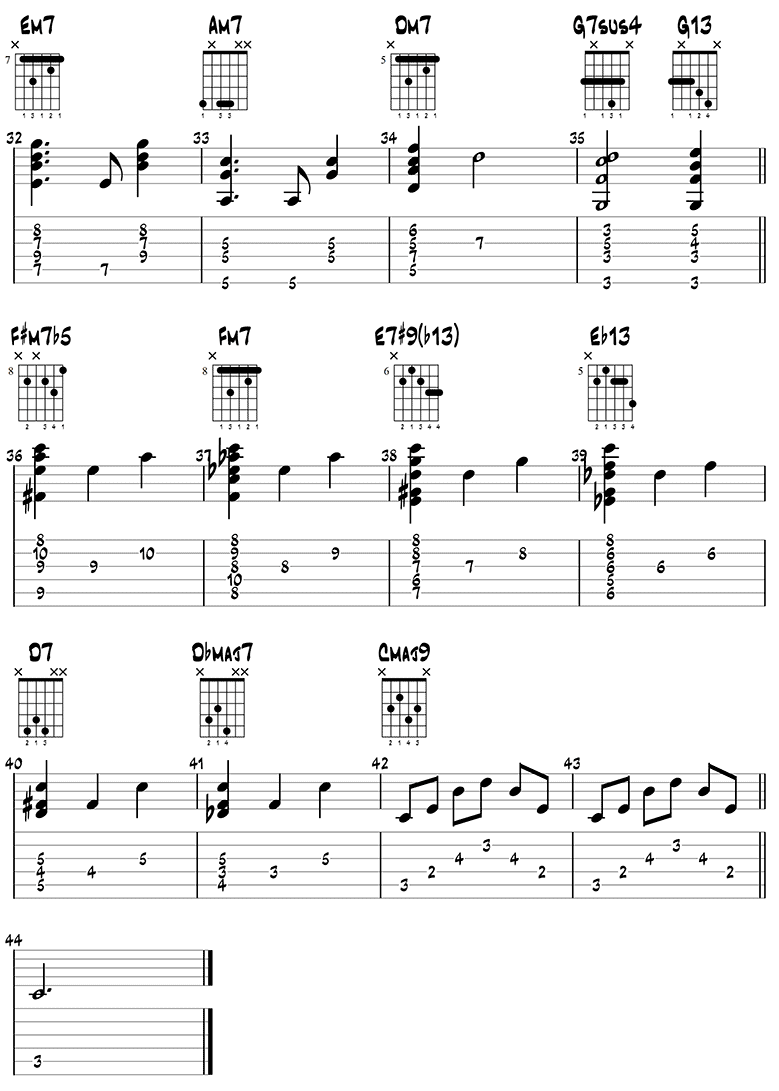 Moon River Guitar Pro File