Lullaby Of Birdland was composed by George Shearing in 1952 and was intended as the theme song for the legendary jazz club Birdland (NY). It became one of the most popular jazz standards of all time. Lullaby of Birdland is one of my favorite jazz melodies, making it a perfect candidate for a chord melody arrangement on guitar.
In this lesson, you will learn a chord melody arrangement of Lullaby of Birdland, suitable to be played along with a backing track or a jazz trio.
The A-sections of this tune are arranged in the same way and use three-note chord shapes to keep things easy on your fingers.
Recommended Listening:
Stan Getz Quintet (with Jimmy Raney) – Chamber Music by the Stan Getz Quintet (1952)
Barney Kessel Quintet – Easy Like (1953)
Sarah Vaughan with Clifford Brown – Lullaby of Birdland (1954)
Ella Fitzgerald & the Duke Ellington Orchestra – Live From Cote D'Azur (1966)
Lionel Hampton/Dexter Gordon Septet – Cute (1977)
Biréli Lagréne – Guitar Trio (2018)

How to Practice this Chord Melody Arrangement
Start by listening and watching the arrangement in the video below. Notice how I am fingering each chord shape as I move from chord to chord.
Learn just one short phrase at a time, especially if you are new to chord melody. Gradually stitch each phrase together as you work through the tune.
Once you're confident with the basic arrangement, start making it more of your own.
Here are a few methods you can learn this arrangement and gradually start to apply your own personality:
Learn the chord melody arrangement exactly as written.
Start to alter the rhythm/placement of the accompanying chords.
Vary the strumming/picking for each chord.
Add single note lines and extra chords between phrases.
Experiment with changing the arrangement to other strings or employing different voicings.
Lullaby of Birdland – Video
Lullaby Of Birdland - Chord Melody Arrangement - Jazz Guitar Lesson
Lullaby of Birdland – Sheet Music and Guitar Tabs
Backing Track
Listen & Play-Along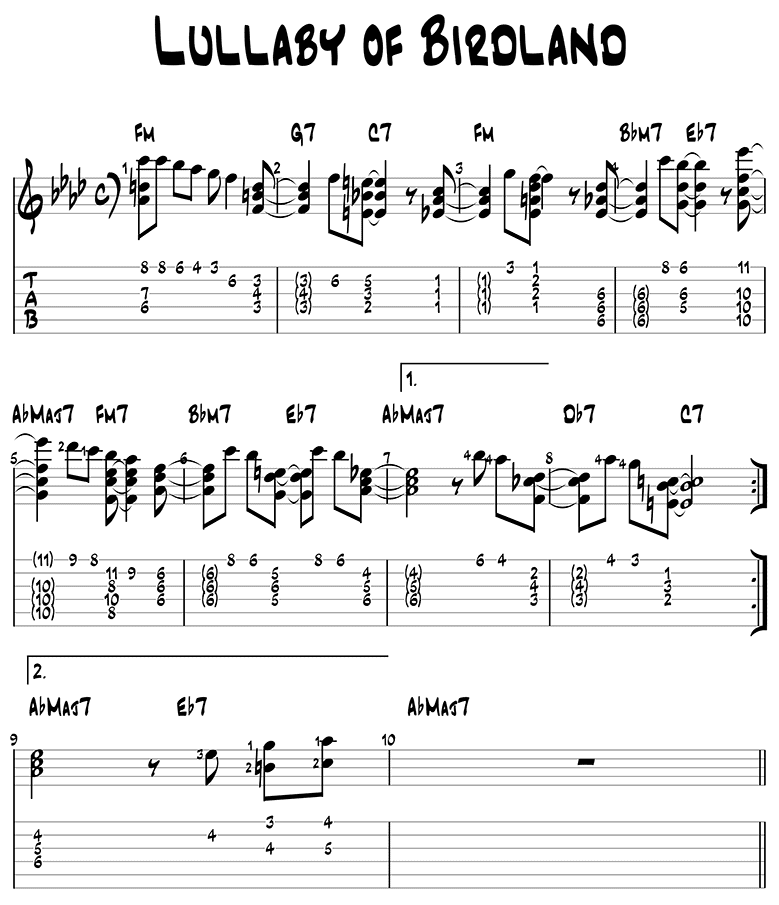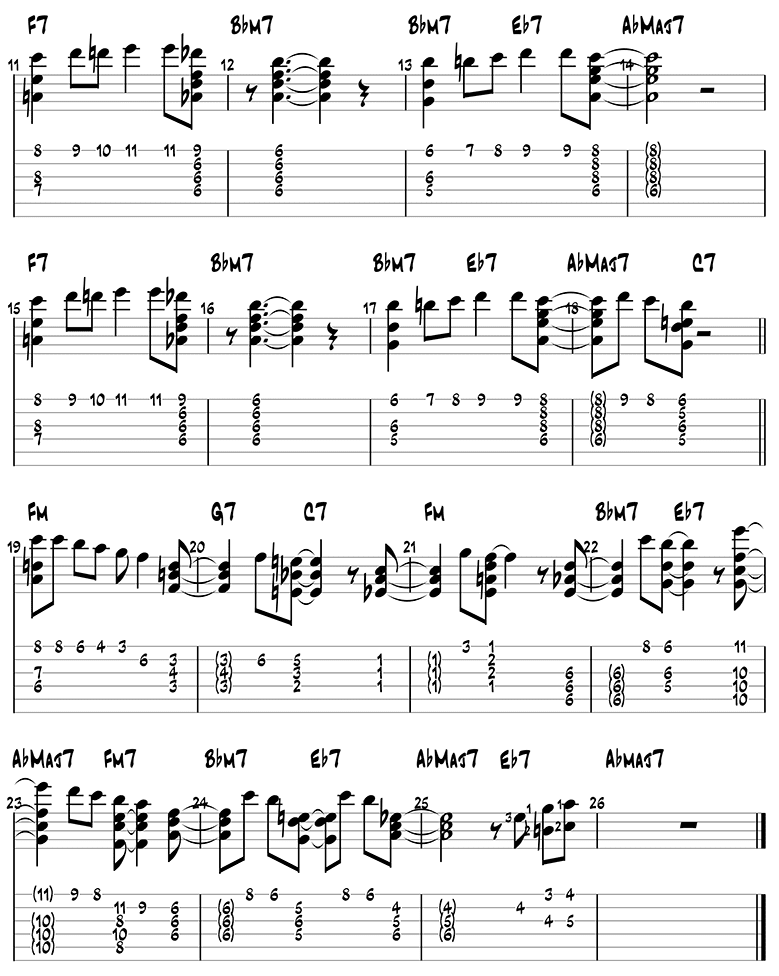 Lullaby of Birdland Guitar Pro File