When learning how to solo over jazz tunes, guitarists spend countless hours working scales, arpeggios, licks, and other melodic devices. But, while those items are important, you often spend much less time on how you organize these melodic devices in your playing. The result is that many jazz guitar solos sound like run-on sentences, talking and never taking a breath when improvising.
One of the best soloists in regards to organization was Wes Montgomery.
Wes' solos always sound organized, are easy to follow, and engage the listener in ways that note choices can't accomplish.
In this lesson you look at an exercise that brings an element of Wes soloing form and organizing into your practice routine.
Wes Soloing Form Outline
One of the concepts that you can learn from Wes Montgomery, beyond his choice of notes, is how he organized his solos.
Though he didn't always use this concept, Wes played with the following formula to create engaging and highly intense solos, often over a jazz blues tune.
The formula is as follows:
Bars 1-2 = Riff 1
Bars 3-4 = Repeat Riff 1
Bars 5-6 = Riff 1 Altered (rhythmically or melodically)
Bars 7-8 = Riff 1
Bars 9-12 = Anything else except the riff
By doing so, Wes was able to develop melodic ideas (the riff), as well as "cleanse the palette" of the listener before starting again at the top of the next chorus.
This formula can be shrunk down or expanded to fit other musical forms, such as 16 or 32-bar tunes. As long as you develop a riff for a good amount of time, then play something totally unrelated to that riff before moving on to the next riff, this concept works.
When Wes uses this concept in his solos, he plays with the timing of the riff and anything else lines.
When first learning how to organize your solos in this fashion it's best to stick to a strict outline before branching out and moving beyond that outline in your playing.
Wes Form Exercise Sample Solo
Now that you know how this Wes concept works, you'll learn a solo written in that style.
Work this solo with the audio example until you can play it from memory with the backing track.
From there, begin to create your own riffs in the first 8 bars, keeping the "anything else" line as is.
Then, keep the blues riff as written by you make up the "anything else" section.
This approach to practicing teaches you the solo, the form concept, and how to solo with this concept in your own playing.
Listen and Play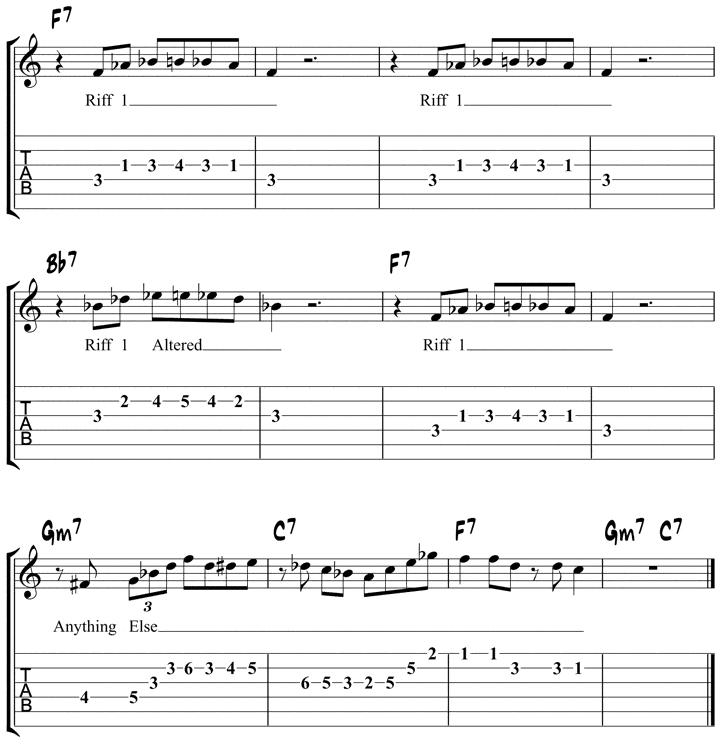 Wes Soloing Form Exercise
Now that you know how to construct a solo in the style of Wes Montgomery, and learned a sample solo, you take this concept a step further.
Below is a backing track and lead sheet for an F blues progression.
Under each bar there are instructions on what to play under each bar. The goal is to be able to follow that outline while soloing over the backing track in real time.
If that's too difficult to do in the beginning, start by writing out a few solos using the Wes form outline as your guide. When that's easy, return to the backing track and work on following the Wes formula in real time.
Backing Track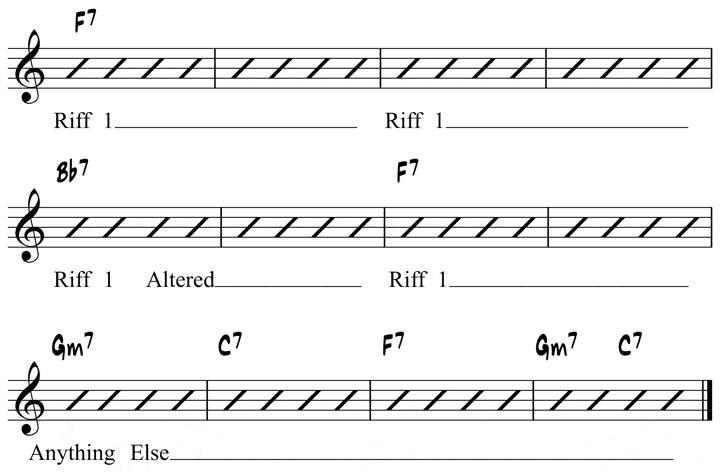 Don't forget to check out our Wes celebration sale and get all of our best-selling eBooks 50% off…