One of the most common non-swing rhythms that jazz guitarists explore when learning how to comp over tunes is the Bossa Nova groove. While many of us learn to play Brazilian Jazz tunes in our practice routine, learning how to pay an authentic Bossa or Samba groove on the guitar can be tricky, especially for those players who didn't grow up in Brazil.
To help you get a handle on how to play an authentic and cool-sounding groove over any Brazilian Jazz tune you are learning, we've put together a fun to play and engaging chord study featuring a popular Samba/Bossa groove that you can get under your fingers and apply to your playing today.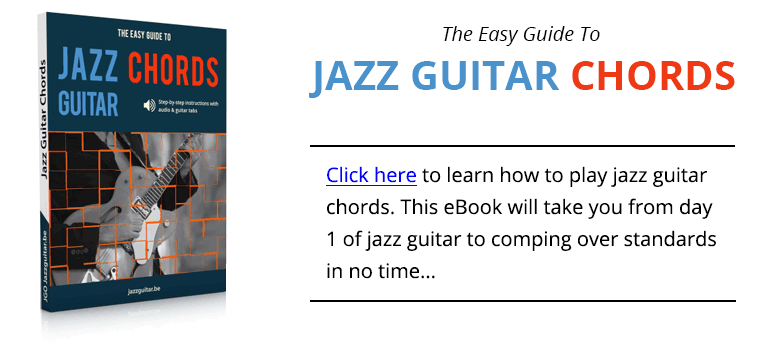 What's in This Blue Bossa Chord Study
You can see in the Blue Bossa chord study below that there is text below many sections of the tune to indicate a certain chord shape or Bossa technique being used at that part of the tune.
To help you understand these concepts further, here are short background descriptions for each of the important chord and Bossa concepts covered in the chord study below so that you can understand the building blocks of this exercise.
m9 Chords – Whereas jazz guitarists prefer m7 chords for minor sounds, it is very common in Brazilian music to use m9 chords instead. These m9 chords, 1-b3-5-b7-9, have a bit of a "softer" sound than m7 chords, and help create the smooth sounding quality that we associate with Bossa music.
7b13 Chords – Here, there is a bit of voice leading at play where you are moving from the E note on top of the Dm9 chord for example, to the Eb on top of the G7b13 chord, to the D on top of the Cmaj9 chord. This type of half-step movement on top of chords is commonly found in the playing of many Brazilian guitarists.
Maj9 Chords – Again, this is a softer version of the Maj7 chords that many jazz guitarists prefer to use for their Imaj7 and IVmaj7 chord voicings.
m11b5 Chords – Here, you are replacing the 3rd of Dm7b5 with the 11th in a commonly used alternate shape for a m7b5 chord. When adding this chord into your playing, you can play the m11b5 to the m7b5, or vice-versa, in order to create some melodic movement on top of the chord changes.
Bossa Bassline – During the chord study you will notice that the thumb plays bass notes on 1 and 3 of each bar, mostly the root note but sometimes the 5th or a chromatic note can be added in to create movement as well. When playing these bass notes, you should accent the 3rd beat in order to create a more authentic Brazilian feel with this chord study.
Anticipated Chords – You will notice that between bars one and two, and the first and second bars of each two-bar group, the chord in the second bar is played on the & of 4 in the first bar. This anticipated chord movement is common in Brazilian music, and it will be one of the hardest parts of learning this chord study, or any Brazilian tune on the guitar. So, take your time, isolate these moments and work them on their own before going back and trying to work the study as a whole.
Syncopated Accents – As was the case with the accented 3rd beat in the bass notes, you will want to accent the up beat chords a little in order to create the swing feel that you hear in Brazilian music. You don't have to play heavy accents, but just making the upbeats a little louder than the downbeats will help get the authentic Brazilian feel you hear on classic recordings.
Blue Bossa Chord Study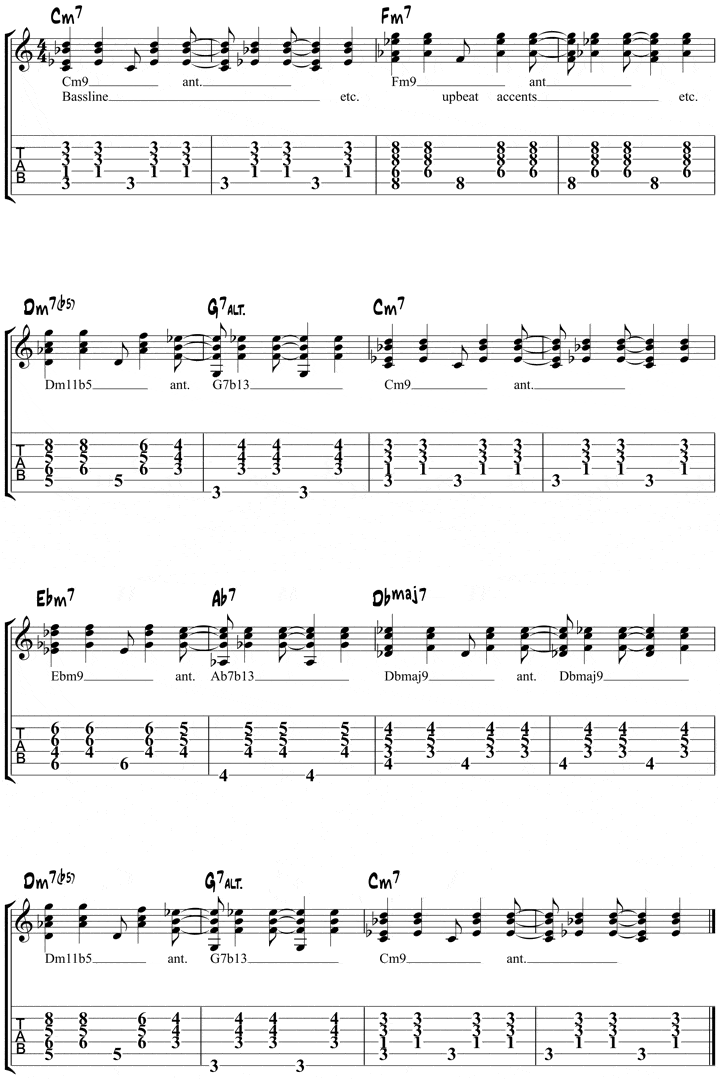 Blue Bossa Backing Track
To help you work on this tune further in the woodshed, here is a short backing track that you can jam along to as you continue to explore these chords and rhythms further in your jazz guitar practice routine.
Further Reading
Do you have any questions about this Blue Bossa Guitar Chord Study? Share your thoughts in the comments section below.