How To Play Jazz Guitar In The Style Of Wes Montgomery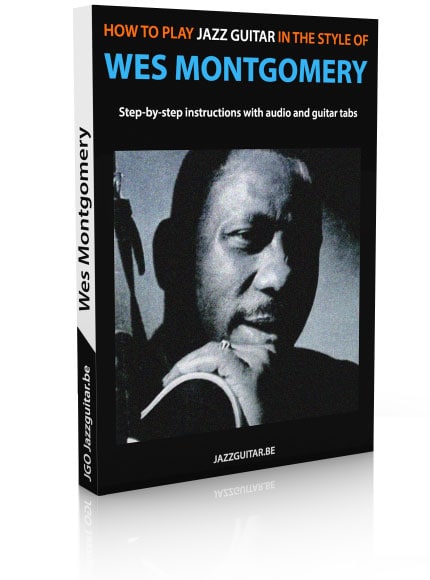 eBook (printable) | 196 pages | tabs, notation, audio & backing tracks | Instant delivery by email. Works on all devices, including desktops, laptops, tablets, mobile phones, Apple, Linux, and Android.
Wes Montgomery is considered by many guitar players to be the greatest jazz guitarist ever. He is also often cited as the most influential jazz guitarist since Charlie Christian and inspired countless guitarists to pick up the instrument.
Now, with Jazz Guitar in the Style of Wes Montgomery, you too can be inspired by Wes Montgomery's playing as you learn how to play lines, octaves, chords and tunes in the style of "The Thumb".
Now, with Jazz Guitar in the Style of Wes Montgomery, you too can be inspired by Wes Montgomery's playing as you learn how to play lines, octaves, chords and tunes in the style of "The Thumb".
Learn from the master of jazz guitar and download your copy of How to Play Like Wes Montgomery today:
Comments (21)
Topic:
How to Play Like Wes Montgomery eBook
I just discovered this website ♡♡
I didn't buy yet this one, but what i can say?
All products are quality, thank you very much for this huge publication and work. Fuz Maliko.
I have several publications from Jazzguitar.be. All are well set out and straightforward to follow. Well done in producing this one which is a really worthwhile resource.
Great resource material on the the greatest Jazz guitarist in my book. Excellent examples and explanations. Not just a book on licks. Theory and application is top notch.
WELL DONE!!!!!
Excellent gateway to Mongomery land with, take it straight to the gig ideas, very comprehensible, good job. Dennis
from Italy: this is a very good product to meet wes, the examples are simple but very well choosen to understand the style of this great guitarist. I'm completely satisfied! thanks and keep on creating for us aspiring guitarists
Another great book from one of the best teachers and players out there. Dr. Warnock nails it yet again.
Gratulations Dirk Laukens, phantastic material for directly working. I started with my guitar, my looping pedal on amp and it sounds great. I played guitar a long time before, so it´s easy to understand and get a good feeling for playing jazz, thank you for this ebook.
Jazz leren spelen is oefenen, oefenen en oefenen. Dit e-book is begrijpelijk, met logische oefeningen en is een goede gids aan de hand van de jazz van Wes
These e-books are so full of informative and useable information, easy to understand.. At such a low cost too what a pleasure.

Keep up the great work Dirk!
Awesome book and I really liked the history or Wes' story, didn't know he worked in a factory while playing great music. If you are new or not up to speed get a program to slow down the samples, they are at a pretty quick temp and it will help in the learning process. Maybe if there were sound samples at half speed to go with the full tempo sounds.
Thanks to your publication I could easily understand the language of jazz composers represented. I found, in all publications purchased, a simple language that made the original works of the air training more effective and inclusive.
Thanks.
I haven't yet applied these lessons to my playing yet but after a review of the material it looks well done and delivered in a organized approach. There's a lot phrasing, octaves, chords ideas in here that I'm very excited to try out. One thing could be better. I would like to see the written music when I'm playing the sound bite (when you click play, you go to a web page and away from the i-book). This doesn't detract from the quality of the material.
Is it challenging? - Yes
Is it worth it? - Without a doubt.
Well written and well organized, if you stick with it it'll be well worth your time.