Learning how to play jazz blues chords is an essential skill for any jazz guitarist to work through as they develop their comping skills in the woodshed.
But, while we know it is important to be able to play jazz blues chords in various keys from memory, sometimes we get stuck as to knowing the right chords to study, or the next chords to work on as we explore jazz blues progressions in the practice room.
In today's lesson, we'll be looking at fun and relatively easy to build jazz blues chords that every jazz guitarist should have under their fingers at one point or another in their development, rootless jazz blues chords.
Having only 3 notes in their construction, yet still sounding the underlying chord and progression, these rootless shapes are a great way to expand your chord vocabulary and free up your fretting hand at the same time.
So, let's get started by learning exactly what rootless jazz blues chords are and how they are built.
Rootless Jazz Blues Chords – Formulas
The first thing we'll check out is how to build rootless jazz blues chords so that you can understand the theory behind these shapes before applying them to the fretboard.
The concept behind these shapes is fairly straight forward, you will be taking normal, four-note shapes for these chords, and then just dropping the root so that you only play the 3rd, 5th and 7th of each underlying chord.
Here is that formula looks like when applied to the different chords in a jazz blues chord progression in Bb.
Bb7 = Ddim (Bb D F Ab becomes D F Ab)
Eb7 = Gdim (Eb G Bb Db becomes G Bb Db)
Edim7 = Gdim (E G Bb Db becomes G Bb Db)
G7b9 = Bdim (G B D F becomes B D F)
Cm7 = Eb (C Eb G Bb becomes Eb G Bb)
F7 = Adim (F A C Eb becomes A C Eb)
Now that you know how to build these rootless voicings, let's take a look at an example of how to apply these chords to the fretboard.
Bb Jazz Blues Chords – Rootless Voicings
Here is how these chords would look like on the neck of the guitar, using the 4-3-2 string set as a starting point for practicing these shapes in the woodshed.
Since Eb7 and Edim use the same shape I have only included one of those in this example, but just know that the root note will change from Eb to E, but you can keep the same Gdim shape underneath that root to sound both chords. Pretty cool right!

To get started, try playing the root-based chord followed by the rootless chord for each of these jazz blues chords in Bb.
Notice how they sound very similar, but the rootless voicings are a little "lighter" sounding, and they are also easier on your fretting hand when shifting from one shape to the next, as they use less notes and smaller barres in their construction.
Bb Jazz Blues Chords – Rootless Etude
To help you get started with applying these rootless jazz blues chords to the guitar, here is an etude that you can learn and expand upon in the woodshed.
Start by learning this etude as written, then start to alter the rhythms to make it more of your own interpretation of the etude and less a direct reading of these chords.
Finally, take these shapes to other keys around the neck as you work rootless jazz blues chords further in your jazz guitar practice routine.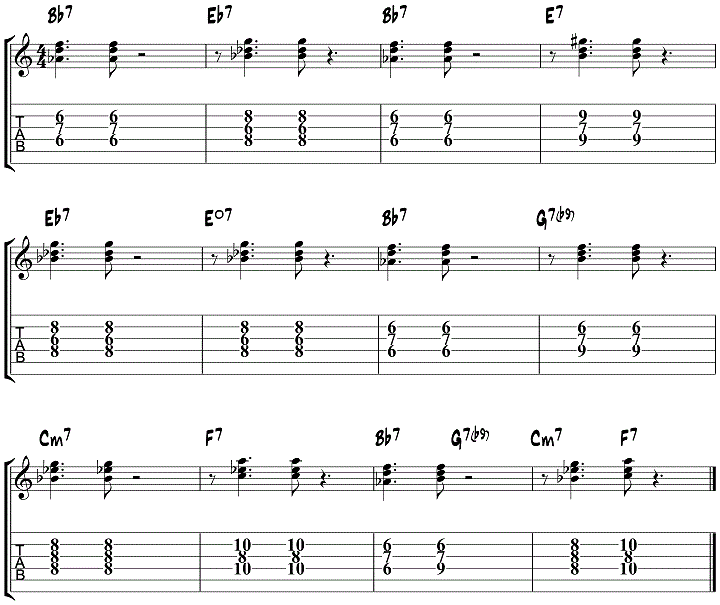 Rootless Jazz Blues Chords Exercises
To help you work out these rootless jazz guitar chords further in the practice room, here are a number of jazz guitar practice exercises that you can use to expand upon these shapes in the woodshed.
Sing the root of each chord in a jazz blues in Bb, playing the rootless chords on top of each root note you sing.
Comp along to a Bb Jazz Blues backing track, using only rootless voicings and altering the rhythms as you go.
Take the rootless chords from this lesson in Bb and move them to other string sets such as 543 and 321.
Experiment with spread triad shapes for these rootless voicings, such as playing Ddim on the 5-4-2 string set.
Repeat the above exercises in all 12 keys around the fretboard.
Do you have a question or comment about these Rootless Jazz Blues Chords? Share your thoughts in the comments section below.