Introduction to Jazz Blues Guitar Volume 1 + 2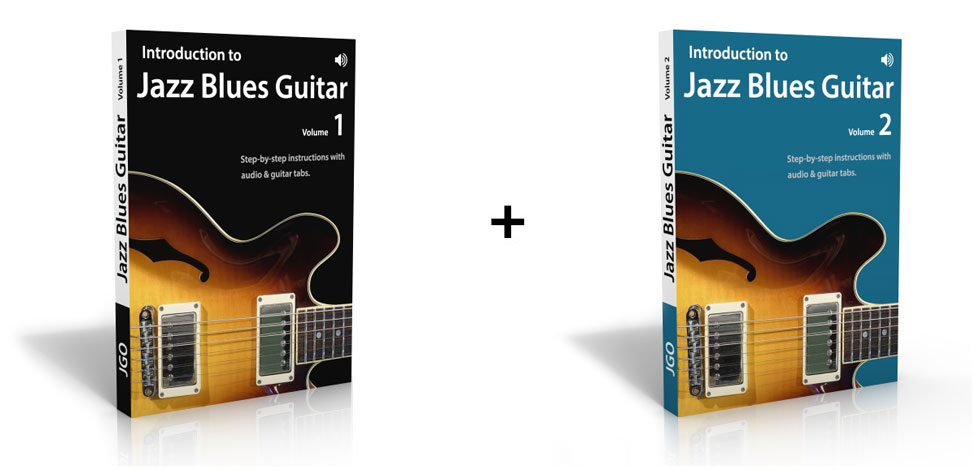 Save 25% when you buy both Volume 1 and 2!


Price: $29.99 (regular price: $39.98)
With the Jazz Blues Guitar Volume 1 and 2 eBooks, you get everything you need to take you from day 1 of jazz blues study all the way to an advanced level of performance.
If you want to take your jazz blues comping and soloing to the next level, or just raise your overall jazz guitar game, then these two eBooks are just what you need.
Take advantage of this one low price to add two great books to your jazz guitar library.
What Will You Learn?
Play comping, soloing, and walking bass studies over every jazz blues variation.
How to play single-note and chord licks in the style of legendary jazz guitarists, including Pat Metheny, Pat Martino, Joe Pass, Charlie Christian, and others.
How to play chords and chord licks in the style of Freddie Green, Joe Pass, Lenny Breau and Ed Bickert.
Learn how to play jazz blues and all variations, such as minor blues, Bird blues, blues with a bridge, and more.
Play all of the scales in multiple fingerings needed to outline any chord in the Jazz Blues progression, including Pentatonic and Blues Scales, Mixolydian modes, Bebop Scales and the 7b9b13 Scale.
All arpeggios for each chord in the jazz blues, as well as commonly used Bebop Arpeggio vocabulary taken from the solos of jazz giants such as Charlie Parker and John Coltrane.
Master jazz blues chord subs, including Coltrane subs, tritone subs, whole-tone subs, and many more.
Learn full solo studies in the style of Grant Green, Kurt Rosenwinkel, Wes Montgomery, Johnny Smith, and others.
Play licks and solos in the style of your favorite players such as Joe Pass, Wes Montgomery, Kenny Burrell and more.
And Much, Much, More
What Will You Get?
Two full eBooks with over 450 pages of learning material.
More than 280 audio examples for easy home study.
Over 80 backing tracks to jam along to in your practice room.
Printable PDF file for each book, ability to view book on your computer, tablet, and phone with one purchase.
And more
Click here to continue: