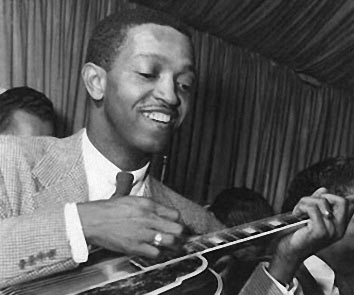 Born

March 31, 1911 in Charleston, SC

Died

March 1, 1987 in Las Vegas, NY

Active Years

1910
20
30
40
50
60
70
80
90
2000

Styles

Influences

Walter Page (Count Basie's bass player)

Guitar Gear

Freddie Green's Guitars

More about the guitars Freddie Green used to achieve his signature sound.
"Freddie Green has been my right arm for thirty years. And if he leaves the band one day, I'll probably leave with him." - Count Basie
Freddie Green is considered by jazz guitarists to be the rhythm master. By any standard of guitar, Green perfected and helped to evolve the guitar as an indispensable rhythm instrument for big bands seeking to compete with the best. He made history as a guitarist with Count Basie's big band, known as the All-American Rhythm Section and while with Basie, stylized his rhythm swing sound to a level unparalleled to this day.
Considering the amazing evolution and continued popularity of guitar as a lead solo instrument, Green's legacy is unique in the sense that he seemed perfectly content to perfect his art in the more constrained role of rhythm accompaniment.
Using big acoustic jazz guitars without cutaways (see also Freddie Green's guitars), his sound is legendary and possibly copied as much by rhythm guitar players as Charlie Christian's and Wes Montgomery's innovative ground breaking solos are copied by jazz guitar soloists. The jazz world eventually designated Freddie "Mr. Rhythm" which was created with reverence and affection to state his mastery of the medium.
Greens rhythm prowess was legendary as reflected in a quote by Wes Montgomery:
It would be alright, but I don't know that many chords. I'd be loaded if I knew that many. I'd probably go join a (big) band and play rhythm, man, because he's not just playing chords, he's playing a LOT of chords...
Freddie Green's Bio
"By playing in dance venues, Green perfected his control of tempo, resulting in an exceptional control of rhythm and making him the maestro of rhythm guitar."
Freddie Green picked up the banjo at age 12 and by age 26, found himself playing with a band called the Nighthawks in his local environs. Already honing his skills as a pro by touring and performing consistently, Green eventually aimed his career path at New York where all the big clubs were located plus where the bands and famous players were either living or making a habit of playing regularly.
By 1930 he had moved to New York (after his parents died) and started playing in dance clubs, or just about any venue that he could land a gig with. Freddie had to support himself with a day job while he beat the pavement to find guitar gigs, so he accepted daytime employment as an upholsterer while eventually playing gigs at night.


While playing at the Yeah Man Club, Green was advised by the club manager to switch from banjo to guitar and he never looked back. Soon Green was playing at the Excelsior Club with pianist Willie Gant and by 1936 he landed a high profile spot playing in the Black Cat Club in Greenwich Village with Lonnie Simmons and drummer Kenny Clark.
Count Basie
It was during his appearances at the Black Cat that John Hammond (the same guy that got Charlie Christian a place in Benny Goodman's band) discovered Freddie Green and soon admired his exceptional guitar talents. Hammond was so impressed that he set up an audition with the Count Basie band.
In the true sense of the phrase, "the rest is history", Green got accepted and kept his spot with Count Basie until March 1987, a rare tenure of that length in the music industry which lasted for 50 years. In fact, it was after Greens final gig with Basie, on March 1, 1987, that he collapsed and died from a massive heart attack. His legacy would for ever be indelibly printed on the sound of the "big band" guitarist.
On March 26, 1937, Green recorded his first sessions with Basie and his Orchestra for Decca, performing on the tunes Honeysuckle Rose, Pennies From Heaven, Swinging At The Daisy Chain and Roseland Shuffle. Greens impeccable rhythmic skills formed a synergistic fusion with Basie's piano and his orchestra's smooth rhythm foundation.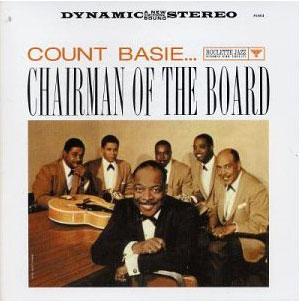 Green followed Basie's band to play a part in John Hammond's "Spirituals to Swing" concerts between '38 and '39. These concerts featured jazz giants from all over the US, including a set with Lester Young and the new guitar legend Charlie Christian. During this phase, Green also recorded for labels such as Columbia and performed with sax great Buddy Tate among the many notables.
During 1945, Green played with subsets of Basie's band called the Kansas City Seven and The All American Rhythm Section. Green proceeded to record 4 sessions under his own name, Freddie Green and his Kansas City Seven which included I'm In The Mood For Love, Sugar Hips and I'll Never Be the Same. These sessions included a selection of Basie's musicians and are great examples of Freddie's ability to really swing.
With the exception of a brief firing in 1950 when Basie scaled down his orchestra due to the trend toward bop ensembles, Green stayed with Basie till the end. Soon Basie's band would build back to an orchestra and eventually found new jazz talents such as Clark Terry. By 1955, Green, recording with his spin off unit called Freddie Green and his Orchestra, recorded one of his most historic sessions called Mr. Rhythm with Joe Newman, pianist Nat Pierce and bassist Milt Hinton who were among the players present at the recordings.
"We've only got one tough rule in this band. And that's that cat that plays that guitar. See, everybody's got to listen to him, you know. And he ain't going to let you go noooo...where. Keeps you right straight...can't move. Keeps it together." - Count Basie

Freddy Green was a sought after session player and performer and as a result, played with numerous jazz greats - the list includes: Kenny Burrell, Benny Carter, Herb Ellis, Benny Goodman, Lionel Hampton, Billie Holiday, Sonny Stitt, Jack Teagarden, Joe Turner, Lester Young and many others. Green also demonstrated his composing talents by penning jazz standards such as Corner Pocket (Until I Met You) and Right On, plus Free Eats and Up in the Blues among the many.
During the 50s and 60s, Green and Basie backed some of the planets most revered and famous vocalists such as Frank Sinatra, Sarah Vaughn, Ella Fitzgerald, Tony Bennett, Mel Torme, Judy Garland and Sammy Davis Jr.
By the mid 60s, the Basie orchestra, although briefly experimenting with some of the contemporary sounds of the day like Beatles songs, primarily held to their strength which was swing and therefore, continued a grueling schedule of touring the entire continental US. Continuing to tour with Basie's orchestra, Green simply became indispensable and as unique and essential to Basie's band as possibly Basie himself was.
By the mid 70s, Green had already long been a legend among jazz guitar aficionados and coveted by musicians in the business. In 1975, Green recorded an LP with the great Herb Ellis (arguably one of the best "swing" soloists of his time) and along with Ray Brown, Jake Hanna and piano master Ross Tompkins, produced some exhilarating examples of modern swing which included It Had to Be You and A Smooth One.
Green continued recording and playing with Basie and other jazz greats until he passed in 1987. Never eager to grant interviews or accept any of the notoriety or credit that goes with fame, Green avoided the press and just wanted to be part of the band, a component of the mechanism that produced timeless swing and big band music.
Jim Hall, a great jazz guitarist in his own right, said of Green:
If you pruned the tree of jazz, Freddie Green would be the only person left. If you have to listen to only one guitarist, study the way he plays rhythm with Count Basie...
Freddie Green's Guitar Technique
"You must remember that there were about four drummers in Basie's band. Besides Basie, there was Freddie Green..." - Drummer Jo Jones
In order to encapsulate Freddie Green's rhythm guitar approach, one first has to look at how he held the guitar which was at a steep angle in relation to his body (see picture on top of this page). The main reason to hold the guitar this way is to let the back of the guitar vibrate freely in order to enhance the volume. This odd posture also enabled Green to hit the strings at an angle that facilitated his broad, sweeping plectrum sound, using of course a pick which added more nuance to his swinging style.
Green employed the very discrete and artful use of specific chord voicings which use a limited pallet of tones and strings such as the 6th, 4th and 3rd string or 5th, 3rd and 2nd strings by muting the others with a combination of his fretting hand and picking hand.
A famous Freddie Green technique is the "one-note chord" technique: he generally played 2-note voicings on strings 4 and 6, but the 6th string was muted, so while it was still heard, the emphasis was on the 4th string. This technique has the advantage that chord transitions become smoother and the chords and rhythm section sound less muddy.
His sound was always subtle, or as he says it in his own words:
You should never hear the guitar by itself. It should be part of the drums so it sounds like the drummer is playing chords - like the snare is in A or the hi-hat in D minor.
Green perfected the use of easy-to-move chord forms mostly consisting of the root, 7th and 3rd or similar combinations and inversions that put the 5th on the bottom string. Whether he was hitting 9ths, 13ths or sus chords, Freddie kept it simple and toward the bass side of his strings in order to provide the best possible harmonic under tone to the bands big swinging sound.
As far as his right hand is concerned, Freddie Green strummed all the strings, on beats 1 and 3 near the end of the neck and on beats 2 and 4 closer to the bridge.
Freddie Green's historical significance and importance to the evolution of jazz guitar is as critical to the structure and stylings of jazz rhythm guitar as Charlie Christian and Wes Montgomery were to solo jazz guitar. Freddie Green's chordal orchestrations are almost a mandatory study for the jazz guitar student and professional who wants to achieve a level of maturity and versatility in the field of jazz.
Freddie Green Stuff to Remember
Freddie Green was "the" rhythm guitarist, nicknamed Mr. Rhythm.
He was a part of Count Basie's rhythm section for about his whole life.
His signature sound involved only playing the important notes of a chord and muting the other.
Freddie Green almost never played single note solos. One exception was on a Benny Goodman concert. Freddie Green was part of the rhythm section, together with Basie and bass player Walter Page. After Benny Goodman's own solo, he gave way to Green to take his solo. Musician Turk van Lake described it as a "startling move".
His sound is very subtle, yet legendary.
He only played acoustic guitars (excluding a short period of experimentation with electric guitars).
Freddie Green had a peculiar way to hold the guitar: he held it at a steep angle in relation to his body (see pic on top).
More Freddie Green here:
For dessert, here's some great footage of Freddie Green playing with the Count Basie Rhythm Section:

Back to Jazz Guitar Legends