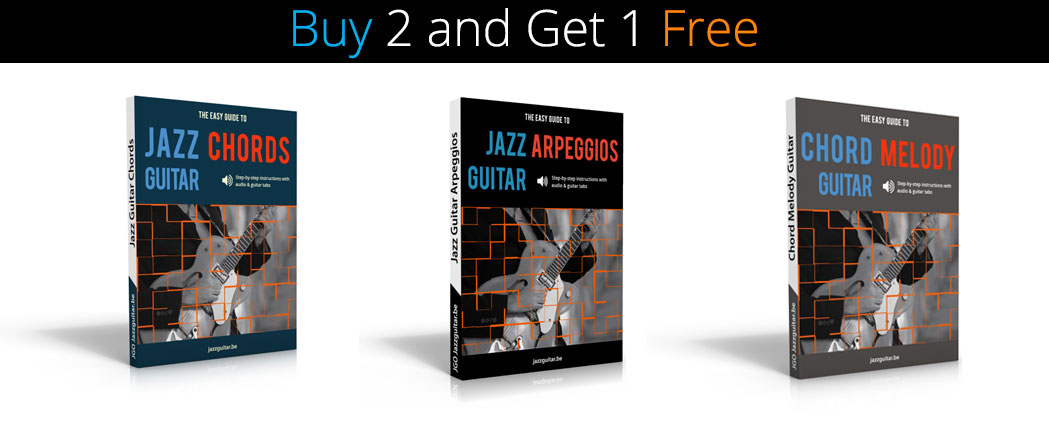 Learning jazz guitar is fun, but it can also be challenging, even for players with a strong rock, blues, classical, or other musical background. While there are challenges to learning jazz, it doesn't have to seem impossible or beyond your skills to learn.
This three eBook package has everything you need to play chords, improvise solos, and play chord melodies, even if you've never played jazz before.
Each book starts from the beginning and works up to the intermediate level of jazz guitar, laying out easy to understand exercises with hundreds of musical examples along the way.
If you're just starting your jazz guitar journey, or want to solidify your fundamental skills, this eBook package is exactly what you need.
Save 30% when you buy the 3 eBooks as a bundle!

Price: $49.99 (regular price: $74.97)
Here's an overview of each ebook:
1. The Easy Guide to Jazz Guitar Arpeggios
A big part of learning how to play jazz guitar is learning to "play the changes". While learning scales
is one avenue to explore playing changes, the most direct way to outline any chord in your soloing
is to use arpeggios in your lines.
Normal price: $19.99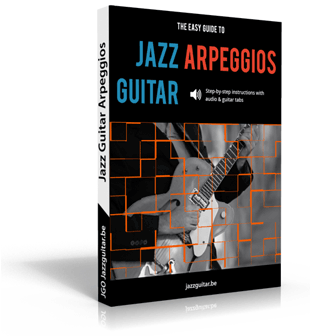 15 Chapters of must-know jazz arpeggio concepts and applications.
Easy to follow concepts with hundreds of fretboard diagrams and tab/notation examples.
Over 100 audio examples and backing tracks.
Sample solos over common jazz tunes to amp up your studies.
Practice pointers to help you get the most out of your time in the practice room.
Everything you need to master jazz guitar arpeggios.
Backing Tracks Included!

2. The Easy Guide to Jazz Guitar Chords
Jazz guitarists love to play chords. They sound cool on the instrument, are full of colorful extensions,
and it's most of what you do when playing in a jazz combo. Covering every essential jazz guitar
chord type, in both technical and musical situations, the material in this eBook will take you from
day 1 of jazz guitar to comping over standards in no time.
Normal price: $24.99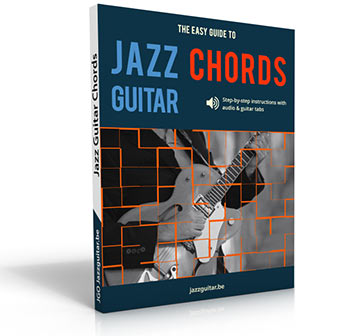 330 pages of text, musical examples, and backing tracks for efficient at home study
226 audio examples with guitar tabs/notation or chord diagrams.
Over 100 audio examples and backing tracks.
Practical, musical examples for each chord concept presented in the book.
28 Slow and fast backing tracks for each chord progression and standard studied in the eBook.
A chord dictionary with bonus harmonic exercises to take your chord playing to the next level.
Picking hand variations and exercises to develop both hands in the practice room.

3. The Easy Guide to Chord Melody
Playing bass, chords and melody at the same time (aka chord melody) is not an easy thing
to do. It sounds easy enough when you hear Joe Pass or Barney Kessel do it, but getting that
smooth sound doesn't come by itself...
Learning how to play chord melody requires a step-by-step plan and that's where The Easy
Guide to Chord Melody comes in.
Normal price: $24.99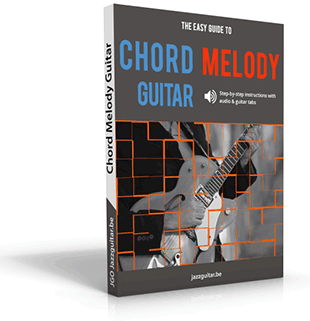 356 pages of text, musical examples, and backing tracks that break down essential chord melody and chord soloing concepts.
Over 300 musical examples in TAB, diagrams, photos, and notation.
280 audio examples to make learning chord melody and chord soloing easy.
14 backing tracks, so you can apply each concept to a musical situation.
Chord melody arrangements from beginner to advanced levels.
Chord soloing studies for beginner, intermediate, and advanced players
Comping studies for duo, trio, and solo jazz guitar.

Click here to continue:

Price: $49.99 (regular price: $74.97)