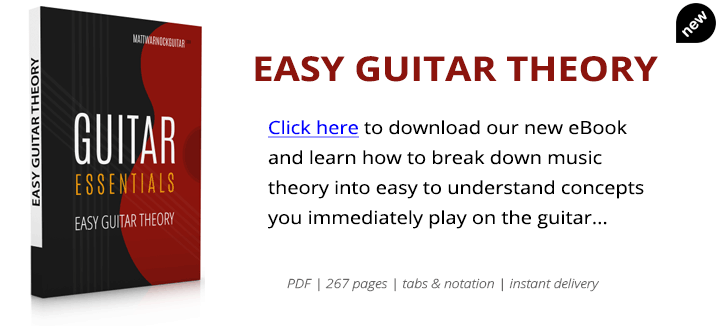 One of the first theory terms you hear, and one that comes up time and again when studying jazz guitar, is the tritone. There are different applications of the tritone, including guide tones and tritone subs, but before you dive into those concepts, you need to know exactly what a tritone is.
In this lesson you learn what a tritone is, how it sounds, and how to apply it to your comping and soloing in a jazz guitar situation.
From there you can move on to more advanced applications of the tritone in you playing with the confidence needed to tackle that material.
What is a Tritone Interval?
A tritone is the distance between a root note and 3 tones above or below that note.
If you want to know what a tritone sounds like, it's the opening notes to the Simpsons theme song. "The Simps" is a tritone, then it resolves to the perfect 5th on "ons".
For example (see tabs below): F-B is  a tritone interval:  F to G is 1 tone, F to A is 2 tones, then F to B is 3 tones.
The last bar in the example below shows you how to play a tritone interval without stretching your fingers beyond 1 fret on the low 2 strings.
Try playing the last two notes in this example and sing "The Simps," then play the 3rd fret C on the 5th string and sing "ons." You'll hear it right away.

Tritone Intervals and Dominant 7th Chords
Now that you know what a tritone is, let's look at how we use it in your jazz guitar playing, specifically over dominant 7th chords.
If you look at any 7th chord, you find a tritone interval built into that chord shape, between the 3rd and 7th of the chord.
Here's how that looks on the fretboard for a D7 chord: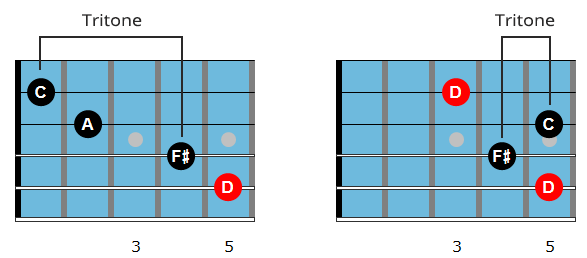 Below you'll see the D7 example in tabs:
The first two bars are a D7 chord solid and broken so you can see the full shape.
The last two bars are the same shapes with the root and 5th removed, leaving only the 3rd and 7th.
The 3rd and 7th of any chord are called "guide tones," because even if you only play those two notes on a chord you can hear the chord progression.
These two notes "guide" you through the changes.
The 3rd tells you if the chord is major or minor based, and the 7th tells you if it's maj7, m7, or 7th.
Play these shapes on the guitar to get a feel for how they sit on the fretboard and how they sound.

Guide Tone Comping
With the knowledge of how tritones create the 3rd and 7th intervals of any dominant 7th chord, you can now take that to the fretboard.
Here's the tritone (3 and 7), for D7 in four positions on the guitar. Play each one to hear how they sound and get an idea for how to finger tritone intervals on the fretboard.
After you play through these 3rds and 7ths, move on to the next section where you apply those shapes to a 12-bar blues in D progression.

Guide Tone Comping Study
Now that you know what a tritone is and how it fits into dominant 7th chords, you can take that knowledge to a playing situation.
Here's a 12-bar chord study over a blues in D that uses the 3rd and 7th only of each chord.
For each 7th chord, the 3rd and 7th is a tritone interval. For Em7 that rule doesn't apply, though the 3rd and 7th still sound good over that chord.
Work out this comping study, and then when you have it down add this concept to your comping over other blues and standard chord progressions.
Backing Track 
Hear and Play Along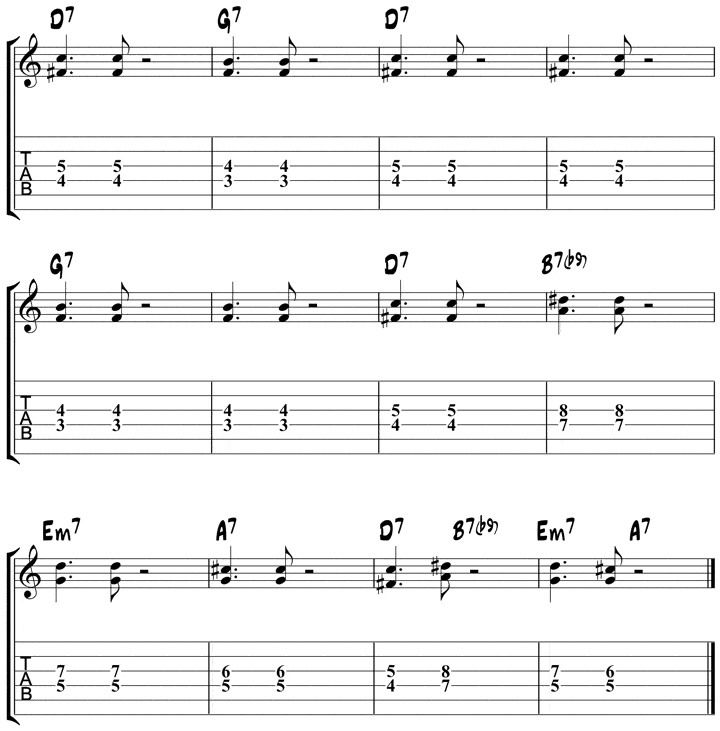 Guide Tone Soloing Study
You can also use tritone intervals in your single-notes solos, both to outline the 3rd and 7th of any chord, as well as the transitions between chord changes.
Here's an example of a solo that focuses on both approaches. You see the 3rd and 7th, a tritone, played over specific 7th chords.
Then, you also see the 3rd of one chord move by half step to the b7 of the next chord, creating a smooth movement between chords along the way.
Work on this solo in your studies, then when you're ready add this concept of 3rds and 7ths to your own solos over blues and other progressions.
Backing Track 
Hear and Play Along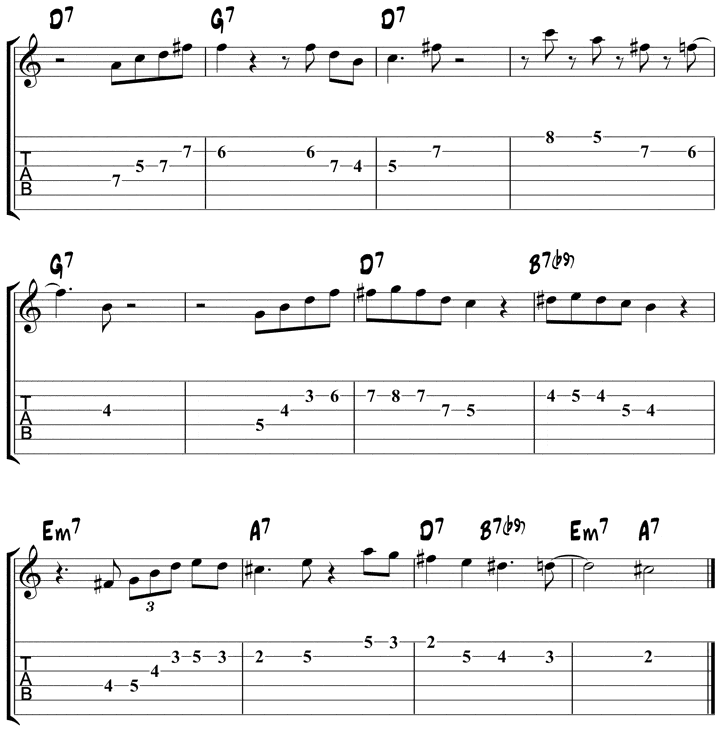 To learn more about music theory and how it applies to the guitar, check out our new eBook Easy Guitar Theory: