One of the most common tunes to learn when first beginning your jazz-guitar journey is Summertime. A classic jazz standard, this tune is not only important to learn, but fun to play both at home and in jam situations.
When learning how to play this tune, we will learn the basic chord shapes but often hit a wall in regards to how to turn these shapes into a comping pattern that sounds good and engages the other people we're jamming with.
To help you get over this hump in the woodshed, here is a sample Summertime guitar chord study that you can learn in the practice room and use as a template to create your own cool-sounding comping ideas over this important jazz standard.
What's In This Study?
I have labeled each of the chord shapes and concepts I've used to build the chord study in the music below. To help you review these concepts, or get your head around them if they're new, here is a brief explanation of each of the chord concepts that you will find in this chord study.
So What Chords – These chords come from the opening melody to Miles Davis' tune So What. They are two m7 chords a tone apart, Dm7-Em7, and are built by stacking 4th intervals together except the final interval, which is a 3rd.
Drop 2 Chords – Drop 2 chords are commonly used jazz chords that are built with the root-position interval structure Root-5th-7th-3rd, with all inversions built progressively from there.
4th Chords – Quartal chords are built by stacking 2 or more notes using 4th intervals that are diatonic to the underlying chord or key.
3 to 9 Chords – These are chords that replace the root with the 9th of the chord, producing the interval structure 3-5-7-9, rather than the normally heard 1-3-5-7.
7b9 Dim7 Chords – When playing over 7b9 chords or 7alt chords, you can outline a 7b9 sound by playing a dim7 chord from the b9, 3rd, 5th or b7th of the underlying chord.
Triads – Triads in this context refer to the 3rd, 5th and 7th of the underlying chord. When you take away the root of any chord, you end up with a triad, which is smaller and easier to move around the fretboard in your jazz guitar comping ideas.
Shells – Shell chords are three-note chords that combine triads, as you just learned, and other non-root three-note chords such as the 3-b7-b9 chord used over the A7alt shape in the example below.
Summertime Guitar Chord Study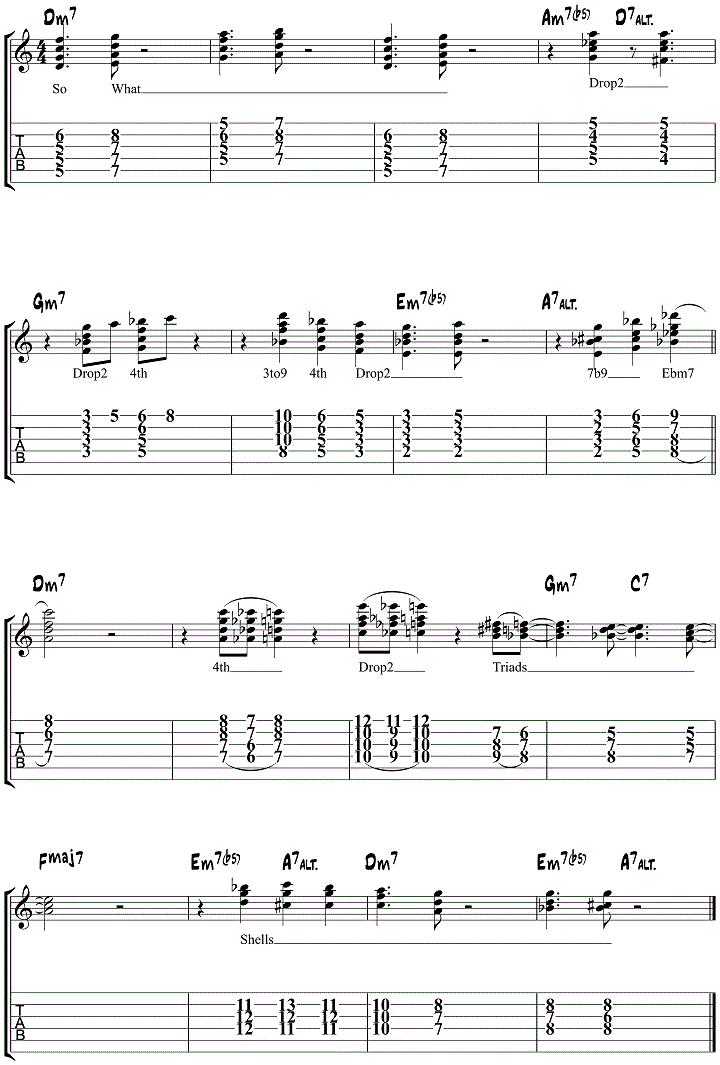 Summertime Backing Track
To help you practice this chord study, here is a short backing track using only Bass and Drums that you can play this chord study with, as well as practice your Summertime comping and chord soloing ideas in the practice room.
Do you have any questions about this Summertime guitar chord study? Post your thoughts in the comments section below.