After doing a Jazz Guitar Albums Top 100, I thought it was a good idea to do a Top 100 of greatest jazz albums that don't have a guitarist in the key position. I asked all forum members to post their favorite jazz albums and the result is this list.
The Top 100 is by no means an attempt to find out what the 'best jazz albums of all time' are, but it reflects which jazz recordings are popular with our forum members.
Funny thing is that the results of the forum poll are nearly identical with other Top 100s found on the internet.
If you scroll down to the bottom of this page you'll find a Top 15 of jazz musicians (guitarists not included), sorted according to how many times they showed up in the Top 100 poll.  Again, I'm not trying to tell you that Miles Davis is better than Charlie Parker, it's just a popularity list.
So, if you ever get the question "What are some good jazz albums?" again, just refer to this page.
Jazz Albums Top 100 (No Guitars)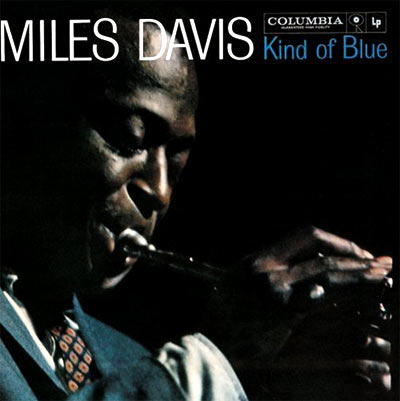 Miles Davis – Kind Of Blue
John Coltrane – A Love Supreme
Cannonball Adderley – Somethin' Else
The Dave Brubeck Quartet – Time Out
Sonny Rollins – Saxophone Colossus
Ornette Coleman – Shape Of Jazz To Come
Charles Mingus – Mingus Ah Um
The Weather Report – Heavy Weather
John Coltrane – Giant Steps
John Coltrane – Blue Trane: John Coltrane Play the Blues
Herbie Hancock – Maiden Voyage
Miles Davis – Bitches Brew
Horace Silver – Song for My Father
Bill Evans – Sunday at the Village Vanguard
Miles Davis – Milestones
Bill Evans – Waltz for Debby
Miles Davis – Birth of the Cool
Thelonious Monk – Thelonious Monk Quartet With John Coltrane at Carnegie Hall
Charlie Parker – The Complete Savoy and Dial Studio Recordings 1944-1948
Keith Jarrett – The Köln Concert
Wayne Shorter – Speak No Evil
Count Basie – Complete Atomic Basie
Louis Armstrong – Complete Hot Fives and Hot Sevens
Miles Davis – Sketches of Spain
Miles Davis – In a Silent Way
John Coltrane – My Favorite Things
Joshua Redman – Wish
Michael Brecker – Tales From The Hudson
Charlie Parker – Yardbird Suite: The Ultimate Collection
Bill Evans – Everybody Digs Bill Evans
Bill Evans – Portrait in Jazz
Dexter Gordon – Go
Larry Young – Unity
Lee Morgan – The Sidewinder
Oliver Nelson – The Blues and the Abstract Truth
Eric Dolphy – Out to Lunch!
Clifford Brown and Max Roach – Study in Brown
Jimmy Smith – Back at the Chicken Shack
Yusef Lateef – Eastern Sounds
Art Blakey and the Jazz Messengers – Moanin'
Return to Forever – Romantic Warrior
Thelonious Monk – Brilliant Corners
Charlie Parker – Charlie Parker with Strings
Herbie Hancock – Head Hunters
Count Basie – Straight Ahead
Freddie Hubbard – Red Clay
Sarah Vaughan – Sarah Vaughan w Clifford Brown
Duke Ellington – Live at Newport '56
Weather Report – Mysterious Traveler
Ella Fitzgerald – The Complete Ella Fitzgerald Songbooks
Chick Corea – The Elektric Band
Sonny Clark – Cool Struttin'
McCoy Tyner – The Real McCoy
Modern Jazz Quartet – Django
Jean-Luc Ponty – Mystical Adventures
Wynton Marsalis – Black Codes (From The Underground)
Benny Goodman – Live At Carnegie Hall
Chet Baker – The Best of Chet Baker Sings
Andrew Hill – Point of Departure
Stan Getz – Au Go Go
Keith Jarrett – Standards, Vol. 1
Ben Webster – Soulville
Bill Evans – Conversations with Myself
Erroll Garner – Concert by the Sea
Sonny Rollins – Tenor Madness
Art Pepper – Meets the Rhythm Section
Ornette Coleman – Change of the Century
Joe Henderson – Page One
Hank Mobley – Soul Station
Billie Holiday – Lady Day (2 CD)
Roy Hargrove – Habana
Herbie Mann – Memphis Underground
The Gil Evans Orchestra – Out of the Cool
Les McCann Trio – Swiss Movement
Brad Mehldau – The Art of Trio
Benny Carter – Jazz Giant
Coleman Hawkins – Body & Soul
Roy Haynes Quartet – When it's Haynes it Roars
Oscar Peterson Trio – Night train
Dizzy Gillespie – Sonny Side Up
Diana Krall – Live in Paris
Cassandra Wilson – Blue Light 'Til Dawn
Jaco Pastorius – Jaco Pastorius
Nat King Cole – Unforgettable (Best Of)
Quincy Jones – Walkin' in Space
Dave Holland Quartet – Conference of the Birds
Lambert, Hendricks, and Ross – Everybody's Boppin'
Milt Jackson – Ain't But a Few of Us Left
Charles Lloyd – Voice in the Night
Sidney Bechet – Legendary Sidney Bechet
Lester Young – Complete Savoy Recordings
Sun Ra – Lanquidity
Grover Washington Jr. – All My Tomorrows
Bud Powell Trio – Bouncing with Bud Powell
Art Tatum – 20th Century Piano Genius
Frank Sinatra – Sings for Only The Lonely
Stephane Grappelli – Afternoon in Paris
Toots Thielemans – East Coast/West Coast
Jan Garbarek – Visible World
Mahavishnu Orchestra – The Inner Mounting Flame
Jazz Musicians Top 15
Here is the top 15 of jazz musicians, sorted according to how many times they were mentioned in the forum poll.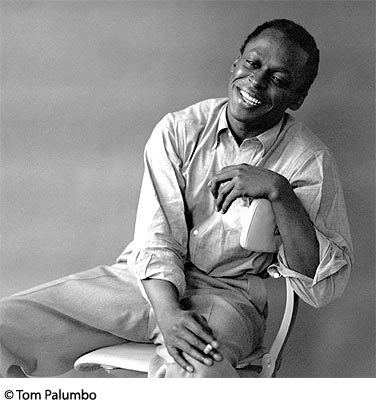 Miles Davis
John Coltrane
Bill Evans
Herbie Hancock
Stan Getz
Cannonball Adderley
Thelonious Monk
Weather Report
Sonny Rollins
Ornette Coleman
Charlie Parker
Charles Mingus
The Dave Brubeck Quartet
Oscar Peterson Trio
Duke Ellington
ALSO CHECK OUT: