When learning how to comp over ii V I chord progressions, many of us struggle when taking exercises and chord shapes that we've learned in our technical workout and apply these ideas to a practical, tune-based situation. One of the best tunes that you can use when transplanting chords and comping concepts from the technical to comping side or your playing is Take the A Train.
With long chord changes, mostly one or more bar long each, and a focus on only a few keys throughout the song, Take the A Train provides a nice bridge progression to connect your technical and practical comping exercises.
In order to provide an example of how you could apply common chord shapes and comping concepts to this tune, below you will find a one-chorus chord study over the chord changes to Take the A Train.
This chord study features common shapes such as drop 2, drop 3 and 4th voicings, as well as popular comping concepts such as diatonic chord substitutions and chromatic approach notes.
Dig into this chord study and when you have it under your fingers, try working out your own etude using the concepts found in the example below as you explore these ideas further in your own comping workout.
THE JAZZ GUITAR CHORD DICTIONARY (FREE eBOOK)
Download now and learn 244 chord shapes!
What's in This Take the A Train Jazz Guitar Chord Study
As you will see when you begin studying the chord etude below, there is text written under every chord in the tune.
These labels are in reference to common chord shapes and harmonic substitutions being used to build this Take the A Train chord study.
To help you translate these labels, here are short definitions for each of the text labels in the chord study at the end of this lesson. Check them out and feel free to come back and reference them as you work through the chord study.
4th Chords: these chord shapes are built by stacking two fourth intervals on top of each other (such as C-F-Bb) rather than traditional 3rds (such as C-E-G).
Drop 2 Chords: built with the interval structure 1-5-7-3, with the inversions derived from that starting point, drop 2 shapes are some of the most commonly used chords in jazz.
3 to 9 Chords: in these four-note jazz guitar chords, the root has been replaced by the 9th, forming the interval structure 3-5-7-9. This allows you to outline the changes without playing the root at the same time.
13#11 Chords: in these shapes, the 13th and/or 9th have been added to the original 7#11 chord shapes. This is a common chord color that you can add to any 7 or 7#11 shape in your playing.
Approach Chords (App.): these are chords which approach the next diatonic chord in the tune by either a half step below or half step above that resolution chord.
b7 Sub Chords: with these shapes, used over dominant 7th chords, you are playing a maj7#11 voicing from the b7 of the chord. An example is Bbmaj7#11 over C7. When doing so, you are outlining the 3rd, b7th, 9th and 13th of the underlying C7 sound.
So What Chords: these are four-note fourth chords based on the 5-note shapes that Bill Evans used for the melody of So What.
Freddie Green Chords: three-note chord shapes that often feature the Root, 3rd and either the 6th or 7th of the underlying chord, often used by Freddie Green in his work with the Count Basie Orchestra.
Chord Subs: these chord substitutions are either taken from the diatonic key, such as walking up Fmaj7 to Gm7 and Am7 over a static Fmaj7 chord, or half-step approaches to the next chord such a Gm7-Db7-C7. These shapes are labeled as their chord name only in the study to save space on the page.
Drop 3 Chords: Along with drop 2 chords, drop 3 shapes are some of the most commonly learned and applied shapes in jazz guitar. Built from the interval structure 1-7-3-5 and its inversions, these shapes work well when focusing on bass notes in your playing.
Take the A Train Jazz Guitar Chord Study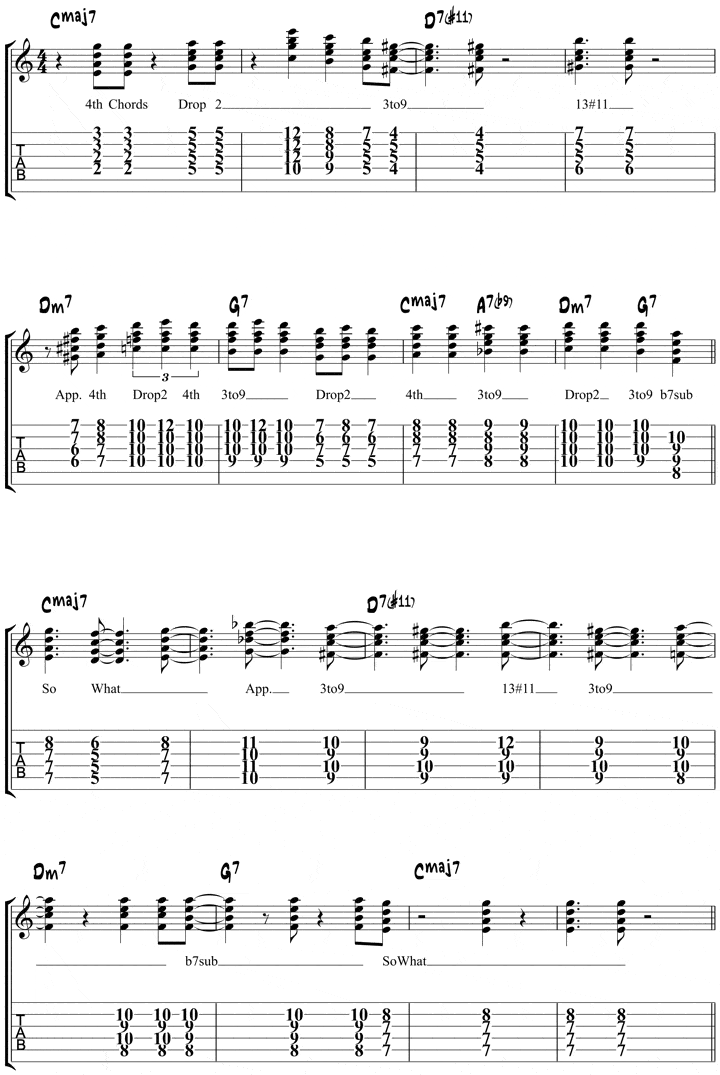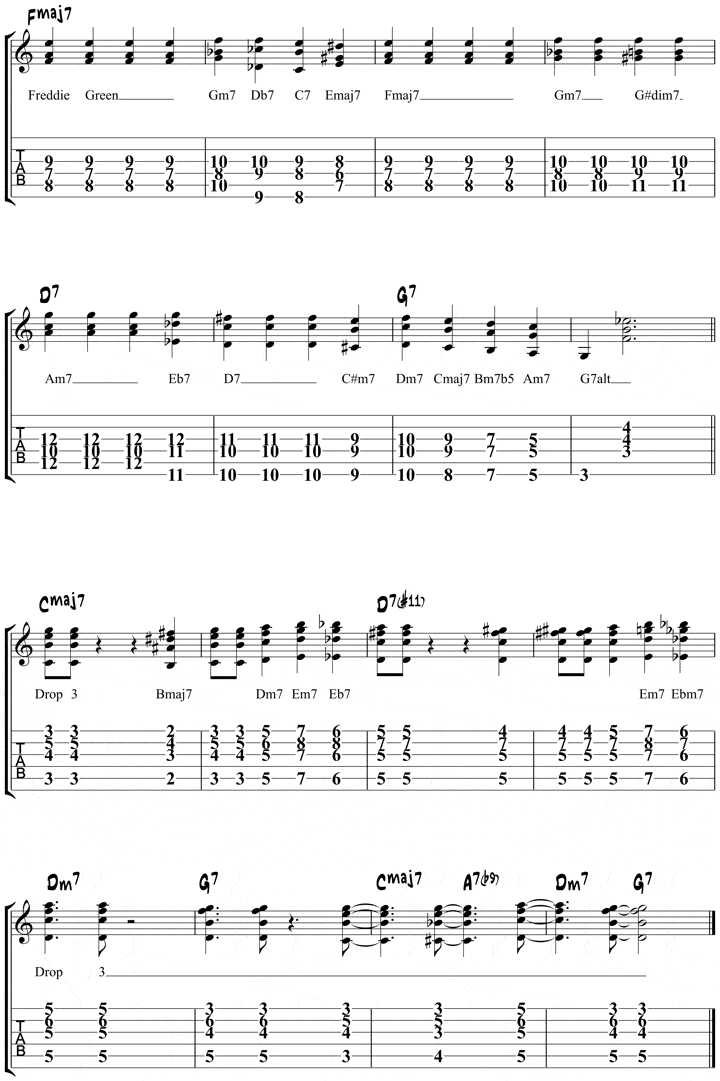 Take the A Train Backing Track
To help you work this chord study, here is a short backing track using only bass and srums that you can play this chord study with, as well as go over your Take the A Train chord and single-note ideas in the practice room.
Do you have any questions about this Summertime Guitar Chord Study? Post your thoughts in the comments section below.