Al Di Meola's Guitar Gear
Here's an overview of the guitars and guitar synthesizers that Al Di Meola likes to play.
Conde Hermanos Guitars
The Conde family from Madrid (Spain) is a famous guitar building family. Al Di Meola uses this nylon-string guitar on his most recent recordings like World Sinfonia and Winter Nights. The guitar has a tremendous beauty and sustain. Al Di Meola had a cutaway put into the guitar. The guitar's about 20 years old now. To amplify it Al uses a Schoepps C-530 condenser microphone and a RMC piezo pickup.
Other guitarists that use Conde Hermanos guitars: Paco De Lucia.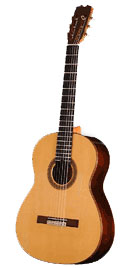 Ovation Guitars
Al Di Meola has an Ovation signature model. Most of the album Cielo e Terra is recorded with the Ovation. In the studio he records the Ovation 60% microphone and 40% direct signal.
The Ovation is equipped with a MIDI pickup to use with a Roland guitar synthesizer.

Al uses D'Addario EJ16 strings on this guitar.


Godin Guitars
Al Di Meola also has 2 Godin guitars: a Godin Multiac Jazz and a Godin Multiac Nylon. Both guitars are MIDI equipped.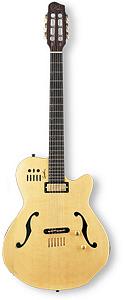 Other Guitars
-PRS (Paul Reed Smith) Private Stock McCarty
-Fender Stratocaster
-Martin D-18 from 1948
-Guild acoustic guitar
-...
Mesa Boogie Stiletto Ace Combo
A 50W, 2x12 tube amplifier. Very loud, British sounding guitar amplifier based on EL34 tubes.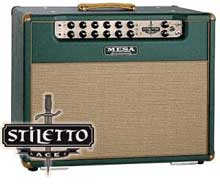 Electronic Guitar Equipment
Al Di Meola uses 3 Roland guitar synths with his MIDI equiped Ovation:
Roland VG88
This processing/modeling system models some of the most popular guitars and amps in history.
Roland VG8
Al uses the VG8 to control the GR30.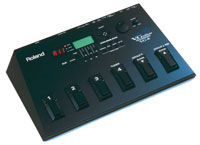 Roland GR30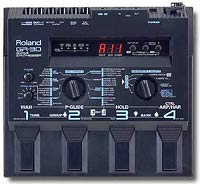 The outputs of these 3 synths are connected to an Alesis multi-fx 12 channel board.
Other Guitar Effects

-Lexicon 200 Digital Reverberator
-TC Electronics Chorus
-Roland GR1
-Bag End speakers
-...

Return to the guitar setup index