Blues Rhythm Guitar Bundle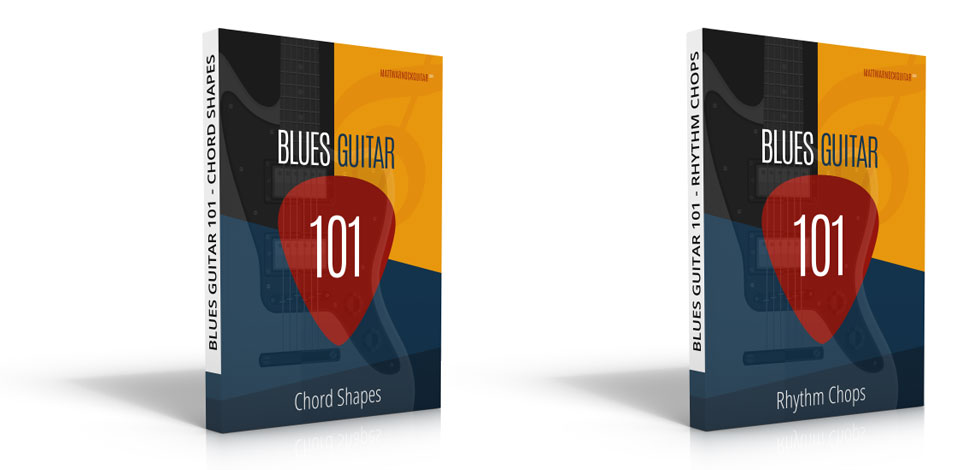 Save 25% when you buy both Blues Chords and Blues Rhythm Chops!


Price: $14.99 (regular price: $19.98)
I think you'll agree that learning chords and rhythm riffs is an essential (and fun) part of playing blues guitar. Whether it's Stevie Ray Vaughan on Life by the Drop, Jimi Hendrix on Red House, or B.B. King on The Thrill is Gone, blues rhythm guitar is infectious.
Besides getting your toes tapping on records, blues chords and rhythms are essential if you want to play in a blues band.
Guitar solos are a big part of the blues, but the best soloist still needs to hold down the rhythm, and this is where rhythm playing is essential.
While you may love listening to blues rhythm guitarists, you may not know where to start. That's where this two-book package helps you reach your musical goals.
The focus of these books is the blues chord shapes and riffs you hear on your favorite blues recordings.
But, there are also rhythms, chord riffs, and more thrown in for good measure.
Why put off mastering blues rhythm guitar any longer?
Grab a copy of this two-book blues guitar package today, crank up your amp, and be on your way to playing killer blues rhythm guitar in no time.
Download a sample PDF from Blues Chords
Download a sample PDF from Blues Rhythm Chops
What You Learn With This Bundle?
Open position blues chords.
Barre Chords to play blues in 12 keys.
Top-4 string chords in the style of SRV.
Chord extensions (9ths, 13ths, 7#9 shapes)
Blues chord riffs.
Essential shuffle patterns in open and barre positions.
Riff based patterns for rhythm guitar.
Must know blues turnarounds.
Rhythm studies in the style of famous blues guitarists.
Riffs from Albert King, Albert Collins, SRV, B.B. King, and more.
And More...
What You Get With This Bundle?
Two full eBooks with over 170 pages of learning material.
More than 120 audio examples for easy home study.
18 backing tracks of various keys and tempos to jam with.
13 rhythm studies in the style of B.B. King, SRV, Buddy Guy, Jimi Hendrix, and more.
Printable PDF file for each book, ability to view book on your computer, tablet, and phone with one purchase.
And more
With the Blues Rhythm Guitar eBooks bundle you get everything you need to take you from day 1 of blues chord study all the way to being able to play a blues rhythm guitar gig.
If you want to take your blues rhythm chops to the next level, or just raise your overall blues guitar game, then these two eBooks are exactly what you need.
Take advantage of this one low price to add two great books to your blues guitar library:

Comments (9)
Great Value for money! I'm glad I started with these books, as they provide a good explanation of the blues form, easy to understand with attention to detail. I would not hesitate to recommend the books to anyone interested in playing the blues.
Bought both books and find them both very informative and helpful in leaning the 'Blues'. Would like to see some suggested fingering for some of the more complex cords.
I am very happy to have bought this book. is a recommended book for any blues fan, with very accurate and understandable examples.
I've purchased several books from Dirk and Matt, and I've been consistently impressed with the quality and thoroughness of them all. These eBooks are a welcome change from the many books I've purchased from music publishing companies over the years. I must have over a hundred of those slick books collecting dust. I'm glad I discovered these two player/teachers, and I look forward to future offerings.
I can only repeat what Phil Doyle wrote. Thanks Phil for saving my brian from a bit of stress! A clear presentation of the way to get into the blues with great variation on the different themes.
I am very pleased with these books, as well as with the authors' sites. Both Matt and Dirk present their works in clear and accessible language, skillfully links the theoretical foundations with the practice of the guitar playing, so I buy their books willingly. They give me the opportunity to learn jazz guitar progressively not only in theory, but also enrich my jazz vocabulary. Sincerely recommend.
Great books that provide solid foundations for blues playing.
Concepts are clearly explained, and key techniques are shown in multiple keys, with different voicings and approaches, providing a good foundation for playing blues in different keys and styles.