Satin Doll is a classic jazz standard and often one of the first tunes we study as jazz guitarists. With many famous recordings, including one by Wes Montgomery that is a must-hear, Satin Doll has become a crowd favorite at jam sessions and gigs. Because of its level of popularity in the jazz world, learning how to play Satin Doll from a melody and comping standpoint is an essential skill for any developing jazz guitarist.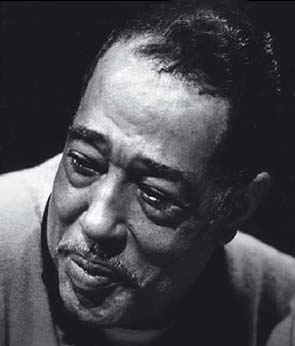 Learning how to play chord melody arrangements is one of the most sought-after skills by beginning and intermediate jazz guitarists, but it can seem out of reach for many players.
While it may be a tough challenge to play a Joe Pass style chord melody on guitar, you don't have to wait to be a master player to get a nice-sounding chord melody under your fingers.
In this lesson, you will learn how to play the classic jazz standard Satin Doll, arranged in an easy chord melody style.
In the next section of this Satin Doll lesson, you will learn a chord study that brings out a variety of chord types and comping techniques.
Satin Doll – Easy Chord Melody Arrangement
To help you become introduced to chord melody, the A sections are all the same, and the tune uses mostly beginner-level chord shapes.
If you're an intermediate level player, check out the practice tips as they will guide you on how to expand on this arrangement in your playing.
How to Practice This Satin Doll Chord Melody
When working on this chord melody arrangement of Satin Doll, you can begin by learning it note-for-note, as written.
From there, you will be able to alter the chord melody as you expand upon it in your studies. This is for more advanced players only, so if you're new to jazz feel free to learn the CM as written.
Here are some ways you can learn this study and begin to alter it in your playing.
Learn the arrangement as written.
Alter the rhythms of the written chords.
Change the picking or strumming for each chord.
Add chord and single-note licks between phrases.
Move the arrangement to other strings or use different chord shapes.
Satin Doll Chord Melody Arrangement
Now that you know how to practice this arrangement, it's time to get it under your fingers.
You can listen to the audio example and play along with that track first.
From there, work the chord melody up to a level where you can play it with the backing track on your own, with no guitar guide track.
As always when learning a study such as this, take your time, and work it in small sections (2, 3, or 4 bars) until it's ready to be played together.
Backing Track
Listen & Play Along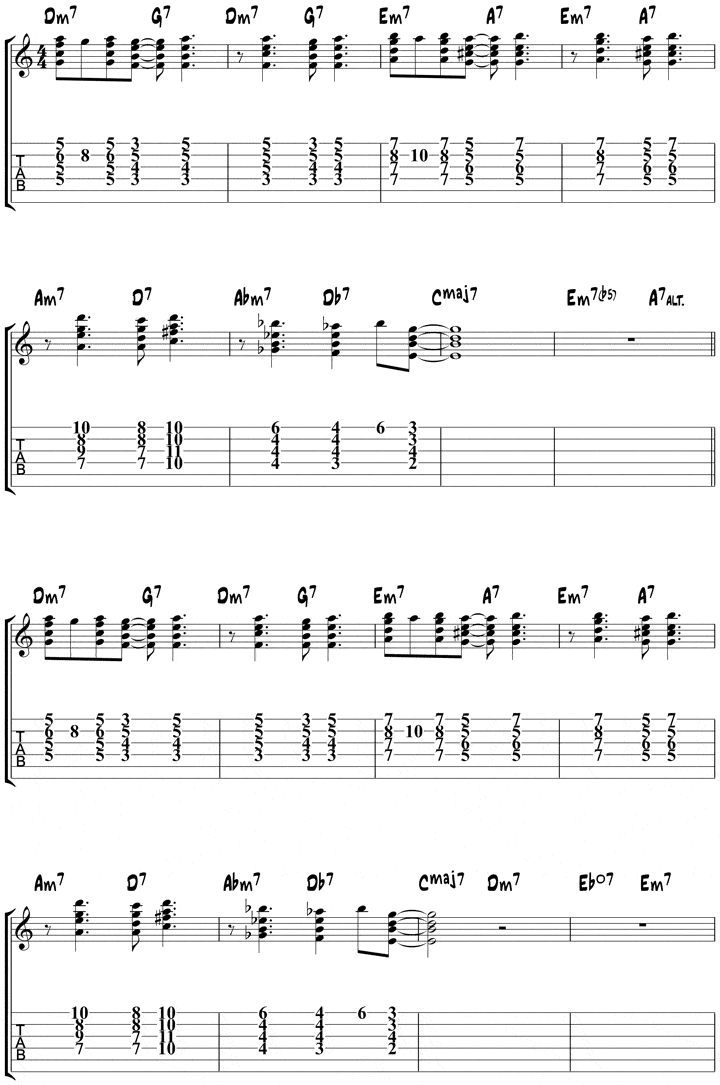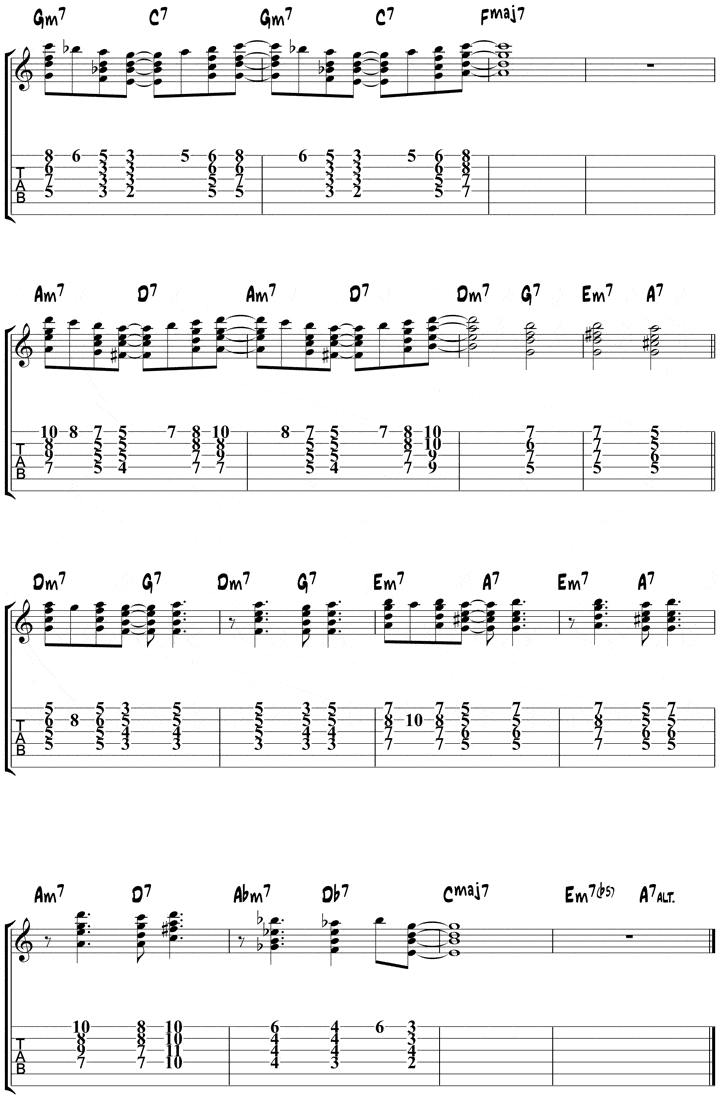 Satin Doll Chord Study
In this section, you will learn a chord study over Satin Doll that uses many common jazz guitar chord shapes, as well as taking inspiration from the rhythm of the tune itself.
What's In This Chord Study
In order to understand the harmonic concepts used in this chord study, here is a brief outline of each chord type in the study, which you can see labeled in the etude itself below.
If you dig the sound of any of these chord types, feel free to explore those concepts further as you take these ideas deeper in your study of jazz harmony.
Rootless 379 – These chords are based on playing the 3rd and 7th of each change, and then added the 9th on top to create added color to the progression.
Rootless 3713 – In a similar vein to the previous shapes, you are stacking 3rds and 7ths with the 13th added to bring color to these dominant 7th chords.
Rootless 735 – Here, you play the 7th and 3rd, and use the 5th as the added note. When doing so, you are essentially playing the chord (1-3-5-7) and just removing the root so that it's smaller and more compact on the fretboard.
Rhythms from the Melody – One of the most important elements of inspiration when comping is the rhythm from the melody line, which you can hear in this section as all the comping phrases are based on the rhythm of the Satin Doll melody.
3 to 9 – These chords are built by replacing the root with the 9th so that you have the intervals 3-5-7-9 for each chord.
Lydsub – The Lydian substitution is a classic sounding comping device where you play a maj7#11 (the Lydian chord) shape from the b7 of any 7th chord. Essentially you are playing the Lydian chord from the underlying key over the V7 chord in the progression.
4th – These quartal chords are built by stacking 4th intervals as compared to the tradition 3rds that make up drop 2 voicings and other common jazz chords.
Drop 2 – These chords are built with the root-position interval layout 1-5-7-3 and creating the inversions from there.
Rootless 13th – Here, you are playing a 3-b7-9-13 interval pattern as you create a rootless 13th sound over dominant 7th chords.
Now that you have a basic understanding of the various chords used in this study, you're ready to dig into the full etude.
Satin Doll Jazz Guitar Chord Study
Since Satin Doll is 32 bars long, feel free to break up your practice sessions into 8-bar phrases, which you can then bring together and create the study as a whole from there.
Also, go slow and use a metronome when first practicing this etude in order to ensure your rhythms are accurate and secure.
Backing Track
Listen & Play Along