Maiden Voyage is is a classic modal jazz tune written and made famous by pianist Herbie Hancock. With a cool groove, hip slash chords, and a memorable melody, this tune has become a jazz jam session essential since first being released.
While Maiden Voyage is a commonly called tune, it can often handcuff guitarists who try and superimpose traditional chords over these modern chord changes. Because of this, many guitarists sound out of place when comping and chord soloing over this Hancock classic.
To help you avoid this type of situation, this lesson teaches you how to use cool-sounding, modern chords that are easy to play and perfectly outline the Dorian sound.
You'll also learn how to add chromatic concepts to these three-note chords, taking these shapes even further in your comping phrases.
Check these concepts out in the practice room, then when you're ready, tackle the chord study presented at the end of the lesson. This material will guarantee that you'll be able to comp over this, and other, modern jazz tunes at your next session with confidence.
Dorian Chords
To begin your study of Maiden Voyage chords, you'll learn how to build chords out of the Dorian scale, the scale used to outline every chord in this tune.
Rather than use traditional chords such as drop 2 or drop 3 chord voicings, you'll learn how to build three-note chords out of the Dorian scale. This approach allows you to outline the chords changes, and bring a modern, modal sound to your chord work at the same time.
To begin, you'll review a common Dorian scale fingering on guitar.
If this scale shape is new to you, take a few minutes to learn it and memorize this scale as it's the foundation for everything else in this lesson.
Listen & Play Along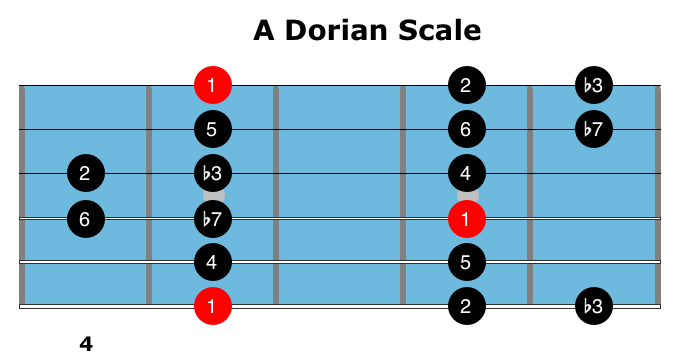 Now that you have this scale under your fingers, you'll look at two notes on each string, in particular, those on the 5th and 7th frets. You'll notice that no matter what string you're on, you'll always play the 5th and 7th fret on those strings.
Here are those notes highlighted in blue so that you can play through them outside of the scale as a whole.
Listen & Play Along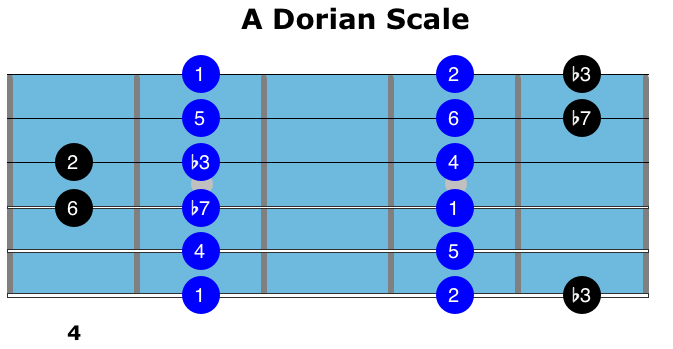 With those two notes on each string isolated, you can now use those notes to build three-note chords.
When doing so, you will play 4th chords (654 and 543 strings), major triads (432 strings), and minor triads (321 stings).
This mixture of sounds is the key to this chordal approach, as you outline the Dorian sound, but you aren't just playing one sound, such as triads or 4th chords. The mix of chords allows these shapes to sound fresh and hip as you climb up the fretboard.
Give them a try before moving on to the chromatic concepts below. They're easy to play, using only one finger, and sound great on the guitar.
Listen & Play Along


Dorian Approach Chords
Now that you've worked on the Dorian chord shapes on their own, you can look at a few ways to spice these shapes up in your playing.
The first concept, approach chords, involves you playing a shape one fret higher or lower than your diatonic chord, before resolving into that diatonic chord.
This creates a sense of tension and release in your playing which can be very helpful when comping over a modal tune like Maiden Voyage.
Here are a few examples to get you started before you take them into your practice routine, and study them in the chord etude below.
Listen & Play Along


Dorian Passing Chords
You can now connect each of the Dorian chords in your comping by adding a passing chord between these two shapes.
Because you're playing 555-777 on A Dorian, for example, you can add in the 666 chord between them.
This passing chord can connect those two diatonic shapes going up or going down. As long as you play a diatonic chord, then the passing chord, and resolve to the next diatonic chord you'll be fine.
Here are a few examples to get you started:
Listen & Play Along


Dorian Enclosures
The final chordal approach you'll use in this lesson is the enclosure concept.
This is when you play a chord one fret higher, then one fret lower than your target chord, before landing on your target chord on the fretboard.
Here is an example of that technique applied to two different A Dorian chords.
You can play with the rhythms using this technique, as with any chord concept in this lesson, as long as you resolve the enclosure before too long. Experiment with enclosed chords in your practice routine and see where you ear guides you when applying them to comping over tunes.
Listen & Play Along


Maiden Voyage Chords – Comping Study
Now that you've looked at the chord concepts in this study, you can learn the study as a whole on the guitar.
Start by working each 8-bar section on their own, and then mix them all together when you're ready. Each section uses a particular concept from the lesson, normal chords, approach chords, passing chords, and enclosures.
You wouldn't separate these concepts that much in a real-life situation, but for the sake of a comping study it's a good way to organize your thoughts.
After you've worked the study with the audio example, you can put the backing track on and play along with the band. You can either play the comping study exactly as is, or you can use the concepts in this lesson to make up your own chord phrases.
Either way, have fun with this study and enjoy digging into these comping concepts in a musical situation.
Backing Track

Listen & Play Along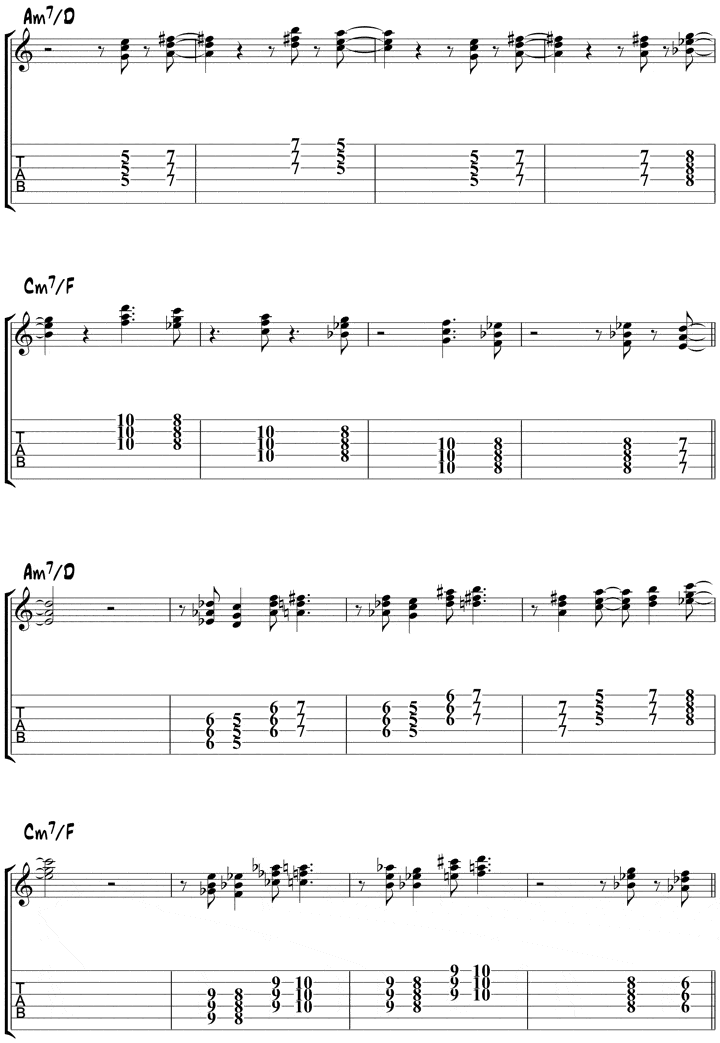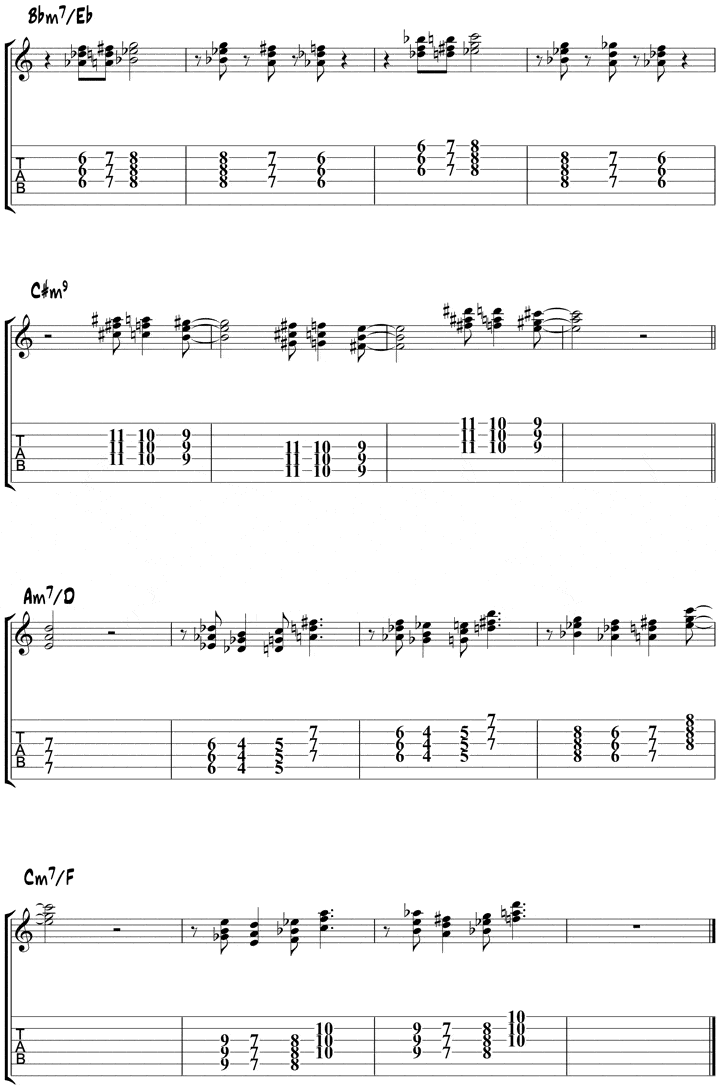 Do you use quartal voicings in your comping? Let us know in the comments below…