One of the most popular jazz standards of all time, Georgia on My Mind is a favorite vehicle for jazz guitarists of all levels of experience. With a memorable melody, engaging chord progression, and a slow bluesy feel, Georgia is a great tune to jam on in a solo, duo, or combo setting.
In this lesson, you'll learn how to play the chords of Georgia on My Mind by getting a chord study under your fingers.
Not only with this study help you learn to play Georgia, it will also expand your chord knowledge, build your rhythm chops, and increase your guitar technique all in one study.
What's in This Georgia on My Mind Guitar Chords Study
Before you learn how to play the Georgia chord study, here's a bit of background on important elements used in the etude below. If you find that you enjoy any of these concepts, feel free to take them out of the study and expand upon them in your practice routine.
Lastly, if you have any questions about these concepts or anything in the study, share them in the comments section below.
Rhythms
The main rhythm used in this study is a quarter-note pulse.
Mostly associated with Freddie Green, quarter note comping is a bit different in a ballad setting such as this. You don't have to accent the 2 and 4 as much as you would when using quarter notes at faster tempos.
Once you get the hang of the steady rhythm, you can experiment with anticipating the quarter notes by playing them an 8th-note early.
In the bridge section, there are more 8th notes and rests used to break up the quarter-note pulse set in the other sections of the study. When you reach a bridge section, it's often a good idea to change your rhythmic approach to signify that it's a change in the form, as you do in the study below.
3 to 9 Chords
These chords are common chord substitutions found in jazz guitar and are used by every great jazz guitarist.
To build a 3 to 9 chord, you play one chord (such as Fmaj7) over the underlying chord (Dm7) to create the interval pattern 3-5-7-9.
Dm9 = D F A C E
Fmaj7 = F A C E (b3 5 b7 9 of Dm7)
You can see these being used with the Fmaj7 over Dm7, Cmaj7 over Am7, and Bm7b5 over G7 in the study below.
Lydian Subs 1
The first Lydian sub you'll see is playing a maj7#11 chord from the b7 of any dominant 7th chord.
When doing so, you create a rootless 13th sound over the underlying chord.
An example of this would be playing Bbmaj7#11 over C7. The notes of Bbmaj7#11 (Bb-D-E-A) produce the intervals b7-9-3-13 over C7.
So, whenever you are comping, and you see a 7th chord, just play a maj7#11 one tone down from that chord to build a rootless 13th sound in your playing.
Lydian Subs 2
The second Lydian sub is when you play a maj7#11 chord from the 3rd of a dominant 7th chord.
When doing so, you create a 7(#9,#5) sound in the underlying chord.
For example, if you play F#maj7#11 (F#, A#, C, F) over D7, you get the intervals 3, #5, b7, #9.
If you ever have a 7th chord, you can play a maj7#11 from the 3rd to create a 7 altered sound over that underlying chord.
4th Chords
These are chords built by stacking 4th intervals, compared to the traditional stacking of 3rds you are used to seeing and playing.
Quartal chords tend to sound more modern, but they can be used in bebop and more traditional jazz genres as well.
An example of this chord is the Fmaj7 in bar 15, where you're playing A-D-G-C, all four notes stacked in 4th intervals on top of each other.
Drop 2 Chords
Most of the chords in this study are drop 2 chords played on the top four strings.
Drop 2 chords are built with the interval pattern 1-5-7-3, and all inversions built up from there.
Because they're on consecutive strings and can be played in the upper range of the guitar, these shapes are great when playing in a combo setting, or any setting with a bass player.
Georgia on My Mind Guitar Chord Study
Now that you have some background info on what's in this study, here's the chord etude. Take your time, working it in 2, 4, or 8-bar phrases as needed until you're ready to play the study as a whole.
There's a backing track included below, bass and drums only, that you can use to practice along.
Backing Track

Listen & Play Along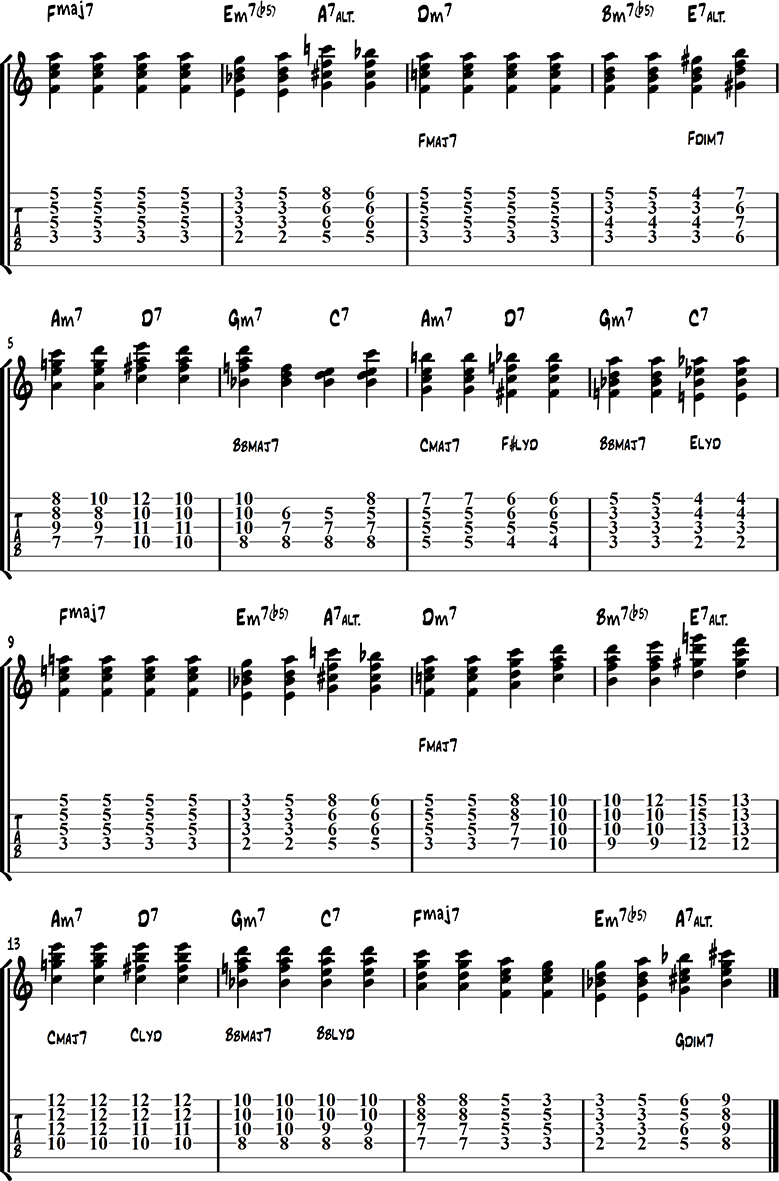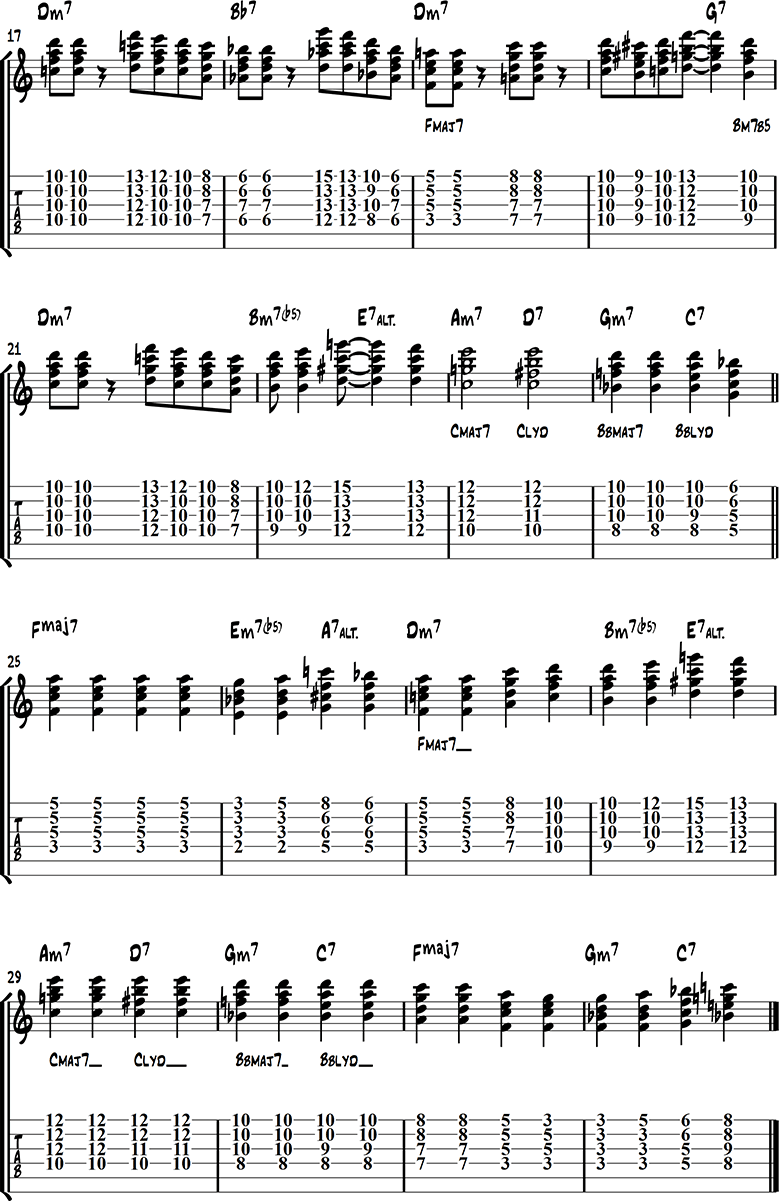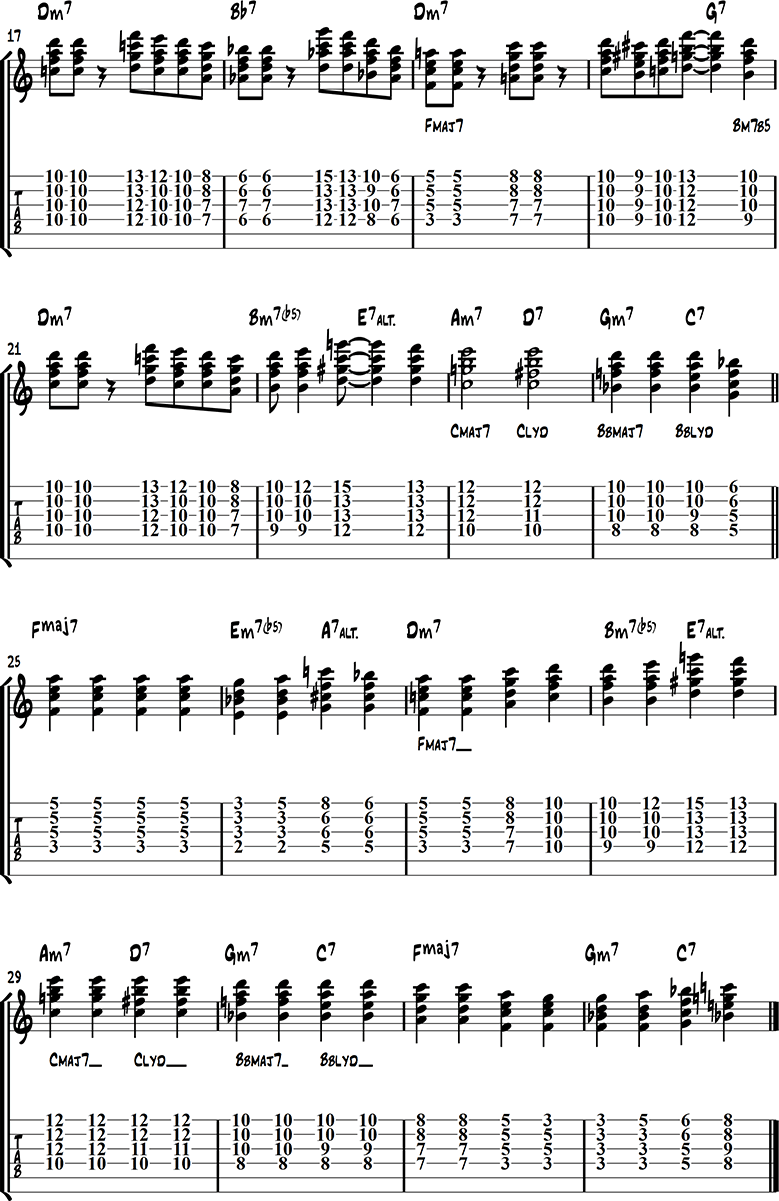 Leave a comment below for questions or feedback!