Maj7 arpeggios are a must-know concept for any jazz guitarist, but they can be difficult to get under your fingers when working these shapes around the entire fretboard. Finding a system to organize your maj7 arpeggios can make playing and soloing with maj7 arpeggios easy, as you will be able to think less about the shapes of each arpeggio and their location on the neck, and more about how you want to make musical and interesting lines.
In this lesson, you will learn how to build maj7 arpeggios, how to relate maj7 arpeggios to four inversions of maj7 chords, exercises to practice these arpeggios, and a sample application of these shapes to the tune "On Green Dolphin Street."
What Are Maj7 Arpeggios?
Maj7 arpeggios are four-note shapes that contain the Root, 3rd, 5th, and 7th notes of the major scale. Here is how those intervals look for a G major scale and Gmaj7 arpeggio.
| G Major Scale | G | A | B | C | D | E | F# |
| --- | --- | --- | --- | --- | --- | --- | --- |
| | 1 | 9 | 3 | 11 | 5 | 13 | 7 |
| Gmaj7 Arpeggio | G | | B | | D | | F# |
| | 1 | | 3 | | 5 | | 7 |
To help see this relationship, here is a G major scale next to the Gmaj7 arpeggio on the fretboard, where you can see the notes of the arpeggio are directly taken from the related scale fingering.
Listen & Play Along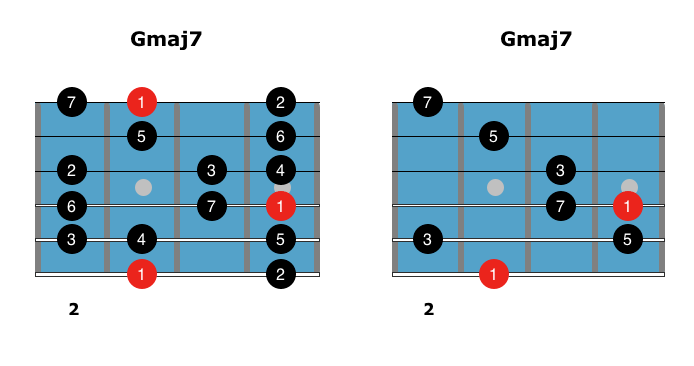 As well,  the notes of the Gmaj7 chord are also in the Gmaj7 arpeggio. In this case, you are playing each note once in the chord shape, and not in note order, whereas in the arpeggio, you are playing each note twice to fill both octaves, and they are played in note order as well.
Here are those two items, Gmaj7 chord and arpeggio, side by side for comparison.
| Gmaj7 Chord Shape | G | F# | B | D |
| --- | --- | --- | --- | --- |
| | 1 | 7 | 3 | 5 |
| Gmaj7 Arpeggio Shape | G | B | D | F# |
| | 1 | 3 | 5 | 7 |
And here are those two shapes, Gmaj7 chord and arpeggio, on the fretboard for comparison.
Listen & Play Along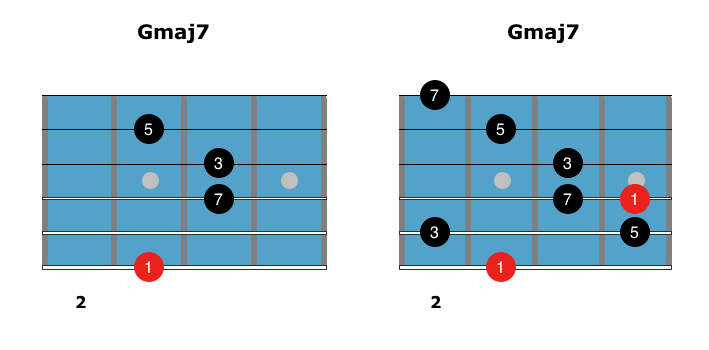 With these comparisons on paper, try playing major scales and chords from different root notes, followed by the related arpeggio shape to see how these items are related on the fretboard before moving on to the next step in the lesson.
Major 7 Arpeggio Fingerings
When learning how to play maj7 arpeggios, one of the easiest ways to cover the fretboard is to relate arpeggios shapes to chord shapes.
This means that for each inversion of a maj7 chord you learn, you learn an arpeggio in that same area.
If you learn maj7 arpeggios in this fashion, you will be able to cover the whole fretboard with chord tones when soloing, as well as always have a chord shape and arpeggio shape under your fingers for any maj7 change you are playing over, which can be very helpful in any jazz guitar situation.
Now that we've looked on relating chords to arpeggios, you can now move on to learning these four inversions on the guitar, relating each maj7 arpeggio to an inversion of a maj7 chord.
To begin, here is a root position Gmaj7 chord with a Gmaj7 arpeggio built around that chord shape to practice.
Listen & Play Along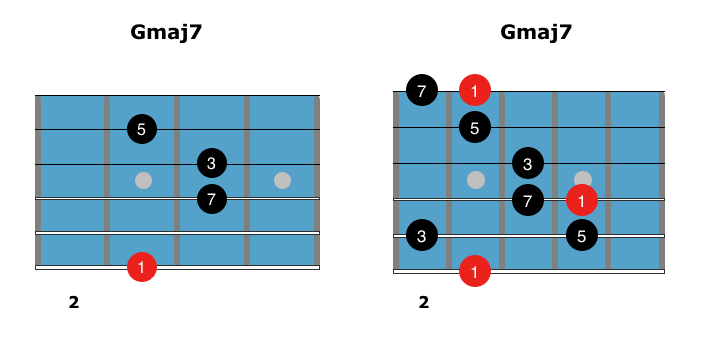 Next, you can learn the 1st inversion of Gmaj7 along with the accompanying arpeggio.
Listen & Play Along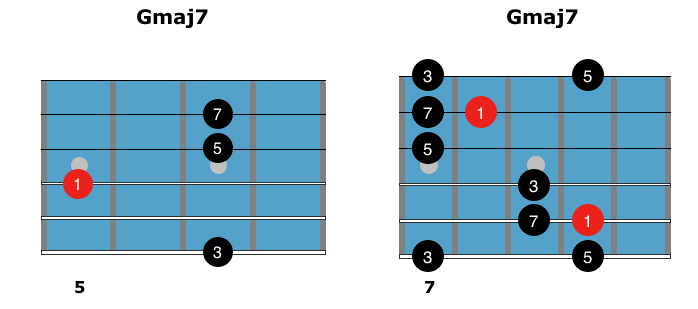 The next shapes are based on the 2nd inversion of Gmaj7 along with an arpeggio built around that chord shape.
Listen & Play Along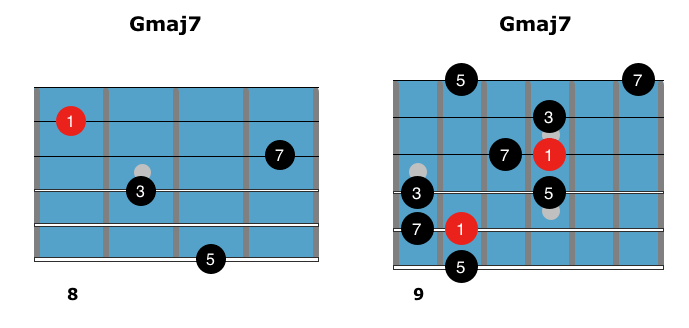 The final shapes are built around a 3rd inversion Gmaj7 chord along with its related arpeggio shape.
Listen & Play Along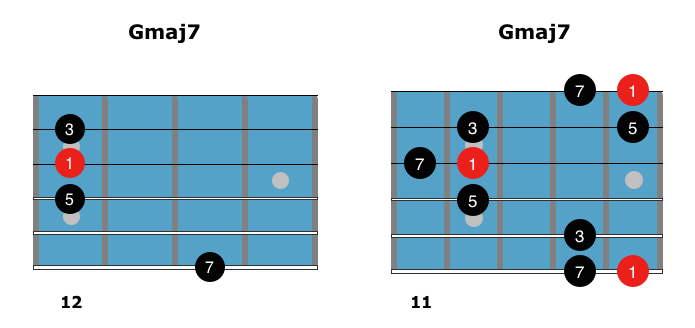 When practicing these chords and arpeggios, make sure to play the chord first followed by the arpeggio. This will make a mental connection between the two shapes and make it easier to switch between chords and arpeggios when you take these shapes to a musical situation.
Major 7 Arpeggio Exercises
Now that you have explored the four maj7 chord-arpeggio shapes in your studies, here is a fun exercise that you can use to work these shapes in all 12 keys while moving to the closest shape each time.
The goal of this exercise is to begin to see the next chord/arpeggio as close to the current chord you are on. So, if you are on Cmaj7 in root position, and want to move to Fmaj7 next, you would play the 3rd position of Fmaj7, which starts on the note C.
Here are the first four chords in this exercise, which we'll call Group 1, which you will see and hear demonstrated below.
Cmaj7 – Root Position
Fmaj7 – 3rd Position
Bbmaj7 – 2nd Position
Ebmaj7 – 4th Position
Here are those four chords and arpeggios that you can practice in order to begin expanding these maj7 arpeggios to multiple keys on the fretboard.
Listen & Play Along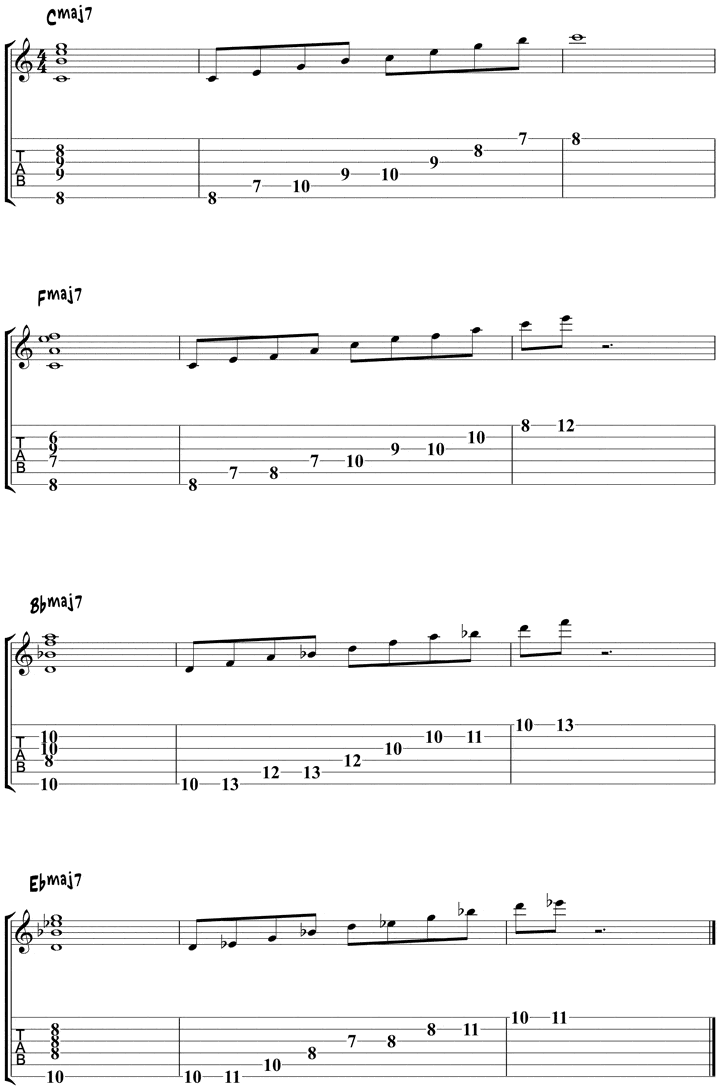 Once you have practiced these four shapes with your metronome, you can take them to other keys as you work them around the fretboard.
When doing so, you would get the following 2 groups of 4 arpeggios/chords in each area of the neck.
Group 2
Abmaj7 – Root Position
Dbmaj7 – 3rd Position
Gbmaj7 – 2nd Position
Bmaj7 – 4th Position
Group 3
Emaj7 – Root Position
Amaj7 – 3rd Position
Dmaj7 – 2nd Position
Gmaj7 – 4th Position
By working the chords and arpeggios in each of these three groups, the one in the above example and two groups listed after that, you will be able to practice all 12 keys of these arpeggios around the fretboard, while learning how to move between the various arpeggio positions at the same time.
Easy Maj7 Arpeggios – Soloing Sample
To finish your study of Easy Maj7 chords, here is a sample line played over the first 8 bars of the jazz standard "On Green Dolphin Street." The phrase uses only arpeggios from this lesson to create the line.
Once you have worked out this phrase, try putting on a backing track for these chords, or other groups of Maj7 chords, and creating your own improvised phrases using the arpeggio shapes learned in this lesson.
Listen & Play Along