Diminished arpeggios are an essential tool every jazz guitar player should have under his/her belt + they are relatively easy to play on the guitar because of their symmetric formation. Read on to learn how to play diminished arpeggios on guitar and how to use them in a musical context.
How is a Diminished Chord Formed?
A diminished chord (and arpeggio) consists of 4 different notes that are each a minor third (=3 half tones) apart.
Here's the chord formula: 1 b3 b5 bb7
Example: Bb°7 = Bb Db Fb G
(if chord formulas are Chinese to you, read our Chord Theory Tutorial)
3 interesting facts about diminished chords:
A diminished chord can be named after any of its 4 notes. The chord in the example above can be named Bb°7 or Db°7 or E°7 or G°7. These 4 chords consist of the same 4 notes.
How many diminished chords are there? The answer is 3:

C°7 = Eb°7 = Gb°7 = A°7
C#°7 = E°7 = G°7 = Bb°7
D°7 = F°7 = Ab°7 = B°7

Every diminished fingering pattern on the guitar neck produces the same arpeggio every time you move it 3 frets up or down. Here's an example for Bb°7 (= Db°7 = E°7 = G°7):

How to Play Diminished Arpeggios
Like I said, remembering diminished arpeggio fingerings is relatively easy because you only have to remember 3 shapes:
1) This is the first diminished arpeggio fingering for Bb°7 = Db°7 = E°7 = G°7. You get the same arpeggio if you move this pattern 3 frets up or down, so you can start it on the 6th, the 9th, the 12th or the 3rd fret, while still playing the same diminished arpeggio.
Start by learning this arpeggio, memorizing it, and then taking it to other keys across the fretboard.

2) The second diminished arpeggio fingering for Bb°7 = Db°7 = E°7 = G°7. Same as above: move this pattern 3 frets up or down, start it on the 6th, the 9th, the 12th or the 3rd fret and you'll still be playing the same 4 notes.

3) This 2 notes per string fingering pattern is very symmetrical, except for the b-string of course. This shape is also moveable by 3 frets.

Once you have any or all of these arpeggios under your fingers (from memory), put on Band in a Box or a dim7 backing track and begin to solo using only these three arpeggios.
When that is comfortable, try putting on a jazz blues, Rhythm Changes, or other tunes that contains dim7 chords and apply these arpeggios to your solos.
Dim7 Arpeggio Patterns
To help you expand on practicing diminished arpeggios, here are three patterns that you should apply to your practice routine.
The first dim7 arpeggio pattern is often found in John Coltrane's soloing lines, and features a one-note pickup followed by a series of triplet rhythms moving up the arpeggio from there.
Listen & Play

Moving on, you can now add approach notes below each note in the arpeggio that you are applying them to.
This means that when playing up or down any dim7 arpeggio, you play a note one fret below each note in the arpeggio shape. This way you are approaching each note in the dim7 arpeggio by a half-step below.
Because of the number of chromatic notes in this pattern, practicing it with a backing track rather than a metronome would be helpful. This will allow you to hear those chromatic notes against a harmonic chord or progression while you learn to play it on the guitar.
Listen & Play

The final dim7 arpeggio pattern involves adding enclosures to each note in the arpeggio shape that you are practicing. This involves playing one fret above, one fret below, and then the arpeggio note you are enclosing.
Listen & Play

With any or all of these patterns under your fingers, try applying them to your soloing ideas over a backing track.
We often think of practice patterns such as these as purely technical exercises, but they can also be used to solo over dim7 chords as they help break up your arpeggio lines, making them sound more musical and less technical at the same time.
Dim7 Arpeggio Licks
As well as practicing arpeggio patterns, you should also study common diminished arpeggio licks. This will allow you to hear these shapes used in a musical situation over common jazz chord progressions.
The first lick is played over the first two bars of a Rhythm Changes progression in the key of Bb, the most commonly used key for Rhythm Changes to jam over.
The Bdim7 arpeggio is simply played ascending over the Bdim7 chord, but notice how the arpeggio is lead into by a half step, and lead out of by a half step. This is an effective way to navigate into or out of any dim7 arpeggio in your soloing.
Listen & Play

In the next lick, you will use an Adim7 arpeggio to outline an F7 chord in your soloing.
Playing a dim7 arpeggio from the 3rd of any 7th chord is a common way to outline a 7b9 sound in your lines, without hitting the root along the way.
In this instance, you are playing the 3rd, 5th, b7th, and b9th, of the F7 chord when using the Adim7 arpeggio over that bar in the progression.
After you have learned this line, try playing dim7 arpeggios from the 3rd of other 7th chords in your playing, as this is essential jazz vocabulary to study.
Listen & Play

In the following example, I play arpeggios over a 251 progression.
Over the dominant chords, I only play diminished arpeggios and you'll hear how natural that sounds.
Bar 1: Fmaj7 arpeggio over Dm, sounds like Dm9.
Bar 2: Ab°7 arpeggio over G7. I use the 2-notes/string fingering, which is handy to change position on the guitar neck.
Bar 3: Em7 arpeggio over Cmaj7, sounds like Cmaj9.
Bar 4: Bb°7 arpeggio over A7.
Bar 5: Dm7 arpeggio.
Bar 6: Ab°7 arpgeggio over G7.
Bar 7: Cmaj7 arpeggio with a chromatic note at the en.
Bar 8: Am7 arpeggio over C major, which sounds like C6.
Backing Track
Listen & Play Along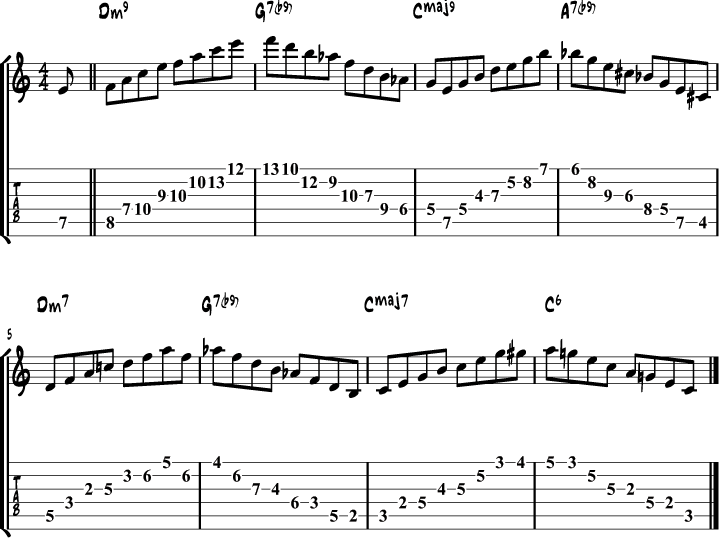 In this final lick, you are applying an F#dim7 arpeggio over the second bar of a C blues chord progression.
Notice how the notes in bar 2 are the same for each chord (F7-F#dim7), except the G has been lowered to an F# over F#dim7 to outline that chord more directly.
Listen & Play