Introduction to Jazz Blues Guitar Volume 1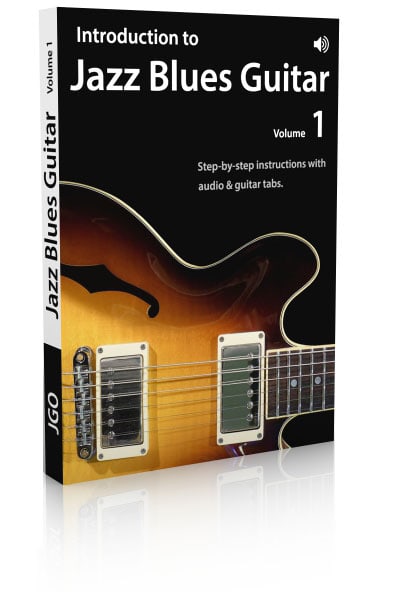 eBook (printable) | 195 pages | tabs, notation, audio & backing tracks | Instant delivery by email. Works on all devices, including desktops, laptops, tablets, mobile phones, Apple, Linux, and Android.
Have you ever been to a jam session where someone calls a jazz blues tune and you found yourself fumbling through the chords, or falling back on your rock-blues pentatonic licks when it came time to solo?
Have you ever listened to the great jazz blues solos of Wes Montgomery, Kenny Burrell, Joe Pass or others and thought "I would love to do that. But where do I start?"
If you know that you need to improve your jazz blues chord and soloing chops, but don't know where to turn next, then our Introduction to Jazz Blues Guitar Volume 1 is the right learning tool for you.
Click here to buy Volume 1 and Volume 2 together for one low price.
Have you ever listened to the great jazz blues solos of Wes Montgomery, Kenny Burrell, Joe Pass or others and thought "I would love to do that. But where do I start?"
If you know that you need to improve your jazz blues chord and soloing chops, but don't know where to turn next, then our Introduction to Jazz Blues Guitar Volume 1 is the right learning tool for you.
Click here to buy Volume 1 and Volume 2 together for one low price.
What You Will Learn in Jazz Blues Guitar Volume 1
What You Get with Jazz Blues Guitar Volume 1
Click the button below and download your copy of Introduction to Jazz Blues Guitar Volume 1:
Comments (65)
Topic:
Introduction to Jazz Blues Guitar eBook
Hi Art, all our eBooks have both standard notation and guitar tabs, just like my lessons on the website.
My only objection is Vol 1 leads me into hours of playing -- it's going to take a while to get to Vol 2. I've completely revised my daily practice routine around Vol 1 & my playing has already improved. And I've been playing for decades.
This fabulous book is like a hidden gem to me: among all the great books I bought over the years from Jazzguitar.be, this has been overlooked by me for quite some time. But now, as I rediscovered it in my collection, I really really enjoy working with it. All material is laid out clearly in front of me and I love the small steps the book presents. This is really great stuff. And the best: Dirk and Matt are extremely supportive and give their best to make us customers happy. Thanks a lot for your work.
I find this book very useful, despite english is not my mother tongue I find it very understandable.
Good for who has a certain knowlwdge yet.
Very good material written by a gifted educator. Easy to understand and follow by beginners and self studying individuals. I appreciate the indications for listening too - perhaps a bit too many pictures.
Started with volume one last week. Is very clear, good explanantions but the link to the short tutorial about the chord notation in Jazz on page 10 is not working, that's a pity.... I will recommend this course to others
After I worked through "Jazz Guitar Chords" which I really appreciate, I have begun to work with "Jazz Blues Guitar 1", another book which gives me a lot of input to improve my technique. I also love your free available contributions like "Essential Jazz Chord Exercises". Thank you very much!
Like all of the other books I have purchased from you, Jazz Blues Guitar is an incredibly thorough book that is guaranteed to improve any player at any level. From chord choices to licks to chord melody ideas, this book will provide years of important study for anyone. I recommend it very highly.
Excellent straight forward explanations. Useful licks in basic scales to show how to capitilize on applying for instance blues scale but over jazz progression .
A really clear and useful explanation from the best jazz guitar teacher on the web! Buy it if you want to add some jazz into your blues or, as well, start studying jazz from his early steps...
Comprehensive books with everything you need to start up your jazz playing and refrein your blues playing outside the boring boxes . Much more than a beginner course...
Clear and concise, this book is helping to add a jazz flavour to my blues rock orientation. The recorded examples are great and useable. Recommend this one.
The best purchase I have made that is music related. I come from a blues rock background (anything that Clapton played), listened and practiced for years the Delta Blues, the Chicago Blues. But I always found I was stuck in licks and pentatonic patterns, just like the description says. I felt that I needed to express myself with a different sound. This book is exactly what I needed. It't the Jazz approach to Blues, and it will keep you busy for years, if you use it well. It's nicely explained, there are enough audio samples to keep you busy, and I feel that I am slowly improving my improvisation skills. Buy it!! :-)
This is the place to start. I've played guitar for a long time, but started in jazz very recently. After dabbling a bit with other courses, I've found that this is a fantastic "starter kit". It has given me the essential skills to survive in my first jazz jams. I am now heading on (chords, arpeggios……), but this is the foundation. Highly, highly recommended.
Libro muy bien estructurado. Todos los recursos presentes:Escalas; Arpegios; Acordes y ritmos en el punto de partida para desarrollar un buen toque blues.
An excellent step to step approach to go through back to the basics then to the sky :). It helped me to structured my mind and play. Well designed for PC screen reading, but maybe just think for the Vol 2 ... to minimize ink usage for people who want to print it. :)
A nice way to approach the Blues, for a straight blues player like me it opened a lot of perspectives
I really enjoyed working through this - lots that was new to me and a great way to start approaching this vast topic. Covers ground different from most other beginner lessons. My only slight gripe - intended to be helpful - is the inclusion of the long scale patterns over the V7b9 chord in the blues improvising - this chord is never held for long enough to play a long pattern, so would be useful to replace with something that fits in the space available!

Thanks!
Love your eBook! Classic Dirk! Clear instructions, recommend this to everyone who wants to take it up to another level in music!
Very clear and practical book. Enjoyed working on it and saw improvements on my playing right from the beginning. Thank you!
I love the Book. It has reintroduced me to some things I used to know, but offered a lot of new material also, such as different chord shapes and inversions.
this is an excellent book, structurally and technically very well thought out. Used with the basic information available on the website if you need background, you cant go wrong.
The title says introduction to Jazz Blues but the material can be used by experienced players as well. I like the way the lessons start off simplified and gets progressively more detailed and technical. Theory is precise and thorough but never boring.
Great real world examples and application.
Excellent Jazz Blues guide.
THANK YOU!!!!!!
This book served as an excellent introduction into the world of jazz/blues.The content was clear, precise, relevant to my playing standard and relatively easy to comprehend. I thoroughly enjoyed working through this material.

When is Volume 2 to be released?
Great! This vol.1 was good 2nd look at things I know at a different angle, to say. And new knowledge I needed to take play thru and up a few level.
This e-book helped me to understand why the blues works the way it does. This was something I have a hard time with, I've worked very hard as a industrial electrician for over 40 years be not be down and out. So the book is a great resource for me.
Quick question, if I buy the Ebook Jazz Blues V1, can I download it to two devices (iPad and laptop)? Thanks!
Yes, you can use the book on all your devices. If you have any trouble with that just let us know and we can help you out. Cheers.
Do you guys recommend purchasing this jazz blues before the Jazz guitar V1 and V2 lessons? I do not know any theory about jazz, let alone much theory at all. I can read notes and I have a beginner classical guitar book I am learning from so far.
I'd like know how many backing tracks are on the CD and if there are advanced walking bass lessons too. It's a book Specific for accompanying or for jazz solo Improvisation? Thank you!
Hi there are 8 backing tracks with the book, 4 slow and 4 fast for different keys of the blues. As well, the book is divided in half, half for soloing and half for chords.
Very good book, better than most books I had. Needed a book to refresh my learning and was not disappointed. Easy explanation and step by step lessons. Great!
hello from Italy, I''ve been playing blues for 30 years, I think this book it's very useful, not complicated, immediately practical and jazz sounding. Happy for the purchase. Particular thanks to matt warnock who immediately help to download pdf and audiofiles (I had problems). Waiting for vol. 2!
Hi,

I am interested in buying your lessons. Just a couple of (probably fairly stupid) questions:

A) are the lessons in tab ?
B) is there an audio component (mp3, cd, whatever) included ? I find it much easier to learn things by ear.

Thanks
I really like how you build it up. The samples are great cause it saves me time recording the backing track and gives more of a realistic feel with the bass and drums etc.
Loving it.
Loads of clear and no nonsense lessons for an excellent price. If you are a rocker or a blues player who wants to step into the the world of jazz in a gentle way, this is a must.
It's far better than a lot of other methods out there and is excellent value with great examples to learn, scales, backing tracks etc,
buy it!
Dirk:
Happy 2015 to you as well!
Is it possible to get any of your lessons or materials hardcopy...books,cd's etc.? I would also love to get Chris Sandrings system hardcopy as well. Thanks for making us all better players!
I'm enjoying these very concise series of lessons very much. It's just what I needed. A move back to the Blues BUT approached from a different angle. Some improvements could be: A direct loop function for the audio examples (eliminating the count-in) and offering the longer Play-Along tracks in mp3 format. (Our PC is in the cellar and my practice room is in the attic !)
Great phantastic working material. I opened the lessons and started directly with my guitar and looping pedal on my amp. It sounds great.
Working with this book has definitely improved my playing, both from a technical skill perspective as well as increased understanding of music theory. I have been a play-by-ear, musically illiterate blues guitar player for many years, so this book really opened up new ways of thinking and playing for me. Great job guys!
This is a great resource that has taken me from being a complete beginner and I am still working through it.
This is an excellent book for beginners like myself, providing one has the patience to work through the studies and examples methodically. Build solid foundations, or the shining palace you aspire to create will fall.
This and other eBooks you have provided are excellent value and very informative for beginners and more experienced players alike we can all learn something from them.
I'm a info nut. information enter the brain and with running threw the fingers it helps to create your musicianship. Blues runs its roots and more threw all styles of music, as Lewis Armstrong said "there is only two types of music, GOOD and that other stuff."
Although I am struggling with some of the concepts the experience has improved my playing in other Genre. As Robert says, there is an awful lot to learn and for someone like me who is a little impatient it is a struggle.
It's a damn good book. but there's an AWFUL LOT here. i'm still working my way through the chords with roots, 5ths, 13ths, etc, and its been a while. I wish there was a clearer way to explain and systematically practice them.

Also you say, figure them out on other fingerings. That's way too much to ask someone who's just learning this stuff to figure out on their own.