Band in a Box Pro 2020 (Mac Version)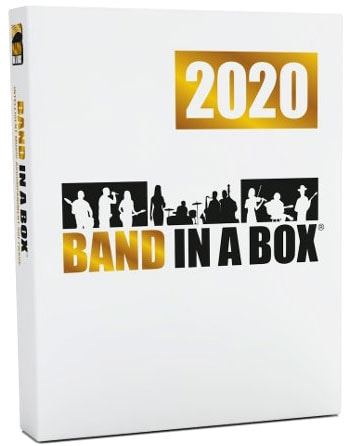 Band in a Box is intelligent automatic backing track software for your computer. Thanks to BIAB, you can practice guitar with a virtual band, making your practice routines more effective and fun.
Band in a Box automatically generates a complete arrangement for any chord progression, with piano, bass, drums, guitar, and strings or horns.
You can input any song you want in Band in a Box. You can even download a file that contains all songs of the Real Book.
Band in a Box automatically generates a complete arrangement for any chord progression, with piano, bass, drums, guitar, and strings, or horns.
You can input any song you want in Band in a Box. You can even download a file that contains all songs of the Real Book.
Band in a Box is easy to use, here's how it works:
You type in chords using standard chord symbols (Dm7, Bm7b5, G7#9b13, ...)
Choose a style (bossa, jazz, jazz waltz, blues, fusion, Django style, Sinatra style, pop, rock, samba, ...)
Set the tempo.
Push the play button.
Band in a Box makes your guitar practice more effective & fun:
New Features of the 2020 Version of Band in a Box
In the next video, you will learn all about the new features and new Realtracks of the 2020 version of Band in a Box:
The good news is that you can get all this for the price of about 8 play-along cds. Band in a Box is easy to install and operate. Technical support from the publisher is excellent, help is available in the evenings and on weekends - definitely an added bonus for busy musicians.
With the help of Band in a Box you can improve your guitar playing in an fun and effective way.
Click the button below to download Band in a Box 2020 today:
Comments (42)
Topic:
Band in a Box Windows Software
Hi Dirk,
my question is: once I've downloaded the software, is there a way to access it from other computers, or can I access it only from the computer where it has been downloaded from?
Hi Roderick, you can install on three computers at a given time. Save the download link, so you know where to download on your other computers. Just make sure you keep your key-code somewhere so you can use it to register your new install.
Hello Dirk, I have one question: Is it possible with this download-version to change the language of this program to German?
Greetings
Andreas
Hi, can I buy BIAB for both iOS and Windows for the same price or buy differently? I have both Macbook Pro and Windows laptop.
Which OS of Mac is BIAB compatible with?
Hi, if you want to install on both your Mac and your Windows PC, you need two separate licenses. The minimum requirement for Mac is OS X 10.6 or higher.
It looks like you get more value for the same money when you buy the windows version (biab 2021) in stead of the Mac version (biab 2020). Or will there be a possibly to upgrade to biab iOS 2021?
If I download Band in a Box, but later buy a new computer, will I be able to save the download onto my new computer?
Sure, just make sure you keep your key-code somewhere so you can use it to register your new install.
Hi. Dirk. You're doing great work here to connect us up with this fantastic software – thanks! In the specs above, you mention a lot of the jazz styles and jazz-friendly features...and this IS a jazz guitar website... but this isn't a special, jazz-leaning version of the software, is it? I want to use BIAB for country, rock, blues and other styles as well, so I need the regular product.
My operating system: MAC OS 10.8.5 Lions. I would like to purchase the Band in Box compatible with my system. How should I proceed? Thank you. Wellington Farias
Hi Dirk,
I need to know. 1. Is BIAB compatible with Catalina on my Mac? 2. Is it a disk or a download? 3. Is it a subscription?
4. Can I use old files that I have with the newest version?
Hi Frank! 1) Yes, BIAB 2020 is compatible with Catalina 2) This is the download version 3) It's a one-time fee, not a subscription 4) Yes, you can load songs from older versions of BIAB. Cheers!
Hello Dirk
Do you know if we can buy jazz standards for Band in a box, and if it's possible to have Band in a box for mac in french (because I'm a French guy);
Cheers,
Patrick
Hi Patrick, Yes, there are websites that sell jazz standards, but there's also a free file available on this page with a lot of jazz standards. There's also a website that sells songs of Wes Montgomery, Django Reinhardt, Grant Green (including solos) in BIAB format. And yes, there is a French version of BIAB for Mac (and Windows).
I downloaded the zip-file with the Realbook for BIAB, and unpacked it on my MacBook. But how do I add these files to BIAB 2020?
I have just played around a little. My old version, dated 2013, was running on Windows but nowadays I always use a Mac. :-) I wonder how I can add the Realbook files to BIAB for practicing my basslines and knowledge of jazz (I am a double bass player).
Hi Nico, unzip the file to a place you can remember (your desktop for example), then you double-click the files or open them from BIAB by selecting (in the top menu) File > Open... and then navigate to the unzipped folder. Cheers!
BIAB has always been particularly guitar-friendly probably because the creator is the brother of the jazz guitarist Oliver Gannon. Peter Gannon is Oliver Gannon's brother.
Indeed, Richard, Peter Gannon is the creator of BIAB and that's where the name PG Music comes from...
Hello Dirk! Please tell me, where can I get the German Version of BIAB and what does it cost? I have already an elder English version, but it's too hard to work with ist.
Hi Kurt, BIAB for Mac is available in English, German, French, and Italian. BIAB for Windows is available in English, Danish, German, Spanish, French, Italian, Dutch, Polish, Portuguese, Swedish, Japanese, Korean, Chinese, and Russian. Languages can be changed at any time...
This pricing is extremely good for such a great tool as BIAB. I currently run the 2013 version with a bunch of Real Band files and have not updated since then. Is this actually the full version? Will it 'update' my version or is this a 'start new' kind of thing?
Hi Justin, you need an internet connection to download, but once BIAB is installed, you don't need to be connected
I have an older Mac, (running Mavericks OS, which is as far as I have been able to upgrade). Is BIAB compatible with this operating system?
Thanks!
Hi, all lessons on this site are done with BIAB, so if you check out some of those, you get a pretty good feeling of how it sounds.
Hi Roderick, these are the minimum requirements:
* Minimum 1GB RAM (2GB+ recommended)
* Minimum 1.0 GHz processor (2GHz+ multicore recommended)
* 1GB free hard disk space for a minimal install (15GB+ recommended)
Hi Don, if you have the Mac version of BIAB, you can download an iOS app that allows you to download songs, including chordsheets and audio from your Mac over a wifi network. You cans also see the chordsheets and play the songs that you downloaded on your iPhone.
Hello Dirk,
thank you for the introduction of this great tool.
I have used it in the past. The capabilities are ever increasing. Which is very good. The only complaint i have is: there is to my knowledge no upgrade path. Every time a new version comes out you start as a new customer if i'm not mistaken. I have started long time ago with a bunch of floppy disks (yes i'm that old).
Anyhow, i can recommend this program.
Cheers, Otto
I use a Digitech's Trio+ pedal powered by Band In A Box. Could I transfer the tracks I'd create on the Mac version to my Digitech pedal with the memory card?
Hi Brice, I don't think you can transfer songs from BIAB to your Digitech Trio+. I'm not completely sure though, best check with Digitech support. The Trio+ uses BIAB styles, but the software version of BIAB can do a lot more compared to the Trio pedal.
Mmmm sounds like not only a great practice tool but also a good recording tool for originals.. I will be getting this in the near future!
Chet, not really for "recording"; arranging, yes. But, that said, you can create a rhythm track them import into a DAW where you record your instrument (guitar) and vocals. I used Band-in-a-Box just last week to play a 30 minute set of Christmas Music for an outdoor event. So much more interesting than just me on guitar.
Is this a downloadable program like Transcribe or do we receive hardcopies on CD or other media? If downloadable, can we use it on multiple PCs, e.g. office desktop and practice room laptop?
Hi, what a impressive program! it is possible to print a realbook like score sheet? and the most important to me, there is some samba jazz soloist realtrack available with some example on line?
Hi Hector, yes, you can print out Realbook-like lead sheets. There are several Latin-style Realtracks included, such as samba and bossa.
Painful to know that machines do far better than me, even form a creativity point of view.
Also a bit like the race between "The Hare and the Hedgehog".
C'est vrai
Band in a Box est le meilleur logiciel pour les musiciens car il sait tout faire
Bravo et merci à PG Music