Introduction to Jazz Blues Guitar Volume 1 + 2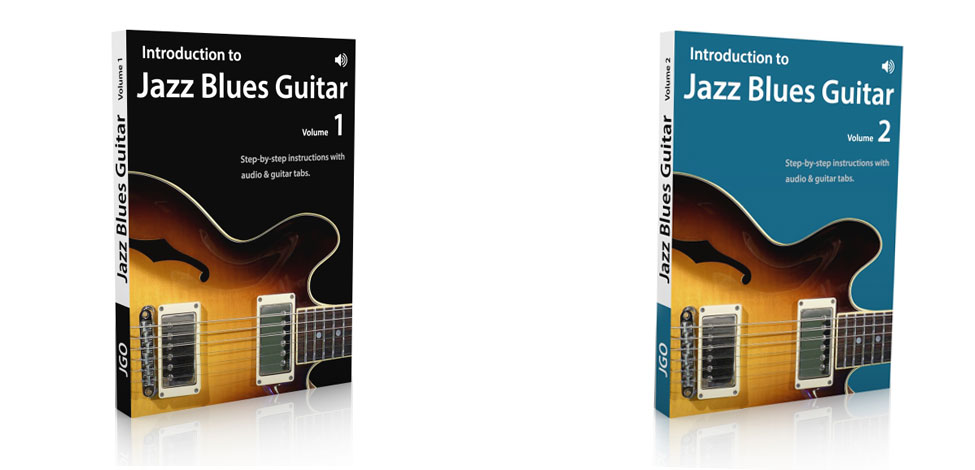 Save 25% when you buy both Volume 1 and 2!


Price: $29.99 (regular price: $39.98)
With the Jazz Blues Guitar Volume 1 and 2 eBooks, you get everything you need to take you from day 1 of your jazz blues study all the way to an advanced level of performance.
If you want to take your jazz blues comping and soloing to the next level, or just raise your overall jazz guitar game, then these two eBooks are just what you need.
Take advantage of this one low price to add two great books to your jazz guitar library.
What Will You Learn?
Play chord comping, soloing, and walking bass studies over every jazz blues variation.
How to play single-note and chord licks in the style of legendary jazz guitarists such as Pat Metheny, Pat Martino, Joe Pass, Charlie Christian, and others.
How to play chords and chord licks in the style of Freddie Green, Joe Pass, Lenny Breau and Ed Bickert.
Learn how to play jazz blues and all variations, such as minor blues, Bird blues, blues with a bridge, and more.
Play all of the scales in multiple fingerings needed to outline any chord in the jazz blues progression, including pentatonic and blues scales, Mixolydian modes, bebop scales and the 7b9b13 scale.
All arpeggios for each chord in the jazz blues, as well as commonly used bebop arpeggio vocabulary taken from the solos of jazz giants such as Charlie Parker and John Coltrane.
Master jazz blues chord subs, including Coltrane subs, tritone subs, whole-tone subs, and many more.
Learn full solo studies in the style of Grant Green, Kurt Rosenwinkel, Wes Montgomery, Johnny Smith, and others.
Play licks and solos in the style of your favorite players such as Joe Pass, Wes Montgomery, Kenny Burrell and more.
And much more...
What Will You Get?
Two full eBooks with over 450 pages of learning material.
More than 280 audio examples for easy home study.
All examples are shown in standard notation as well as guitar tabs.
Over 80 backing tracks to jam along to in your practice room.
Printable PDF file for each book, ability to view book on your computer, tablet, and phone with one purchase.
And more
Click here to continue:

Comments (22)
These EBooks are very interesting and complete. I recommande them to all the guitar players that want improve their knoledges in blues and jazz guitar stile.
Very good introduction, will help me a lot. I just need to find the time and motivation to take it all in, but it's all there. Thank you for a very good deal
Great Stuff . . .

I bought both Volumes together at terrific price 2 1/2 weeks ago. There is a great deal of information to digest so I'm taking the books in with small bite sized portions. These books will provide an encyclopedic jazz reference for years to come at my fingertips for me. The pdf format allows me to add my own notes and comments as I continue my journey into jazz learning. The jazz artist links are better than a bibliography reference. I may not be purchasing many CD's, but I can always find less expensive offerings from the original artists. Got to go now and practice . . .

Keep Calm and Play Music,
Jon
So far so good! Reinforcing the basics for me and also launching into new territory. The price was right!
Very clear, well organized, useful examples and graphics; very recommendable; much more than just value for money.
Anyone familiar with the present cost of guitar lessons will appreciate the wide swath of coverage offered in these two volumes. The material offers vast time-saving techniques for learning. Pick up the important stuff, like which notes to leave out of extended chords, why arpeggios are so important for learning the fretboard, etc. etc. Well worth the price of admission, and presented clearly, with few ambiguities. You need only the most basic knowledge of theory to really capitalize on the progression from simple ideas to fairly esoteric nuance. Highly recommended !
Great job ! You gave me a lot for such à fair price. Simple and effective ways to consolidate what I knew and the same for all the fun stuff I now understand for the first time after years of "mysteries"... I am really happy !
Any material from Matt & Dirk is exceptional. My only regret is that I didn't discover them sooner. I just need to transfer the lessons out through my little deluxe reverb! Thanks again for your generosity in sharing your brilliance.
The book helped me to achieve the next level in playing. Being fed up with only playing the pentatonic I learned from the book how to play closer to the harmonics. Great stuff!
Hi,I'm Jorge, from Spain, I bought this book few weeks ago. It's really great and very progresive; but i have two things to say: Why the progression it´s ii-v-i-vi and no i-vi-ii-v? and other thing, in my book, in the section maj7 arpeggios shapes missing one shape on 12 fret with second finger no?. Good work!!!
Thanks for checking out the book. ii-V-I-VI is a very common progression, like I-VI-ii-V. If you want to apply the material to that progression, just start on the I and work around that way.
We will look into the fingering issue and send out an update if needed. Thanks!
The book is great but any advices about the way to fingering the arpeggios? For instance, is using barré a good idea. Kind regards.
Thanks. You can use any fingerings that are comfortable, and barres are always good if you can use them.