Modern Time - Guide To Jazz Guitar Rhythm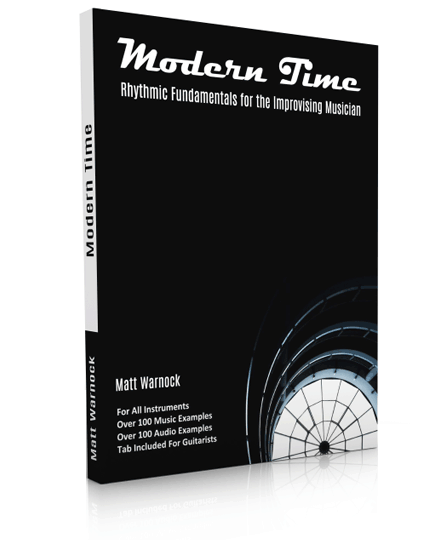 eBook (printable) | 125 pages | tabs, notation, audio & backing tracks | Instant delivery by email. Works on all devices, including desktops, laptops, tablets, mobile phones, Apple, Linux, and Android.
There are three main elements of music which form the foundation of modern music, including jazz: harmony, melody and rhythm. As a test, ask yourself, what order do you place these items in the practice room?
When I ask this question to my private students and in clinics, the answer is always the same.
When I ask this question to my private students and in clinics, the answer is always the same.
Now ask yourself, "Is this the best order or material to get the most out of your practicing?"
After teaching jazz guitar for over 20 years, I've realized that many players struggle with fundamental time and rhythm issues. They understand harmonic and melodic material, but they lack the same control when it comes to rhythms and rhythmic ideas in their playing.
For these reasons, I've maintained a thorough focus on rhythmic material with my students during this time period. This has produced visible results in their technique, practicing and performing. After teaching these concepts privately for almost 20 years, I'm sharing this material with you for the first time with the Modern Time eBook.
With the Modern Time eBook You Get:
Modern Time Chapter Topics:
Download Your eBook Today:
Comments (4)
Hey, we are getting all this great free stuff for a while now. Buy the book. Help support a great effort!
So far I like it. I was brought up on classical music: my understanding of notation is clearly different to that of whoever wrote out the licks! I suspect they are notated so as to get the idea across as simply as possible. I tried playing them first and then listening to the audio example and thinking the player has taken great liberties with the timing!I would rather like this in hard copy. Sitting up to my computer (although it is hooked up to a stereo with a decent pair of bookshelf speakers), with a parlour sized acoustic on my lap is OK, but I feel tied to the PC, and I'd rather go downstairs to plug my jazzbox into a practice amp and put the book on a music stand.Despite the practical thing, I would recommend this course.
This is a terrific book by one of the best teachers I know, on one of the most important and often overlooked elements of jazz improvisation – rhythm! Matt takes you on a well organized journey right from the most fundamental rhythmic concepts through advanced rhythms and concepts that are the heart of improvised music today. An absolutely essential book to check out.