Anatomy of a Lick - Essential Jazz Guitar Lines

6 PDF eBooks (printable) | 250 pages in total | tabs, notation, audio & backing tracks | Instant delivery by email | Works on all devices, including desktops, laptops, tablets, mobile phones, Apple, Linux, and Android | Download a sample from Essential Jazz Guitar Lines
One of the most important aspects of a successful practice routine is studying classic jazz lines and phrases.While learning licks will get those lines under your fingers, many books fall flat but stopping there with their explanation of jazz phrases.
To get the most out of your jazz vocabulary study, you need to understand not only what notes are being played, but why they sound the way they do. This allows you to get into the minds of legendary jazz improvisers, as well as build your own great-sounding lines in real time.
The Essential Jazz Lines book series teaches you just that, classic licks and every concept used to build those lines on the guitar.

Price: $35 (regular price: $59.99)
What will you learn with the Essential Lines eBooks?
Jazz lines in the style of legendary guitarists: Joe Pass,Wes Montgomery, Barney
Kessel, Pat Martino, George Benson & Pat Metheny.
Musical concepts broken down from each line, so you understand how to make
your own lines.
How to effectively practice each lick and get the most out of your time.
How to learn each concept taken from these phrases.
A solo that uses the concepts from each line.
And much more…
What you get with the Essential Lines eBooks:
6 eBooks in PDF format (250 pages in total).
All material presented in tab, notation, and audio.
Backing tracks for easy and engaging study.
Easy to follow theory for each concept.
Practice guides on how to learn and apply each lick.
More than enough material to keep you practicing for months.
Here's an overview of each eBook:
Volume 1 - Joe Pass Blues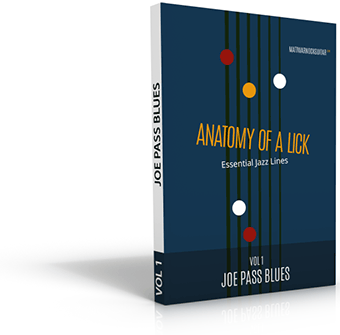 Concepts Covered in This eBook:
Diatonic 3rds
Diatonic Triad Inversions
Mixed Blues and Mixolydian Scales
Dominant Bebop Scale
1235 Patterns
Joe Pass Jazz Blues Solo
Volume 2 - Wes Montgomery ii V I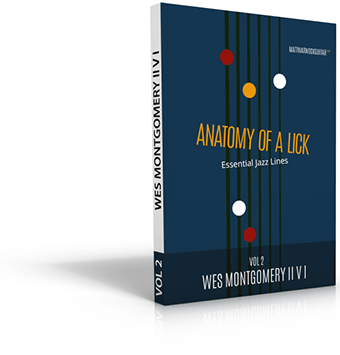 Concepts Covered in This eBook:
Approach Notes
Descending 3rds
Double Time Dorian Modes
Mixed Blues and Major Scales
Dominant and Major Bebop Scales
Secondary Dominant Subs
Bebop Diversion
Voice Leading
Blue Bossa Solo
Volume 3 - Barney Kessel Bebop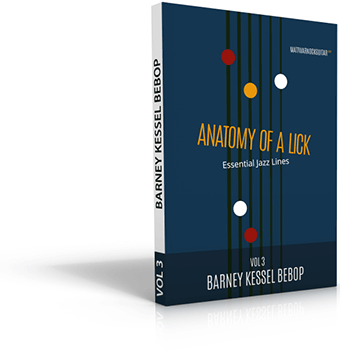 Concepts Covered in This eBook:
3 to 9 Arpeggios
Scale Patterns
Honeysuckle Rose Lick
V7#5 Colors
Guide Tones
Arpeggio Color Tones
Take the A Train Solo
Volume 4 – Pat Martino Minor ii V i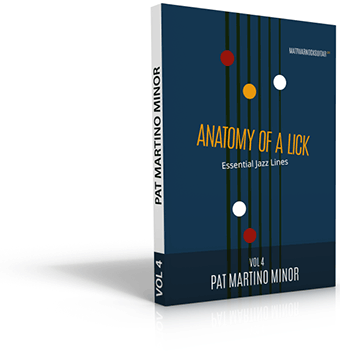 Concepts Covered in This eBook:
Locrian Mode
V7alt over iim7b5 Sub
3 to 9 Arpeggios
Altered Scale
Augmented Triads
Melodic Minor Scale
Dorian Scale
Mixed Minor Scale
Minor Blues Solo
Volume 5 – George Benson Modal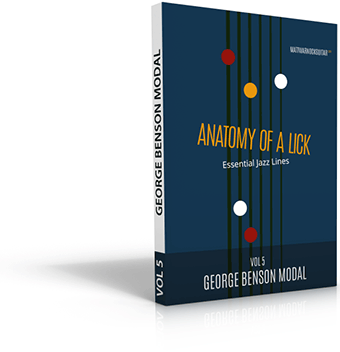 Concepts Covered in This eBook:
Chromatic Arpeggios
Rhythmic Motives
Minor Bebop Scale
Enclosures
Arpeggio Patterns
Double Time Rhythm
So What Benson Solo
Volume 6 – Pat Metheny Outside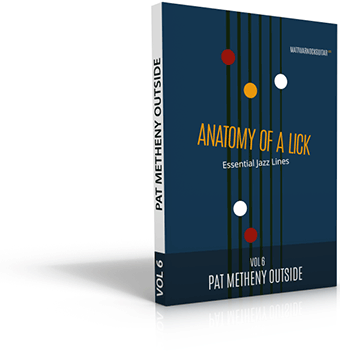 Concepts Covered in This eBook:
Side Stepping
Blues Notes
Passing Tones
Descending 3rds
Lydian Mode
Melodic Minor Scale
Diminished Scale
Autumn Leaves Metheny Solo
Click here to continue:

Price: $35 (regular price: $59.99)

Comments (3)
I have purchased all six of these books (anatomy of a lick). They contain excellent material. I eagerly await the next volume becoming available.
Many thanks to Matt for his work in putting these together.
Great, I purchased and downloaded ebook few minutes ago. I have many Matt's ebook. They all helped a me lot to understand and play this beautiful and difficult music called Jazz. And my number one is Wes! (very good also the ebook about wes'style and books about jazz blues, I have all two!). Greetings from Italy!
This is a great well written study on a Joe Pass lick. What I really like is that Matt explains and gets you practicing all the elements of it, so here you are working through triads, blues scales, scale patterns, enclosures etc. And really in-depth, so that you can fully integrate this to expand your own playing. If you're like me and want to practice different elements of jazz in an accessible and organic way this really works!