The Easy Guide to Jazz Guitar Arpeggios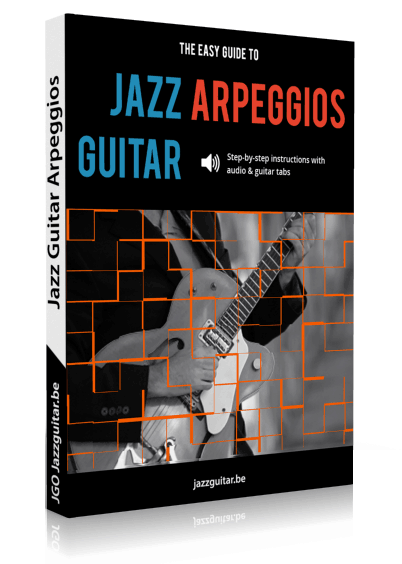 eBook (printable) | 182 pages | tabs, notation, audio & backing tracks | Instant delivery by email. Works on all devices, including desktops, laptops, tablets, mobile phones, Apple, Linux, and Android.
Do you get the feeling sometimes that a lot of your guitar solos sound alike and that you keep playing the same things over and over? Arpeggios are the solution to your problem...
A big part of learning how to play jazz guitar is learning to "play the changes". While learning scales is one avenue to explore playing changes, the most direct way to outline any chord in your soloing is to use arpeggios in your lines.
The Easy Guide to Jazz Guitar Arpeggios is a step-by-step approach that teaches you the fingerings, knowledge, exercises, and common phrases, you need to confidently solo over any set of jazz chord changes.
Save 30% and get this eBook in our Easy Guide to Jazz Guitar bundle
A big part of learning how to play jazz guitar is learning to "play the changes". While learning scales is one avenue to explore playing changes, the most direct way to outline any chord in your soloing is to use arpeggios in your lines.
The Easy Guide to Jazz Guitar Arpeggios is a step-by-step approach that teaches you the fingerings, knowledge, exercises, and common phrases, you need to confidently solo over any set of jazz chord changes.
Save 30% and get this eBook in our Easy Guide to Jazz Guitar bundle
What You Will Learn in The Easy Guide to Jazz Guitar Arpeggios
With The Easy Guide to Jazz Guitar Arpeggios You Get
If you want to improve your jazz guitar solos, then download the Easy Guide to Jazz Guitar Arpeggios and get started today:
Comments (56)
Topic:
The Easy Guide to Jazz Guitar Arpeggios eBook
P.C.
I have over a dozen books and DVD's on jazz theory, and Matt and Dirk's method is as good as it gets. Since retirement, I have devoted a lot of time to jazz music theory, but became bogged down and frustrated at my lack of progress and originality at improvisation. I can now acknowledge the important connection between chord shapes and scales when soloing, thanks to your easy to follow lessons, and excellent examples, and backing tracks.
This book is really helpful to fully understand chord arpeggios and at this price. WOW! Thanks alot guys
Very easy..Perfect for beginners and intermediate. I recommade the method for every people fond of jazz guitar
This book is an excellent source of information. It provides a nice and clear guide on the subject, plus it has some lick exercises too! As an almost intermediate jazz player, learning those arpeggios have helped me make a more fluent and meaningful improvisation.
I just can say thanks for the book! Excellent material!
I bought this book some months ago, but started to read couple weeks ago. Seems a very very instructive book, in a easy language, very easy to understand. Great job!
It's the first ebook I studied for the first to the last page. Very well written, great exercices. I recommend !
Great in depth guide to the application of arpeggios. This book opens up the players imagination to the myriad of possibilities of using arpeggios in a Jazz setting.
One of my favorite books . I am working through the lessons and really feel this could be the answer to my success . There was a lot of thought put into these lessons and I will do my best to complete the course thanks again. Ken
I've worked through this book and I've found it to be very helpful. I will be referring to it often over the next few months! It gives me much to work with as I expand it in other keys!
I'm very pleased with this ebook. I'm working through it and find it very encouraging. Thanks, guys.

I'm in Canberra Australia.
I have other studies of arpeggios in jazz and I find this one the best by far. Mimi Fox has a great lesson and from what I read is highly touted. It is great information but I find this lesson much more logical in getting arpeggios down from the start and it progresses as it should. This lesson works for beginners and seasoned vets. Much more information about how to use them and the different traditional techniques used by the greats.
I found much useful information in this book. It is the type of lesson I will come back to many times. I find most jazz lessons lacking in any information about right hand technique or the fingering of notes. I have brought this up to other jazz lesson contacts and do not seem to get any comments back.
This ebook is the most interesting approach to arpeggios I have ever seen.. some of the things we come to accidentally here and there, but it's all here.. I like that you distinguished the classical 'arpeggio' to the jazz arpeggio.. I knew there was a difference, but never made the connection.. Opens up new ideas, and shows how to blend closed and open arpeggios.. simply brilliant Matt & Dirk.. brilliant..
Thank you! exactly what I needed.. got a whole new approach to my practice routine now. john petrucci warmups and these.. awesome..
Tonight I'very happy: I'm working two months on this book and I feel I begin to play better. Initially I was sad because arpeggios sounded very mechanical but now I feel I can play them more naturally and melodically. Very happy to have bought this book, thank you matt and dirk, hope we play better!
Hi Adrian. There are no hard copies, but when you purchase the lessons you can access them online or as PDF's which you can print if you wish.
Hi Matt & Dirk,
Great e-book You guys deliver! and the price is right. Because of your work, I am learning to play jazz a little more every time I interact with Jazzguitar.be. More than worth it. Thanks. G.D.
I like lessons of Matt and Dirk. They are informative and useful. The same can be said about their book. It is filled with excellent illustrations and good examples, in tablature and classical music notes. This allows you to see the shape of the chords and fingering options. You build up your dictionary of jazz phrases and can use them in your own solos. Many thanks to the authors. Leonid Ostapenko, Moscow, Russia.
This approach to learning and applying Arpeggios, I find very systematic and that means easy to learn.
There are guidelines for fingerings, but not specific fingerings all the time as there are often more than one or two ways to finger any arpeggio depending on the person playing. Hope that helps.
Do you cover fingerings for different arpeggio inversions, or do you work everything off of root position?
Dirk, as always you are very thorough in your explanations, however I'm not familiar with some of the terms you use for some of the chords.
I think I have to get into theory and relative chords to know more about what is going on here . I know lots of chords and I can put them together,but I need to know more about why substitutions and terms to better understand these lessons,
Thank you,Vinnie
Great resource and excellent value. This is the 'secret' of that jazz sound - arpegs spiced up with accidentals/approach notes etc. Great for fast changes.

Cheers,
Bruce
I bought the book for my son who is studying jazz guitar now. This book clarifies all the things that his teacher has shown him in a very concise place. It's easy to follow and the material you won't find any place else laid out this way. Great job!
The books of Dirk are always clear and clever. Know to play on modal way is important but play in' arpeggio is more important! Wes Montgomery play beautiful arpeggios so.... That' star way
Hi Dirk and Matt,
I was wondering if the samples and backing tracks given inside the ebook are links to webpages or you have thought of a repository from which one can download them - so I could listen to them even offline :) - thank you and keep up the good job !!
I'm very happy with the arpeggios ebook. I'm mostly playing Gypsy Jazz which features a lot of arpeggio work. Fairly comprehensive in the chords it covers. I especially liked the charts showing how to play a given arpeggio over a different chord to get unique sounds. For example playing Gmaj7 over Em7 to get an Em9 sound or Gmaj7 over Cmaj7 to get a Cmaj9#11 sound. Lot's of good info for the price.
Excellent tool and guide for the learning and use of Arpeggios. Really helped connect the dots and a fun way of learning the techniques. Well worth the price.
You've done excellent job so far as I can see/check from your messages & website. Few samples from your book are necessary for the people to realise once more your great job. I've learnt a lot from you. Many thanks!!!
Great, I bought the book yesterday and yesterday evening I began to study. I'm happy, you learn the theory, the forms and immediately you exercise to put them in real practice situations. Well organized and useful, thank!
I bought the E-book yesterday and I've been looking through it today. I decided I wanted to find something that would carry me completely throw the process as I've no idea how to solo! I'm pretty sure this book will cover my questions very well! Thanks for the bargain price too. And the backing tracks will really help learn too.
The best I have bought. Bought it on Wednesday and my improvisational understanding has improved immensely. I'm very pleased with this purchase.
Really enjoying the ebook so far. Understanding how to play the connecting game is real help on the difficult road to intelligent soloing. Thanks for your effort.
Another very good Ebook from the team of Matt & Dirk
thoroughly recommended a useful addition to the library.
I have purchased your previous Ebooks and this latest addition is another extremely useful tool for the aspiring ,and already competent ,Jazz guitarists. It is well written, clearly laid out. and in an easy to understand format in both notation and diagrammatic format. Highly recommended purchase and not expensive.

Well done to Matt and Dirk, another successful Ebook.
This Jazz Arpeggios E Book is a great addition to a players arsenal with very easy to follow diagrams clearly written notation accompanied by excelent audio examples, a 'must have' for the aspiring Jazz Guitar player . Very good value for money. Highly recommended!

Well done to Matt & Dirk for another excellent Ebook!
Just started on the material, but looks very much like what my Jazz lessons covered back 'in the day', only this eBook takes it further.
As far as 'boring up and down' ... these are jazz arpeggios, and how I was originally taught them was to drill on them in all positions and eventually they become second nature and you'll find yourself with 'go-to' patterns.
Great stuff to have under one cover, thanks!
From the very first page this arpeggio e-book makes learning super easy; breaking down each arpeggio shape with clear discriptions, diagrams, example audio and backing tracks to play over.
Super good value for money, I would have paid thrice the asking price.
Dave, Birmingham UK
Can anyone tell me what the spelling of this chord: VI7b9, is in plain English? :) I'm having a hard time pronouncing it.
In future books, it might be helpful to write out plain English spellings in parenthesis when first introducing the chord/arp.
Enjoying the book!!
Hi Ryan,
The Roman numeral "VI" is the degree of the scale the chord is based on. In this case it is 6 or chord six in any major key. For example in Cmaj chord six is A minor. In this case it is written in capitals and with a 7b9 so we assume it it is a Dominant 7 chord with a flattened 9th above it.
Spelled : A, C#, E, G, Bb  (1 3 5 7 b9)

There are unfortunately a lot of ways to describe music theory and so it can be confusing. Bear in mind it is useful to understand this stuff but not essential to playing great jazz guitar :)
I have bought the Wes and jazz blues books,and i can not be happier
A preview of this one would be great.

What about the jazz blues book part 2?

salutes from Spain
Don't publish this if you want. I want to thank you for your kindness! You are great, tomorrow I'll buy the book for sure!
I bought your Jazz Blues and Montgomery books, great, they changed my playng very well. Is this book a boring up and down exercise book or is it a sistematic and creative way to learn arpeggios? I found always very difficult arpeggio playing, and I would like to learn to use them!
Thanks for buying the books. This book is designed to teach practical, musical, and fun ways to learn and apply arpeggios. hope that helps.
Does this book show the use of arpeggios in common gypsy jazz tunes or address their use in that style? Can you tell us some of the songs that are demonstrated?
The arpeggios are demonstrated over common chords and chord progressions, used in all styles of jazz, as well as over blues, rhythm changes, and Autumn Leaves. We've kept it as open as possible so you can apply the material to any style or genre of jazz you enjoy.
What software do I need to play it on a Mac?
Are there arpeggios for ordinary major and minor chords?
You can open the pdf in Preview on any Mac. If you have an older iOS, sometimes preview will stop working. if that happens you can download Adobe Reader, a free software program that reads pdf files.