Blues Guitar Soloing Bundle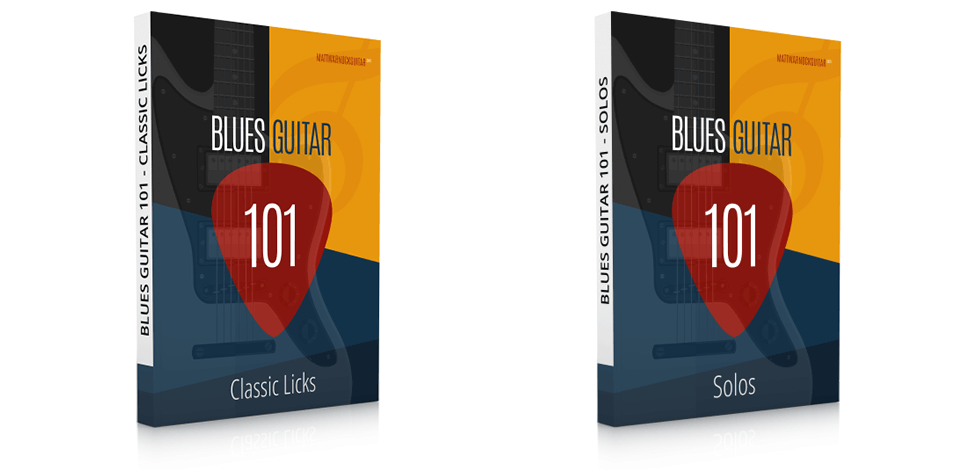 Save 25% when you buy both Blues 101 - Classic Licks and Blues 101 - Solos!


Price: $14.99 (regular price: $19.98)
I think you will agree that learning licks, riffs, and soloing are an essential (and fun) part of playing blues guitar. Whether it's Stevie Ray Vaughan on Lenny, Albert King on Born Under a Bad Sign, or B.B. King on Every Day I Have the Blues, blues guitar solos are infectious.
Besides being fun to play at home, blues soloing is an essential skill if you want to jam in a blues band.
Rhythm guitar is a big part of the blues, but the best rhythm player still needs to hold down a solo when needed, and this is where soloing skills are essential.
While you may love listening to blues lead guitarists, you may not know where to start. That's where this two-book package helps you reach your musical goals.
The focus of these books is the blues scales, arpeggios, and concepts you hear on your favorite blues recordings.
But, there are also rhythms, full solos , and more thrown in for good measure.
Why put off mastering blues guitar soloing any longer?
Grab a copy of this two-book blues guitar package today, crank up your amp, and be on your way to playing killer blues guitar solos in no time.
Download a sample PDF from Blues 101 - Classic Licks
Download a sample PDF from Blues 101 - Solos
What You Learn With This Bundle?
All the essential major and minor blues scale shapes you need for your solos.
Dominant 7th and 13th arpeggios, licks, and solos to bring variety.
Minor blues licks and full solos.
Major blues licks and full solos.
Jazz blues licks
Blues rock licks
Full blues guitar solos in multiple keys.
Blues phrasing concepts
Blues chords for soloing
Call and response concepts
Repeating note concepts
Essential blues rhythms
And more...
Learn Lines and Solos by These Legends
Albert King
Albert Collins
B.B. King
Joe Bonamassa
Muddy Waters
Stevie Ray Vaughan
And more...
What You Get With This Bundle?
Two full eBooks with over 173 pages of learning material.
Audio examples for easy home study.
Backing tracks of various keys and tempos to jam with.
Printable PDF file for each book, ability to view book on your computer, tablet, and phone with one purchase.
And more...
With the Blues Guitar Soloing eBooks you get everything you need to take you from day 1 of your blues soloing study all the way to being able to play a blues lead guitar gig.
If you want to take your blues soloing chops to the next level, or raise your overall blues guitar skillset, then these two eBooks are exactly what you need.
Take advantage of this one low price to add two essential books to your blues guitar library: