30 Days to Better Jazz Guitar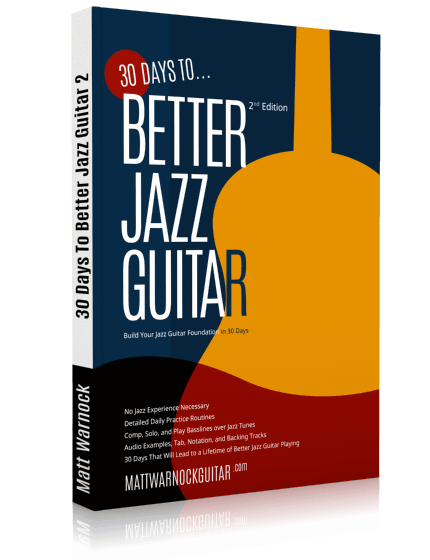 eBook (printable) | 171 pages | tabs, notation, audio & backing tracks | Instant delivery by email. Works on all devices, including desktops, laptops, tablets, mobile phones, Apple, Linux, and Android.
Learning how to play Jazz guitar can often seem like a difficult task, to say the least. On top of that, there are endless lessons, DVDs, books, and more to sort through.
For many players, the hardest part about learning jazz guitar is knowing where to start. If you're unsure of where to begin, or are overwhelmed with the amount of material out there, then this eBook is exactly what you're looking for.
For many players, the hardest part about learning jazz guitar is knowing where to start. If you're unsure of where to begin, or are overwhelmed with the amount of material out there, then this eBook is exactly what you're looking for.
With 30 Days to Better Jazz Guitar You Will Learn How to:
30 Days to Better Jazz Guitar is Three Books in One
Not only will this eBook teach you the skills needed to excel as a jazz guitarist, it'll provide benefits for guitarists of all levels. Each day has 3 levels of exercises, laid out as Stage 1, Stage 2, and Stage 3.
Here's a breakdown of those three levels, which combined give you 3 different learning experiences:
Stage 1 Exercises
All of the concepts and exercises in Stage 1 are written and designed to help players that:
Have no Jazz guitar experience before today.
Have played other styles of guitar for 1 year or more.
Have learned basic techniques such as barre chords and blues scales.
Have some or no knowledge of music theory.
Have the desire to be able to play authentic sounding jazz guitar.
Stage 2 Exercises
The second group of exercises are written for players that:
Have studied Jazz guitar for at least 1-6 months.
Have learned to play beginner jazz chords, scales, and arpeggios.
Have a bit of music theory knowledge.
Have worked through the Stage 1 exercises.
Have the ambition to become a better jazz guitarist.
Stage 3 Exercises
The upper level practice material is designed for players that:
Have been playing Jazz guitar for 6 months or more.
Have learned to play some jazz scales, chords, and arpeggios.
Have studied key changes, modes, and chordal extensions.
Have worked through all of the Stage 1 and 2 exercises.
Have the drive to take their jazz guitar skills to the next level.
Download your eBook today:
Comments (46)
Topic:
30 Days to Better Jazz Guitar eBook
I have been working away at it, and have learned a lot. It is very helpful to help give some direction to my practicing. It's been a great kick start for my beginning level, giving some sense of progress.
The course is very systematic and in a good pace. Everything is explained. It is exactly the book I needed to get any further. I use it every day. Thank you!
I have done the 30days. Like what the page described, you can find tremendous amount of materials in the internet, no doubt but the issue, its just too much. This book tells you how to start in an organized way.
Perfect for newbies and I think its a good book to intermediate player as well because it documented the 'standard' of how jazz being constructed. Not only learning from the internet piece by piece, it helps you to understand why people improvise from these fingerings, whats the tension behind, etc.

Absolutely worth the money. One comment maybe I need more licks and examples, maybe you can demonstrate a song and explain how we can relate these concepts? This is awesome.
This is a great book. The material and layout is comfortable to work with and the content and subject matter presented will improve your playing and understanding of jazz.

One improvement I'd like to see is that the contents page be revised with links so that you can click straight through to Day 16 (for example).
Other than that, great value for money and the backing tracks are a real bonus.
One of the best instructional books that I have tried so far. The structure is excellent taking a step by step approach and providing clear examples to follow and adapt. Thanks!
This is just what I needed a structured approach to learning Jazz Guitar, clear instruction and audio examples every step of the way.
I never managed to get hold of book 1 but this looks a very well structured and put together book for anyone that has an interest in jazz guitar and its not very complicated like some other books that just put you off trying to learn the style and get motivated. Great book
"Yes" and "me too" to all the positive comments.
Coming from a folk and classical guitar background there are moments when I feel at a bit of a disadvantage with a nylon string instrument and playing using my fingers. Anything above 12th fret is a challenge to get clean tone, so I would have preferred to start somewhere in the middle of the fretboard rather than launching straight into 13th fret in Exercise 1.
The 30 Day Book is one of the best I've seen in communicating the material. It is really well organized and structured which helps my learning and understanding. I've doing one lesson a week and I'm really enjoying what I'm learning. Matt and Dirk have the best online jazz guitar training materials I've seen anywhere on the Internet. Thank you for another outstanding product. I recommend this book to anyone wanting to learn more about jazz guitar. It's been especially helpful to me coming from a rock and blues guitar background with not much music theory. Thank you.
Excellent, clear experience work for daily practice, be sure i need more then 30 days to practice the exercises in all keys, but it is a good training and investment for the future in playing jazz, thank you for this book.
Dirk,

I just received the book and went through 6-days of instruction. Great stuff! It has improved my understanding of jazz theory and helped me become more competent as a guitar player. Can't wait to get to the rest of it.

Steve
I love the material in this book. It is like all the material on this site: first rate, well presented, and will definitely take you to the next level in your playing.
Hi Dirk, Very much like the book and working through it slowly. I think the 30 days is optimistic!!

On the one had 30 days brings some hope but on the other hand the 3 levels I found a bit dispiriting ... I'm working on a book on the guitar tuined in 5ths - low - CGDAEB -high- so am finding your book an inspiration. However I'm doing 3 versions, one for each Stage to avoid putting off beginners.

Thanks again for a thorough and practical approach at a fair price.

Brian
I found this book very clear and easy to follow; I'm still hacking my way, as I'm self taught on guitar (my second instrument) but that is no reflection on the high quality of the material or its structure.
Just started this ebook, but so far very impressed. Simple, methodical approach to gradually building jazz guitar smarts. Really good teaching approach.
I've never seen a book structured this way...with three levels available to the student. It works for me, and the lesson content is well thought out, as are all of Dirk's lessons that I have seen. I probably have more than a hundred guitar books purchased over many years, and all have limitations, often severe. This one is a keeper.
I'm a newbie to jazz but I learn a lot already!

It has helped me to add structure to my solos. The only problem I had was downloading to iPhone so I can study anywhere.
Well, first of all, I am not a guitar player. I play bass and piano. However, I find these exercises extremely useful. They can be used to train either my piano or bass students. Melodic lines are also very good, I use them as a "seed" for either riffing or improvising or even (after a slight revision) to construct somewhat elaborate walking bass lines.

All in all, I am very satisfied with the entire package!
This book is very focused and I like the fact that it has 3 levels of ability. This enables you come in at your level and then progress. I highly recommend this book and particularly agree with comments others have made ie I wish I'd had this book years ago.
This is a great learning tool! I love the backing tracks and have been trying the new patterns and ideas all weekend. Looking forward to day 3!
The book is perfectly fine! Especially how to make guitar licks with the bebop language, is an instructive chapter for most players.
30 Days to Better Jazz Guitar is a fantastic series of lessons, expertly put together, that any guitarist can benefit from.

Jazz and more specifically Jazz improvisation can quickly become an overly complex and frankly daunting subject, that if explained in the wrong way , can put players off for life. No problem of that here. Each area of study is engaging and arranged in such a way that player progression and enjoyment are unavoidable.

Congratulations and many thanks.
I`m missing a section specific for the II-V-I and what scales to be used and a bit of explanation about how to survive chord changes. For the rest, the book is good!
I am afraid that I am not as quick in learning as all of you boys & girls, but "30 Days to Better Jazz Guitar" is definitely become the reference to learning to play guitar, at least for this old rocker!
The book is most useful and I strongly suggest it to both beginners and professionals. 30 day is too much, once you have it in your hands you don't let go.
I Wish I had this years ago its the best laid out easy to understand and so much easy ways to express yourself ways to play. Gives you a great foundation for developing your Jazz. Matt is a great teacher and knows how to make you successful. Thank you so much its going to be very hard to top this one Matt. Thanks Ken
Utilissimo libro che progressivamente conduce l'allievo a notevoli risultati. Ogni paragrafo è ben strutturato e di facile comprensione, complimenti Mister Matt.

(Very useful book that gradually leads the student to remarkable results. Each section is well structured and easy to understand, compliments)
I completely agree with the positive comments here. I have the first edition also and this latest is a worthy successor.Well thought out and written and
an absolute bargain at this asking price. A very useful tool in the armoury for those of us who haven't yet achieved Wes' status or competency.
Hi guys.

This is a winner. I find that it forced me to concentrate on one concept at a time in my practice routine and although I am only on day 6 I can see a marked improvement in my own playing. I ended up jamming over Summertime (and many other pieces) for about three hours yesterday. Now for day 7. Great stuff.
Hi George. Yes it is a totally new book. Please check your email as there is a coupon going out today or tomorrow for people who bought the first edition. If you don't get that email us and we'll get the coupon to you that way. Cheers.
Matt is an outstanding teacher and "30 Days to Better Jazz Guitar" is a great guide to a difficult study.
Awesome!!!
Even if a person learn all there is to learn in this guide (and there is a lot to learn). You'll still return to this guide as a reference.
Excellent book. Wish I'd gotten it sooner. Don't know about the 30 days bit tho. In my case it should state "sooner or later" :-)
As a newcomer to the guitar, I found this book to be first class. The lessons are really well done and very motivating. A big thank you to Matt.
This book contains so much great information. The lessons are so well done - easy to understand and comprehensive. Matt is a proven teacher and great player who has helped so many guitarists over the years.
I like the layout and the explanations of the techniques used. I can also do it all in my own time, no pressure.