Gypsy jazz guitarist Stochelo Rosenberg is the lead guitarist of the Rosenberg Trio. He started playing guitar when he was 10 and was taught by his father and uncle. Stochelo formed a band with his cousins and won several contests when he was young.
Stochelo's musical hero is of course Django Reinhardt and his favorite composition to play is Nuages.

Stochelo plays on a Selmer guitar, a typical guitar for gypsy jazz. The serial number of his guitar is 504. Django Reinhardt played the same model of guitar with serial number 503.He received a golden guitar from the magazine Guitarist in 1992.
Recommended listening: Live at the North Sea Jazz Festival
Major Lick
Stochelo plays this lick on 'How Insensitive', the beautiful Antonio Carlos Jobim composition.

The lick consists of a series of arpeggio's: he starts of with a Dm7 arpeggio (a common substitute for Bbmaj7) and continues with a Bbmaj7 arpeggio. He anticipates the Ebmaj7 with a Cm7 arpeggio (the VI substitute) and goes on with Ebmaj7 and Eb6 arpeggio's.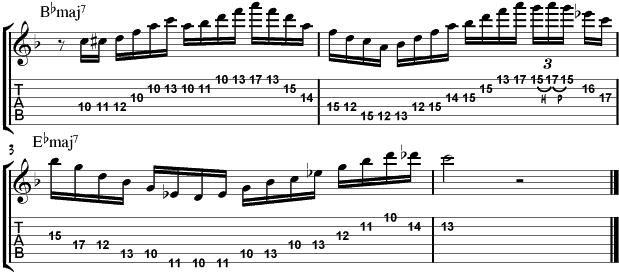 Back to Guitar Licks