Lee Ritenour was born in 1952 In Los Angeles. He is a popular studio musician and session player, starting his first session at the age of 16 for the Mama's and the Papa's.
Since then he has done around 3000 sessions with people like Dizzy Gillespie, Sonny Rollins, Herbie Hancock, Pink Floyd, Sergio Mendes and Steely Dan.
Besides being a studio guitarist he also has an impressive solo career that started in 1976 at the age of 24 with the album First Course and he has since then recorded around 30 albums.
Most of his work is instrumental pop jazz with Brazilian influences.
He is a pioneer of the style called smooth jazz. On guitar his main influences are Wes Montgomery, Barney Kessel en Joe Pass.
His most famous albums include Wes Bound (a tribute to Wes Montgomery), Larry & Lee (a collaboration with Larry Carlton).
His newest project is a DVD called Overtime, a 2 and a half hour long musical overview from his career.
Recommended listening: Wes Bound
Lee Ritenour Licks 1
To begin, let's take a look a a Dm7 Lee Ritenour line that uses the Dorian scale, and a large interval skip to outline the chord change.
Though the line is pretty plain in regards to note choice, the mixure of different rhythms, a tied note, and the large interval skip brings a level of interest to a single-scale line with a typical Ritenour vibe.
Listen & Play

Lee Ritenour Licks 2
Continuing our study of Lee's soloing concepts, here is a diatonic G7 lick that uses repeated notes, repeated two-note patterns, and slurs in a characteristic Ritenour style.
Sometimes repeating notes or two-note groups can be monotonous, but Lee shows here that when used right, these repeated patterns can create energy and drive the line forward in your solos.
Listen & Play

Lee Ritenour Licks 3
This line features two classic Ritenour soloing concepts, repeated rhythmic patterns and diatonic triads.
Here, there is a 3, 8th-note line that when repeated crates a syncopated feel in the phrase. As well, Lee is using Bb and C triads, both from the key, to create the notes in the phrase itself.
Listen & Play

Lee Ritenour Licks 4
Here is an example of Lee using a simple concept, the C major scale, to solo over a minor ii-V-I chord progression in Am.
Sometimes the simplest approach, such as playing C major over a minor chord progression, works the best, as you can see here with the b9 and b13 highlighted over the E7alt chord.
Listen & Play

Lee Ritenour Licks 5
In this last Lee Ritenour lick you will play 3-notes per string, syncopated rhythms in bar 2, and a blues note (b3) in the final measure of this G7 line.
All three of these items are found in many of Lee's licks, and they can be pulled out of this phrase and studied further in order to bring that Ritenour vibe to your jazz guitar solos.
Listen & Play

With a smooth tone and a seemingly endless supply of tasty licks, Lee Ritenour has become not only a guitarists guitarist, but a player that has crossed genres and reached a wide audience during his long and storied career.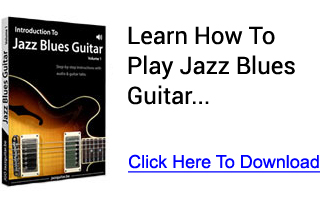 Back to Guitar Licks