Larry Coryell was born 2 april 1943 in Texas and he began playing guitar at the age of 7.
When he was 22 he gave up his studies and moved to New York to be a professional musician.
Later that year he played in drummer Chico Hamilton's band, together with Gabor Szabo, whom he replaced by 1966.
In Chico's band Larry Coryell made his recording debut: The Dealer. In 1967 Larry Coryell started playing in Gary Burton's band and in 1969 he recorded an album with Herbie Mann.In 1973 he started his own band, called Eleventh House.
During the 80s Larry Coryell only played acoustic guitar. He toured with John McLaughlin and Paco De Lucia, before being replaced by Al Di Meola.
Some other musicians he played with during that period: Eric Clapton, Jimi Hendrix, Pat Metheny, John Scofield, John Abercrombie, Larry Carlton, Tony Williams, David Sandborn, Michael Brecker, Sonny Rollins, Stephane Grappelli, Chick Corea, Lyle Mays, Charles Mingus, Charlie Haden, Steve Swallow, Philip Catherine, Emily Remler, Steve Khan and many more.
Larry Coryell's guitar style is very eclectic, drawing influences from rock, blues, country, bebop and more. He has an incredible guitar technique and his sound goes from gentle acoustic to heavy distorted.
Larry Coryell wrote a very interesting instructional guitar book: Larry Coryell's Power Jazz Guitar: Extending Your Creative Reach
Recommended listening: Introducing Eleventh House Featuring Larry Coryell
Larry Coryell Licks 1
This first Larry Coryell lick uses the #7 interval from the D melodic minor scale to solo over a Dm7 chord.
Using melodic minor over m7 chord is not only something Coryell uses in his improvisations, but it is characteristic of many legendary players and so it's worth exploring further in the woodshed.
Listen & Play

Larry Coryell Licks 2
This minor modal lick showcases Coryell's love of slurs, as well as his ability to move down the neck in a horizontal fashion.
As you progress in your study of jazz guitar, you will find that you move horizontally more than you move vertically, as this is the approach many of the great players take in their soloing phrases.
Listen & Play

Larry Coryell Licks 3
Though simple in its construction, here is a fun and cool-sounding ii V I lick that you can study and apply to your soloing.
One thing that many jazz guitar masters excel at is knowing when to be fancy, and when to lay down a diatonic lick, and Coryell knows just when do do this in his playing.
Listen & Play

Larry Coryell Licks 4
In this ii V I Larry Coryell lick, you will see a melodic pattern being played at the start of the line, before being repeated a 1/2 step lower immediately afterwards.
Coryell enjoys working chromatic patterns such as this in his lines, and playing in this pattern-based style is a great way to get a Coryell sound into your solos.
Listen & Play

Larry Coryell Licks 5
The final Larry Coryell lick is a minor ii V I in the key of Cm, which uses some outside triads and an altered scale in its construction.
To great a bit of a V7/V7 sound in the first bar, you can see the D triad used to resolve to G7 in bar 2.
As well, the G altered scale, 7th mode of melodic minor, is used to outline the G7alt chord in that measure, which finally resolves the line over Cm7 in bar 3.
Listen & Play

Though he tends to be a polarizing figure in the world of jazz guitar, as listeners tend to love him or hate his playing, Larry Coryell has recorded countless classic licks that are worth studying in the woodshed.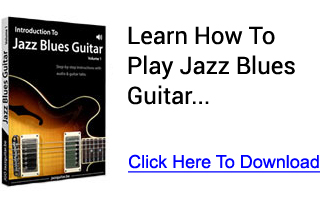 Back to Guitar Licks