Before starting a solo career under his own name, Larry Carlton was widely known as a very successful Los Angeles studio musician.
Some of the people he played with: Steely Dan, Joni Mitchell (on her Court and Spark album), Quincy Jones, Donald Fagen (on his excellent album), Michael Jackson, Steve Lukather, Lee Ritenour and many more.
He also played in the bands Fourplay and The Crusaders.
His most important influences are Wes Montgomery and Barney Kessel, but also B.B. King and Joe Pass.
Recommended listening: Last Nite (live).
Larry Carlton Licks 1
To begin our study of Larry's soloing lines, here is a short Dmaj7 lick featuring both a pulloff and slide.
Larry is a big fan of adding a legato sound to his playing with slurs, and so working these techniques out can help you bring a Carlton vibe to your lines.
Listen & Play

Larry Carlton Licks 2
Here is a short A7 lick that features the major blues scale, which is a major pentatonic scale with an added b3 interval.
Using the major blues scale over 7th chords is not only a characteristic of Larry's soloing lines, but of the fusion genre as a whole.
Listen & Play

Larry Carlton Licks 3
This V7-Imaj7 line in D major uses a number of chromatic passing notes to climb up the fretboard, leading to the climax of the lick on the C# at the end of the 3rd bar.
Add passing tones to your fusion soloing lines will help bring that Carlton vibe to your solos, creating a sense of tension and release at the same time.
Listen & Play

Larry Carlton Licks 4
Here you can hear an example of Larry using the G Bebop Scale over a G7 chord.
The Bebop Scale is built by adding a major 7th interval to the Mixolydian Scale, and it is a great way to bring a sense of chromaticism to your improvised lines and phrases.
Listen & Play

Larry Carlton Licks 5
The final Larry Carlton lick in this lesson features a number of chromatic notes over a G7 chord.
Larry is a master of building tension in his lines using chromatic notes, and you can see him using the #9 (Bb), b9 (Ab), and b13 (Eb) to create a slippery sound over this dominant harmony.
Listen & Play

One of the most successful fusion guitarists of his, or any, generation, Larry Carlton has provided guitarists with a seemingly endless amount of classic lines and phrases to study in the woodshed.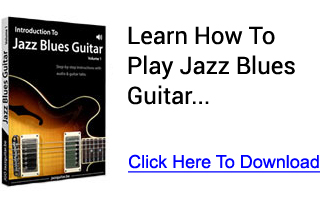 Back to Guitar Licks