Pat Metheny was one of the pioneers of using electronic equipment in his music and until now he's always been looking for innovative instruments. The first ten years of his musical career he wouldn't play anywhere without his guitar rig. He would not play unless he could have is amps and other equipment. That changed when he went on tour in the USSR and had to play on a Polish guitar. When he heard the tape the next day he was surprised that his sound was there, no matter what guitar he played.
Guitars
Gibson ES-175
Pat Metheny used this Gibson ES-175 for almost 20 years. He uses light gauge flatwound D'Addario strings (high E=0.11). To get the dark tone he likes he turns the tone control almost completely off.

This Gibson was very popular amongst jazz musicians, here are some other jazz guitarists that used an ES-175: Wes Montgomery and Pat Martino in their early years, Joe Diorio, Jimmy Raney, Toots Thielemans, Joe Pass, Herb Ellis, Jim Hall and many more.

More information about the Gibson ES-175 Reissue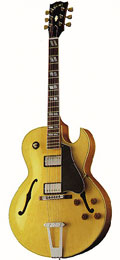 Ibanez PM1000
This is Pat Metheny's signature guitar model, made by Ibanez. He owns a couple of them (modified to his special needs). He started playing Ibanez when his Gibson became a bit too fragile to travel with. The guitar's got only one pickup, but it sounds louder and fatter than the Gibson ones. Pat likes the fact that the tone control is much more responsive: he doesn't have to turn it all the way down to get the sound he likes.

More information about the Ibanez Pat Metheny signature guitar

Linda Manzer Guitars


Luthier Linda Manzer made most of Pat Metheny's guitars in recent years. Linda is a Canadian luthier and met Pat over 20 years ago. She has been building instruments for him ever since. According to Pat one of the reasons he began playing acoustic guitar is because of a 6 string made by Linda (called 'Linda 6' by Pat). The baritone and 12 string guitar Pat plays a lot are also made by Linda.
The 'Linda 6' has got a Takamine pickup.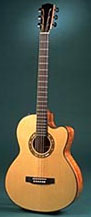 Other Guitars
Guild dreadnaught cutaway (permanently in Nashville tuning)
Ovation nylon guitar
Sadowsky solid body nylon stringed guitar
Coral electric sitar
42-string Pikasso guitar
Guitar Amps
Acoustic 134
Pat Metheny used this amplifier for 20 years, from 1974 to 1994. He describes the sound as flat, kind of midrangy-bright, but mellow and loud without any distortion. Problem was this amp was really noisy and tended to break a lot.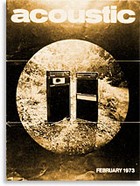 Digitech 2101 GSP Guitar Pre amp
During his Joshua Redman tour Pat realized he finally would have to modernize. He started trying everything and finally settled for the Digitech 2101 GSP pre amp. With this pre amp he could get his sound, reliability and some bells and whistles (mainly programmability).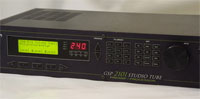 Other Guitar Amps
Ashly Mosfet 200 power amp routed to JBL speakers
Crest 6001 stereo power amp
Guitar Effects
Lexicon Prime Time Digital Delay
The output of the Digitech, just like the Acoustic 134, is connected to 2 Lexicon digital delays, one on his left at 14 Ms and one on his right at 26 Ms. Each delay has a slight pitch bend controlled by a VCO (sine wave), what makes his guitar sound chorused.
It's this 'natural' chorus that Pat is after since he doesn't like chorus coming out of a box.

Roland GR-300
The GR-300 is one of the first guitar synths (1979) and Pat Metheny was one of the first jazz guitarists who used it. According to Pat this guitar synthesizer was the first one that had a musical quality to it, it picks up every detail in terms of attack and dynamics.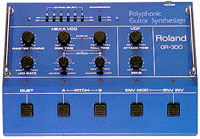 Roland VG-8
The VG-8 is a guitar modeling processor that emulates the sound of popular guitars, amps, mics, etc. It's a combination of a pick-up you install on your guitar and a floorboard. Pat uses it to create synth-type sounds (on Imaginary Day for example).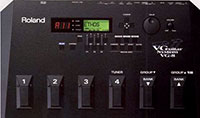 Back to Guitar Gear