This page is about the guitars, amps, effects and other guitar equipment that Bill Frisell likes to use.
Guitars
Klein Electric Guitars
Bill Frisell has 2 Klein electric guitars. The one he uses the most has a chambered spruce body and a rosewood neck. The guitar has 4 pickups: a Seymour Duncan JB pickup in bridge position, a Bartolini 5J floating pickup in the middle, a Telecaster pickup at the neck and a piezo pickup in the bridge. The piezo pickup has a separate output so he can mix 'fuzzed-out' sound with 'almost acoustic' sounds. Bill uses the bridge pickup most of the time with the tone not rolled off.

Bill Frisell uses D'Addario EXL115 strings, amongst other D'Addario strings.
Other guitarists that use Klein guitars: Joni Mitchell, Andy Summers, Stanley Clark and Sting.


Andersen Guitars
Frisell owns 3 guitars built by Steven Andersen. The first one was given to him by cartoonist Gary Larson (The Far Side), for whom he provided the soundtrack for a Far Side television special. He liked the guitar so much that he asked Steven to build a model 17 archtop for him and later a small model 14 archtop for on the road (nicknamed 'Little Archie').
Yanuziello Guitars
Joseph Yanuziello is a luthier based in Toronto. He makes these sort of oddball like electric mandolins. His guitars are based on really cheap guitars from the late 50s or early 60s, like Harmony guitars.
Other guitarists that use Yanuziello Guitars: Lee Alexander (Norah Jones), Kevin Breit (Norah Jones)



Other Guitars
1975 Fender Stratocaster reissue
1974 Fender Telecaster
Gibson SG
Gibson J-45 (1961)
Gibson 446
Collings D-1 dreadnought
Gibson 446 semi–hollow-body electric
Martin mahogany 12-fret 000-15S (with a Seymor Duncan Mag Mic pick up)
J.W. Black-built Jazzmaster with Seymour Duncan P-90
Tacoma Papoose
and many more...
Guitar Amps
Fender Princeton Reverb Amp
This Fender amp is a 22W single-channel tube/valve guitar amplifier combo designed by Paul Rivera. It has a 10 inch speaker.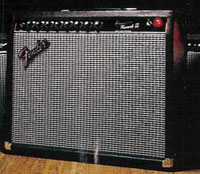 Mesa Boogie Subway Blues
A 20 watt guitar amp with a spring reverb and a 10 inch speaker.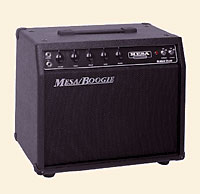 Gibson GA-18 and GA-50
Bill Frisell has 2 Gibson amps from the early 50s: the GA-18 and GA-50. Pictured here is the GA-50, which has 2 speakers, a 12 inch and an 8 inch. Jim Hall used the same amp.
Other Guitar Amps
Mesa Boogie Blue Angel
to amplify his acoustic guitars, Bill uses an external microphone
Guitar Effects
ProCo RAT Distortion Pedal
The RAT is a distortion pedal designed by Scott Richard Burnham who started ProCo in 1975.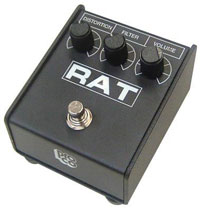 Ibanez Tube Screamer
An overdrive/distortion pedal that allows the true sound of the guitar to come through. The most popular use of a tube screamer is to push a tube amp to make it overdrive more.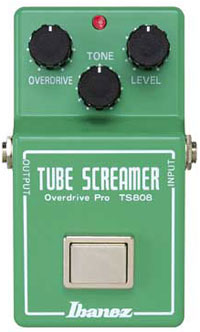 Line 6 Delay Modeler
A digital modeling pedal based on 15 vintage delay and echo effects. Bill uses it for loops and stuff.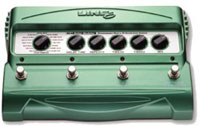 Other Guitar Effects
Volume pedal!
Boss DD1 digital delay pedal (for ambience)
Lexicon MPX-100 (Bill likes to use the reverb of this (cheap) multi-fx processor)
TC electronic compressor
Electro Harmonix 16 second delay
Digitech 8 second delay
Alesis Microverb
Guitar Picks
Bill Frisell uses Gibson flatpicks (teardrop shaped)


Back to Guitar Setup