This page is about Jim Hall's guitar setup. Note that Jim Hall is absolutely not a guitar equipment freak.
Guitars
Gibson ES175
Jim Hall bought this guitar second hand in 1956 from studio guitarist Howard Roberts. In Jim Hall's words: "I love that guitar, even though sometimes I don't touch it for months. It's easy to tune and after having been schlepped around and played for so many years, it's as if it knows just what to do."
He plays the guitar with the tone knob rolled back.
Other guitarists that play a Gibson ES 175: Pat Metheny, Herb Ellis, Kenny Burrell, Derek Bailey, Joe Pass and Wes Montgomery in the early days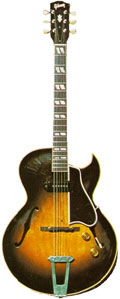 D'Aquisto Guitars
Jim Hall owns two guitars that are handmade by the late luthier Jimmy D'Aquisto.
The electric one is built specifically for him. It's a hollow body guitar with an orange top. Jimmy used Hall's Gibson as a starting point to build this guitar.
The acoustic guitar is the Avant-Garde model.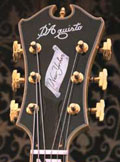 Sadowsky Guitars


Roger Sadowky has been servicing Jim's D'Aquisto guitars for more then 15 years. He got the idea of building a guitar based on Jim's D'Aquisto. After 4 years of prototyping the guitar got approved by Jim, and the Sadowsky Jim Hall signature model was born.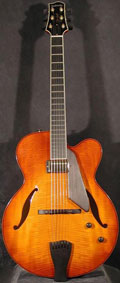 Guitar Strings
Jim Hall plays light gauge, flat wound D'Aquisto guitar strings. Jim's words: "The top string is .011 and the bottom is .050 or perhaps a little heavier. I usually use a .022 for the third string, but I also use an unwound .019 so that I can bend it a bit to sound like a horn."
More recently Jim Hall has been endorsing Sadowsky flatwounds: 11-50 with a .018 plain G string.
Guitar Amps
Gibson GA50 Tube Amp
This Gibson amp has 2 speakers, a 12 inch and an 8 inch.
Jim Hall's words: "I used a Gibson, I actually remember the number, it was a GA50. I love the sound of tube amps in general. I don't know, I may have been able to get used to a Fender but there was something about the subtlety of that amp that I liked. I liked the way it looked, like an old radio."
Jim used this amp for several years, but it eventually became too fragile to take on the road. Since then he's been trying to get as close to the sound of the GA50 as possible.
Polytone Mini-Brute Amplifier
Jim Hall owns a couple of these and uses them at local gigs.
Polytone is a company started in 1968 by Tommy Gumina, a jazz performer himself.
Other guitar players using polytone amps: Herb Ellis, Joe Pass, George Benson and Peter Leich.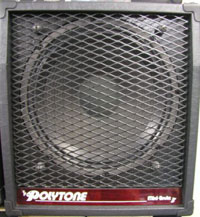 Other Guitar Amps
Walter Woods amplifier
Harry Kolbe GP-1 pre-amp and speaker cabinet
whatever a concert promoter gives him
Guitar Effects
Jim Hall has been known to use an effect pedal, but he's absolutely not a frequent user.

Back to Guitar Setup