To embellish his big, smooth rhythmic sound, Freddie Green used the biggest jazz archtops like the Epiphone Emperor and Stromberg Master 400.
These totally acoustic guitars and their large body frames provided a "big", resonant tonality and surprisingly loud volume for an unamplified guitar. Setting his strings very high, Freddie was able to produce robust rhythmic textures unprecedented in the history of jazz guitar. Of course, that setup was not user friendly toward single line soloing, but Green knew it was the best configuration for his specific style and approach to rhythm chords and big band guitar.
Excluding his very transient excursion into amplified guitar during the late 40s, Green stayed with his tried and true format of big, acoustic archtop guitars and never wavered from it again.
Guitars
Epiphone Emperor
The acoustic version of the Epiphone Emperor was available since 1936, in 1951 an electric version followed.
The Emperor was the most expensive Epiphone guitar and was one of the guitars kept in production after Gibson bought Epiphone.
Freddie Green played a sunburst Emperor until about 1940.
Epiphone stopped making the Emporer after 1957. Later other (electric) Emperor models were produced (the Joe Pass Emperor for example), but they had little to see with the original acoustic Emperor.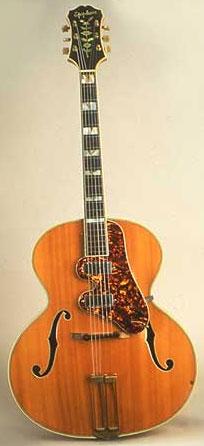 Stromberg Master 300 & 400
During the 40s and 50s, Freddie Green played almost exclusively on Stromberg guitars.
These 18 to 19" guitars were called "orchestra" models and were known for their acoustic volume, important in an era where amplification was still rare.
Freddie Green played a Stromberg Master 400 (blonde) and a Stromberg Master 300 (sunburst). The Master 300 has the same design and size as the Master 400, but its finishing is less detailed.
The Stromberg Master 400 is very hard to find these days, and if you find one, expect to pay at least $40,000. Freddie stopped using his Stromberg Master 400 in the late 1950s when the prices of these guitars had gone up after Charles and Elmer Stromberg died in 1954.
Nowadays there's a company in Florida that sells guitars under the name of Stromberg, but they have nothing to do with the original Strombergs.
Other guitarists that played Stromberg guitars: Barry Galbraith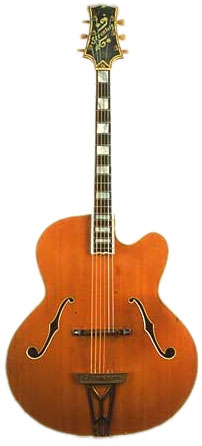 Gretsch Eldorado
Freddie Green made an endorsement deal with Gretsch in October 1958. For the rest of his life he played a blonde 18" Gretsch Eldorado non-cutaway.

Guitar Strings
Freddie Green's action (string height) was set very high, in order to produce more volume.
Some of the strings Freddie Green was known to use:
D'addario "High Finish Ribbon Wound"
Gibson "Genuine Strings"
Ernie Ball

Back to Guitar Setup