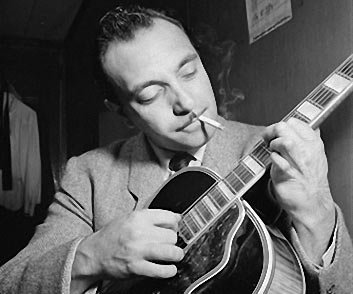 Born

January 23, 1910 in Liberchies, Belgium

Died

May 16, 1953 in Fountainebleau, France

Active Years

1910
20
30
40
50
60
70
80
90
2000

Styles

Gypsy Jazz (aka Jazz Manouche)
Swing
Continental Jazz

Influences

Eddie Lang
Louis Armstrong

Guitar Gear

About Selmer Guitars, the only brand of guitars Django used throughout his career.
"Jazz attracted me because in it I found a formal perfection and instrumental precision that I admire in classical music, but which popular music doesn't have." - Django Reinhardt
Jean-Baptiste "Django" Reinhardt was a Gypsy jazz guitarist from Belgium, who can be easily considered one of the top 5, all time influential guitarists in history. He is arguably equal to Charlie Christian, but in terms of the pre-electric era, Django reigns as the number one catalyst.
In Woody Allen's 1999 film, Sweet and Lowdown, the main character (played by Sean Penn) is a virtuoso guitarist, obviously inspired by Django. The movie used a strong guitar based score recorded by the talented Howard Alden. Even though Penn courageously attempted to fake the fingering, any experienced guitarist could easily see he was way off the mark. However, the important aspect to this, is how legendary Django has become, as both a virtuoso musician and cult hero who survived a horrible burn accident and yet overcame his handicap and still mastered the guitar, taking it to a new level of unparalleled improvisational prowess.
Biography
Born January 1910 in Liberchies (Belgium), Django Reinhardt was raised within the nomadic life of a Rom gypsy caravan, following the various Gypsy tribes to transient locations with primitive conditions. Reinhardt's nickname was "Django", the Romani word for "I awake". Reinhardt never set foot in a real house or decent habitable structure until he was 20, but grew up living in the ignominious slums and squalor of outer Paris near the Choisy Gate.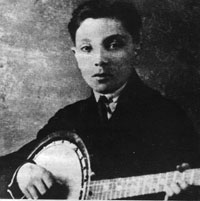 Django developed a strong interest in music which resulted in his first instrumental escapades on violin and banjo. Being exposed to the Gypsy music mixed with a vast array of European genres, he picked up and absorbed a huge pallet of harmonic tonalities at an early age.
Django Reinhardt quickly became facile on the violin and switched to guitar in his early teens. By age 13 he was already performing with accordionist Guerino in the Rue Monge. Playing around the Paris environs and astonishing listeners with his prodigious skills on the guitar and violin, he played with numerous small bands eventually recording with accordionist Jean Vaissade on the Ideal Label.
Gypsy Jazz
Gypsy Jazz (aka Gypsy Swing aka Jazz Manouche) is the jazz style made famous by Django, originating in France in the 1930s.
Most gypsy jazz bands exist only of string instruments. The drum is replaced by 2 rhythm guitars that are played using a specific technique called "la pompe". This special kind of strumming is done by playing a fast up-down strum followed by a down strum.
The lead guitar (and violin) are played in a virtuose, chromatic style with a heavy swing feel (see Django Reinhardt's guitar technique further below).
Most gypsy musicians couldn't read music, their musical tradition was passed down from the older generation to the younger. Beginning players were usually taught by a family member and by listening to recordings.
The Accident
"By far the most astonishing guitar player ever has got to be Django Reinhardt ... Django was quite superhuman, there's nothing normal about him as a person or a player..." - Jeff Beck
Django's career came to a screaming halt on November 2, 1928, when he was 18 years old. Due to an accident, Django ignited a fire ball that engulfed the trailer house where he and his first wife Florine "Bella" Mayer lived. Florine made and sold imitation flowers with paper and celluloid, both highly flammable. Returning from a gig, Django knocked over a candle and the fire quickly spread...
WIth the help from neighbors and family, they both barely scrambled to safety. Django was seriously burned, his right leg was paralyzed and the third and fourth fingers of his left hand severely damaged.
It was during his period of convalescence that he again demonstrated man's propensity for perseverance against all odds. With his third and fourth digits badly mangled by the burns, shrinking the tendons, he could only use his first two fingers to fret notes, while his burnt fingers were barely able to fret notes on the first two strings only.
It was during this long recovery period that Django's sheer will power and determination, motivated him to configure an entirely new fingering system in order for him to play with facility as he did before, but only with two fingers freed up for single line soloing.
To the amazement of all, he persevered and came out stronger and better than ever, especially after hearing Louis Armstrong's "Dallas Blues" on an old 78 record. Soon after the accident he discovered jazz and strove to find as many records of Armstrong, Duke Ellington, Eddie Lang and Joe Venuti as he could. Eddie Lang's style figures prominently in Django's free swinging yet melodic lines.
Quintette du Hot Club de France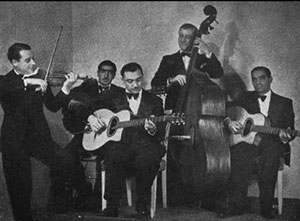 Before the accident, Django's work and style was very much influenced by the "musette" style of other Gypsy guitar players like Gusthi Malha. After discovering jazz, he tried to play this new style in the musette clubs where he usually gigged, but this was not appreciated there...
To find mind-like musicians, he often visited the Hot Club of Paris, where in 1934 Reinhardt eventually had the good fortune to run into Stephan Grappelli, a great swing violinist, who upon playing with Django, discovered that they created immediate synergy. As a result of their historical meeting, the two formed an all string ensemble called Quintette du Hot Club de France ("The Quintet of the Hot Club of France") featuring Django, Grappelli, Roger Chaput (rhythm guitar), Louis Vola (bass) and Django's brother Joseph Reinhardt (rhythm guitar during Django's solos).
During the mid and late 30s, Django and Grappelli's band was so popular, they were asked to record their first record with a small company called Ultraphone. The recording includes classics such as Tiger Rag, Dinah, Oh Lady be Good, and I Saw Stars. The record immediately received rave reviews and was eventually exported to the US.
Soon, Django and Grappelli became a sensation in both Europe and North America with thousands of would be guitarists, picking up an instrument, trying to emulate the mercurial Django. Django and Grappelli continued to record with other labels as well such as Decca and HMV.
As Django continued to tour and record, he also became a gifted composer with the occasional collaboration of Grappelli, penning such standards as Nuages, Daphne, Manoir de mes reves and the frenetic Minor Swing plus a tribute to his recording label Stomping at the Decca.
Django's recordings permeated every facet of jazz, swing and popular recording strongly influencing many of America's prominent jazz players, composers and even singers. His music helped to develop American country western swing along with mainstream jazz swing and to this day, has its imprint on the sweeping landscape of musical genres.
Charlie Christian clearly assimilated as much of Django's incredible solo dynamics as he could in order to develop his own unique grasp of jazz improvisation. So, while performing and recording, unbeknownst to the humble Gypsy, he was creating legions of followers that would forever alter the landscape of guitar.
World War II
In 1939, while the band was touring England, WWII raised its brutal head and with the Nazi invasions of Europe, Django opted to return home to France and somehow survive the war on the mainland. During this phase, he replaced Grappelli (who remained behind Britain) and proceeded to tour and record to the delight of his international audience.
In 1941 Django married his second wife Sophie Ziegler and in 1944 their son Babik Reinhardt was born. Babik became a respected guitarist himself, but he was not taught by his father, who wanted him to learn piano. Instead he learned to play guitar with the help of various family members.
Here's a video of Babik Reinhardt playing Django's tune Nuages (with Christian Escoude):
It was a miracle that Django Reinhardt survived WOII unharmed because both gypsies and jazz musicians were sought after and murdered by the Nazis. It is said that he stood under the protection of Dietrich Schulz aka "Doktor Jazz", a German officer who admired jazz music.
When France was finally liberated and the war came to an eventual close, Reinhardt brought over luminaries like Mel Powell, Peanuts Hucko and Ray McKinley to perform with his band and eventually, Grappelli returned to play in Django's famous orchestra until 1946 when Django's career made a slight detour to the United States.
Duke Ellington
In 1946 Django was asked to tour with the legendary Duke Ellington. Stephane Grappelli and the rest of the band were also invited for this tour, but Django never told them and went on his own. Django performed on the electric guitar (an Epiphone Zephyr or Gibson L5, depending on the source) for the first time during this tour. He didn't bring his own guitar to the States because he thought guitar builders would be fighting over who's guitar he would play. Unfortunately for Django this wasn't the case and he was forced to borrow a guitar from a friend.
According to many observers and based upon his performances that were recorded during this period, his playing didn't demonstrate the fluid, creative consistency he was known for, probably due to the fact that he didn't find a guitar he was comfortable with. After the tour with Ellington, Django played solo for a couple of weeks in cafes around NY, but he soon got tired of the States and returned to France. This trip was Django's only visit to the US.
Listen to Django Reinhardt playing Honeysuckle Rose with Duke's band (on electric guitar):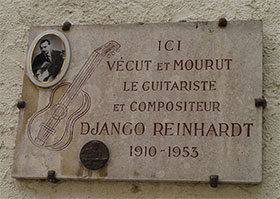 During his reunion performances with Grappelli, Django again flared his brilliant energized swing work, the hallmark of his style and using subtle extracts of the new Bop sounds from across the atlantic, his music soared again to the delight of listeners and fans everywhere.
In the early 50s Django became increasingly secluded and only occasionally performed or recorded. He became very unpredictable, not showing up for concerts or forgetting his guitar.
In 1951, Django semi retired to the small French village, Samois sur Seine. Shortly after recording his last session (Djangology), Django died of a brain hemorrhage in May 1953.
Django Reinhardt's Guitar Technique
Django's guitar technique was 100% unique. First and foremost, he had to handle all single line solos with two fingers.
Django employed chords that where not used at that time. He was able to finger just about any chord voicing he needed using his two curled in fingers to fret notes on the upper two strings B and E, while his two healthy fingers handled the mid and bass strings. Unused strings were often muted by the left hand. Standard minor and major chords were not used, but replaced by minor 6, major 6 and major 6/9. Dominants often had b9 and b13 tensions.
He had an amazingly dexterous picking hand and was able to maximize its use, compensating for his two-fingered solos. Harmonically, considering the era, Django was very advanced.
Some important elements of his guitar style:
Arpeggios: Django used a lot of arpeggios in his solos. Sometimes he lets all arpeggio notes precede by a leading tone, like in this example on a G triad arpeggio:




Chromatism: chromatic notes are an important aspect of the gypsy sound.
The diminished sound: diminished arpeggios and chords were often used, for example over dominant chords (B diminished arpeggio over G7, results in a G7b9 sound). Playing all diminished chord inversions after one another is also a popular technique.
Glissando: a slide that results in a rapid series of ascending or descending notes.
Octaves: Django was one of the first guitarists to employ octaves.
String bends
Django's Legacy
Django's historical importance is beyond cliché words like "legacy", he has easily been one of the most influential guitarists in jazz. Arguably, the only European jazz musicians to render such a broad and all inclusive influence might be Joe Zawinul, Jan Hammer, John McLaughlin and others but Django had by far the most prestigious influence on American jazz guitarists and musicians in general.
Pioneers like Les Paul, Johnny Smith, Charlie Christian and Wes Montgomery all salute Django as one of their primary influences. Add to that list literally all the remaining greats of jazz guitar along with blues, rock, country, folk, country swing, and bluegrass players and you have an entire plethora of musicians moved and inspired by the ingenious, virtuose work of Django Reinhardt.
Things to Remember & Trivia
Django Reinhardt is perhaps the most famous European jazz musician. He was born in Belgium, but lived most of his live in France.
After an accident he was left with only 2 fully functional fingers on his left hand (besides his thumb). He had to reinvent his entire fingering system.
His band Quintette du Hot Club de France, featuring the famous violin player Stephane Grappelli, was a sensation in Europe and the States.
Besides a little electric excursion when he was touring with Duke Ellington, Django solely played acoustic Selmer guitars during his entire career
Django's most popular compositions: Nuages, Minor Swing, Djangology, Swing '42, Belleville
Django Reinhardt could not read music.
Reinhardt's nickname "Django" is the Romani word for "I awake".
Django's son Babik and his grandson David are respected jazz guitarists as well.
Django Reinhardt reached the 66th place in the 2005 election of The Greatest Belgian.
There's a star named after Django.
Barney Kessel owned one of Django Reinhardt's guitars. It didn't stay in tune though and Barney had problems playing chords on it.

Back to Jazz Guitar Legends